When it feels like you've wrung every possible podcast recommendation dry, it's time to seek out juicy new endorsements from a trusted source. This curated edit of the latest intriguing series is sure to serve you well, covering true crime, design, and everything in between.
Spectacle: An Unscripted History of Reality TV
While you might be one of those people who dismisses reality television for its 'low brow' drama and derivative storylines, over the last 30 years, it is a genre that has attracted huge audiences and has come to reflect our culture in real-time. Here, host Mariah Smith delves into the fascinating history of reality TV, one show at a time, revealing its true importance.
The Apology Line
There once was a Manhattan number that would allow anyone who called to apologise anonymously for something they had done. This podcast follows the fascinating (and true) story of the man, known as 'Mr. Apology,' who was on the other end of those calls, and how, after hearing people confessing regularly to things like drug dealing and murder, he decided to do something about it.
The Redesign of Everything
In this thought-provoking new podcast, produced in New Zealand by Circularity — a company that works with businesses to offer circular innovation support and sustainable solutions — hosts Louise Nash and Ella Gordon-Latty speak to the changemakers, designers and practitioners working towards a better way of doing business for people and the planet.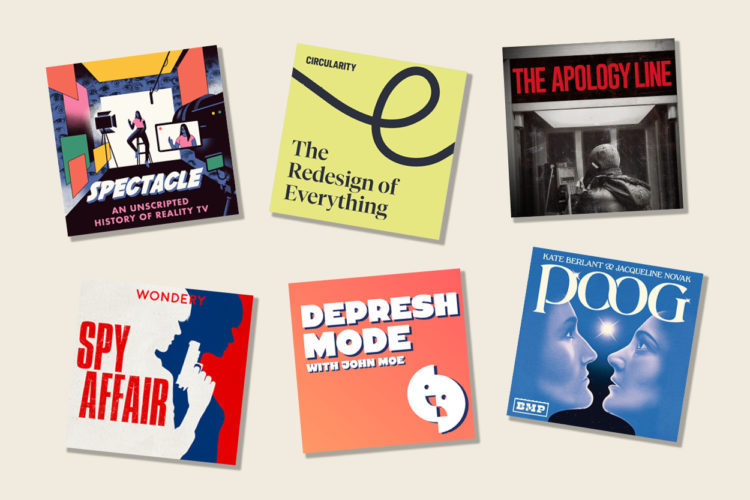 Spy Affair
Deception, sex and betrayal collide in this gripping, six-part miniseries that unpacks the story of Maria Butina — the charismatic Russian woman who arrived in the United States on what she claimed was a diplomatic mission but who ended up being jailed by the FBI as a foreign agent. From its high-stakes players to its dodgy backroom deals, this podcast might sound like fiction, but the reality is far juicier.
Depresh Mode with John Moe
Promising a productive, relatable and sometimes funny dialogue around mental health, this podcast comes at a time when discussions of this nature are (thankfully) becoming increasingly common. Host John Moe speaks to comedians, authors, musicians, actors and big names in the entertainment and arts industries about their own personal struggles around mental health and how they overcame them.
POOG
Comedians and best friends Kate Berlant and Jacqueline Novak delve into the trillion-dollar beauty industry by trying products and practices and consulting healers and experts to see if anything cuts through the industry's glossy facade. Is it wellness they are seeking? Or just the thrill of the chase?