The Greek island of Mykonos has long been a destination for the independent and the spirited, the rebellious and the hedonistic. Since the 60s, it has been the spiritual mecca for fashion designers, creatives, artists and musicians alike, all attracted to the laid-back, bohemian lifestyle and iconic party scene. So what better place for six friends (sans children) to reconnect with their lost youth, let their hair down, and forget about life for a while?
Sensationally pretty and famed for its squat, white and blue houses and seven thatched windmills, the Aegean island is known to attract the fabulous in droves during the European summer, making it the ideal location for my glam band of merriment.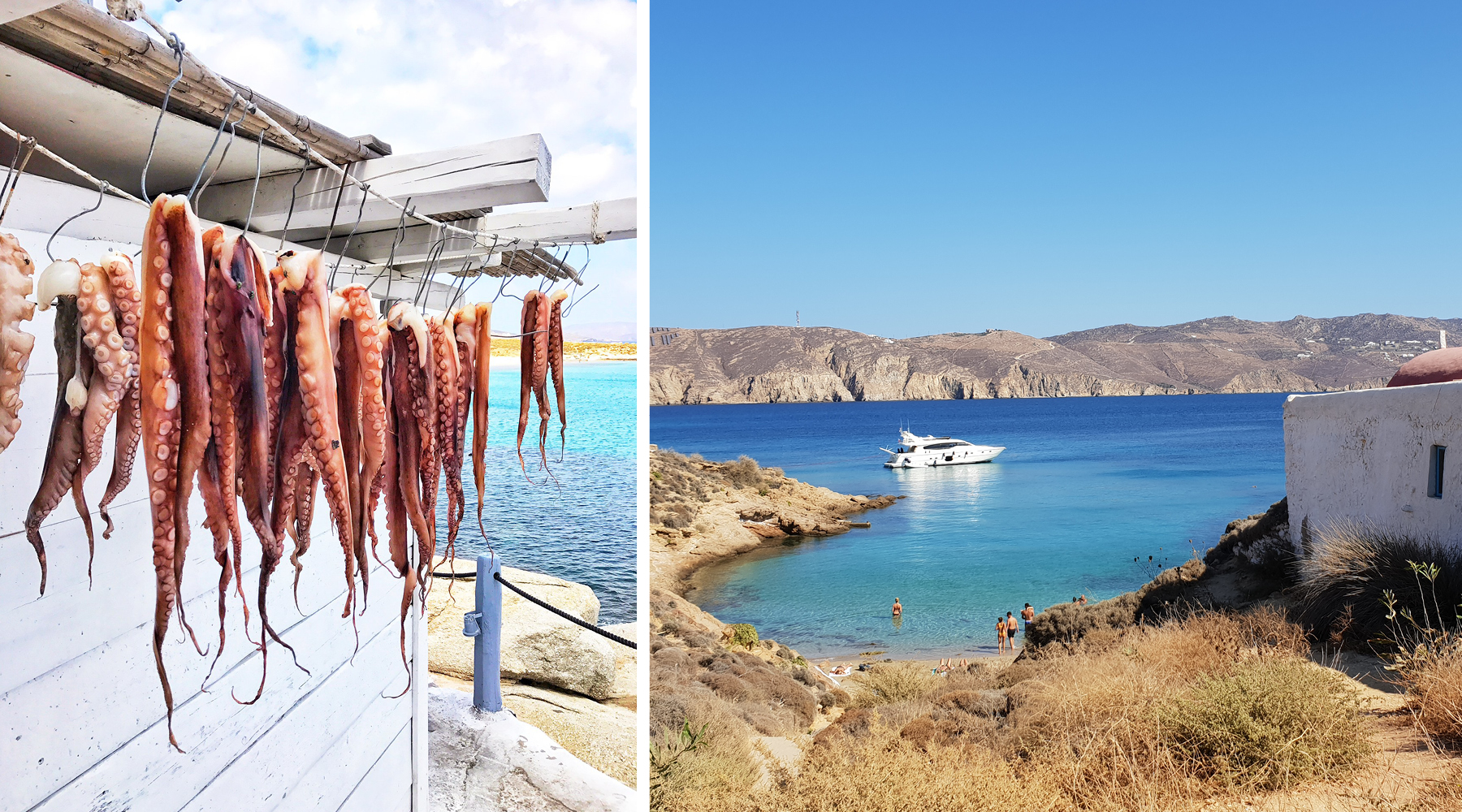 But no one wants to travel all the way to the other side of the world only to be overlooked in favour of a pneumatic, diamond-festooned blonde swilling champagne while rinsing her ageing oligarch. With stories of extreme ostentation and acts of 'my dick/boat/wallet is bigger than yours', the month of August on the isle has become synonymous with the bold and the brazen. We had heard a hideous tale of the (currently persecuted) Sir Philip Green (of Topshop fame) ordering 200 plates of food to his table at a beach club, before ceremoniously flinging them into the air like confetti. Needless to say, we were very grateful to not have experienced such acts of modesty during our visit in September — by all accounts, a much more civilised month.
Travelling as a group, we opted for renting a villa that would house our rowdy crowd. With no shortage of luxurious homes on offer all over the island, the trick is to find one that's close to a beach, has great views, an epic pool and is located no more than a 30-minute car transfer to the best restaurants and beach clubs. Luckily for us, we had a contact in the form of George Burdon, an expat Kiwi who resides in London and owns a luxury villa rental company, Dynamic Lives, who found us the perfect abode that ticked all the boxes.
With a daily agenda that followed the 'wake, eat, swim, repeat' routine, our days on Mykonos quickly fell into a pleasant rhythm. Sure, we went there to relax, but as a group of adults on tour without kids, we also went to let loose for a while.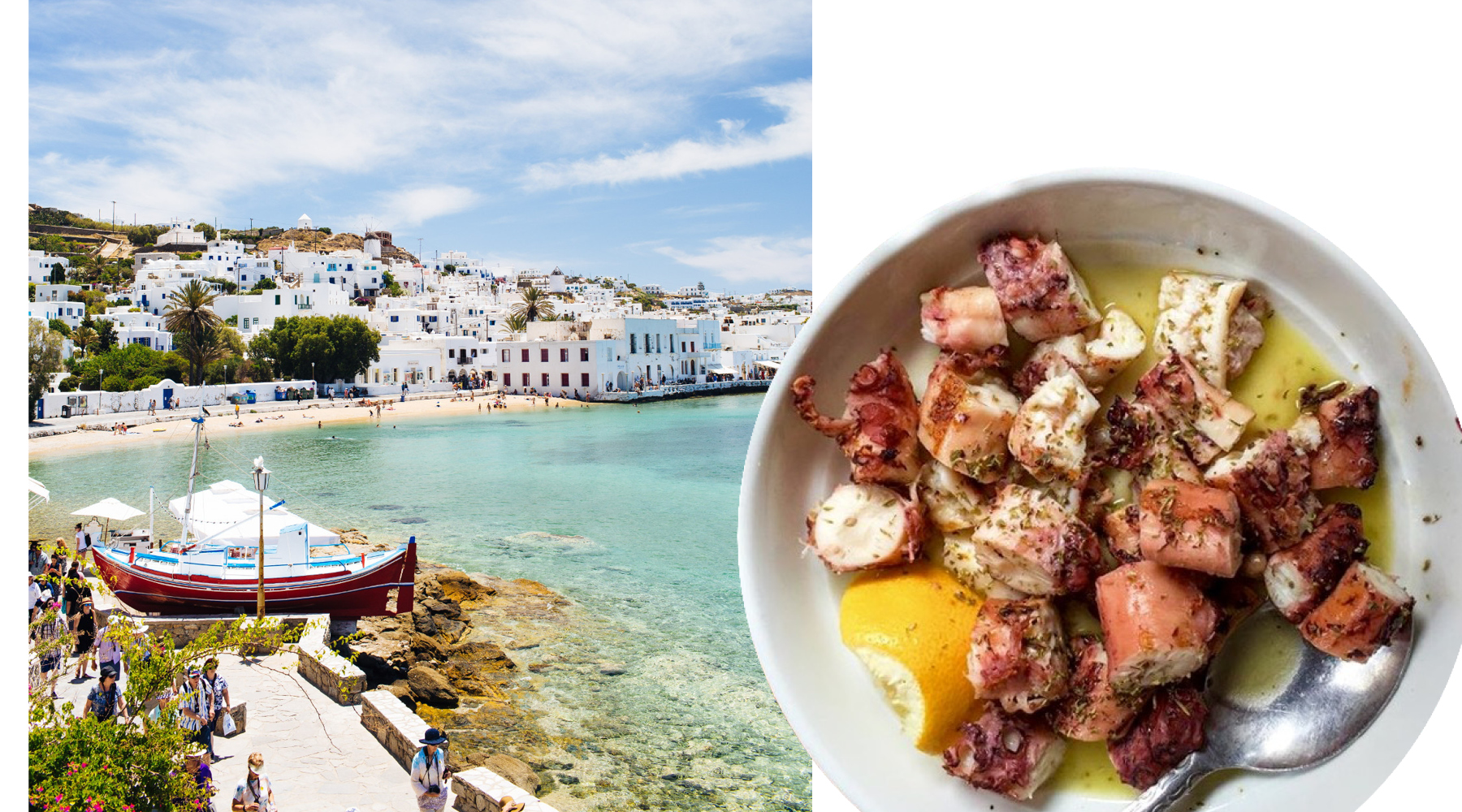 Much like the hallowed party haven of Ibiza, when you mention a holiday in Mykonos, you're typically met with a raised eyebrow or two, and some mutterings about your penchant for all-nighters. Sure, I've been known to do the odd rave in my formative years, but life now calls for a different form of losing yourself in the moment, and Mykonos, thankfully, caters to all.
There's definitely a part of the island that sleeps all day and parties all night, and I'm sure, had I been here in my 20s, perhaps I may have experienced it. But what we were there for, instead, were the wonderfully care-free beach clubs and restaurants, all peddling their welcoming form of revelry.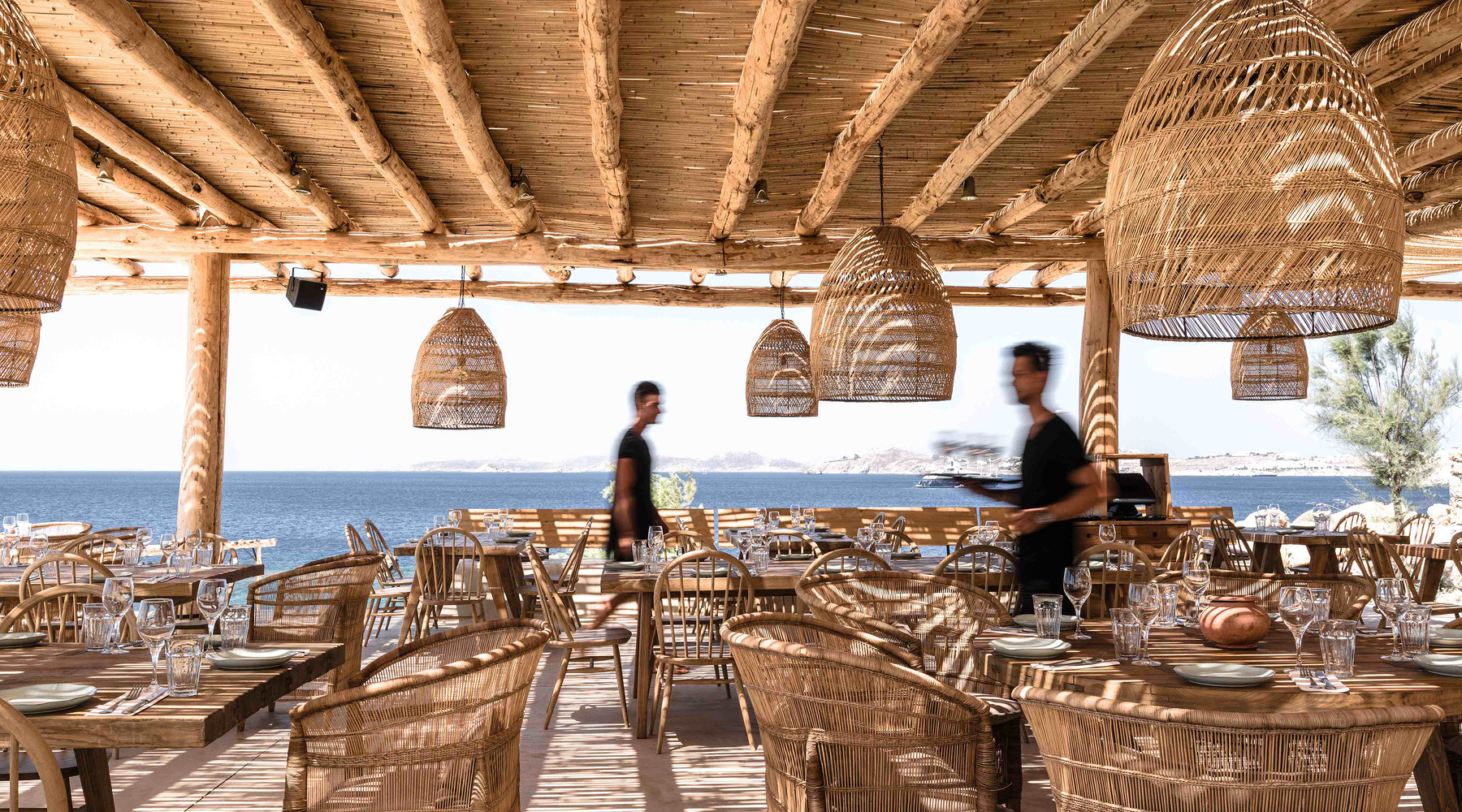 The temporary nature of these artfully erected establishments, set among the barren landscape, exudes a sense of isolation and freedom. Most of them follow a Desert-Storm-meets-Burning-Man design ethos. They're rustic, yet supremely comfortable, and places that you'll happily park up at for lunch, and once full, retire to a beachfront daybed for the afternoon. And as the day draws to a close, you'll rally with friendly strangers for a rousing cocktail or three, swaying to the beats of the excellent DJ and percussionist while the sun sets ceremoniously on the horizon. Call me a hound dog if you will, but it's a fantastic way to pass the time.
So I suggest, should the desire to escape the mundanity of everyday family/work life prevail, book a trip with your closest friends to a land far away from the cries of small children, and the nagging of work colleagues. You may not be the 20-year-old you once were, but the freedom of throwing yourself into a bit of rousing self-love amongst friends old and new, toes buried in the sand, as you cut (slightly less aggressive) shapes like you used to in the 90s, is one fantastically liberating experience that I am 100 per cent sure you will not regret.
The best places to while the day away on Mykonos:
Scorpios
Opened in 2015, Scorpios is an excellent beach club. Book for lunch in the restaurant — the steak and octopus are excellent — before lounging on one of the driftwood beds for the afternoon, taking regular dips in the ocean to cool off. Come sundown, the DJ and accompanying drummers in feathered headdresses rouse the crowds for a dance in the sand. It's the sort of place where you'll arrive at midday and leave at midnight.
Alemagou
For something a little different, and away from the old town, head to Alemagou at Ftelia beach. It's like a slice of Tulum in Mykonos, with thatch-topped beach beds and picture-perfect cacti dotted around. Attracting top DJs from around the world, the bohemian crowds gather here for long lunches but stay for nightfall when it really comes alive.
Nammos
If it's tabletop dancing and knocking back methuselahs of champagne you're after ($250,000 30-litre bottles of Armand De Brignac Methuselah Midas are the norm here), the island's glitziest beach-bar, Nammos, should not be missed. While it might be a bit excessive for some, there's no denying it's a great place to observe the antics of the rich and infamous. Be warned, there's a €15,000 minimum spend for tables during the month of August, so take a leaf out of our book and wait until September. There's still plenty of eye candy on offer, just without the hefty viewing tariff.
Kiki's Tavern
No trip to Mykonos is complete without a lunchtime visit to Kiki's Tavern on the north of the island. They don't take bookings (they don't even have a website), so you'll need to start queuing before midday for any hope of nabbing a table. But they do have a sensational beach below that's the perfect spot to wait, and if that doesn't cool you down, the host happily satiates the gathered crowds with crisp plastic cups of rosé while you wait.
Spilia
If you fancy having fresh sea urchin caught and prepared in front of you, and lobster pasta to follow, this is the spot for you. Built into the rocks of Agia Anna Beach, the iconic Spilia is one of the best seafood restaurants on the island and is definitely well worth the visit. Here the octopus hangs in the sun to dry, rendering it utterly tender and as authentically Greek as it gets.