Alongside his father Graham and brother Ollie, Scrap Wall has sold many of New Zealand's most prestigious properties through their family business Wall Real Estate. His unerring eye for design is also applied to his work as an artist. Here, the fan of unbridled creativity and supporter of local talent shares a few of his favourite things.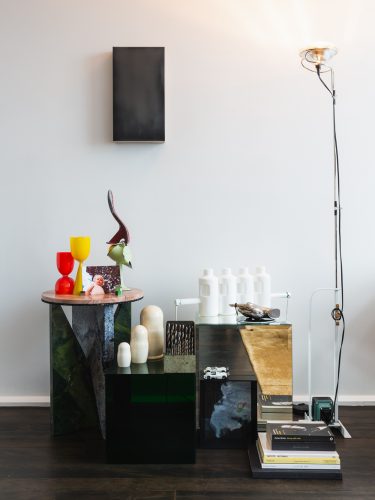 "On the left is a Jonathan Zawada marble table from Sarah Cottier Gallery in Sydney, which was my first acquisition as artistic director of Sydney Art Month in 2014. It reminds me of good times celebrating creativity.
On top of the table are two double-ended goblets by glass artist Luke Jacomb alongside a tiny cube of pyrite, which is the only mineral that creates a naturally forming geometric shape, which I find fascinating. The other two cubes are crafted from anodised aluminium and are by NZ artist Peter Robinson. The photo is of my beautiful boy Teddy under a pohutukawa tree, which I keep on my bedside table.
In the rear is a juicer which was a gift from my grandmother, who recently turned 100. Despite being crudely repaired at some point by my grandfather, it still works a treat. On the small middle cube are Martin Margiela's Babushka dolls, a gift from my brother and a great representation of my love of my family. Alongside is my late grandfather's drill kit, which I keep as a reminder to be organised.
On the mirror cube by Sam Lennon (to the right) is my favourite artwork by the late Bill Culbert. I love its pure simplicity. In front sits a stainless steel cast of my own hand, with a black ribbon tied around the forefinger to remind me to always look forward. In the foreground on the floor is my son Teddy's first painting, and on top sits a toy replica of BMW's Art Car that raced in Le Mans, with artist Jenny Holzer's truisms printed on it which include: "Protect me from what I want", "Lack of charisma can be fatal", "You are so complex you don't respond to danger", "Monomania is a prerequisite of success" and "The unobtainable is very attractive". Each of these statements resonate with me deeply.
The books in the foreground are ones I always come back to; Gerhard Richter's The Daily Practice of Painting, Herzog & de Meuron's Natural History, an accompanying catalogue documenting an exhibition about nothing, Donald Judd's Complete Writings, Fiona Connor's recent publication, and the book Black Paintings. The lamp to the right is Achille Castiglioni for Flos, which is a genius assemblage that sees a car headlight on a fishing rod. On the wall is an artwork by Matthew Allen."
Image credit: Jeremy Hooper