There is a special light in Saint Paul de Vence that attracts the artists," a shopkeeper says to me — or so I roughly interpret — on our first day of wandering around the medieval town located a half-hour's drive west of Nice. Being halfway through July, the fortified village is heaving with tourists and the entirely foreign crowd mills in and out of the inexhaustible galleries, perfumeries and tchotchke shops that line the narrow cobbled streets. It's the first and last time we meander through the township before locating our nearby auberge, La Colombe d'Or, where we would be staying for two nights and from whose fortress-like walls, we soon discovered, we would seldom emerge.
Personally, I didn't know much about the hotel prior to checking in. Only that, during the 1930s and 40s, it was a popular hangout for the likes of Picasso and Matisse who would stay for weeks at a time and often free of charge in return for a few of their paintings or sketches. Contrarily, it had been a lifelong dream of my partner's to stay at The Golden Dove (its translated name) where he could dine next to the famous Fernand Léger mosaic and sleep under a Pierre Tal-Coat.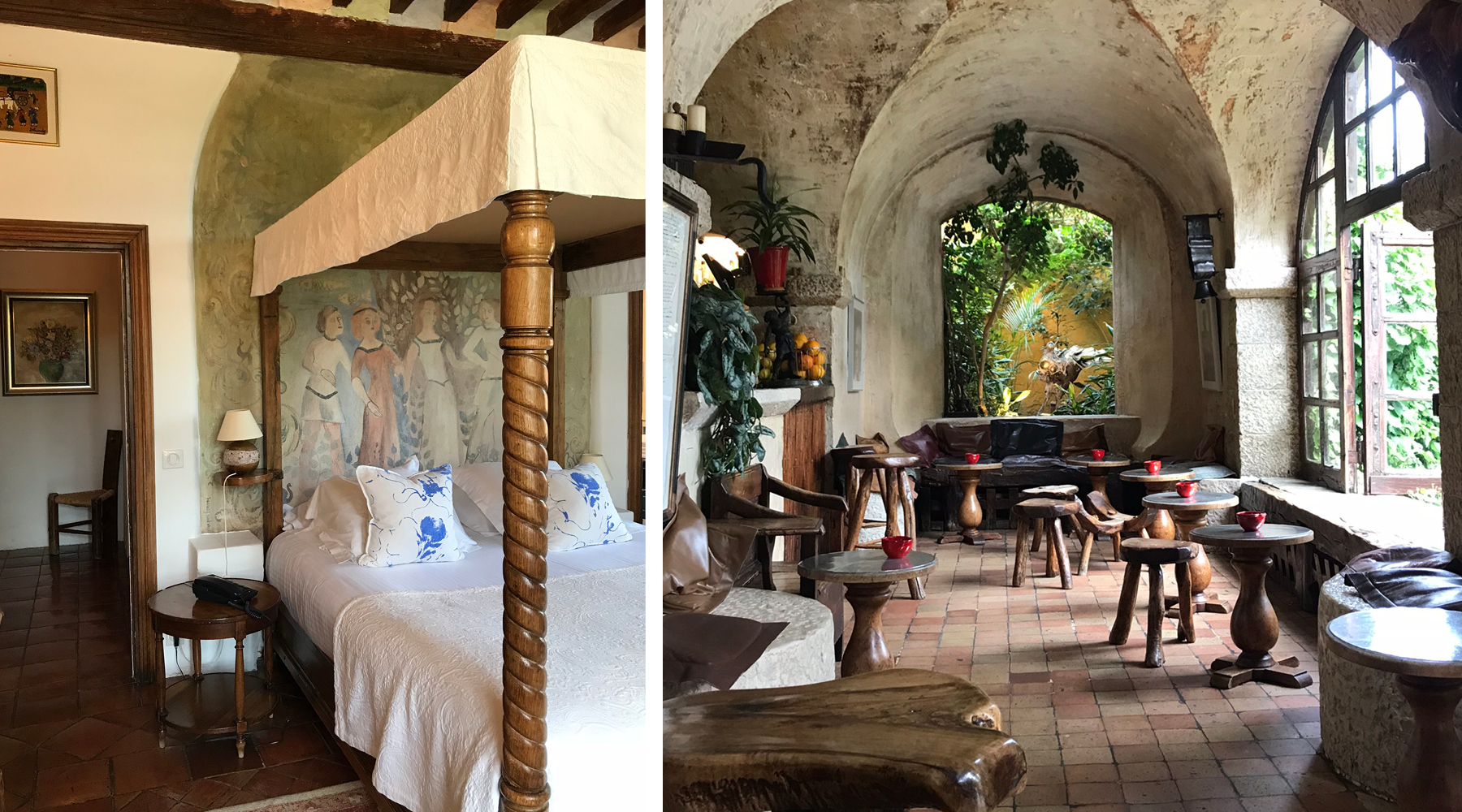 After locating the ivy-covered inn at the entrance of the township — no thanks to our aversity for signage, which was quickly becoming a theme on this particular trip — we entered through the large gate of its well-to-do terrasse restaurant, also the hotel's official entrance. Here, during the balmy afternoon, tables were being dressed in fresh, white
tablecloths and consummate French waiters studied the evening's bookings.
Inside the main building, a bucolic lounge houses a post-office-like reception desk, managed with chaotic charm by the third generation of the Roux family (by whom the Colombe d'Or was established in 1923). It was what I would imagine a French version of Fawlty Towers to be like; being the height of summer, all 13 idiosyncratic rooms and 12 expansive suites are either occupied or changing hands, causing a flurry of activity. After a short wait, we are shown to our room which is palatially-sized in modern-day hotel terms. Amongst its dressings are an extremely comfortable four-poster bed — my first time staying in one — superb antique furnishings, several works of art by artists who I'm not so educated as to know, and a wall mural that I spent my mornings pondering over the circumstances in which it was created. Romantic, indeed. There was also the picture-perfect balcony overlooking the township and restaurant.
It quickly became apparent that time spent at the hotel is segmented into three different activities: mornings are a chance to sleep in and indulge in room service comprising plentiful coffee, croissants and confitures. The long, sunlight hours are a prime time for socialising around the pool with its huge, Alexander Calder mobile at one end and where, during the late morning and afternoon, a young, next-generation custodian suffers from extreme boredom as he waits for someone to ask him to fetch an extra towel or soda. Finally, there's the restaurant, which is a crucial part of the routine. Forget about dining out because here is where you will inevitably have lunch and dinner for the duration of your stay.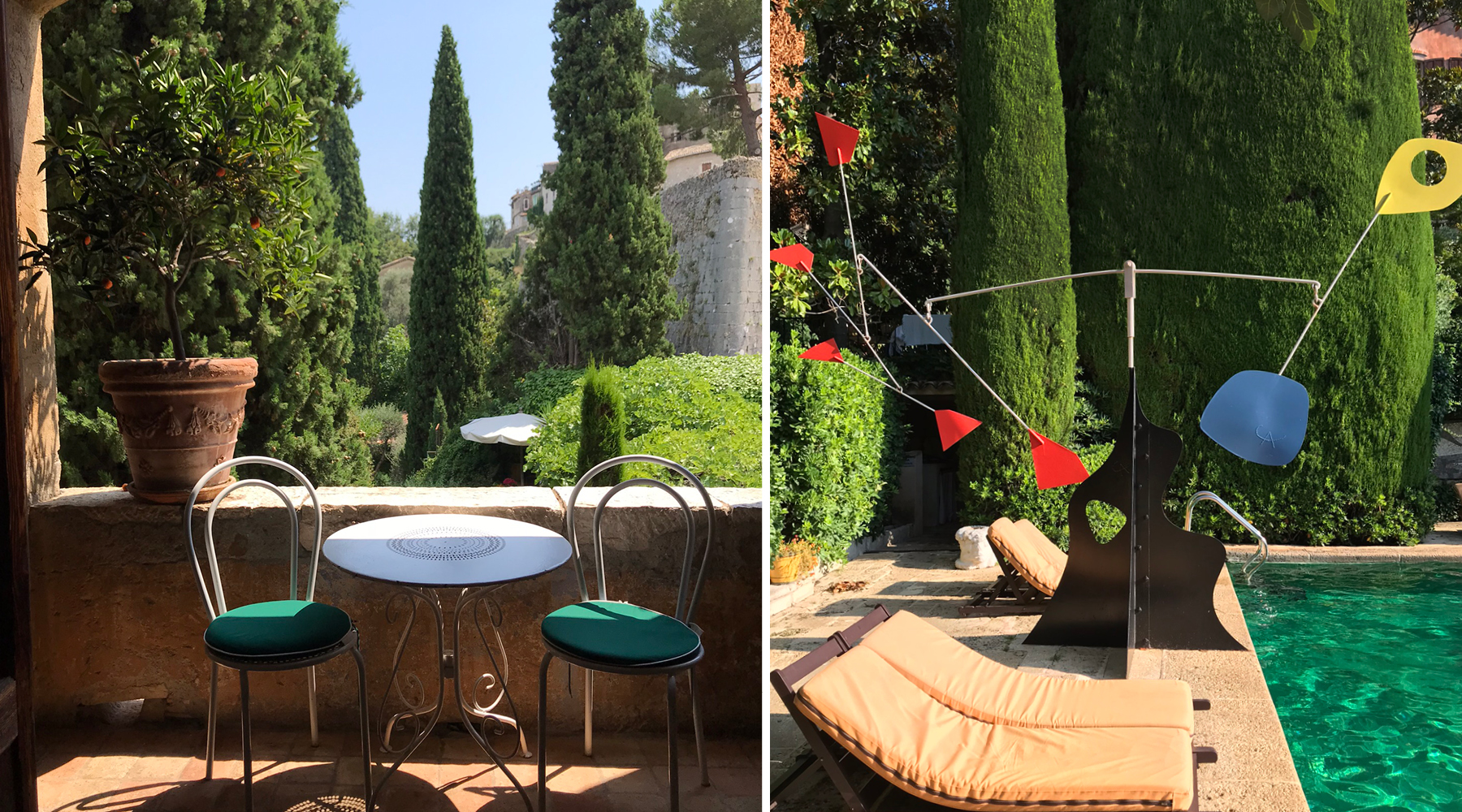 Come 7 pm, the place is at capacity, brimming with well-heeled, overly tanned Europeans. There's a delightful, dimmed echo of conversation and cutlery that sounds within the walled garden environs. The menu, a giant, colourful carte that looks as though it might have been scribed by Miró himself, has not changed in many years. From it, you can order show-stopping crudités — the French have a penchant for using whole fennel as a showpiece — my personal favourite; an entire melon with parma ham (clichéd but so refreshing), and whole steamed fish which an adept waiter will fillet at your table.
There's a red velvet rope that marks the threshold between our world at the restaurant inside the Colombe d'Or and the world that lies beyond. It didn't take much to understand why such a barricade is necessary; every five minutes during service an inquisitive passer-by from the village outside will pop his/her head in, disrupting a waiter to ask 'What is it?' and 'Can I have a table?' (only to be met with a very French response). Such is the vibrant, energised atmosphere of the bustling, packed-out restaurant that emanates with a universal appeal.
Normally, such posturing from waiters would be enough to turn me off a place, but there's something about the Colombe d'Or, aside from the tightly run restaurant, that is decidedly down to earth. It's an almost century-old institution that's far from stuffy or precious. Rather it's indifferently glamorous in a weathered, Chateau Marmont kind of way. The labyrinthine interior serves as an art lover's playground, where around every corner, there lies a stunning Matisse or a petite Miró — you would hate to think what the insurance costs. It's personal and robust, and after one stay, you feel as though you have been inducted into an unofficial club. And if you love art, it's a pilgrimage you need to make. Just be prepared to want to go back again.