Auckland-based artist Vicky Savage is renowned for her captivating sculptures, generally rendered in bronze, that employ a harmonious fusion of symbolism, scale and design. Here, she shares the stories behind a few of the objects, art pieces and gifts that she holds dear.
"On the wall is a Lisa Reihana artwork. We bought this piece after going to see her when she showed at the Venice Biennale, where we fell in love with her work. The silver candelabra is a family heirloom that came over from England when my grandparents passed away. I can remember seeing these on our first trip to England when I was five at my grandmother's home.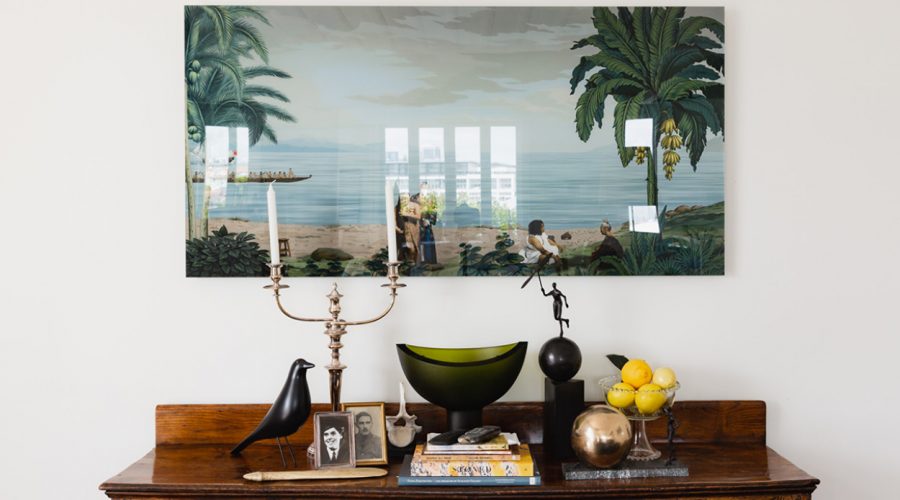 The Eames blackbird reminds me of our friendly black bird, Blackie who sits in the trees outside our windows and sings at the top of his voice everyday. I love him because he makes me stop and listen for a moment during a busy day. In the foreground are photos of my wonderful, brave parents in their uniforms; Mum was a decoder for the Wrens and Dad was a Captain in the British Army. The old cow spinal bone at the back always sits on the mantelpiece. I picked it up years ago on a beach at my favourite place on Earth, Great Mercury Island.
In the foreground is a whalebone that was given to my husband Tim's great grandfather as a gift from the local Māori in the Wairarapa. In the back is an Ann Robinson bowl, I just love the way the light reflects through this piece. Next to this is one of the first sculptural works I ever created, Propellor Man (2007), it's all about time and keeping in the moment. So he's just about to fly off with his propeller, but he's stopped and paused to contemplate the moment. I like my work to represent the space between the past and the future. That moment of just being still. I actually gave this piece to my son, William. I'm assuming one day he'll come and collect it.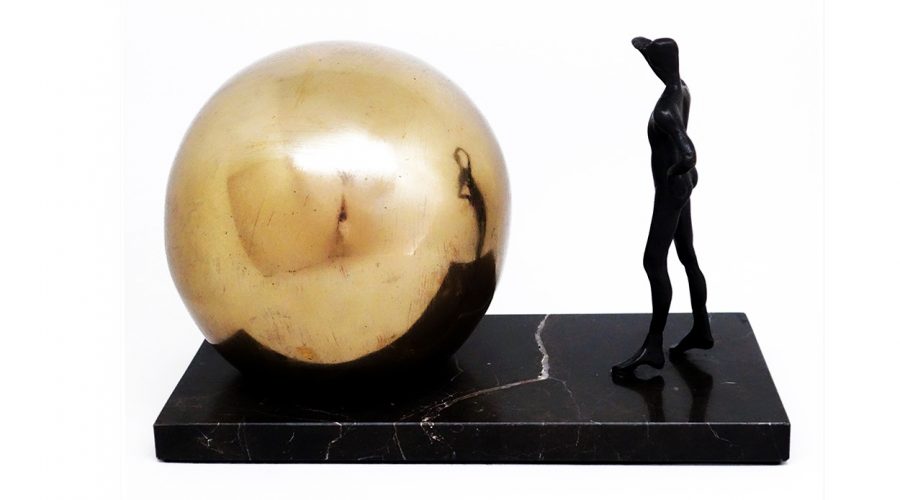 I always have a bowl full of lemons on my bench top. I love the colour, and they are a delicious reminder of our Waiheke property. This gold ball sculpture is one of a new collection of pieces which I have been working on to represent what the world is experiencing at the present time. The figure is gazing into the ball, trying to see the future, but when the viewer gets closer they can also see their own reflection. The remotes carved from basalt are the work of Joe Sheehan. These stone sculptures are halfway between an adze and a TV remote, which I think is so clever.
The pile of books are some of my favourites, they include one by Fiona Pardington, I was lucky enough to have Fiona as one of my lecturers at Elam, she was so very inspirational for me. I have also been learning about marble, basalt and other stone which I use for the bases of my sculptures. Two books are my current favourites, Stoned and NZ Granite and Marble. I am enthralled with Against All Odds, by Jillian Rothwell and Ten Thoughts About Time, is a book I have been referring to for over 10 years."