While there's nothing quite like melting into a delicious novel, you can't beat the gripping appeal of a great non-fiction book. Eye-opening and educational, these recently-released works are sure to expand your horizons.
Belabored: A Vindication of The Rights of Pregnant Women by Lyz Lenz
A witty and irreverent defense of the autonomy of women, this book dives into how history, religion and culture have shaped the way we treat pregnant women, and makes an impassioned case for trusting them to choose how to treat their own bodies.
Caste: The Origins of Our Discontents by Isabel Wilkerson
Examining the underlying caste system that still holds sway in American society, this book's Pulitzer-Prize-winning author examines the hierarchy of human division. Exhaustively-researched, revelatory and eye-opening, Caste takes us on a necessary journey below the surface.
Successful Aging by Daniel J. Levitin
Debunking the age-old myth that ageing equals unhappiness, neuroscientist Daniel J. Levitin outlines evidence-based tools around how we can embrace nature's course, age joyously, and get the most from our lives.
The Sirens of Mars by Sarah Stewart Johnson
Planetary scientist Sarah Stewart Johnson taps into our fascination with the 'Red Planet' by tracing the history of humans' search for life on Mars. Carefully crafted and superbly told, this beguiling book really holds a mirror up to our anxieties around being alone in the universe.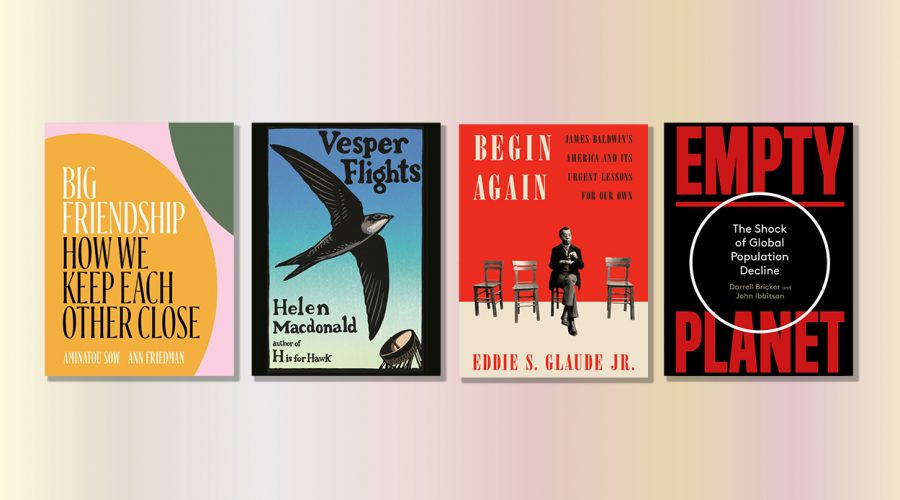 Big Friendship: How We Keep Each Other Close by Aminatou Sow and Ann Friedman
What does it actually take to nurture a friendship? Here, Aminatou Sow and Ann Friedman hilariously and honestly document the journey of their relationship over the last decade. Inspiring and entertaining in equal measure, this book asks us to reexamine how our own relationships are formed and preserved.
Vesper Flights by Helen Macdonald
Based around human connections with the natural world, Vesper Flights comprises a series of essays including accounts of wild boar, mushroom hunting, crane-watching in Hungary and the strange phenomena of birds' nests. It is fascinating and informative, a study in observation from one of the world's most respected nature writers.
Begin Again: James Baldwin's America and Its Urgent Lessons for Our Own by Eddie S. Glaude Jr.
James Baldwin has been here before. Here, Glaude delves into Baldwin's journey as a longstanding civil rights activist in an effort to highlight, as Baldwin did, a way to push forward even in the face of the disillusionment and despair around race in America.
Empty Planet by Darrell Bricker and John Ibbitson
An award-winning journalist and a leading international social researcher make the provocative argument that, contrary to popular discourse, global population is on the brink of decline. Deeply-researched and utterly compelling, this book reimagines our demographic future, and offers guidance on how best to navigate its complexities.