It may only be April, but we're banking that 2019 is going to be a great year for literature. Avid readers will be spoilt for choice over the next few months, with so many anticipated books set to drop from both debut authors and practised wordsmiths. In light of such, we've started a new series highlighting the most notable literary talents we think you should be investing your time in. Chinese-American author Yiyun Li kicked off our inaugural post last month, while this month — after much deliberation — we've decided to showcase San Diego-raised Juliet Escoria.
A dab hand at writing in all its forms, Escoria is just as likely to leave readers spellbound with short poems as she is long, meaty prose. She handles taboo subjects with the same knack for storytelling as she does with those less provoking, and her ability to make dark-yet-impossible-to-put-down content has seen her applauded by critics around the world. Her written repertoire spans both short story and poetry collections, novels, and online features for the likes of VICE, Vol. 1 Brooklyn and Fanzine, while her creative talent has seen her lend a hand to other forms of media, like video making (more on that later).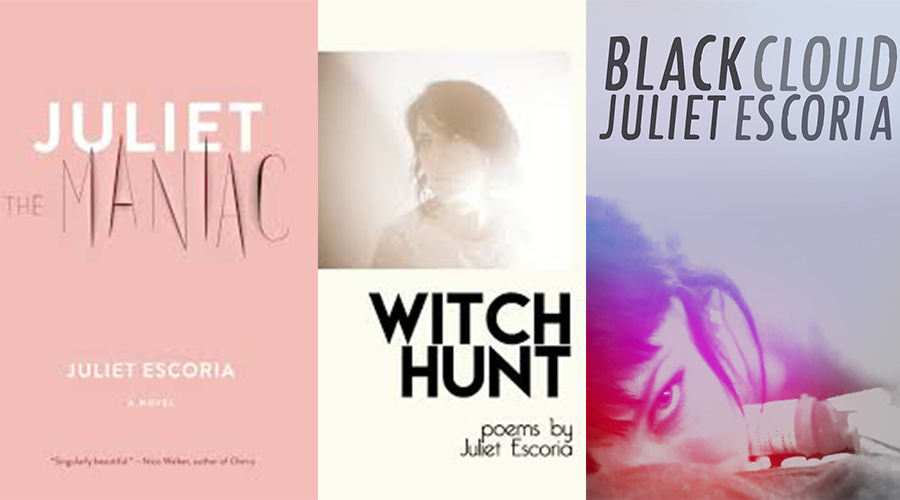 Escoria first came to the attention of voracious readers back in 2014, when she stunned critics with Black Cloud, a collection of short stories. Despite being applauded by a critic from Salon magazine as "one of the best books to read in 2014," Black Cloud was not written for the faint-hearted. Each story is a brutally honest exploration into life and death, ugliness and beauty, and comes together in an anthology that has been described by Dazed as "sometimes-heart-ripping, sometimes-gut-wrenching-to-the-point-of-legitimate-nausea" and by British pop culture magazine The Quietus as a "book that feels so brave it could get someone fired." Escoria published the collection of miniature narratives alongside a series accompanying videos, tremendously brash shorts that were both compelling and unnerving in equal measure.
After her short stories made waves, it was with hot anticipation that fans awaited her full-length poetry collections, Witch Babies, in 2015, and Witch Hunt, the year after. The latter of which caused more of a stir. Using her viciously straightforward and unbelievably raw tone, Escoria discusses a range of unsettling yet interesting topics, like addiction, mental health and heartbreak, each peppered with glimmers of love and hope.
Now, in May of this year, Escoria is set to release the blunt, coming of age novel Juliet the Maniac. An autobiographical piece that follows a 14-year-old (Juliet) the work is a graphic portrait of youth angst and agony. While unreleased, the novel has already topped many variations of the 'books you should be reading list,' including those on Elle, Bustle and Buzzfeed — the latter of which dubbed her latest efforts "a force that shouldn't be ignored," despite its "heavy and overwhelming" content.
Escoria is a controversial writer at best, but it is her brutality that makes her stand out from her contemporaries — more like a shard of ice in the ocean as opposed to a drop — a blinding factor that we believe cements her as an interesting author to know.