With so much literary talent making waves of late, it can be hard to know where to begin when looking for a new author to invest in. Consequently, we've decided to kickstart a new series: a monthly feature shining a light on the gifted wordsmiths that we think you should really be looking into. The first of the bunch? Chinese, American author Yiyun Li.
A writer who has already proved herself tenfold, but one who we also expect big things from in the future, Yiyun Li is the skilled penman we couldn't pass by without a mention. Currently an editor of Brooklyn-based literary magazine A Public Space and a regular contributor to The New Yorker, with an array of expertly crafted short stories under her belt, three novels and a memoir, Li's talent has been simmering away for quite some time now, but it seems she's still yet to achieve household-name status.
Born in Beijing just four years before the end of the Cultural Revolution, it's clear that much of Li's material is inspired by this fatally chaotic time. After moving to America in her early twenties to pursue a career in science, she decided to give it all up to take a step into the world of fiction writing.
Li made her literary debut in 2005, with her critically acclaimed short story collection "A Thousand Years of Good Prayers," for which she won numerous awards, including The Frank O'Connor International Short Story Award and the Guardian First Book Award. The collection comprises ten short stories, all fiction. From this ten, Extra was published in the New Yorker, and After A Life was published in Prospect. Both Immortality and Persimmons were published in The Paris Review, while two other shorts were adapted into films: the title story, A Thousand Years of Good Prayers and The Princess of Nebraska.

Her first novel, The Vagrants, was met with critical acclaim. Winner of the California Book Award, the writings follow the ripple effect of the death of 28-year-old Gu Shan, who — after ten years in prison — was executed for her loss of faith in Communism. Based on a true story, the hard-hitting prose was lauded for its ability to shine a light on aspects of the Cultural Revolution.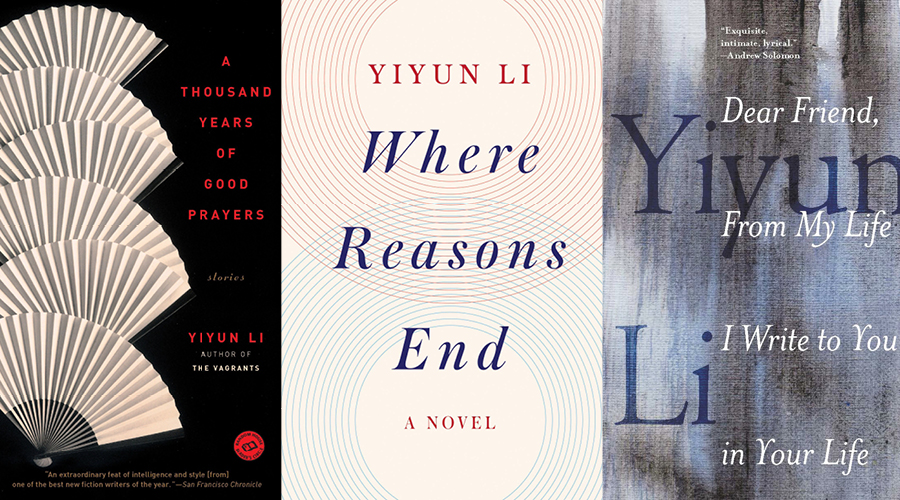 Just one year later, in 2010, Li was named in The New Yorker's prestigious 20 under 40 for Fiction, championed for — amongst others — her short story for the magazine, The Science Of Flight. Seemingly boasting boundless talent in the art of flitting between literary disciplines, she made the move from short stories to longer iterations once again in 2014, with her second novel, Kinder Than Solitude — a macabre tale described by The Washington Post as "sleek" and "powerful."
In 2017, Li took a startling turn, replacing her gripping fiction with a hard-hitting dose of the truth. Her memoir, Dear Friend, From My Life I Write To You In Your Life, is a deep, profound piece which touches upon her depression, breakdown, mental hospitalisation and two attempted suicides. Written in essay form, the revelatory script delves into the particulars of Li's life, uprooting dusty memories, thoughts and feelings that join forces to create an utterly moving finished product. In a cripplingly twisted turn of events, just seven months after Li's tell-all memoir was published, her 16-year-old son, Vincent, killed himself.
February this year marked the date that her highly anticipated novel, Where Reasons End, was published. Dedicated to her son's memory, the autobiographical novel follows a back and forth dialogue between a 'fictional' grieving writer and her son after his suicide, in a world that's different to the one that we're familiar with. The haunting novel has already been applauded by her contemporaries, reviewed by the likes of The Spectator and The Guardian.

With an array of captivating material crafted in her second language, English, following her move to the States from her home-place of Beijing, Yiyun Li exemplifies the American dream. For those yearning for a fresh voice to listen to, this inspiring author's melange of deft prose is something which should be explored with vigorous curiosity. Yiyun Li, it would seem, is truly an author to watch.