Many artists can go through life producing vast bodies of work while remaining virtually unknown. Graduating from 'struggling artist' to success story is a rarity but young Auckland-based painter Toby Raine has already managed to sell-out several exhibitions in his short career.
Raine seems to have reached the top of his game swiftly with a Doctorate from the University of Auckland's Elam School of Fine Arts and a position with powerhouse galleries on both sides of the Tasman.
In 2018 the artist gained representation at the prestigious Gow Langsford Gallery, allowing him to paint full-time and work his own hours. When I tell Raine that he appears to have been an overnight success he stifles a laugh. 'Instant success' is hardly the phrasing he would use. 
We meet for a quick drink in the sun-drenched courtyard of a humming inner-city café to discuss his artistic ascent. I'm devouring a New Zealand Breakfast, Raine's cradling a beer. It's 11am. Today is his day off from painting, he explains.
"First of all," Raine says. "I've just come out of an incredibly long period of education." Eleven years of higher education at Elam, to be precise, beginning in 2006 when he was 23-years-old. Starting university as a so-called 'late bloomer' ensured he was "hungry and focused." While his contemporaries were partying, Raine was painting. Over the next decade Raine would go on to complete a degree, then a masters, then a doctorate in Fine Arts. Reflecting back, he says, it was too much education. "I'm still recovering."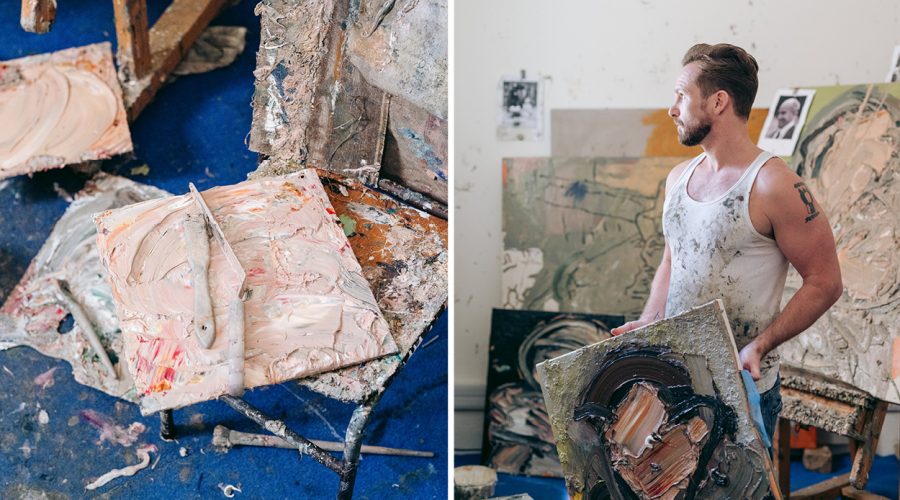 "Education can certainly open a number of doors," he says, "it's not completely necessary." Raine refers to his masters as "not meaning a lot these days" and his doctorate as "more a rite of passage than anything else." Too much academia, he adds, can stifle a person, and stifle the practice.
The recovering student views universities as strange places where students are not encouraged to think for themselves. "They are encouraging them what to think, and that's really not great at all," he says. "Luckily I would never have been shaped in such a way. I'm quite stubborn."
It's hard to imagine Raine being fashioned into someone else's idea of an artist. With copious amounts of oil paint, and often a small image or photograph projected in front of him as inspiration, he approaches the canvas with visceral, kinetic movements and gestures. Lashings upon lashings of paint are applied until "something begins to form." He'll scrape away excess build-up, add another energetic stroke, scrape away again until he feels satisfied with what lies before him. It's "like a compulsion," he says.
Raine favours what he calls "controversial iconic images." Think Laura Palmer lighting up on the set of David Lynch's nineties television series Twin Peaks or Hollywood siren Jayne Mansfield holding a human skull. "If I enjoyed the movie enough, or was interested in the song, or liked a piece of literature, that will inspire me enough to paint." Raine has a penchant for horror, fantasy and cult classics — The Exorcist, Blue Velvet, Ladyhawke, The Shining — and rock musicians such as The Doors, Deep Purple, Kings of Leon and Led Zeppelin.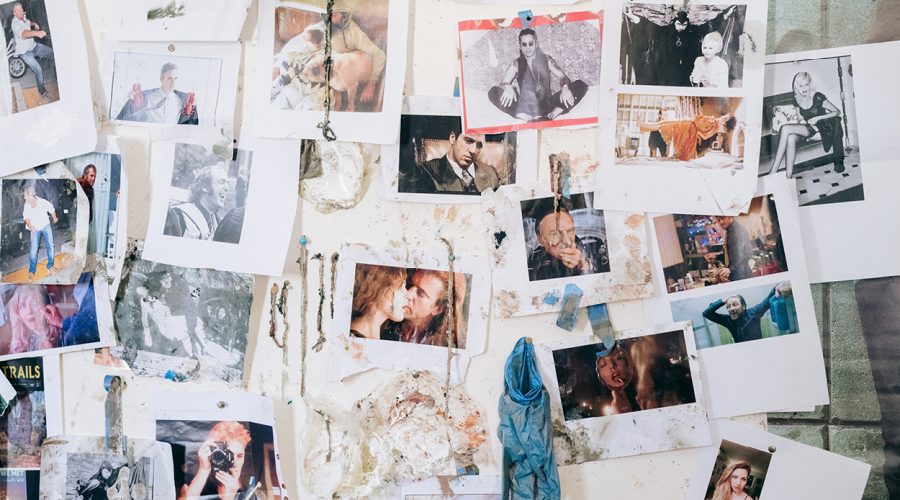 His tongue-in-cheek titles are often lengthy and acerbically specific. Take Brandon Flowers with purple hoodie going in for a drunken smooch with groupie which he will regret in the morning, or Ozzy with smoke and teddy bear, skinny from cocaine abuse. "I'm often told the titles are funny." he says. "I'm not trying to be funny, I'm just being honest."
Almost anybody with a smattering of cultural references will appreciate the titles. In fact Raine owes much of his success to the approachability of his art but you would be unlikely to hear that from him. He openly admits to regular bouts of imposter syndrome. "I'm always second-guessing what I'm doing. Sometimes I put some paintings that I wish I hadn't in shows, because I felt as though they weren't good enough. And I'll think about them afterwards, and the more I think about them the more embarrassed I get."
Humility can be useful. "I read something in a book about a year or so ago and it really struck a chord with me. It said that the people who are the best at what they do always remain in self-doubt. Those people who are overly confident," he adds, "who think that everything they do is great, that's never going to actually become the case, because it will breed complacency." 
I ask whether this is at the core of any advice he might offer budding artists. "Definitely," he says, "but also, and it might seem like a very obvious comment, if you want something, then you can have it — but you have to really want it. You have to want it enough to be prepared to work really hard for it. It's about grit," he adds, "developing a thick skin, and being patient. Because it took me 11 years, which isn't exactly overnight."