It was a fashion month like no other, and really it could never have been the same as all that came before. In a way, it was impressive that as many designers pulled together collections as they did, but — as was so eloquently expanded upon in this piece — fashion will always be there to either reflect or distract from the times. With many designers eschewing the usual format of in-person runway show after runway show, online viewers have been given another perspective, and often a deeper one. From puppet shows to underwater fantasy worlds, here are just some of the ways designers interpreted the new season.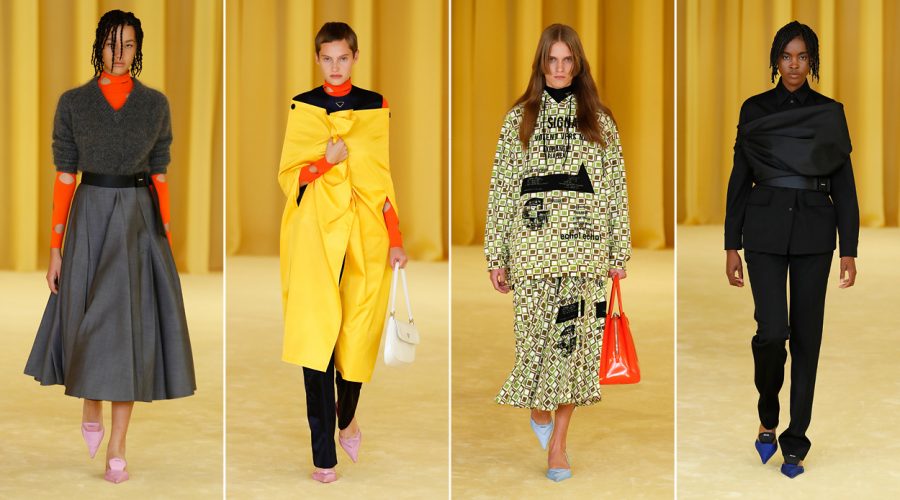 Prada
The most highly-anticipated collection reveal of the season, Prada's spring 2021 collection saw the collaboration of two of fashion's most revered creatives come to its first fruition. Following his appointment to the brand earlier this year, Raf Simons has officially joined Miuccia Prada as co-creative director, and rather than stage one of the usual extravagant runway shows, coronavirus restrictions in Milan meant the release was shown via video, with models walking around a yellow curtained and carpeted room — empty, save for cameras and screens mounted on robotic arms. Following this, Ms Prada and Mr Simons treated viewers to a thoughtful, intimate conversation, answering questions sent through online. And what of the clothes? The collection was called 'Dialogue', with fundamental design elements from both creatives successfully imbued throughout. As Vanessa Friedman wrote for The New York Times, "it wasn't quite a return to first principles; more like a renegotiation. One done with great harmony." Beginning with uniform-like ensembles of matching tunics and trousers, clutch coats and logo-fronted tops, prints were gradually introduced along with 50s-style skirts and knitwear, cleverly layered over hole-punched polo necks. An inspiring first outing from the unprecedented partnership, we're already looking forward to the duo's next collection.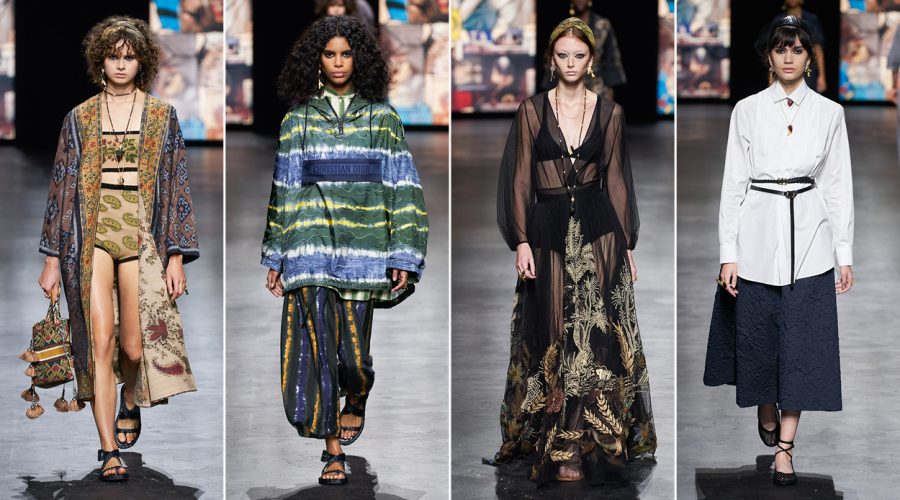 Christian Dior
Following last season's impressive ode to craftspeople via a show held in Lecce, Puglia, spring 2021 saw Dior's creative director look to women whose craft is honed within the intimacy of their homes "…wrapped in infinite layers of color, like Virginia Woolf, or dressed in a simple white shirt, like Susan Sontag." Apt, indeed, for these times. A loosening occurred within this collection, again taking into account the casual bent of the daily attire for most of the planet this year, with fluid fabrics reinterpreting garments that would have been traditionally more structured. A clever reinvention of the emblematic Bar jacket is rendered in denim, while Chiuri's essential man-style shirts become tunics and dresses, worn relaxedly over flowing trousers and skirts. Covetable waist belts stopped everything from being too oversized and sloppy, adding just the right amount of structure to the embellished, embroidered and variously patterned ensembles.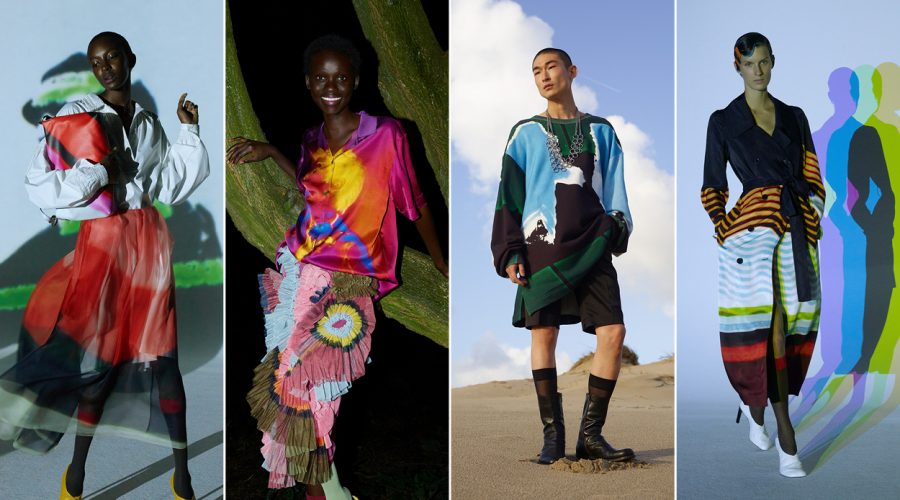 Dries Van Noten
The master of print and pattern, Mr Van Noten was also inspired by an artist, and this time one from our side of the hemisphere. Looking to the early work of 20th century New Zealand artist Len Lye, Dries Van Noten channeled Lye's pioneering celluloid film paintings with an uplifting effect. The result is an optimistic collection doused in psychedelic colour combinations, and prints spanning celestial suns and moons, light bars and palm trees. Rather than stage a show, the designer opted for a photoshoot and a video to showcase his spring 2021 collection, melding mens and womenswear for the first time. If we ever considered opting for a monochrome uniform, Van Noten's artful designs always have us rethinking this temptation.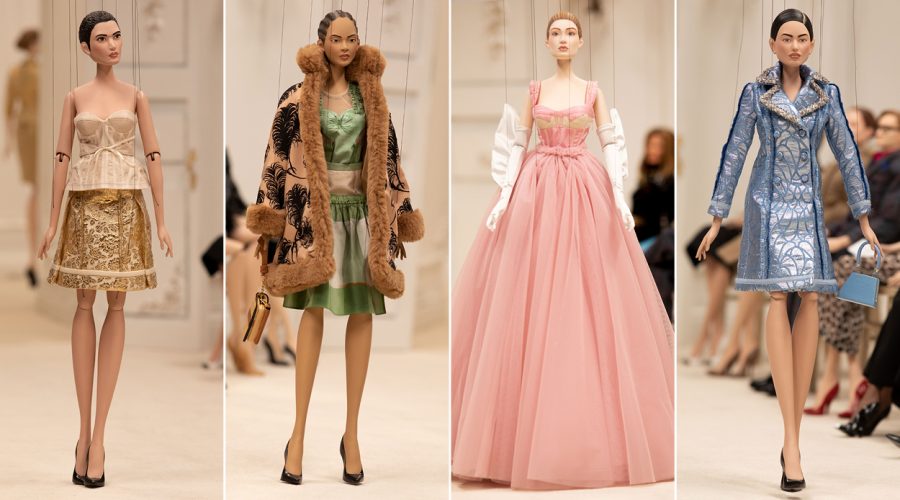 Moschino
Ever the jokester, for Moschino's spring 2021 presentation, designer Jeremy Scott decided to put on a puppet show, certainly one way to ensure the team and audience were safe from the perils of Covid-19. The marionette models — and marionette front row — were created by Jim Henson's Creature Shop for a short film showcasing shrunken versions of Moschino's latest collection. Titled 'No Strings Attached' (get it?) the puppets wore their garments inside-out, exposing zippers, corset structures and pockets. "In 2020, the apparatuses of what we know have been largely exposed," said the brand. "Scott has chosen to reflect this phenomenon, and to build from it." Added Scott: "As the world seems to be splitting along the seams, the bare inner workings of something new will be exposed." While many designers are opting for dressed-down versions of their usual, Scott's glamorous spirit has clearly not been squashed throughout lockdown, and coming into party season in newly-level 1 Auckland, that's something we can appreciate.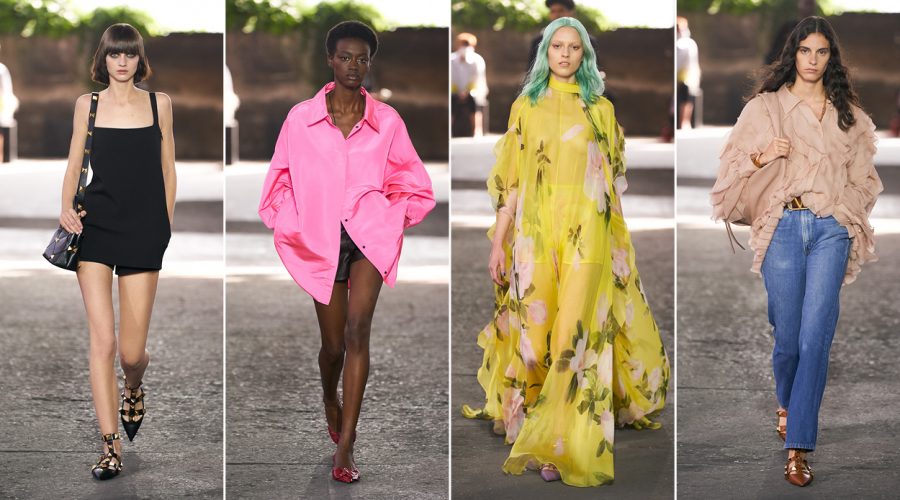 Valentino
Moving to Milan from Paris for its spring 2021 mens and womens-wear show, Valentino re-connected with its home turf after showing in Paris for the last decade. Another designer for whom fantasy was tempered with a far larger dose of reality than usual this season, creative director Pierpaolo Piccioli still presented his signature romanticism, but this collection was more wearable than ever before. In a genius move, the brand brought back the rockstud shoe — virally popular since its inception in 2010, and sure to be just as in-demand now in a supersize, flat iteration. Among Piccioli's upliftingly colourful pieces were doses of black (mostly rendered in lace and laser-cut fabrics as to not seem too heavy) and, also savvy, a surprise collaboration with Levi's. Finishing the show with a series of floaty, featherlight dresses, Piccioli reminded us it's possible to embrace both the casual and the elevated in these times while remaining comfortable and, above all, optimistic.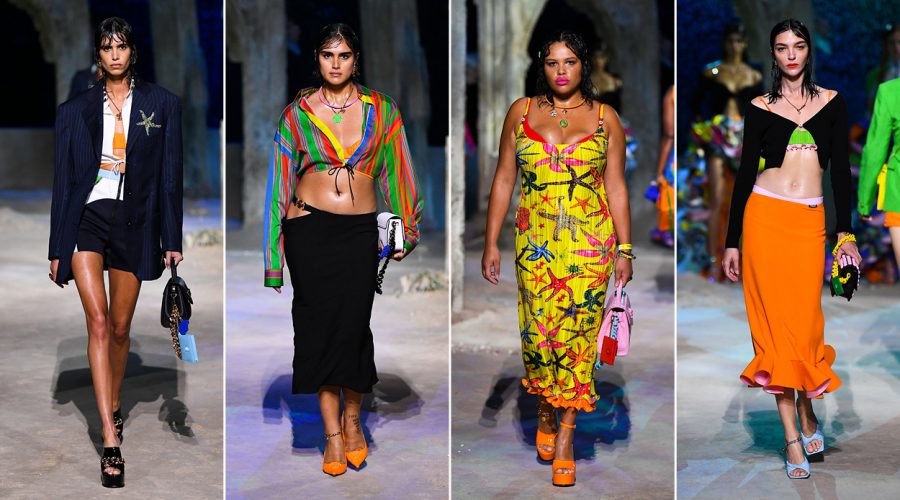 Versace
In a live-streamed show that was closed to the public and attended only by staff, Donatella Versace shared her vision for an underwater haven — Versacepolis. Dubbed "a utopian settlement created on the seabed and populated by strong and confident men and women", the audience-less show still managed to be a spectacle for the internet to enjoy. Taking many of the seashell and sea creature motifs from Gianni Versace's spring 1992 'trésor de la mer' collection, Ms Versace reimagined them for today. A veritable explosion of colour and print, Versace backed its optimistic vision with inclusive, body positive casting — a welcome sight in an industry that still needs to get with the times.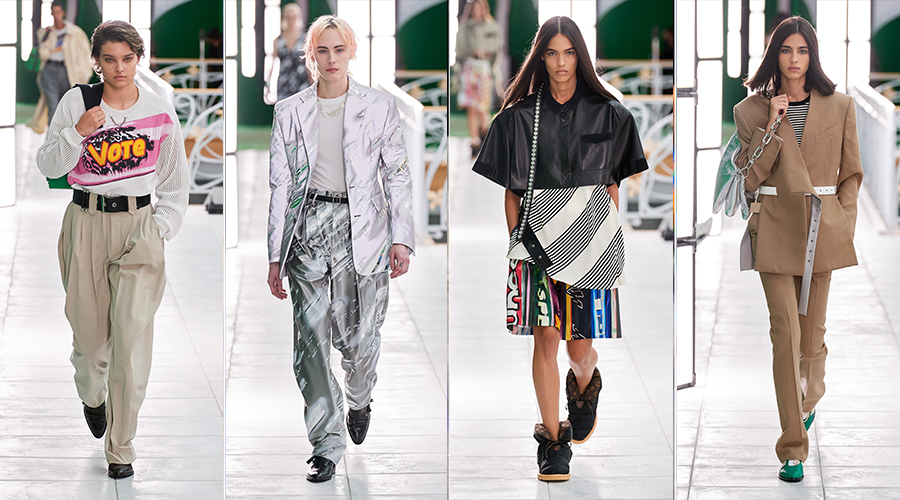 Louis Vuitton
Closing Paris Fashion week, the Louis Vuitton spring 2021 show opened with a model wearing a shirt emblazoned with a very relevant message — especially to us in New Zealand and in the US: VOTE. A pity, remarked Vogue, the shirt isn't available to wear now to the voting booths. Held in the impressive La Samaritaine department store, just around the corner from the Louvre, the show cleverly blended reality and virtual technology. While a socially-distanced live audience lined the multi-story space, it was interspersed with cameras that swivelled 360-degrees, beaming the happenings to a private link for fashion media. The public were also able to watch via a livestreamed video. Creative director Nicholas Ghesquière once again channeled his favourite era for this collection, leaning even further into the 80s silhouettes with voluminous, high-waisted trousers, floor-scraping duster coats and oversized shoulders. Poppy graphics both opened and closed the show, with an overarching, purposeful androgyny to the pieces.