Since establishing his eponymous label Wynn Hamlyn in 2014, Auckland-based designer Wynn Crawshaw has seen the demand for his highly sought-after designs only increase. Going from strength to strength both on our shores and internationally, stocked on global e-commerce giant Moda Operandi, in Bloomingdales in Kuwait and Harvey Nichols in Dubai, the focus has now shifted closer to home with arrival of the very first dedicated Wynn Hamlyn boutique, opening today in Commercial Bay.
Taking up residence in the precinct's Little Queen Street laneway, where the brand will be joining the already-established selection of premium New Zealand designers, the opening is a declaration of optimism towards the end of a very challenging year. For the team at Wynn Hamlyn, it could certainly have been worse. "This year has been good, which is a relative term," says Crawshaw. "There have been ups and downs, and lots of challenges — but, on the whole, we're really grateful to still be going and have this opportunity to try different things. So, good in that sense."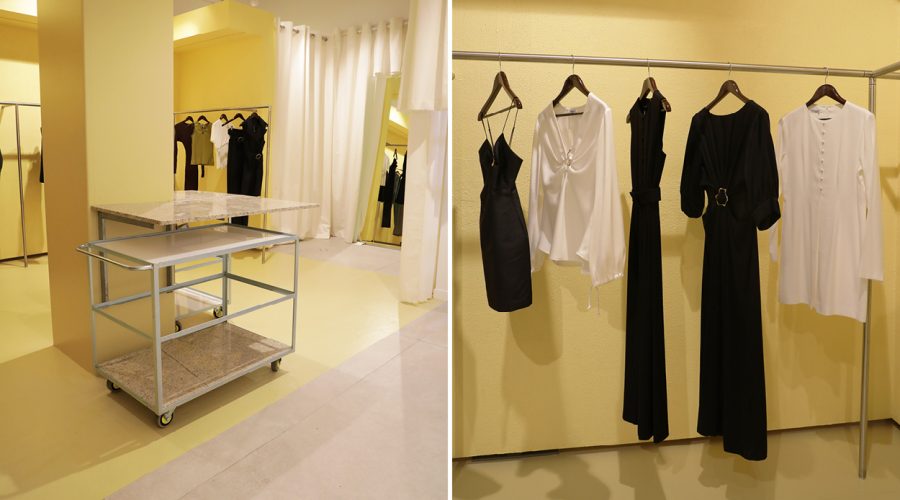 The store is a result of a changing of circumstances for the business; while a large part of Wynn Hamlyn's growth has been from the international wholesale side of the business, now's a good time to diversify and focus on direct-to-customer local sales, rather than being so reliant on an international market. "Secondarily, it's a great place to control the message of our own identity," explains Crawshaw. "We can put our whole collection in here, and have it displayed the way it was intended."
The shop itself is unconventional in the best kind of way, with around three quarters of the space and floor painted a vibrant, yet not fluorescent, yellow. Buster Caldwell from concept and interior design studio Wonder Group worked on the initial structural design with Crawshaw, with the brief to create a kind of haven where customers could feel like they were in a private, Wynn Hamlyn world.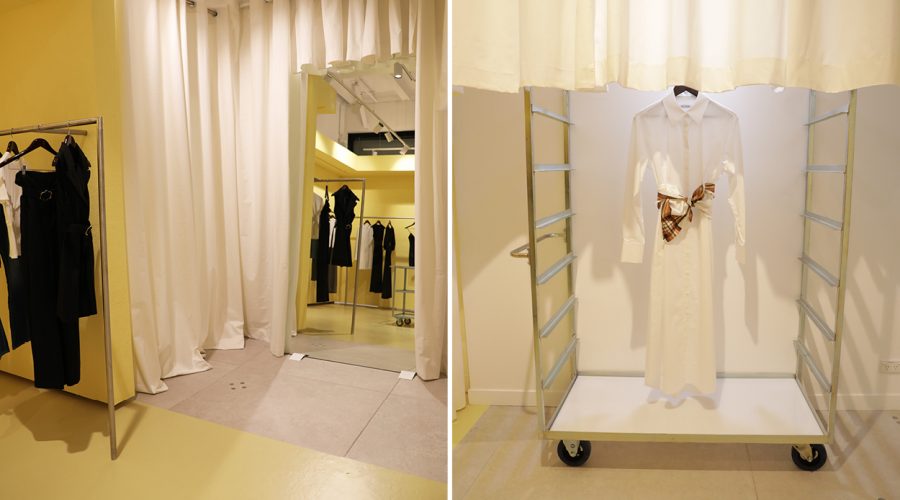 This involved constructing a wall, painted that same yellow, to sit in front of the existing large glass windows of the store front. "We want people to feel like you can come in here and have a little session, and walk around and try things on," says Crawshaw. Anto Yeldezian and Jack Roy of spatial design studio Stockfile helped to conceptualise the feel of the space, with the walls a slightly rough-textured finish compared to the vinyl floor, contrasting with long, heavy cream curtains. The strong structure of the space, and that yellow — shade name: Sweetcorn — allow the fluidity of Crawshaw's designs to stand out nicely against them.
In terms of where the brand's at, Crawshaw is enjoying the fact that Wynn Hamlyn now has a very defined aesthetic after just over five years. It's the perfect time to introduce menswear, he says, which is arriving with the spring/summer 2021 collection early next year, and the store gives them the opportunity to do made-to-measure and alteration services as well.
With the Wynn Hamlyn studio only a few hundred metres away on Anzac Ave, the boutique's location within Commercial Bay makes sense in more ways than one. "It's perfect for us," says Crawshaw. "It kinda feels like our own neighbourhood store."
Wynn Hamlyn
Commercial Bay
7 Queen Street
Auckland 1010