Sometimes you don't know how much you love something until you can't have it anymore. We always knew how much we'd miss dining out with friends and what a loss takeaways would be but we didn't realise how much we'd miss fresh flowers.
So it's with much relief that alongside the shift to Level Three comes the reopening of one of our favourite florists. The brainchild (or is that flowerchild?) of Millie Austin, La Femme Fleur flower truck has been based in Coxs Bay for six years, selling fresh flowers from New Zealand's best growers.
Austin's signature bouquets are stunning, luxurious and can now be ordered safely under Level Three via the website. Choose from one of La Femme Fleur's four colour profiles and let their talented team do the rest. Delivered around the city, this is a great way to not only treat yourself but to show those outside your bubble how much you miss them.
Now that we're all spending more time at home it's worth signing up for a flower subscription service. Delivered to your door each week, fortnight, or month, La Femme Fleur's flower subscriptions are designed to fill your home with the most beautiful seasonal flowers at all times. Their long last local blooms will brighten your isolation week in and out.
During Level Three the flower truck is moving its wholesale offering online too, so you can have access to the best, freshest New Zealand grown flowers every day. After each flower auction the team will create take-home bundles in two palates: whites and greens or bright and bold. The bundles will come in three sizes – $50, $75 and $100 – and they'll be using contactless pick up from Coxs Bay.
"The flower truck has become such a big part of the local community I wanted to create a way for my regulars to still get their favourite flowers to fill their homes," says Millie Austin. "I thought this was especially important while we remain in our bubbles and people want to brighten their lives."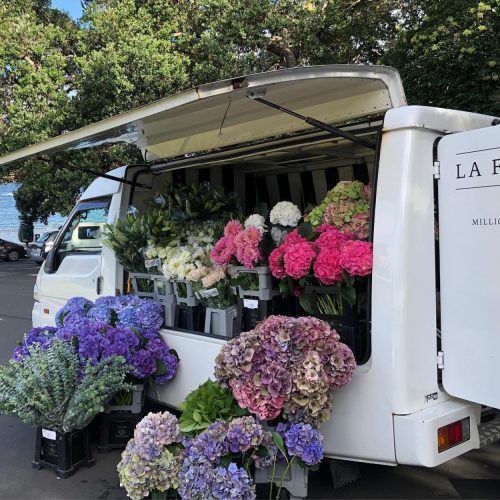 The bundles can be distributed across different vases around the home or be assembled as a single, striking arrangement. Keep an eye on La Femme Fleur's social media channels for updates on what's in the bundles each week.
Order the home bundles by emailing [email protected] or calling 02 20775375.
The New Zealand flower industry has been put under huge pressure by the effects of Covid-19 with growers having to destroy hundreds of thousands of dollars of stock. Now you can support local growers and fill your home with beautiful flowers.
"The impact of Corona virus on flower growers and florists has been huge. Now that we're able to operate again under Level Three we need Aucklanders to come out and support local businesses so our industry can survive."