Until recently, the multi-step skincare routine was truly a beauty force to be reckoned with. The likes of K-Beauty inspired ten-step regimes that are touted as the answer to youthful, glowing, blemish-free skin. But maintaining a routine this long and laborious is no easy feat. So, with this in mind, we set out searching for a system that would give us similar, sought-after benefits but at a fraction of the time (and effort).
Ever the minimalists, it was the French, it seems, that we should have been turning our attention to — more specifically, luxury skincare brand Sothys. Via simple three-step morning and evening plans, using just three Sothys products each, skincare can be made easy for those in a rush. Sure, they can be expanded on wherever seen fit (an eye cream, for example, never goes amiss) but these are the trios that create the supreme, foundational regimen.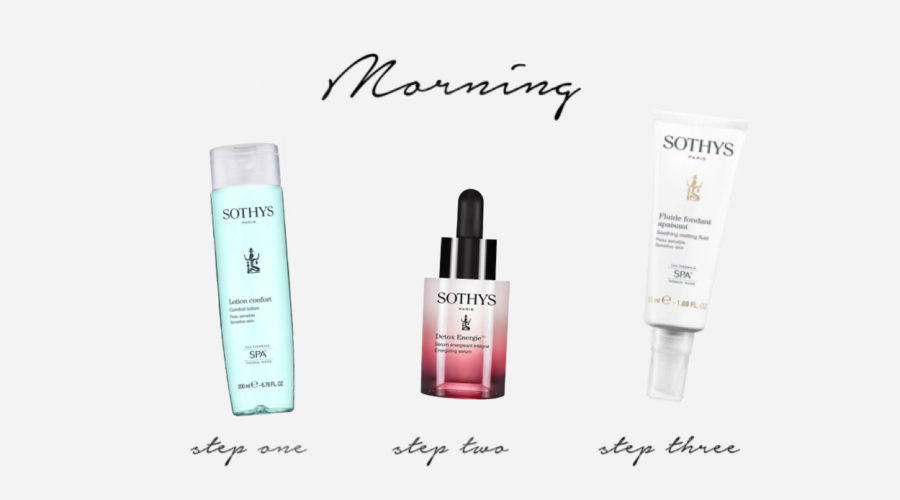 Morning:
Step One — Cleansing
Be wary of cleansing too much in the morning as you may be stripping the face of the natural, beneficial oils that are produced overnight. Instead, find a cleanser that's more on the gentle side, light but still effective, like the Cleansing Lotion — Comfort. Fusing creamy lotion with Spa™ Thermal Water, the cleanser both clears and freshens the skin while creating the perfectly prepped blank canvas for further products.
Step Two — Serum
Once cleansed, be sure to add a serum that leaves a weightless, traceless finish — anything on the heavy-duty side should be reserved for nighttime only. Boasting an adaptogen-rich formula with a lightweight texture, the Energising Booster Serum is a simple way to inject a boost of radiance to the skin's complexion, removing any signs of morning grogginess.
Step Three — Moisturiser
When it comes to a day cream, you should be swiping a protective barrier onto the skin that will be both illuminating and hydrating under makeup. The Soothing Melting Fluid not only protects the skin from external aggressors, but the use of Vitamin F ensures that it is softened and hydrated, too — resulting in a silky, nourishing base that's perfect for make-up application.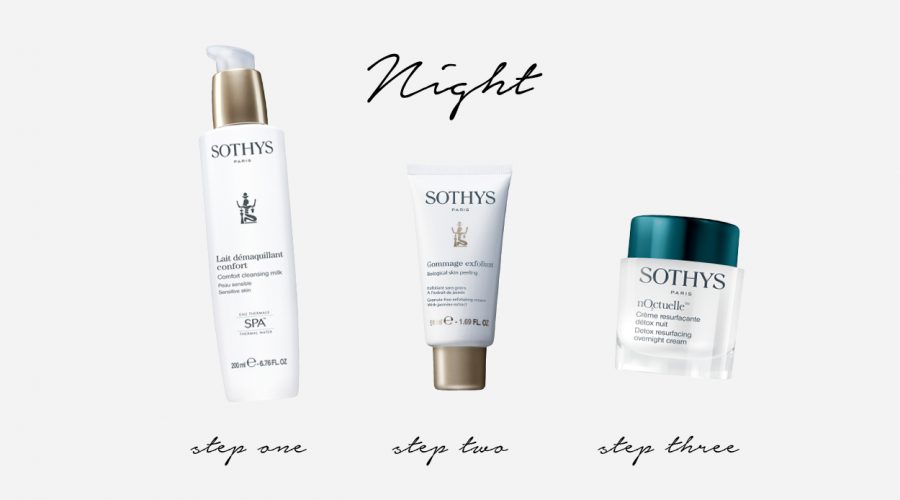 Night:
Step One — Cleansing
The removal of makeup should always be first on the list when it comes to evening skincare, so begin by using a soft, gentle cleanser that will wash away the obvious stuff easily. Boasting a rich and silky formula, the Cleansing Milk — Comfort ensures that any removal process is soft and easy, an ideal product for those on the more sensitive side.
Step Two — Exfoliating
The double cleanse trend has blown up in the beauty realm, and for good reason, too — there's no better way to truly remove the day's impurities. After removing makeup via the gentle cleansing milk, a second cleanse, via the Biological Peeling Scrub, allows you to work harder on the remenants that get left behind. Its gentle, exfoliant properties will remove that further layer of pollution, alongside any dry skin and stubborn, leftover makeup and dirt.
Step Four — Night Cream
Now is the time where you can customise the routine to ensure it is tailored to your skin concerns, and if you were to add an eye cream or a specific treatment, it would be here. For those evenings where spare minutes are few and far between, however, you can skip this lengthy process — as long as you are sure to finish your routine with a heavy-duty moisturiser. Essentially, the skin only gets to work when you are asleep, so before bedtime, it's important to lather your face in anything that will aid and accelerate the repairing process. Rich in stabilised Vitamin C, the Noctuelle Detox Overnight Cream detoxifies the skin when it needs it the most, and ensures that it's left soft, luminous and hydrated come morning time.