As the days and nights cool, we've noticed the onset of winter resulting in skin that is more irritated than usual. When it's cold and windy outdoors, and the moisture in the air evaporates, this is often mirrored by that hard-earned dewiness in our skin saying its swift goodbyes. Heated air conditioning in offices and homes only exacerbates this effect, as do hotter baths and showers that strip the skin's natural oils — quite apart from all the handwashing we're doing these days.
It's important to give the same amount of attention to the areas below the neck, and luckily, there are a host of excellent and highly efficacious products that will help nourish any dry patches. In fact, it seems the body-care category is expanding rapidly. Mecca Skincare Education Lead, Lucy Connell, says the beauty retailer's body category is booming, and it's all down to customers becoming more informed about skincare — plus, seeing fantastic results on their face that they want to extend to the rest of the body. "There are now effective, trusted body products in the market that use similar technologies and active ingredients that we would typically find in our skincare," she says.
Body care products with active ingredients like chemical exfoliant AHA's are becoming increasingly common and popular, says Connell. "The Sol de Janeiro Bom Dia Bright Cream is a great example, as these ingredients can target a lot of different body concerns such as sun damage, dullness and keratosis pilaris or KP, which are bumps that are typically found on the upper arms."
You'll get the best results this winter by keeping up with regular exfoliation and moisturising, whether you prefer a cream or an oil. Here, we share some of the best products to consider.
Body exfoliators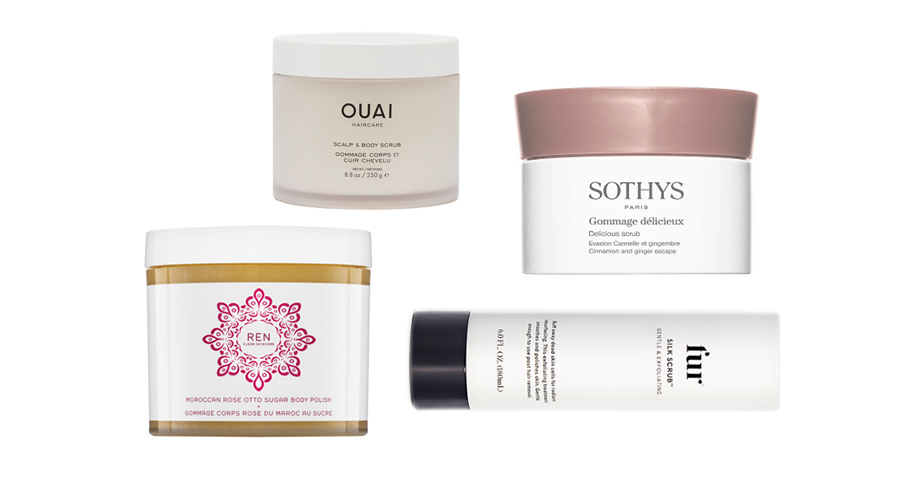 Ren Moroccan Rose Otto Sugar Body Polish from Mecca
This scrub is raved about for its luxurious scent and consistency, containing sugar to buff away dead skin and rose essential oil (plus a host of other oils) to leave the skin feeling smooth yet not dry.
Ouai Scalp & Body Scrub from Sephora
Use this deep-cleansing, foaming scrub on both a flaky winter scalp and dry, rough skin. Gentle sugar crystals will do the work, and this product also contains probiotics to help keep the skin balanced.
Fur Silk Scrub from Spring Store
A dual-purpose product, Fur's silk scrub is both a chemical and physical exfoliator, containing jojoba beads, papaya enzymes, glycolic and lactic acids, and clary sage oil. It can be used in the traditional way while in the shower, or left on the skin for up to 10-minutes for an extra dose of exfoliation.
Cinnamon & Ginger Escape Delicious Scrub from Sothys
It's all in the name — this scrub smells delicious. Infused with the warmth of cinnamon and ginger, it will stimulate the circulation and invigorate the senses while exfoliating the skin.
Body Oils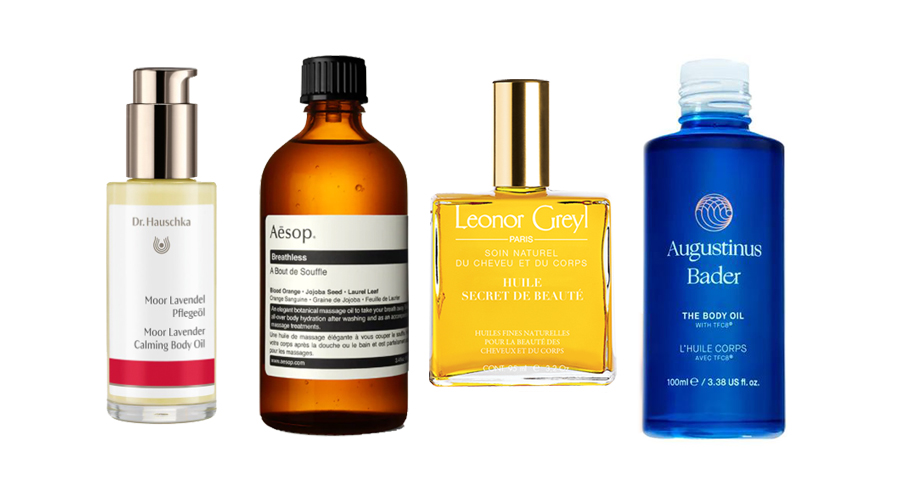 Dr. Hauschka Moor Lavender Calming Body Oil from Smith and Caughey's
Famed for a holistic approach that prioritises natural ingredients, Dr. Hauschka's products are more than skin deep. This oil contains lavender to not only soothe the skin but the soul too.
Breathless oil from Aesop
Nourishing vitamin E forms the base of this medium-weight body oil, along with nut oils, blood orange and jojoba seed. Its aroma is woody with light citrus, leaving the skin both supple and deliciously scented.
Leonor Greyl Huile Secret de Beaute from Ines Store
It's a cult favourite for a reason — this golden elixir can be used on both the hair and body, and can be wielded in a host of different ways. It's an all-over body hydrator, UVA/B protection for hair, cuticle oil — and much more.
Augustinus Bader The Body Oil from Spring Store
The renowned skincare brand's signature ingredient, TFC8®, is the key component of The Body Oil along with plant-based actives. For deep hydration, a dose of antioxidants and improved elasticity and plumpness, look no further than this luxurious oil.
Body Creams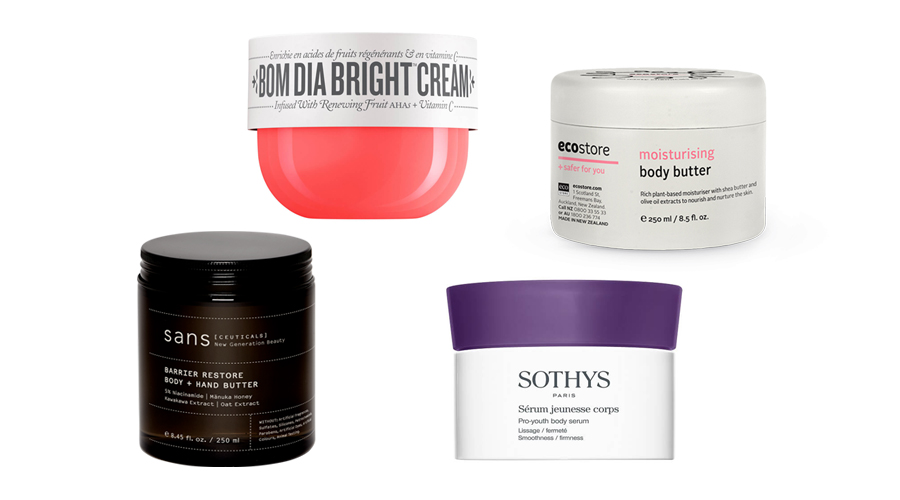 Barrier Restore Body + Hand Butter from Sans Ceuticals
Five percent niacinamide, Mānuka honey, kawakawa extract and oat extract join forces in this active yet soothing emulsion that is designed to support the skin's barrier function while moisturising it.
Sol de Janeiro Bom Dia Bright Cream from Mecca
This clever new cream will help get rid of more hard-to-budge surface bumps at the same time as addressing dryness. Packed with fruit AHAs and Vitamin C, it's ideal for both areas that have bumpy rough spots like the arms, thighs and behind, and also areas prone to ingrown hair.
Moisturising Body Butter from Ecostore
A rich, plant and mineral-based formula harnesses the power of olive oil and shea butter to leave non-greasy yet heavenly soft skin and has a delicate rose and cardamom fragrance.
Pro-Youth Body Serum from Sothys
Encouraging use over the entire body, including decolletage and arms, Sothys have created a lifting serum that promises to visibly redensify the skin and leave it looking both smoother and firmer.