K-beauty continues to dominate the beauty world, with 'glass skin' and the '10-step routine' being just a few of the many phrases now used in common parlance by beauty editors and skincare novices alike. K-Beauty products themselves are not merely being stocked on the shelves, but are being given their own specific space in major beauty stores — and there's one brand, in particular, that's skyrocketed to skincare stardom: Glow Recipe, renowned for its buffet of innovative, all-natural Korean products.
Its founders, beauty veterans Sarah Lee and Christine Chang, have since become two of the most respected voices in the industry. And as such, we figured now is a better time than any to sit down with the duo and get to know the brand — here's everything we learned about Glow Recipe, K-Beauty, and what's going to be the next biggest thing in beauty.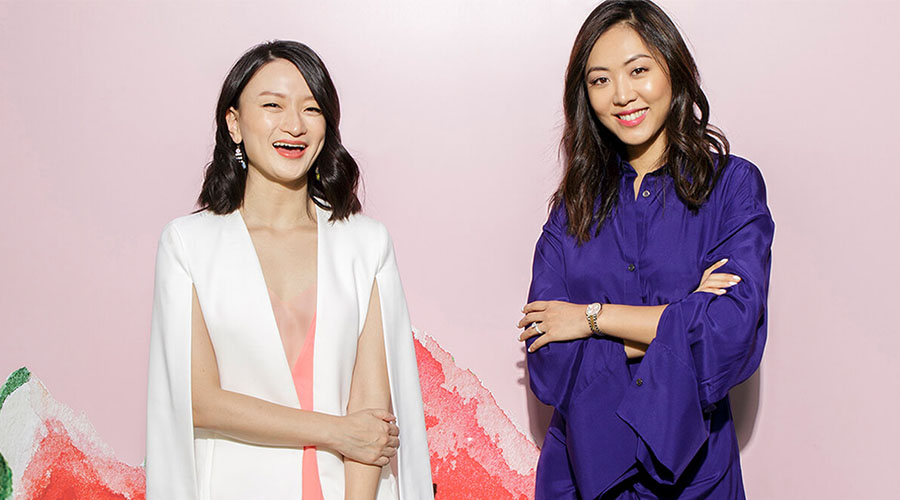 How long have you both worked in the beauty industry?
Christine — Sarah and I have been in the beauty industry for 15 plus years each. We met when we were just starting out at L'Oreal Korea and have been friends ever since -— we even moved to New York at the same time, where we worked at L'Oreal US, working on different brands.
How did Glow Recipe come about?
Sarah — Christine and I were de-stressing over wine and sheet masks one evening when we realised that we were both working on projects inspired by Korean beauty technologies. As the only two employees in the L'Oreal NY office that had experience in both the US and Korean markets, we knew that we'd uniquely be able to leverage our combined 20 years of bi-cultural beauty industry experience to create a successful company — thus Glow Recipe was born.
What are the biggest challenges you have faced with the brand?
Christine — In the beginning, there were definitely a lot of growing pains. We had been marketers and product developers our entire lives but had to figure out how to put together a site, design emails, deal with warehousing, legal issues, trademarking from scratch — we were constantly Googling to figure things out. We learned about running a business in a very hands-on way, but wouldn't change this experience for anything.
When developing a new product, what are the most important things you take into account?
Natural ingredients are a big part of our Korean heritage and tradition. When we would visit Korean bath houses when we were young, only natural ingredients were used. At the time we didn't understand why, but now we understand that green tea is filled with soothing antioxidants and the lactic acid in milk aids in smoothing your skin. It has always been important to us to harness the power of these natural ingredients, as they are highly potent and antioxidant-powered for the skin. Aside from ingredients, we also focus on the sensoriality of skincare, from playful, innovative textures to tactile packaging.
When did you know that you had 'made it' with Glow Recipe?
Christine — When we launched our OG Watermelon Sleeping Mask, we were so shocked and humbled by the support. Having sold out multiple times and having a waiting list thousands long, having our namesake brand launch be so well received was beyond our wildest dreams.
Are there any upcoming launches in the pipeline?
Sarah — We have some amazing launches coming down the line this year that we are truly excited about. Currently, we're focused on expanding within skincare — there are a lot of new innovations that we're excited to introduce into the category, including a 'skincare-makeup hybrid.'
Are there any misconceptions that surround K-beauty?
A common misconception that we always aim to dispel is the idea that a Korean beauty regimen is 10-steps, making it seem excessive and unnecessary when that's truly not the case. K-Beauty is all about personalising your routine to work for you. When we realised this misconception was becoming a barrier for the skincare community to avoid purchasing and experiencing K-beauty, we had our 'Aha!' moment and decided to create our in-house brand, Glow Recipe Skincare, which we launched in 2017 in the US.

What are the biggest upcoming trends in K-Beauty?
Sarah — We're in love with the K-beauty "fog mist" trend, or 안개 (ahn-gae) mists. In Korean, 'fog' is called 'ahngae', which also has a dual meaning of baby's breath flowers. Fog mists are ultra-fine mists that disperse so finely that you feel like you're walking into a fog of hydration. The great thing about a fog mist is that they do all the heavy lifting of a regular mist but in this ultra-fine spray that envelops you.
What's the biggest skincare tip you can give?
Sarah — The main Korean skincare tip we can give is patting your skincare in to aid absorption. (We created a fun video that ended up going viral, which explained the '7 Skin Method,' where you pat in a toner or mist seven times in a row to drive the product deeper into skin's layers.) Fast movements cause friction, and over time it can cause micro-tears in your skin, while tugging and pulling at the skin can contribute to wrinkles.
Glow Recipe is available locally from MECCA.