New Zealand's most decorated Paralympian, Sophie Pascoe, is a world-class athlete who has accumulated accolades both in and outside of the pool. But it was in the ebbs and flow of living through a pandemic — in the lead up to the postponed Tokyo Paralympics — that the swimmer found her purpose.
Pascoe took home four medals in Japan, the most notable of which was winning gold after pushing herself to the limit for the 200m SM9 individual medley. The real world-first was that the sports star finally felt satisfied as she stood on the champions' podium. Here, the newly minted Dame Companion of the New Zealand Order of Merit shares the importance of personal pride, and overcoming prejudice.
I grew up on a lifestyle block in Halswell in Christchurch, with a very close and loving family. At the age of two-and-a-half, I was involved in a lawnmower accident. My left leg, below the knee, needed to be amputated, and then my right leg has severe scarring due to loss of muscle and nerve damage.
My family didn't let my disability hold me back,with my parents treating me no different to my older sister. If I couldn't do something my able-bodied peers could, they challenged me to find my own way. I think that's really shown through my life.
Being outgoing and adventurous, I entered what was then known as the Crippled Children's Society Games at the age of eight. I did all of them, but my talent showed through in the pool. Down the other end was Roly Crichton, who told us that I could potentially represent New Zealand. We signed up the next day, and here I am — 20 years later — with the same coach, and 19 Paralympic medals.
Athletes are used to being completely prepared. I had very ambitious goals leading into Tokyo 2020, but then those expectations went out the window. I wasn't in a pool for three months due to lockdown.
I've learned the implications of mental health, especially over this past year when the Games were postponed. Coming out of lockdown, our country got back to normality quickly, however, it didn't feel that way for me. I worked a lot on my mental wellbeing with a crucial support team around me. It's been an absolute journey of strength and resilience and courage. I learned that who you are as a person has to come first. When you are confident as a person, and you're confident as an athlete — then you're unbeatable.
The biggest pressure I deal with is my own expectations. During previous games, I was never fully satisfied, even though I won gold medals. This time, it really had to be a journey experience to the point where the biggest goal I achieved was getting on the plane to Tokyo. Then, I treated every race like it was the last race.
People aren't going to remember how many medals I won. They're going to remember how I made them feel. And that is more powerful than what I did physically.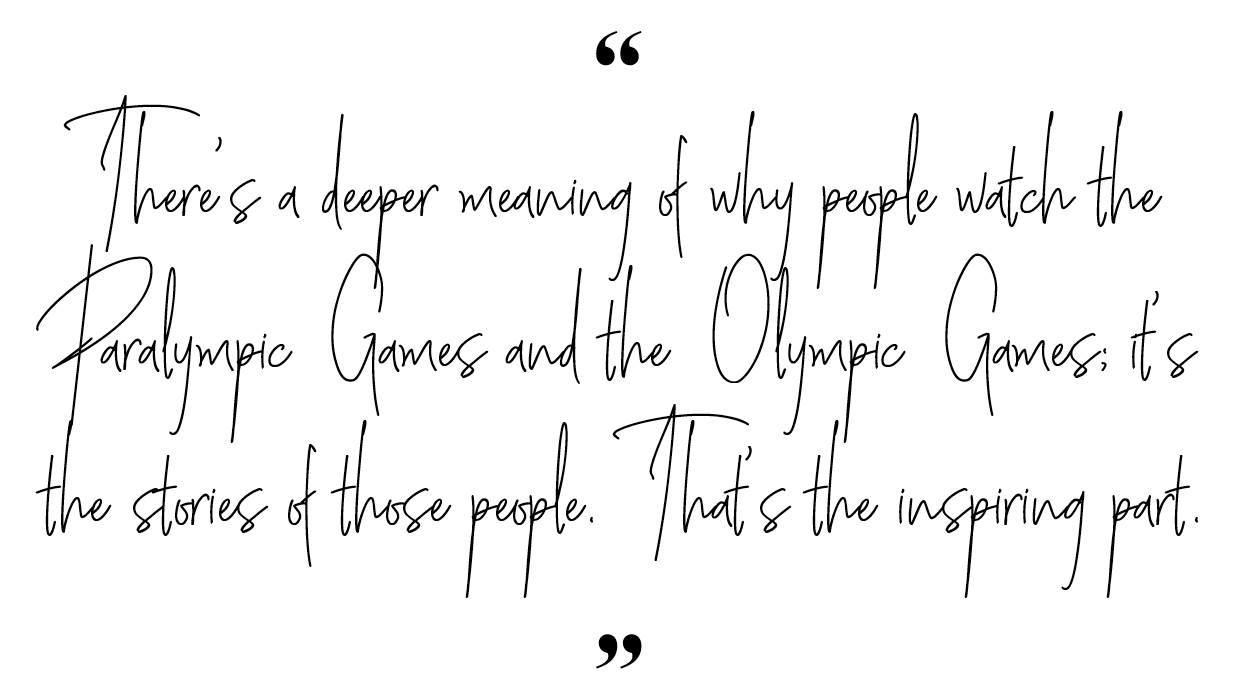 I hope to get into the fashion business. I have always wanted to and now with the help of my life advisor and my support network (who encouraged me to apply as a mentee as part of the Ernst & Young's Women and Business Network), I've become this confident person who wants to excel in the business world. It's a hard industry, but I know how to persevere through challenges and adversity. I hope that everyone will see me around, outside of the pool in a Sophie Pascoe capacity.
I believe one of the best things about racing is the adrenaline and what comes with that rush. Some people pay money to have that, through a bungee jump or jumping out of a plane, but I get to do that for a living.
There's a general time to psych people out, prior to getting in the pool. I've always been really good at being able to play my opponents out, almost to a pre-race. I think my competitors would describe me as respected, yet intimidating.
I'm an absolute advocate for equality for people living with disabilities. I'd love to see that slowly build into equality over all areas in the world.
I'm very humbled to be in a position that comes with being a household name and being able to use my voice. I've always been a person of honesty and integrity and I try and share as much of that as possible.
The biggest lessonI've taken on board over the past year is to be kind to myself, and that it's okay to be vulnerable. Life throws really big curveballs, but it's knowing that you'll come out the other side of it proud.
There's a deeper meaning of why people watch the Paralympic Games and the Olympic Games; it's the stories of those people. That's the inspiring part.
In the pool, I'm very much on autopilot — but in that last 10 metres, I do have to mentally kick in and tell myself what I've got to do to get to that wall. When you execute on point, it's a phenomenal feeling. That's what I love — and then turning around and seeing the outcome.
In Tokyo, I wanted to leave it all out there. I wanted those races to be part of my legacy. I'm a fighter and I know what I want and I'll go out and get it. When it gets really tough, you've got to kick in for survival. And that's what it felt like, especially in that last 10m of the 200m. Whether I needed oxygen and medical support for a good hour afterwards — that's worth it. You see some negative feedback on that, but then for the majority, it's positive. I want the next generation coming through to know that not everything is simple, easy or given to you. Those are races I'm going to remember for a lifetime. I didn't get handed it, I worked bloody hard for that.
The Tokyo medals, in particular, are really special. I really got to embrace the podium, listen to the national anthem and be proud of myself. I walk away so satisfied looking at these medals because they are precious. If I could break them up into little pieces and give them to everybody, I would. It's nice to be able to have something to show my support network — because they are a part of that.