From supporting our inner health to making sure the outside is just as radiant, New Zealand wellness brand Me Today has launched an extension of its skincare range with six new, targeted products.
Encompassing four new vitamin serums and two new botanical oils, all formulated for specific uses, the range is a harmonious continuation of the brand's philosophies, utilising effective yet naturally-derived ingredients that are vegan and cruelty-free.
Those wanting to address sun damage will gravitate towards the Me Today Vitamin Glow C Serum, enriched with vitamin C-rich botanicals strawberry and kiwi seed, while Vitamin Bounce B5 Serum aims to improve hydration using 2% vitamin B5, vegan hyaluronic acid and watermelon, aloe vera and cucumber.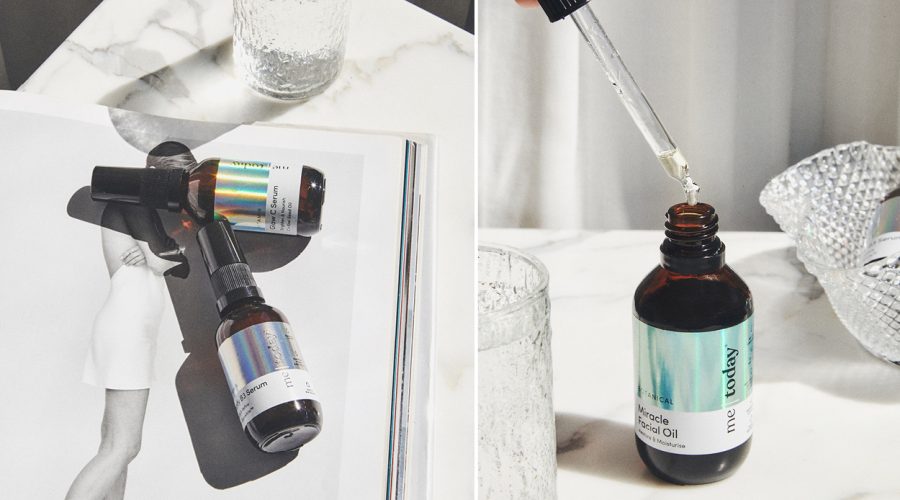 Smooth and firm the skin with the help of the Vitamin Renew A Serum's enriched vitamin A, bakuchiol and rosehip, and Vitamin Purify B3 Serum wields niacinamide and Gigawhite™, promising to clarify and refine the skin, reducing the appearance of hyperpigmentation and blemishes.
If you're not familiar, Gigawhite™ is a curated blend of seven skin-purifying, organic, sustainable and fair-trade certified botanicals. Clinically proven to target multiple steps in the skin pigmentation process, it limits tyrosinase (which is the enzyme that controls the production of melanin) and intercepts the migration of melanin to the upper layer of the skin — in this way, assisting with anyone wanting to reduce hyperpigmentation.
Facial oils have undoubtedly exploded in popularity over the last few years, thanks to their ability to deliver intense hydration and lipophilic state — meaning they generally support the lipid layer of the skin, protecting it from external factors like pollution and potential irritants.
Me Today's Botanical Miracle Facial Oil and Botanical Organic Rosehip Oil are sourced sustainably and developed to feel and smell great on the skin. The former combines nine Omega 3, 6 and 9-loaded botanical oils, antioxidants and vitamins to restore and moisturise the skin, while the latter is certified organic and cold-pressed to target stretch marks and visible signs of ageing.
The idea for these products has been in the works since day one, says Me Today Product & Innovation Manager, Celeste Peh, and through countless tests and trials the team has launched products they proudly consider the best in the market, ensuring the brand's offering is even more well-rounded than ever before.