Sallow skin, puffy eyes and under-eye bags so big they qualify as extra airport luggage; the classic signs of sleep deprivation are not pretty. Whether it be bedtime procrastination, a tipple too many or just the consequences of hectic day-to-day life — prioritising Z-catching over everything else is often an unattainable feat.
As the reality of a solid eight-hour sleep seems like a distant, vanishing dream, we instead learn to improvise. Thanks to a trove of fatigue-concealing beauty products and techniques, we no longer have to look sleep-deprived even if we are.
Herein is a list of our top picks that will help fake your way to radiant, sleep-fulfilled beauty.
Slip Silk Pillowcase
Made from long-fibre mulberry silk and non-toxic dyes, these luxurious pillow slips are made to be anti-ageing, anti-sleep crease, and anti-bed head — an all-round nighttime saviour that won't upset your bedroom's aesthetic.
Angela Caglia Cooling Gold Cyro Facial Set
The benefits of using cold and iced products on the face are well documented, not least for their de-puffing properties. Keep these gold-plated, ergonomically crafted tools in the fridge until you wish to press them under the eyes and run them along the contours of your face. Within minutes, the appearance of dark circles, pores and fine lines can be reduced, as well as the puffiness caused by fatigue.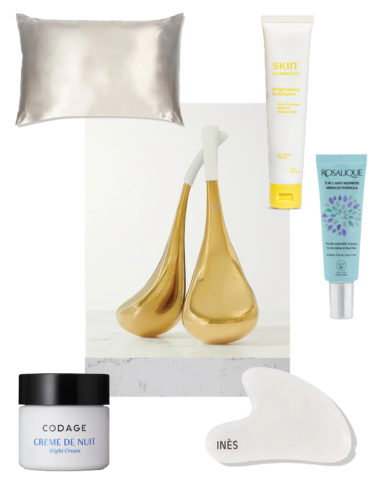 CODAGE Night Cream
This emulsion-based moisturiser repairs and nourishes your visage as you sleep — even if you don't sleep much. Boosting the natural cell regeneration process, it leaves smoother, glowing skin come morning. Spring Spa works this nurturing cream into an array of facial treatments.
Rosalique 3 in 1 Anti-Redness Miracle Formula
If your skin tends to be a bit red and irritated when you haven't got enough shut-eye, this product from Rosalique is a multi-tasking wonder cream. The line is developed specially for people who suffer from very sensitive skin and redness, and its targeted formula can be used as a primer, harnessing α-Bisabolol, Zeolite, Provitamin B5, Urea and Shea Butter to a primer to gently conceal redness. Plus, SPF50 protects from UVA and UVB rays.
Ecostore Brightening Exfoliator
A delightful fusion of jojoba beads, New Zealand Glacial Clay and sweet pineapple, Ecostore's brightening exfoliator clears pores and removes impurities to give a brighter and smoother complexion for a fresh-faced look.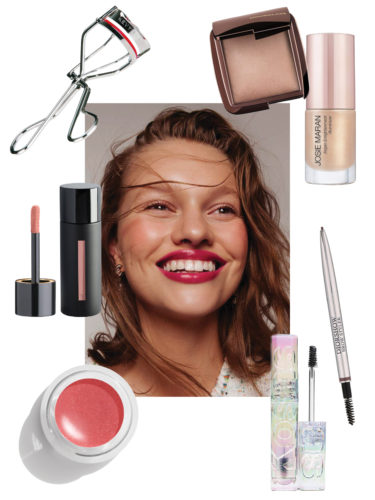 Finishing Touches
If you're a make-up wearer, these final additions will sit atop all those beautiful products like a dream.
Curl up
Curling your lashes is an excellent way to make your eyes appear far more open. The Kevin Aucoin lash curler is highly rated and makes the job painless. Follow with a lick of your favourite mascara.
A healthy flush
Bringing colour into your complexion is crucial for a well-rested, full-of-life look. Local beauty brand Aleph's cheek/lip tint is a versatile and full-proof cream product, with a seamless finish that can be blended with the fingertips. Used on both lips and cheeks, it creates a natural, youthful flush.
Beautiful brows
As they say, the brows frame the face and even if you do nothing else, making sure your brows are nicely groomed can be a cheats way of looking perfectly put together. If you need help in the hair department, use a tool like Dior's Diorshow Brow Styler, a best seller for its ultra-fine, retractable pencil that helps shape and fill in the brows. Set in place with a brow gel — we love the Kosas Air Brow Clear Lifting Treatment Gel.
A dab of highlighter
A finishing touch of well-placed highlighter can pay dividends in bringing luminosity to your features. Apply to the cheekbones, cupid's bow and inner corners of the eyes — you'll be surprised what a difference it makes. If you're a fan of a cream product, the Argan Enlightenment Illuminiser by Josie Maran Cosmetics is a concentrated liquid that can also be mixed with foundation for an all-over glow, or for powder, the Hourglass Ambient® Lighting Powder is a cult-favourite.