We're willing to try almost anything in our quest for beauty but could the answer to a glowing, toned visage be as simple as a stone held in the palm of the hand? The gua sha (pronounced gwah- shah) was used as far back as the Yuan Dynasty in China as a vigorous health treatment, and has recently resurfaced as a calming facial tool to smooth over our skincare, and our skin concerns.
'Gua sha' loosely translates to 'scrape away the pain', and this was done to the body in the 1200s with any hardy tool on hand, including animal bone and horns, or spoons and coins. Whatever was used could help stimulate blood circulation and promote healing, moving on toxins and balancing the flow of qi, our life-force energy.
While traditional gua sha can cause intense redness (not to mention mottled bruising) on the body, today's facials use much lighter strokes to cause a subtle flush of erythema as blood flow increases. Dubbed the natural facelift, gua sha treatments can sculpt angles, lessen lines and support lymphatic drainage — depending on your chosen technique.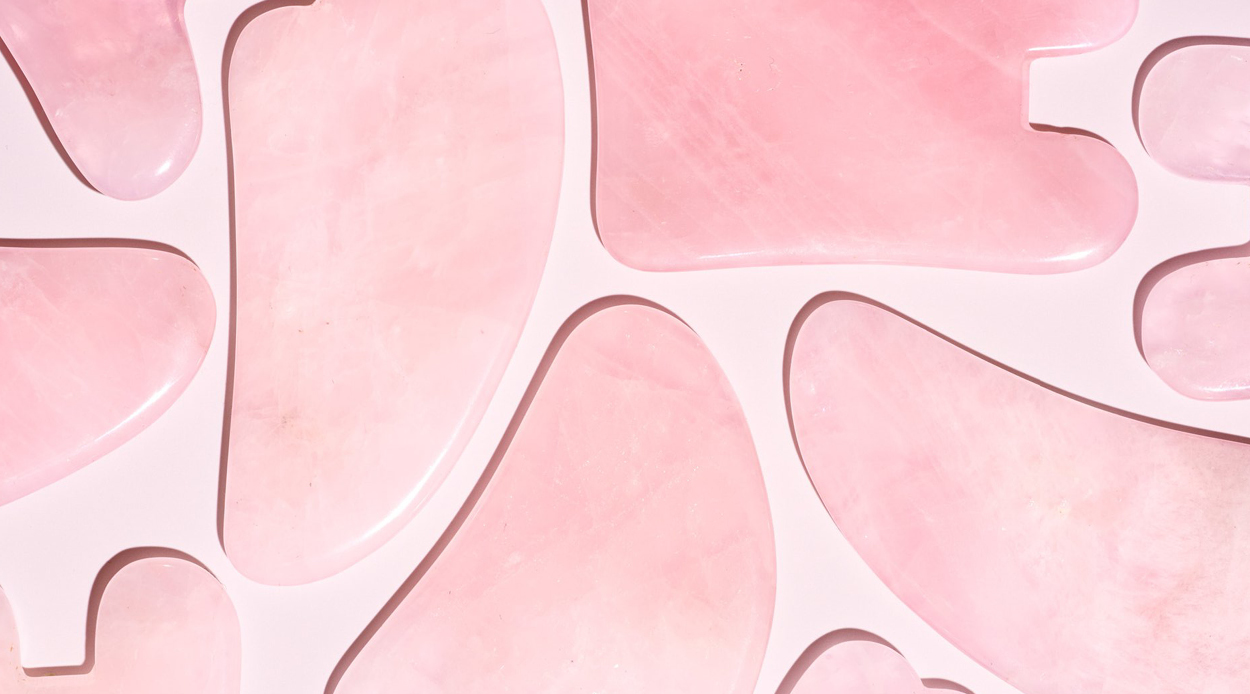 In traditional Chinese medicine, imbalances in the body are connected to emotional issues. One of the reasons gua sha has been picked up again is its 21st century sense of self-care — letting your skincare, and self-worth, sink in that much deeper.
Focussing on strengthening the skin while soothing the mind, professional treatments such as Spring Spa's Resurfacing Facial strike the balance. "Our master trainers have blended traditional, centuries old techniques with modern lymphatic drainage techniques to deliver an effective, relaxing flow sequence," says Spring's Director of Training and Spa Operations, Suyin Ginn, "You can expect a noticeably clearer, smoother and healthier skin complexion as the gua sha enhances your skin regeneration process."
Across town at Commercial Bay, Skintopia's tailored ProSkin treatments utilise ancient gua sha with modern concerns front of mind. "We use a combination of techniques but are more influenced by the needs of our clients today," says Head of Training at Skintopia Caroline Parker. "We use the gua sha to heighten the effects of existing treatments and products — plus as a sculpting and smoothing tool to relieve muscle and facial tension."
Both offer take-home gua sha stones to ensure you can extend the effectiveness of your spa treatment with your own serums and masques. While there are several different shapes and styles on the market, including body combs and under- eye spoons, Ginn looks for a versatile form. "A palm size gua sha, with smooth, seamless edges, crafted from a natural crystal works best," she says.
Many gua sha have different angles and curves, so you can get a feel for what works with your unique contours. How you move your stone is the most important element. "It's always best to work in an outward direction from the centre of the face," advises Parker. "This is the way that lymph flows, which is the body's detoxifying system."
The secret is to be mindful of your needs, whichever stone you choose to hold close.
"Your ritual can be brief, a few moments to a full indulgent session with each one of your facial products," says Ginn. "The key is to use your gua sha consistently, and with intent."
How to gua sha at home:
• Experiment with the different curves of your gua sha and go with what feels best for you.
• Always use the gua sha stone with a nourishing face oil, hydrating mask or rich cream to ensure there is no drag.
• Glide along the skin in long connected strokes, with the stone held at a 45-degree angle.
• Repeat each movement 5-10 times.
• A lighter pressure works to improve lymphatic flow and skin regeneration.
• Ease into a firmer pressure to engage and relax facial muscles as well as expression lines.
• If you have any sensitivity or inflammation, lighten pressure or stop altogether.
Professional tips:
• To reduce puffiness in the mornings, especially under your eyes, chill the gua sha in the fridge or a bowl of ice water.
• Move from the centre of your cheeks outwards to the hairline. A slight wiggle at the end can help lymphatic drainage.
• Going over brows and out to your temples helps with tension headaches.
• Upwards between brows helps to balance and restore qi (or chi).
• To release the tension of tech neck, work your way up with the flat side of the stone.
• Heat the gua sha in warm water for a relaxing ritual in the evening. Stroke up the back of the neck, from the top of your spine to the base of the head to release tension.
• Women, in particular, hold pressure in our trapezius muscles — run the gua sha along this towards the neck to soothe.
Between use:
• Wash with soap and warm water between use.
• Store the stone dry in the fridge, or wrapped and protected in a light fabric or pouch.
• Start carefully with a couple of days a week, and work your way up to daily routines, if that works for you.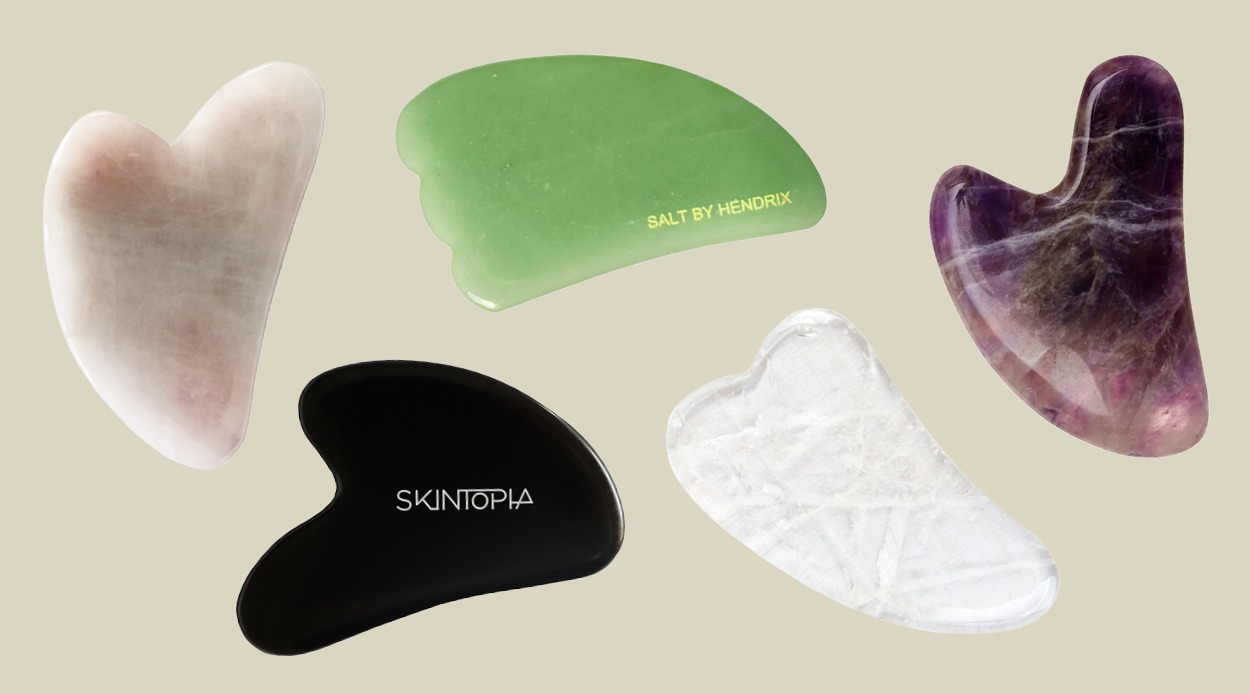 Choose your Crystal:
Rose Quartz
Compassionate softening of fine lines and tapping into the heart chakra to lift negativity.
Jade
Assured sculpting, reducing puffiness and encouraging lymphatic function for balance.
Amethyst
Warding off stress and acne-causing bacteria, while cooling the skin and releasing muscular tension.
Clear Quartz
A master healer, attracting positive energy and soothing all skin types.
Black Obsidian
Deep drawing out of negative energy and stress, benefiting muscle tissue over time.