When the news of cannabis potentially becoming legal first hit the headlines, minds were filled with a hazy vision of what they believed to be the future. The world was about to be brimming with stereotypical couch potato-type stoners whose only passion would be quenching their insatiable appetites for salty, fatty, carb-heavy snacks. But such rampant spread of misinformation has led to confusion, and tongue-in-cheek comments about the munchies may just be overshadowing a very real and surprising development: the cannabis plant might actually help people lose weight.
You will no doubt have heard the terms CBD and THC by now and, even if your interest on the subject is modest at best, will know that they are just two of a multitude of chemical compounds, or cannabinoids, that reside within the cannabis plant. Tetrahydrocannabinol (THC), the infamous compound now known to be the rascal behind intoxication, delivers the 'high' that people synonymise with cannabis, alongside those inevitable stomach rumbles. Cannabidiol (CBD), meanwhile, is another abundant compound, one which is gaining traction of late as the apparent solution to everything in the wellbeing world. The latest revelation? The polar opposite to its hunger-instigating brother, CBD might just be a rather effective appetite suppressant. Or, as described by Dr James Polston, Chief Science Officer at New Zealand's largest licenced cannabis company, Helius Therapeutics, THC is thought of as more like "the gas pedal for appetite," while "CBD could potentially be the brake." In fact, while most evidence is pointing towards how CBD can modulate the normal appetite-stimulating properties of THC, new research is also showcasing how several other cannabinoids may also play a role in weight loss, such as THCV, CBC, and CBG.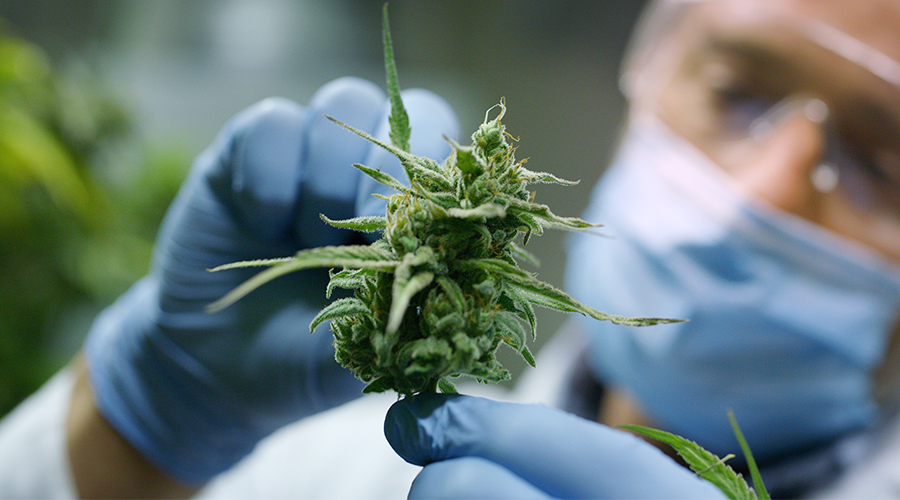 Multiple peer-reviewed scientific studies have shown that cannabis users are not only less likely to be obese, but are more likely to have lower cholesterol and body mass index (BMI), too. There are studies, according to Polston, which show that CBD causes increased activity and levels of mitochondrial cells — those of which regulate cellular respiration and energy production. And if that wasn't enough, the hero compound has also been shown to directly obliterate fat, Polston says, "by decreasing the expression of proteins involved in lipogenesis, the metabolic formation of fat."
With the ballooning raft of weight-loss benefits, it's easy to imagine swarms of physique-unhappy people lining up around the block for a slice of the CBD action. Those in search of such products at this moment in time, however, may find it a difficult task. "Cannabinoid based preparations are very difficult to patent", explains Polston, "which has stopped traditional pharmaceutical companies from working on cannabis drug formulations." A spanner in the works, undeniably, but this is something Helius is set to change. "Our team are working on a number of novel cannabinoid-based health products," he says, divulging that one designed specifically to suppress appetite is expected to be available for weight-conscious New Zealanders in the not-too-distant future. What's more, Helius will also, according to Polston, have a general range of CBD products specially crafted for health and wellbeing out later this year.
Medical breakthroughs and profound new products aside, it's important to remember that there will never be a 'miracle' pill that lets us gorge on infinite cheat days and still maintain a healthy weight. Nothing will ever replace trusty old healthy eating and exercise, but in a world full of questionable detox teas and dodgy diet pills, it seems that CBD is paving the way for a future with a much safer, and far more effective, supplement to them both. Those at Helius plan to disrupt the world of wellness with the next generation of natural, cannabis-based medicines. While assisting the already-practised solutions, the company's CBD products are designed to help improve health outcomes. It's this "blended approach" — traditional methods with a dose of CBD — as far as Polston is concerned, that will serve as the most effective route for a long time to come.