There aren't many hairdressers in New Zealand who'd be able to lay claim to a career like Paul Serville's. One of the most respected practitioners of his craft, Serville currently presides over three salons and a hugely-influential training academy. It is the Servilles Training Academy that has, perhaps, been Serville's most impactful venture, a way for him to leave his mark on the industry he has loved for so long. Behind his accolades and experience, Paul Serville's success seems to reside in the fact that he has never lost his passion, and his unrelenting ability to pass that sense of purpose onto others. Here, he shares what he is proud of, what he is still learning and why entrepreneurship is in his DNA.
In 1968, I saved up two dollars to go to the best salon at the time in the country. It was a wonderful experience. They washed, cut and blow-dried my hair (which people at the time thought was a fad) and it was so amazing that I came home and told my mother that that was what I wanted to do. I wanted to make other people feel that good about themselves.
Back in those days, you had to learn how to do the perfect cut. Since then, it has become about a lot more than just a great haircut. Nowadays hairdressing is about creating a wonderful experience that people come back for again and again and again. I noticed that hairdressing became very important after lockdown — I think people realised how much they relied on it to feel good. It just proves to me that hairdressers have a huge impact on people's wellbeing.
When I started, my inspiration was taken from the great cutters of the world — people like Vidal Sassoon, Trevor Sorbie and Trevor Sharpe. But now I find inspiration in other fields too, like interior and architectural design and the people in those industries like Philippe Starck. I really enjoyed the process of bringing our new Cityworks Depot salon to life.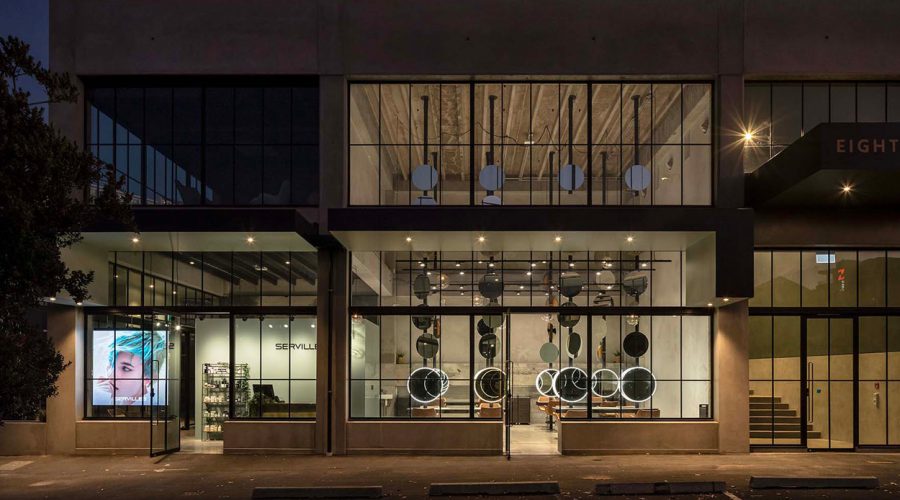 What I've noticed about life lately is how unpredictable it is. But maybe that's ok, because it gives us this renewed chance to make the best out of the situation.
I think I'm most nostalgic about the wonderful eras that I've been a part of. From the trends of the late 60s through to the Bodgies, the Widgies, the Mods and the Rockers that were cool in the 70s, and which kicked off the Hippies (of which I was one) and the Punks. The 70s was a very cool time — a great era to have lived through.
I look up to Davide Bollati, owner of Davines (a line of hair care we stock in the salons), who took over his parents' company 20 years ago and turned it into this incredible, sustainable global brand. He embodies the values of his business, and lives by the culture he creates. I think he is an inspiration to anybody who knows him or has spent time with him. He seems to always be thinking about what he can do to make the world better, and this shows in his actions.
I am most proud of what I have been able to do for my trade and for my profession in this country. Being able to help New Zealand stand out for its hairdressing talent on the global stage has been one of the privileges of my career. And I've seen the way it has helped hairdressing businesses here feel excited about the future. We have put so many great people through our Servilles Academy, many of whom have gone on to be great leaders in the industry.
If there is one thing I'm still learning, it's about myself. That never stops. But age has allowed me to become so much more thoughtful and considered about things. As a young person I was very full on, making decisions without thinking of the consequences. I was unsettled, always looking for the next best thing. I approach things now with a lot of thought, I'll always sleep on things before making a decision.
To me, the worst era for hair was, without a doubt, the 80s. Just think about that Flock-Of-Seagulls hair… it really wasn't great. The best eras for hairdressing were the 70s. The 70s was such a great time for learning, everything was so new in the development of hairdressing, so everything felt exciting and fresh and revolutionary.
Hairdressing is a wonderful trade because it's part of a feel-good industry and the fact that it's fashion-adjacent makes it all the more fun. Our academy experienced a massive surge of applicants after lockdown because, all of a sudden, it felt like there weren't as many jobs out there, and hairdressing and makeup both felt like viable options. Seeing all the trainees coming through our academy, I feel really optimistic. What I'm focusing on at the moment is really trying to help people realise that they can have a varied career and an amazing future in this industry.
I think entrepreneurship is in your DNA, I've always been a goer, a leader good and bad. But having a strong sense of self-esteem is really important. I'm pretty fearless when it comes to some shit. People at work will affirm that, but that's also part of being a good entrepreneur.
The advice I give to any person coming into this career, particularly the young ones, would be to focus on learning learning learning. Put your feet on the ground and keep your vision and your dreams alive and don't let things get in the way of you achieving what you set out to. I always say to the students at the academy, the only person who will get in the way of you not achieving what you want, is you.