Honey is an ingredient that has been sending the beauty industry abuzz with excitement for years, and continues to do so with gusto. Its consistent allure is not without good reason: honey is renowned for its healing, hydrating and soothing properties — alongside being an inflammatory, anti-bacterial and antiseptic. Case in point of why Guerlain has dedicated so much time to working with the amber-hued elixir. After much exploration of different honey variations and royal jelly, the French skincare house has created something that's truly bathroom shelf worthy — and it's called Abeille Royale.
The entire collection, which consists of three-day creams and one night cream, harnesses Guerlain's BlackBee Repair Technology. The technology is really a formula, one that has an unlikely form of black bee honey at its core. It is found in a place that boasts a particularly unique bio-diversity — the UNESCO-designated island of Ouessant, found just off the French coast — where a specific species of black bees are thriving. Thanks to the gloriously unspoiled, Gallic location, their honey is one of the purest in the world. Its this honey that's the crux of all Guerlain's Abeille Royale products, one which, when paired with Guerlain's exclusive royal jelly, creates a serum reminiscent, oil-water based product — aka the BlackBee Repair technology.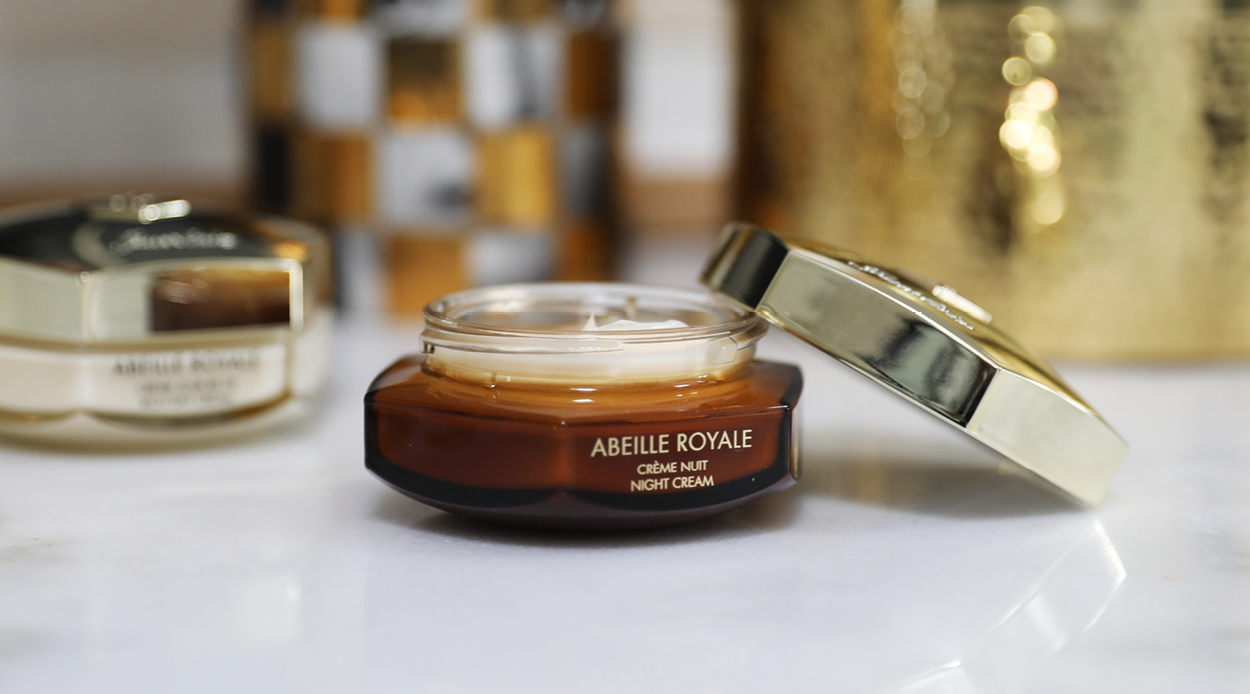 All four of the creams pair the BlackBee Repair technology with Vitamin C — meaning that each of the velvety formulas boasts the honey's self-healing properties and Vitamin C's radiance-boosting, revitalising qualities. The result is exactly what you would expect, and then some: sublimely smooth, plumped, repaired skin that possesses a healthy glow.
Guerlain has ensured that all faces are catered to by creating each day cream with a specific skin type in mind. The Mattifying Day Cream's shine-controlling properties, for example, make it perfect for oily, combination skin, while the regular Day Cream boasts a light, whispy formula that serves as an essential non-pore-clogging, on-the-go moisturiser. The Rich Day Cream, alternatively, remains a firm choice for those parched few who are yearning for something extra-hydrating. As with all sundown-suited skincare, the Night Cream boasts the same innovative formula — but a thicker, richer variation that is designed to seriously put the groundwork in while you sleep.
It's clear that Guerlain's Abeille Royale range has a formula that is quite unlike anything else, but that's not the only reason we're clamouring after it. We're suckers for fine packaging here at Denizen, and Guerlain's gilded, hexagonal little pots — adorned with a glistening bee motif — are undeniably charming, truly worthy of the luxurious cream that can be found within.