We have a love-hate relationship with the big heat of high summer. Certainly, sprawled on a beach or unwinding in a backyard around the pool, the humidity and beaming sun become far more enticing. But even then, we all have commitments that require a put-together appearance. To avoid a crimson complexion or melted makeup, be sure to stock up on these cool, and very cooling, face mists. Pro tip: store them in the fridge to feel even more calm and collected.
Mattifying and Energising Skin Care Water by Codage
Not only does Codage's Skin Care Water deliver a high concentration of active ingredients to the skin, but this version is also specifically formulated to mattify and reduce unwanted shine — so you can be sure to look fresh and radiant, rather than sweaty, all day long.
Beauty Elixir by Caudalie
With essential oils and plant extracts that brighten and clarify the complexion, Caudalie's Beauty Elixir spray is an absolute cult classic. Beloved worldwide by celebrities, makeup artists and everyday spritzers alike, use as a priming base or setting spray for makeup, and refresh as wanted for a polished glow.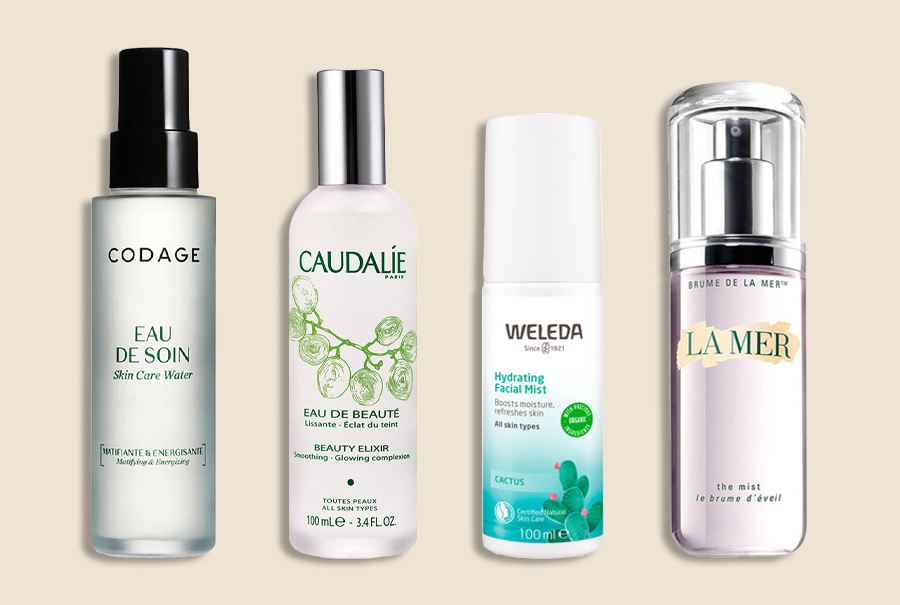 Hydrating Facial Mist by Weleda
Weleda's Hydrating Facial Mist makes us misty-eyed with love for its key duo of hydrating, soothing ingredients: prickly pear extract and aloe vera. The prickly pear creates an intensively moisturising and protective layer on the skin, while the aloe vera is great for cooling and soothing — something that's much-needed on the muggy morning commute. Plus, it smells herbaceously wholesome, as all Weleda's products do.
The Mist by La Mer
Packed with a concentrated percentage of La Mer's renowned miracle broth, with its luxurious inclusion of kelp, The Mist not only hydrates the face but also renews the complexion in a way that echoes the revitalising power of the brand's coveted line of skincare. The epitome of effortless cool for your summer sangfroid.