For chef Croydon Cole, one of the joys of cooking for people is seeing their faces when they try something new, or something extraordinarily delicious. At Smokin Cole BBQ, his Grey Lynn eatery that specialises in the irresistibly charred flavours of American-style BBQ, chances are he sees these expressions a lot. 
Located at the intersection of Surrey Crescent and Richmond Road, Smokin Cole opened in December 2019 and has been bringing its smoky charm to the neighbourhood ever since. Cole's experience is vast and varied, having worked in kitchens for around 30 years both in New Zealand and abroad.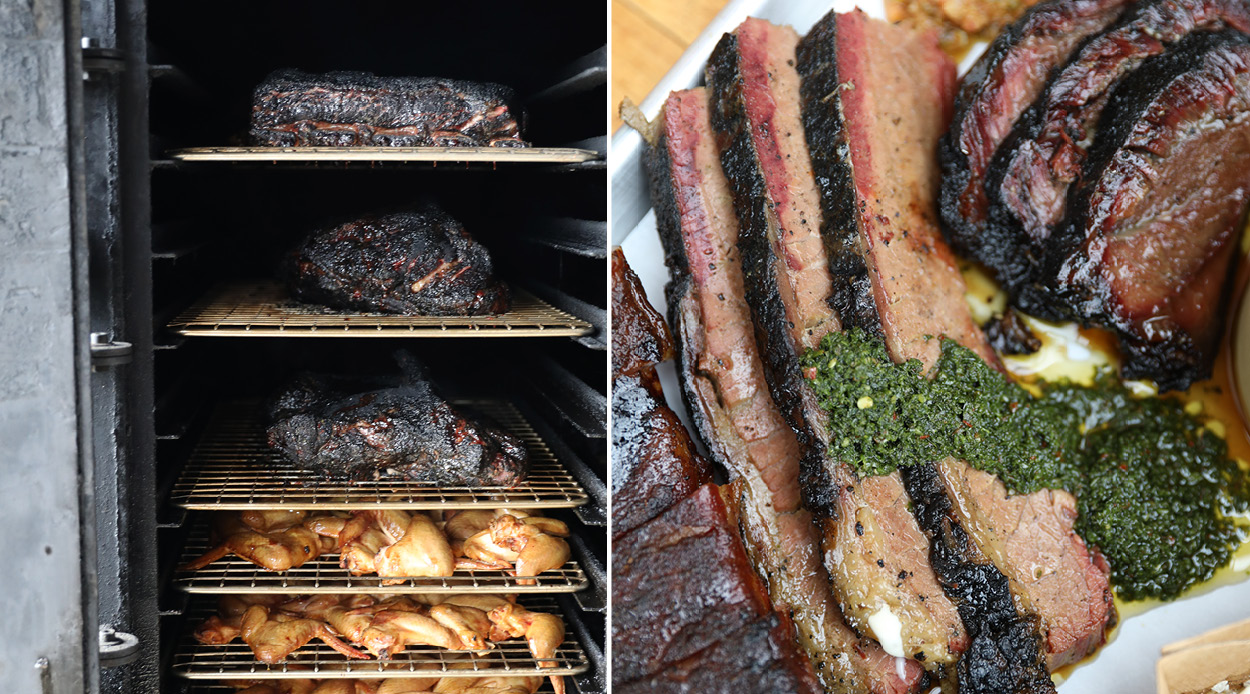 Spending 15 years as a private chef aboard super yachts, Cole has travelled widely, indulging in the cuisines of more than 80 countries. A solo motorcycle trip across the United States provided the opportunity to sample the delicious BBQ joints from South Carolina all the way around the southern part of the country — "I went up and down 14 different states just eating, basically", he laughs. 
Having been approached to help out some friends who owned the site where his venue now sits, Cole saw the opportunity for what he originally thought would be a pop-up. However, when a huge woodfire cooker and smoker became available through a friend, he couldn't let the opportunity pass — thus, Smokin Cole was born.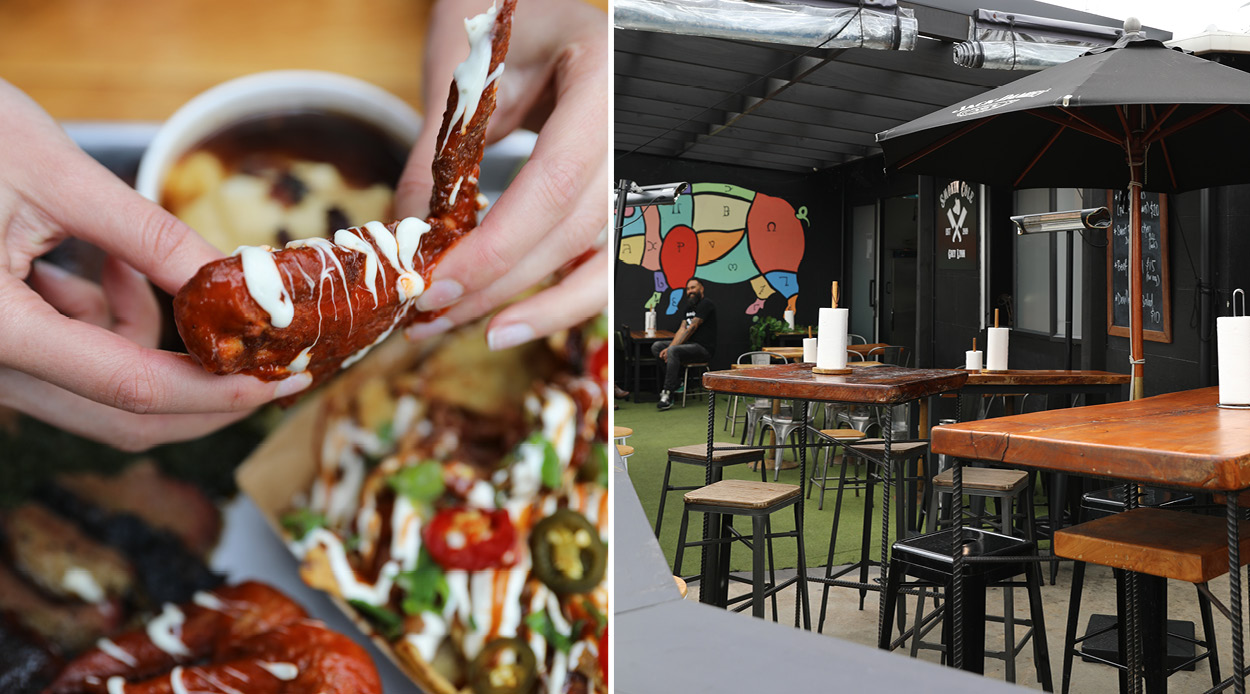 When asked what appeals to him about the style of cooking, Cole says one of the best things is it's a labour of love. "It's all about the time you put into it. I love how you can turn something that's really tough to eat, into something that people drool over." There are no shortcuts with these meat cuts, with most of them being cooked and smoked for several hours. It also takes skill to get it right, he says. "You can't hide anything behind it." 
Working with his 'pit master' Ants Tutavake, Cole creates a menu of varying meats and vegetable-centric sides that can be mixed and matched depending on what the diner feels like eating. "A lot of places already have pre-made platters for BBQ, but I designed my menu so you design it yourself."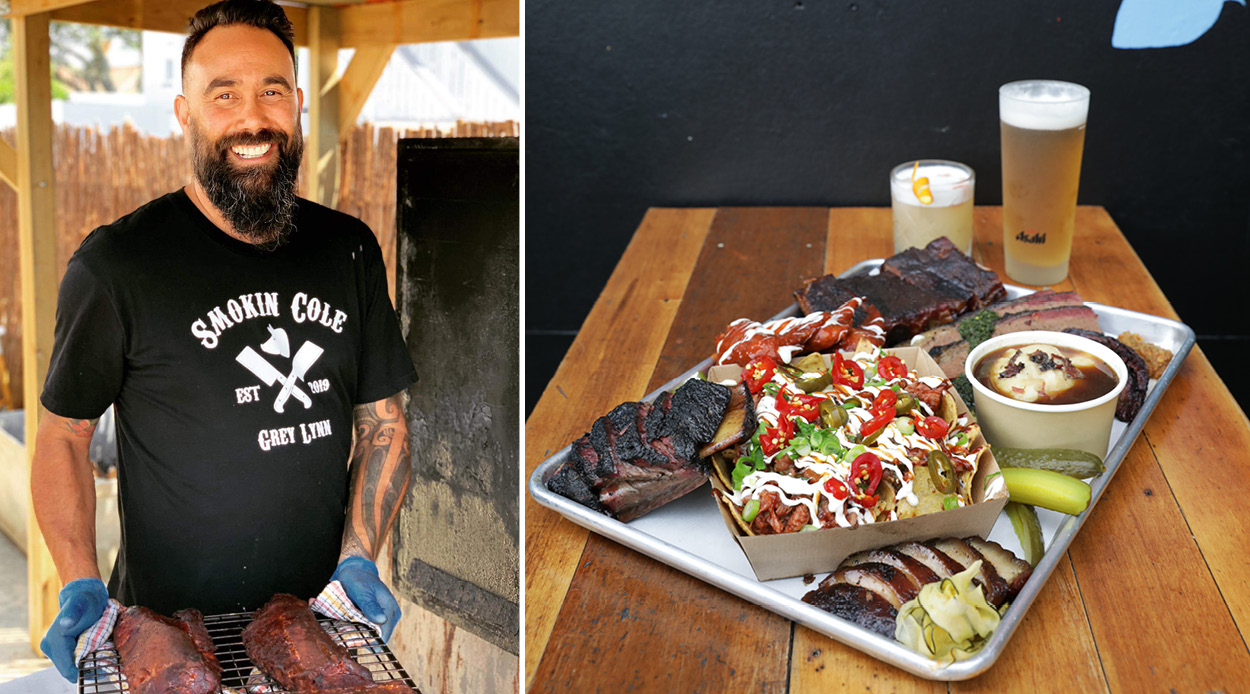 The meats are all offered by the 100-gram, and overall the menu is brilliant for sharing — hot tip, come with a bigger group as you'll want to sample everything. From Memphis ribs to beef short rib; pulled pork, Buffalo chicken wings and Cole's signature 'meat candy' (pork jowl, smoked for up to eight hours and served with pickled kamo kamo), the offering is a carnivore's heaven. 
Surprisingly, Smokin Cole does actually cater quite well to vegetarians too (just maybe not vegan eaters) with jackfruit options like loaded nachos, truffle mac 'n' cheese or cauliflower cheese, smoky corn, slaw, fries and more. Everything is also gluten free (aside from one or two pasta dishes).
The eatery is fully licensed, with Asahi beer on tap and Jess Farrelly taking care of thirst-quenching cocktails and front of house. With its backyard BBQ vibe and excellent culinary offering, we suggest you make Smokin Cole a priority on your foodie hit list.
Smokin Cole
108 Surrey Crescent,
Grey Lynn