Despite the last few years serving up its fair share of challenges for our local hospitality scene, Auckland's exceptional operators have continued to deliver their delicious fare with grace and expertise. In the spirit of supporting our hospitality sector and of encouraging you to continue to dine out when you can, we launched this year's Denizen Hospo Heroes, asking all of you to vote for your favourite destinations and dishes. Here, we unveil the winners of this year's Denizen Hospo Heroes, including the Best New Openings, the Best Bars, the Best Dishes and the Best Restaurants, as voted by you, our dedicated readers.
Best New Opening  |  Best Bar  |  Best Restaurant  |  Best Dish
Best New Opening
---
Standing out among the exceptional new openings in Auckland over the last year is no mean feat. But it should come as little surprise that Bivacco, with its perennially sunny vantage point and sensational, modern Italian-style menu, has taken out the coveted top spot. Voted by you as this year's Best New Opening, it claimed the title just ahead of other noteworthy new venues, including Ragtag, whose much-awaited brick-and-mortar Westmere location has already cemented itself as one of the city's best eateries, and Lebanese Grocer, which offers a casual approach to the authentic Middle Eastern food of Chef Elie Assaf's roots.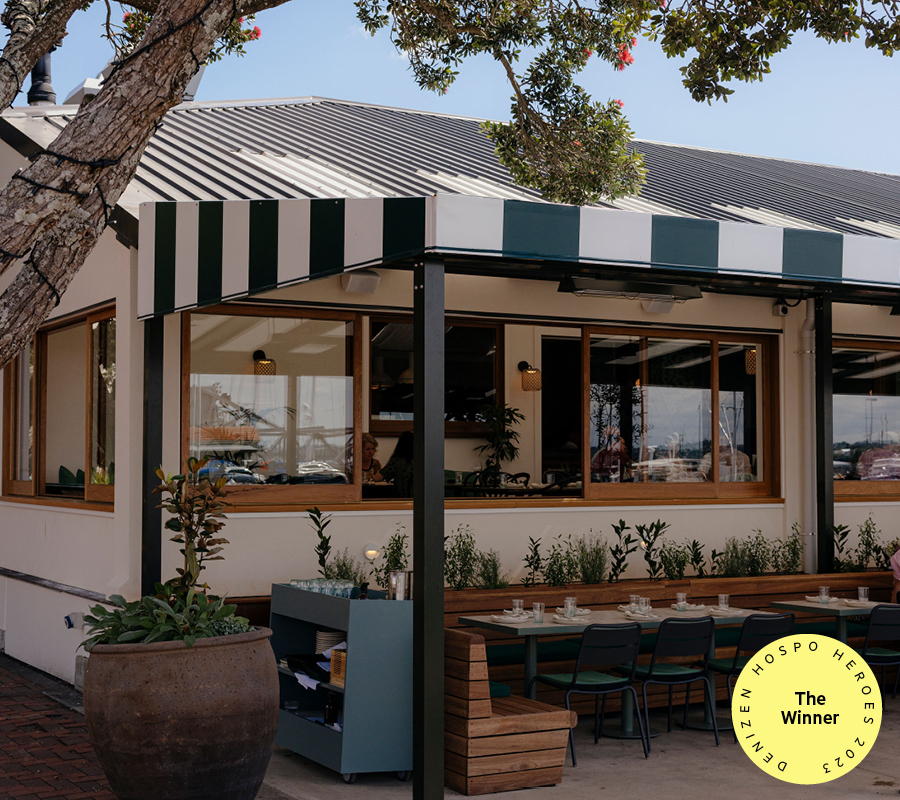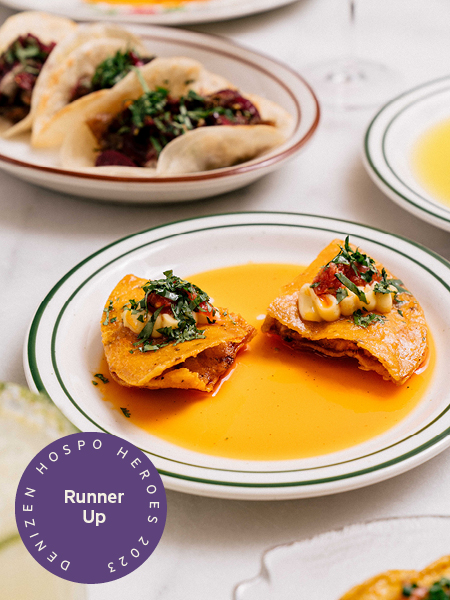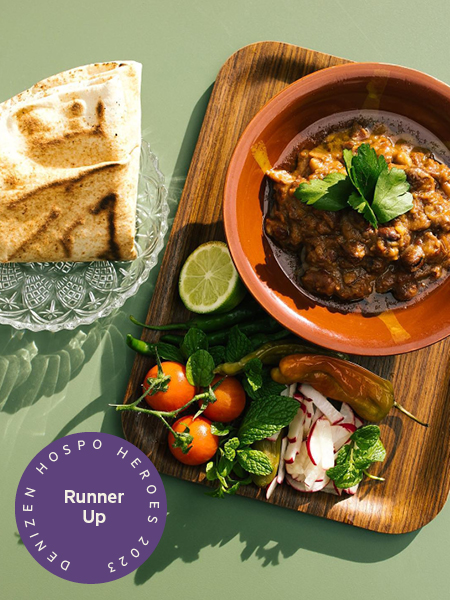 The Rest of the Best
---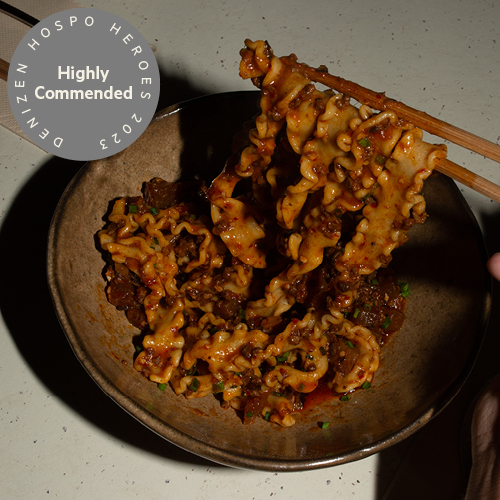 Aigo
Newmarket
Rare are the days when Aigo isn't heaving, a testament to the brilliance of David Lee's Korean-inspired menu. The hand pulled noodles are Auckland's best.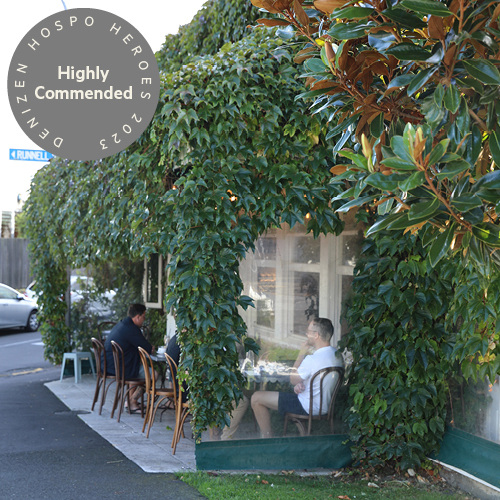 Queenies Caffé & Vino
Freemans Bay
The reinvention of this classic neighbourhood eatery has seen it take its rightful place as one of the City's best.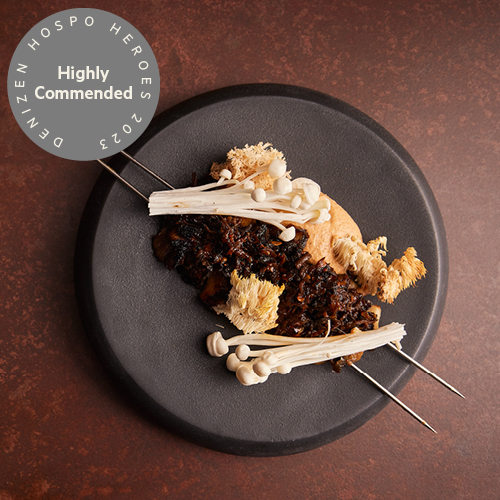 Kol
Grey Lynn
The latest venture from Sid and Chand Sahrawat saw an infamous Ponsonby address reimagined into something great, and the crowds have followed.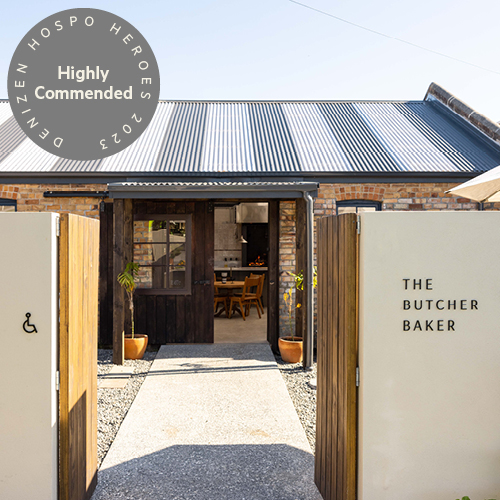 The Butcher Baker
Helensville
From former Honey Bones head chef, The Butcher Baker pleads the case for a destination eatery. Hit the road — this one's a goodie.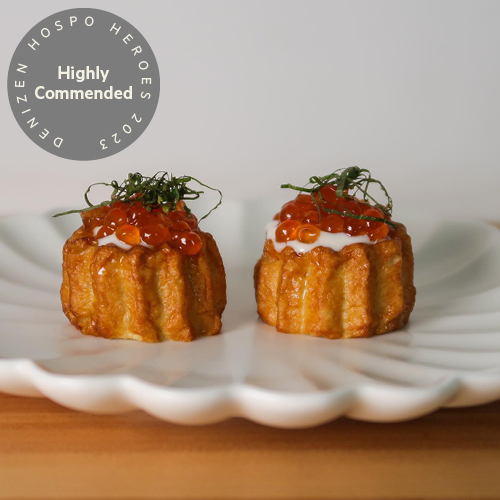 Tokki
Milford
Boasting some of the most divine, refined Korean food in Auckland, Tokki begs the case for a dinner date over the bridge. Order the eggplant, it's superb.
Best Bar
---
A good bar is so much more than somewhere to simply have a drink. From interior ambience to well-made libations to delicious food, the contenders for Auckland's Best Bar genuinely offer it all. This year, the eternally popular watering hole, Hotel Ponsonby, has taken pole position, thanks to its cosy composition, delicious bistro-style menu, and loyal following of patrons. Closely followed by Britomart's Bar Non Solo, which caters to a convivial atmosphere with its expertly made drops and ever-popular aperitivo hours, and Ponsonby's Beau Wine Bar, which boasts one of the most extensive wine lists in the City and the perfect menu to match.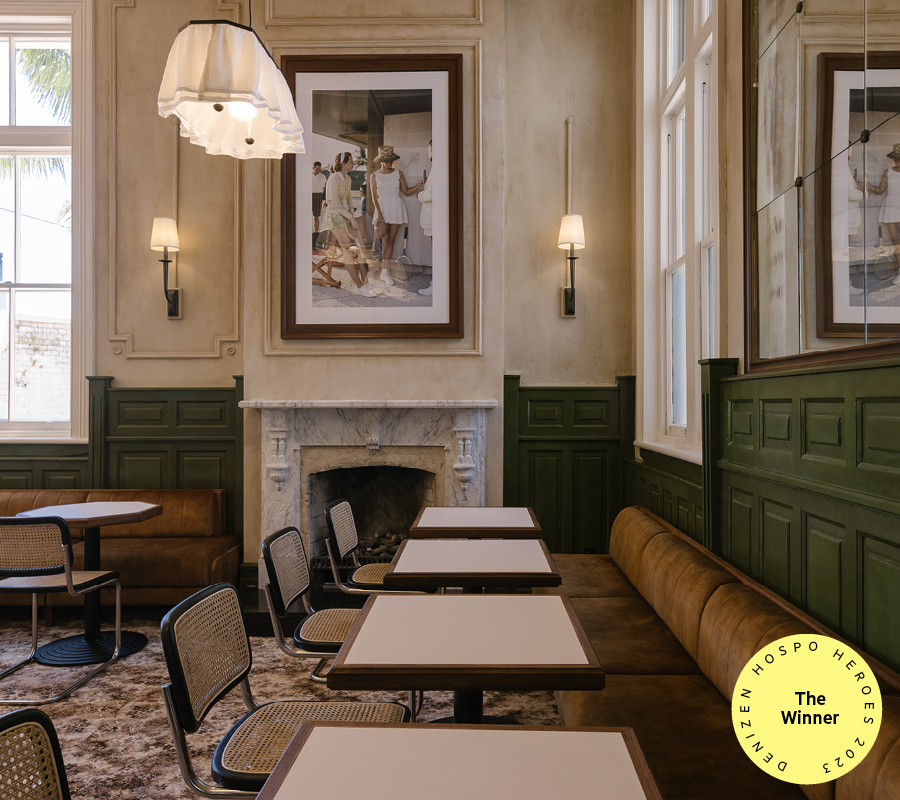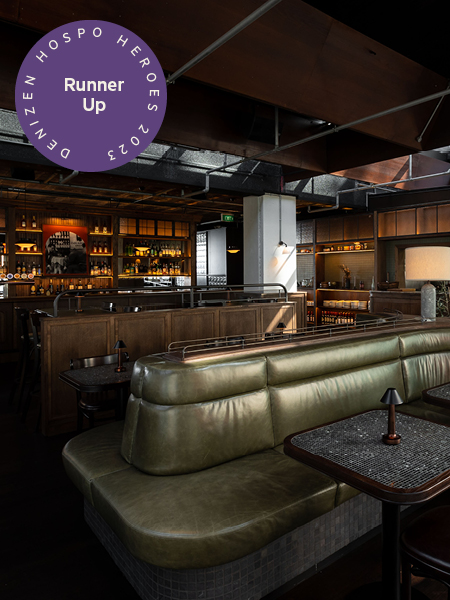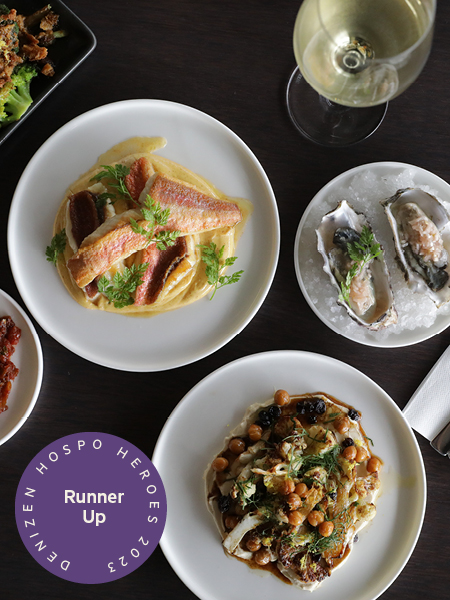 The Rest of the Best
---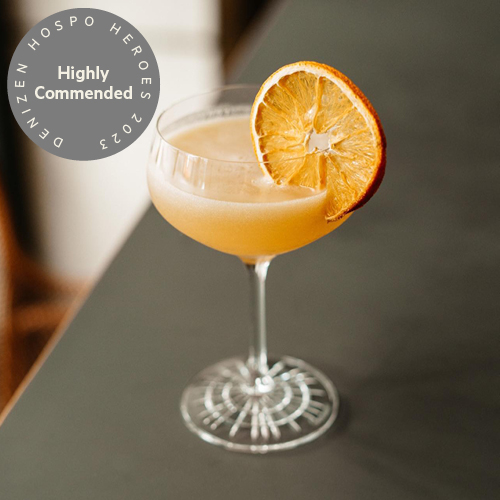 Atelier
K' Road
This is home to a seriously impressive wine list that draws on a global network of vineyards for a sophisticated, sommelier-inspired experience.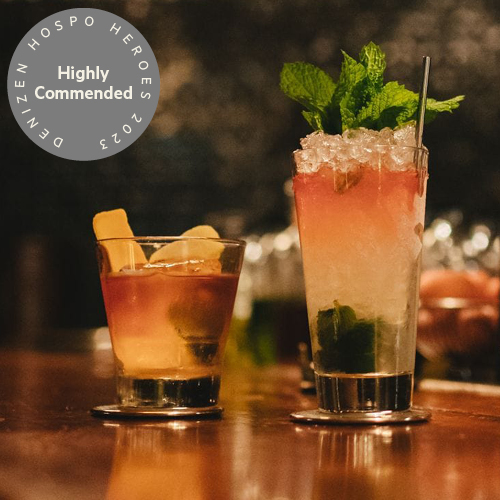 Caretaker
CBD
Putting the customer at the forefront of the experience, Caretaker's mixologists offer a masterclass in intuition and talent. An oldie but a goodie.
Somm Cellar Door & Bar Princes Wharf
This recently-opened Princes Wharf spot brings everything we love about days spent at wineries to the heart of our City.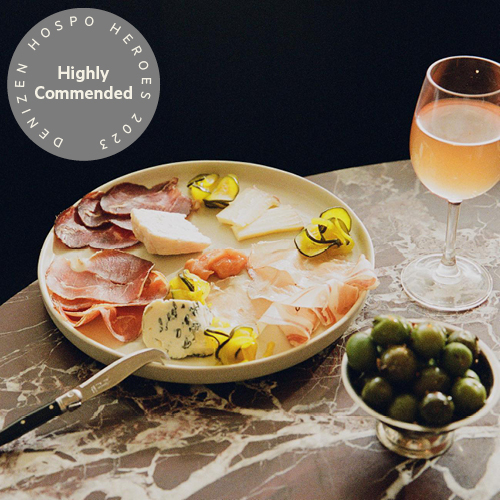 Annabel's
Ponsonby
This Three Lamps deli-by-day, bar-by-night always satisfies with it's ever-changing menu of natural wines and sleek, intimate interior.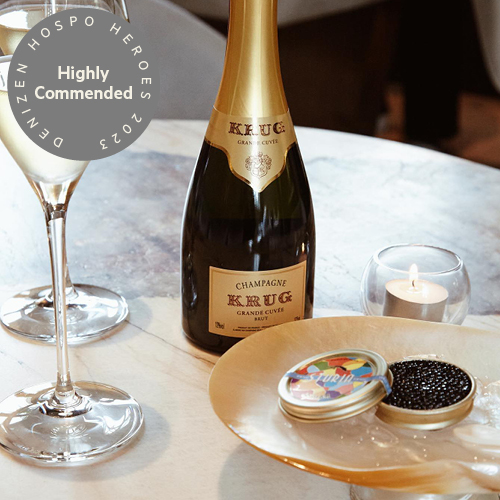 Faraday's Bar
Parnell
Chic and comforting, Faraday's Bar's Parnell postcode makes it the perfect destination for some necessary, post-shopping Champagne and caviar.
Best Restaurant
---
Where would we be without our City's stalwarts? These are the establishments that always promise to keep us satiated, offering a truly excellent experience regardless of the occasion. While several very brilliant restaurants, like Cross Street's Bar Magda (serving flavoursome Filipino-inspired fare) and Britomart's Amano (with its all-day menu perfect for any affair), came close to taking the top spot here, it is Viaduct Harbour's Soul Bar & Bistro, perhaps the most accurate definition of a stalwart, that has been voted Best Restaurant in this year's awards for its exceptional food, always-helpful service and humming atmosphere, any time of day.
The Rest of the Best
---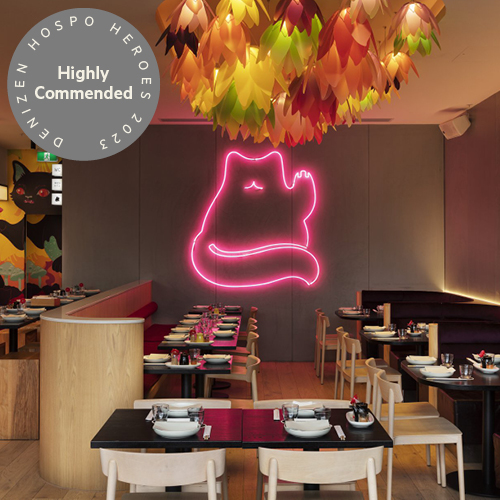 Hello Beasty
Viaduct Harbour
While Asian-fusion restaurants are a dime a dozen, Hello Beasty is a cut above. Home to some of our favourite dishes in Auckland, this outpost is small but mighty.
Cassia
CBD
Challenges make us stronger, and Cassia, despite repeated setbacks, is still here and still great. Now home at SkyCity, this restaurant is at its best.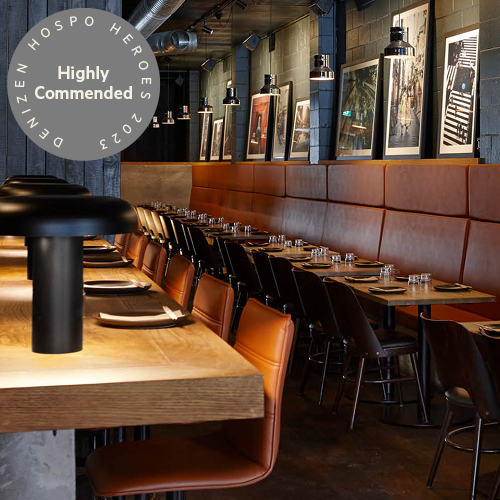 Azabu
Ponsonby
Always reliable and inspired, Azabu's Ponsonby address is one of Auckland's favourite restaurants — a title for which we can wholeheartedly vouch.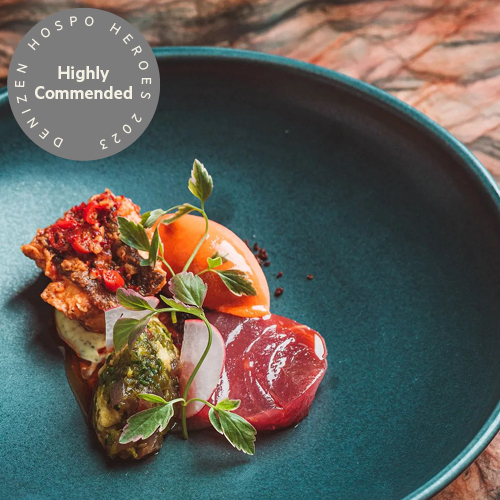 Ahi
CBD
With an innovative approach to local cuisine, Ben Bayly's Ahi has long been considered one of our favourite restaurants. Order the Scampi Corn Dog, it's brilliant.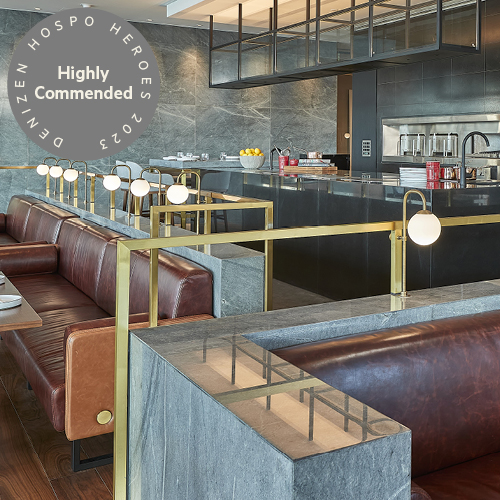 Onemata
Wynyard Quarter
The crown jewel of the Park Hyatt, Onemata is excellent in both offering and execution. We love that sustainability is such a significant driving force in the kitchen too.
Best Dish
---
Those known to haunt Viaduct Harbour will have surely tried Hello Beasty's iconic Prawn and Crab Toast. Topped with seared grain-fed eye fillet (which only adds to the dish's charm), sweet and sour sauce, Japanese mayo and green onions, it's an undeniable classic — crowned by you as Auckland's Best Dish. Hot on its heels comes INCA's divine Ember Roasted Black Cod, a seriously flavoursome dish that finds its brilliance in the rich anticucho miso and pickled daikon, and of course, the notorious Beef & Truffle Tostada from Azabu Ponsonby, a dish designed to share that offers an elevated fusion of Peruvian and Japanese cuisine.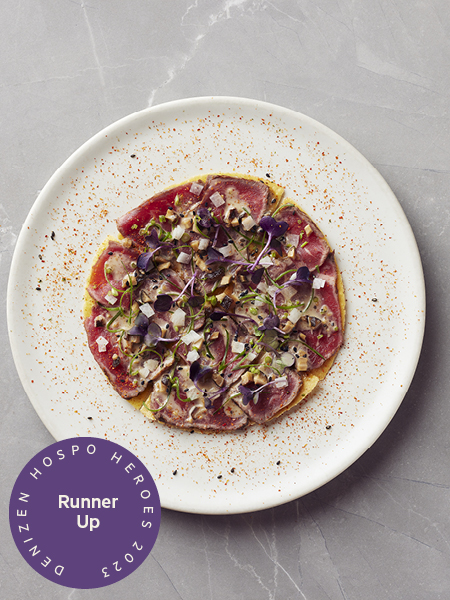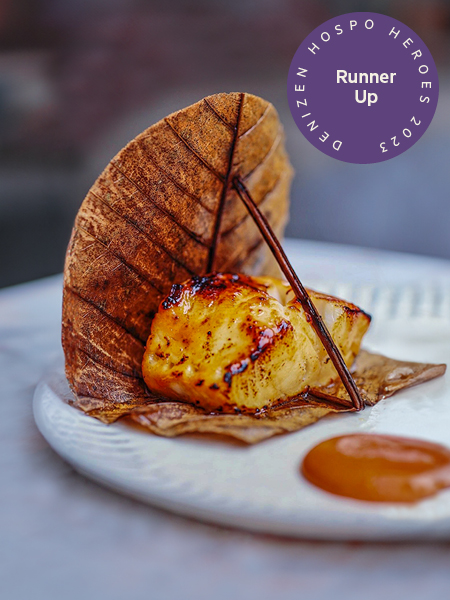 The Rest of the Best
---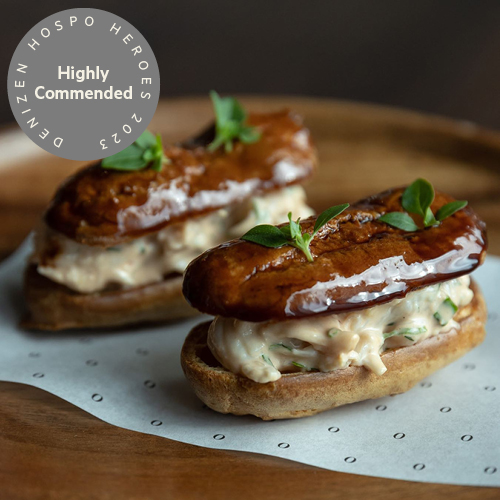 Crayfish Eclair
Onslow
A delicate and moreish little bite that speaks volumes about the excellence on offer in Josh Emett's flagship destination. Ensure you order enough to share.
Truffle Mac 'n Cheese
Andiamo
This Truffle Mac 'n Cheese proves you can't beat a classic. Cheesy and soul-warming, the added truffle elevates it to a heavenly experience.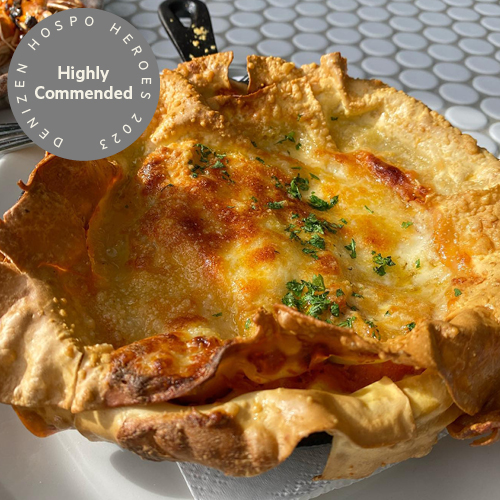 Crayfish Lasagne
Soul Bar & Bistro
New to the menu this year, Soul's Crayfish Lasagne has been the word on everyone's lips of late. Sweet and just rich enough, delicious!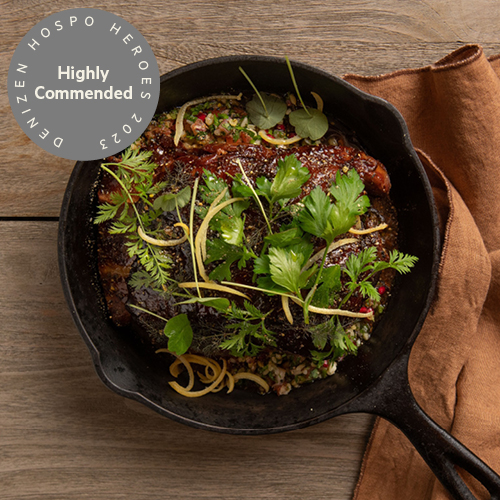 Slow-Cooked Lamb Shoulder
Sìso
Few dishes are as satiating and comforting as this lamb-shoulder, adored by Aucklanders for it's rich, soul-warming appeal.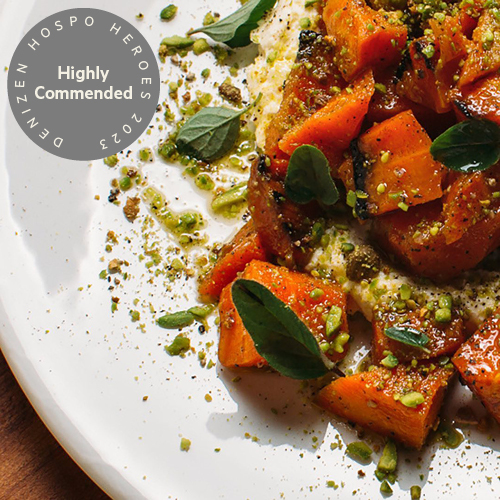 Woodfired Carrots
Ooh-Fa
Ooh-Fa's Woodfired Carrots give the pizzas a run for their money. Served atop a bed of whipped ricotta and pistachio, this is perfection.