A concept that bloomed when YongWoo Shim returned to Korea to visit his family, Mighty Hotdog was the realisation of a dream to bring Korean-style hot dogs to Kiwis. So passionate was the founder about his idea, that he left his career as an ex-professional golfer and golf instructor, to spend a number of months in Korea (sometimes working in kitchens for free) mastering the art of making these unique delicacies before returning home with a new set of skills and a delicious vision.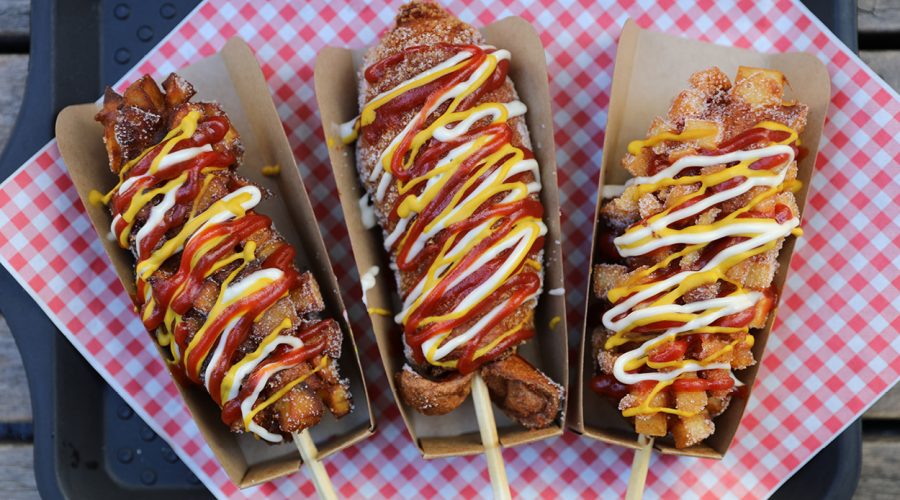 A beloved street food in its country of origin, the Korean hot dog has been gaining a global following for its mouthwatering balance of sweet and savoury flavours. More like a corndog in appearance, the Korean iteration is typically coated in batter, deep-fried and usually finished in sugar for an effect that is perfectly indulgent.
At Mighty Hotdog, YongWoo Shim wanted to perfect his version of the Korean hot dog by replacing the more traditional ingredients with locally-sourced ones instead. Originally launching Mighty Hotdog at the Glenfield Night Markets and cultivating an enthusiastic following, YongWoo Shim has finally set his concept up with its own permanent space in the CBD — where it has proved an instant hit with hungry punters.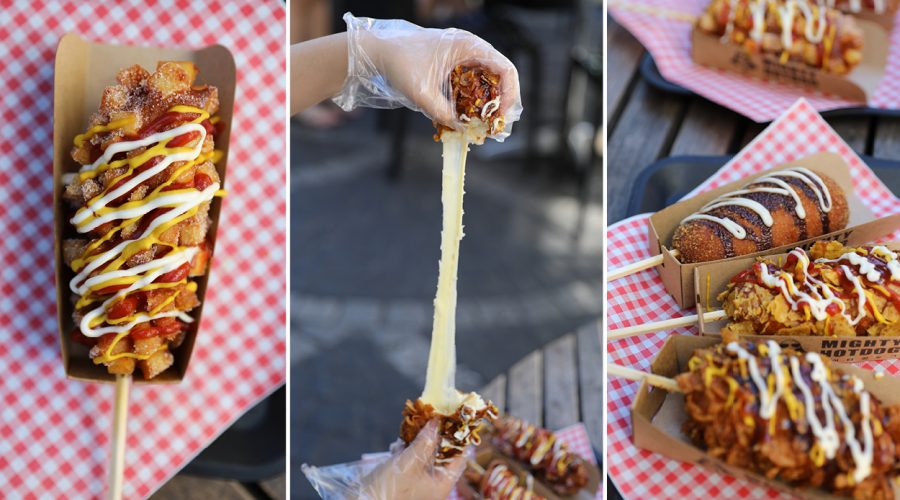 On the menu, simple hot dogs like the Cheese Rocket (a bestseller, comprising half cheese, half sausage) and the Mozzarella (filled with gooey mozzarella and nothing else) sit alongside more complex options like the Mighty Potato (sausage coated in chunky potato), the Crunch Bites (with a melted cheese filling and coated in cornflakes) and the Nacho (also cheese-filled but this time covered in crispy nacho pieces). All hot dogs come with the highly recommended option of a sprinkling of sugar on top, as well your choice of self-serve sauces such as ketchup, mustard, mayonnaise and barbecue.
For anyone who sits at the sweeter end of the sweet-savoury spectrum, Mighty Hotdog's Chocolate Hotdog (filled with melted Moro) and Choc Peanut Hotdog (filled with melted Snickers) are also a must-try. And we aren't the only ones who think so.
Since Mighty Hotdog opened, its tasty morsels have accrued such a following that queues have come to be expected around the lunchtime and early evening rush, and people seem more than happy to wait. Our suggestion? Get down there close to opening or mid-afternoon, and if you have to wait, rest assured that it will all be worth it.
Opening hours:
Tuesday to Thursday: 12pm — 9pm
Friday and Saturday: 12pm — 10pm
Sunday: 12pm — 9pm
Mighty Hotdog
47 Chancery Street
CBD
Auckland