East, an intriguing new eatery on Nelson Street, is the realisation of a passion project for its vegetarian owners, the Jhunjhnuwala family. Armed with a love for the vibrant and complex flavours of Asian cooking and a desire to create an eatery that heroed taste as much as it upheld an ethos of sustainability, the Jhunjhnuwala family assembled a team of experts to help bring their vision of an entirely vegetarian venture to life.
Advising on the menu and helping to develop the eatery's creative presence was renowned hospitality consultant Andrew Glenn (co-founder of Waiheke's The Oyster Inn), while on the drinks side, Simon Kelly lent his years of experience in the wine and spirit industry to developing East's beverage offering (which has seen it become one of the few restaurants in New Zealand to boast a 100 percent organic and vegan wine list).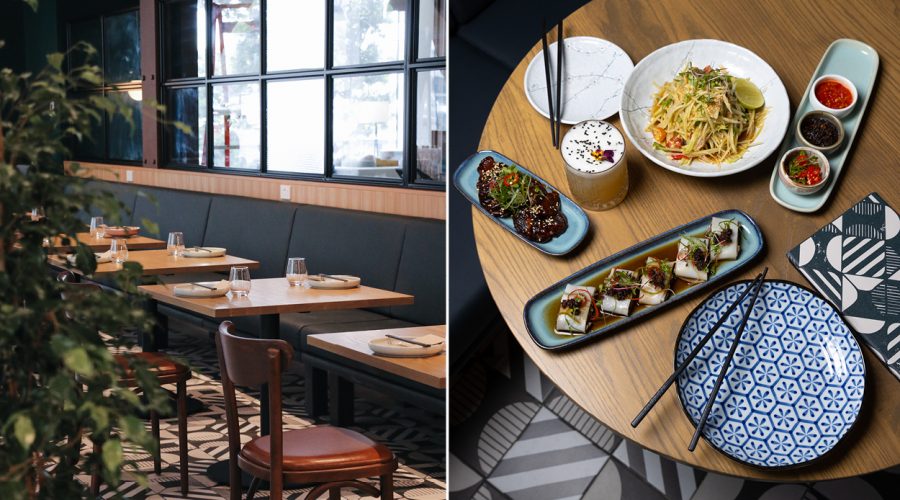 In addition, Ben Legget took up the post of consultant mixologist, offering his impressive expertise to East's comprehensive cocktail list. (Highlights include the Umeshu Dandy — a mix of Mars Cosmo Maltage whisky, sweet vermouth, houraisen kanjuku umeshu, coffee, pimento bitters and lapsang souchong atomiser — and the Shochu Sesame Sour — combining hombo shuzo shocho, lemon juice, honey, sesame grapefruit and hops bitters.)
Not forgetting the fit-out, East's sleek interior was created by award-winning architecture and design firm Luchetti Krelle (responsible for restaurants like Longrain in Tokyo and Acme in Sydney). Inside, a modern monochromatic palette offers an oasis of calm, lent depth and originality by geometric flooring and tonal moments like lush, forest green seating and jewel-toned walls.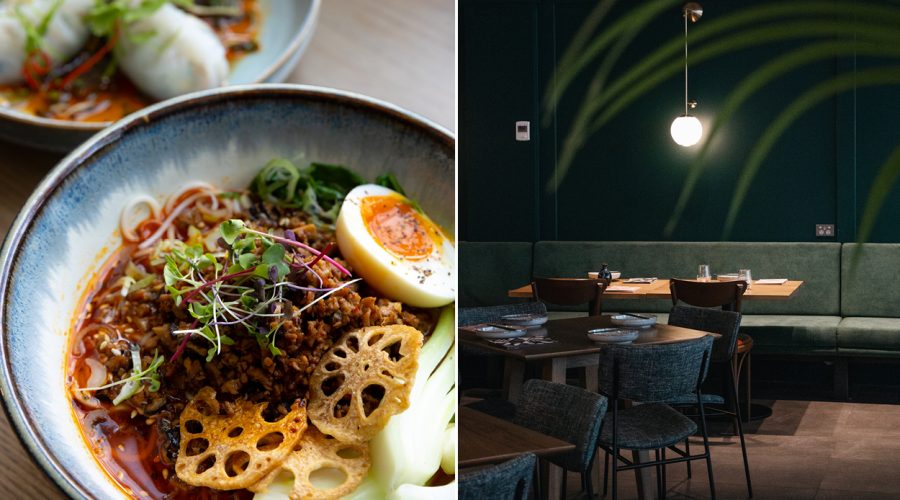 On the menu, flavours are vast and varied but presented in a way that feels carefully curated and concise (the sign of an experienced hand at the helm). Head Chef Harmeet Singh (formerly the head chef at one of Mumbai's leading Asian restaurants, Bamboo), leads an experienced team in the kitchen, representing the culinary traditions of Japan, Hong Kong, China, Sri Lanka, Thailand and India. This diverse spread has materialised in dishes like Dan Dan noodles, Peking jackfruit pancakes with tapioca chips and plum sauce, Southern Thai yellow curry, steamed mushroom Cheung fun and ginger caramelised bang bang shitake mushrooms. Seventy-five percent of the menu is vegan, 70 percent of it is gluten-free, and all of it is designed to share.
What seems to set East's food offering apart, is the process of meticulous experimentation and the development of special techniques undertaken by those in the kitchen, which has resulted in dishes that deliver the necessary flavours and textures without having to rely on meat. The chefs even created all of their own sauces, including a nham jim, a prik man pla and a special vegan 'XO.' As such, the menu is a treat for the tastebuds, running the full gamut of pan-Asian flavours, from the sweet to the sour, to the piquant, to the all-important umami — and everything in between. Importantly, you don't have to be a vegetarian or a vegan to enjoy a meal at East. Its food is delicious, inclusive and certain to find fans among the ranks of meat-eaters as much as it is to delight the herbivores who now have another tasty option in Auckland.
East
63-67 Nelson Street
Auckland Central
Auckland
(09) 399 2361