A meal with your loved ones usually consists of three main things: eating, drinking and laughing. It's as simple as that. Which is why, when the owner of a new cafe on Pollen Street was trying to land on a name representative of the service she was going to provide, she decided to keep it simple and obvious — Eat Drink Laugh.

The ambience of the cafe is sleek and modern, yet has a sense of comfort with the plush, baby pink sofas and warm wooden tables that contrast with the futuristic lighting. The cafe seats over 50 people and although that makes it quite large for a neighbourhood spot, it remains cosy and relaxed. This all-encompassing, universally welcoming atmosphere makes Eat Drink Laugh well-suited for any time of day, from mid-morning brunch to after work drinks. (The owner tells me she is currently in the midst of organising the cafe's first bottomless brunch which is to take place this weekend.)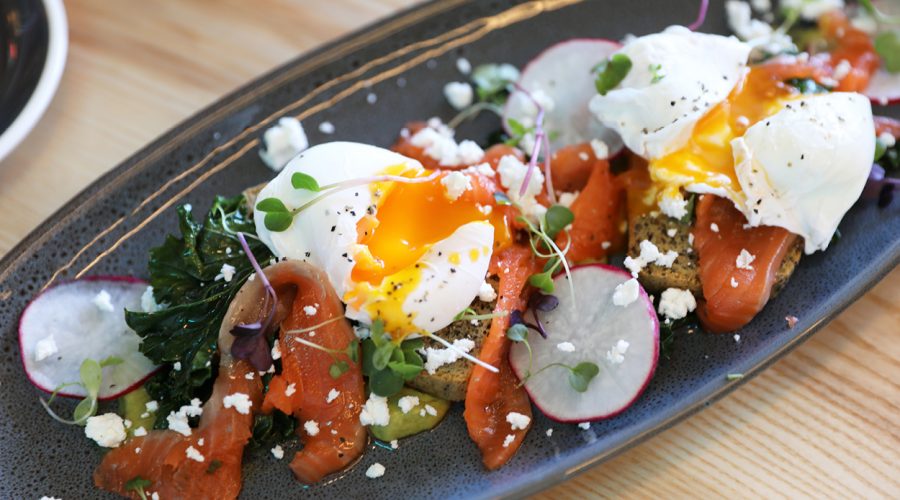 The menu includes classic cafeteria dishes, each with its own special twist. The scrambled eggs are elevated with Albanian elements such as the additional suxhuk — a spicy sausage from Eastern Europe. Eat Drink Laugh gets even more creative with the lunch dishes and small share plates which make the perfect accompaniments to a glass of vino. These include five-spiced pulled pork bao buns, a pulled lamb bowl with onion hash and Moroccan chicken meatballs with pumpkin purée, to name a few.

Our favourite dishes came down to a close tie between the paleo waffles, and the pulled beef burger. The waffles are made extra fluffy by the incorporation of tapioca flour in their batter and are served with a generous helping of fresh pineapple and banana for natural sweetness, as well as sweet and sour berries which add texture and fruitiness to the bed of creamy, tart yoghurt.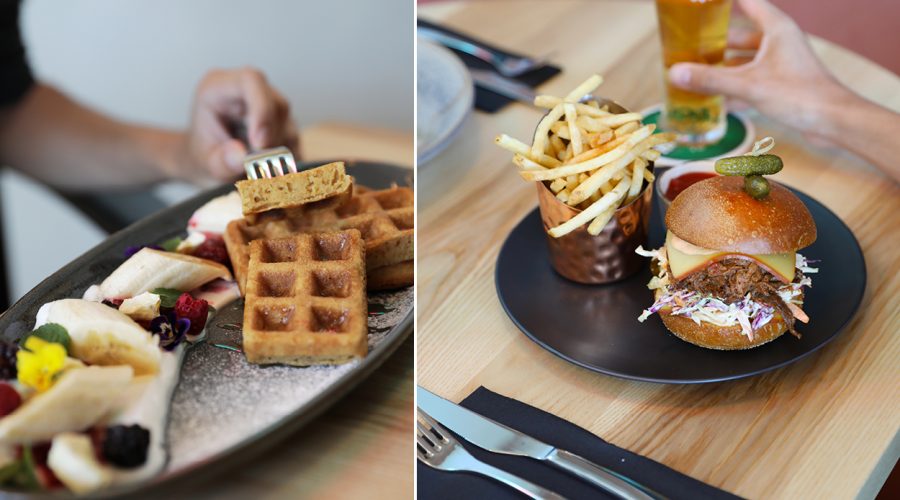 The pulled beef burger is different from the usual ground meat patty, but it's undeniably delicious and arguably even juicier and more succulent than the traditional beef patty. The brioche buns are slathered with chipotle mayo, crunchy slaw, melted smoked cheddar cheese and pungent pickles which all create a beautifully-balanced, indulgent morsel. Served with a side of crispy shoestring fries, it was hard to fault this meal.
With a vibrant environment, tasty dishes and comprehensive drinks menu that includes coffees, smoothies, wines and cocktails — Eat Drink Laugh really does live up to its name.
Opening hours:
Monday – Wednesday, 6:30am until 4pm
Thursday – Friday, 6:30am until late
Saturday, 7:30am until late
Sunday, 7:30am until 4pm
Eat Drink Laugh
25B Pollen Street
Grey Lynn
Auckland
(09) 218 9104