With travel off the cards for the last few years, there seems no better way to celebrate a milestone than to escape to a faraway land with your nearest and dearest in tow. Whether it's a journey of utter indulgence, a cultural expedition or a mountainous escape, the destinations that we have rounded up here promise the kinds of unparalleled experiences that will see you make lifelong memories.
Anders Mountain Suites
for lovers of the great outdoors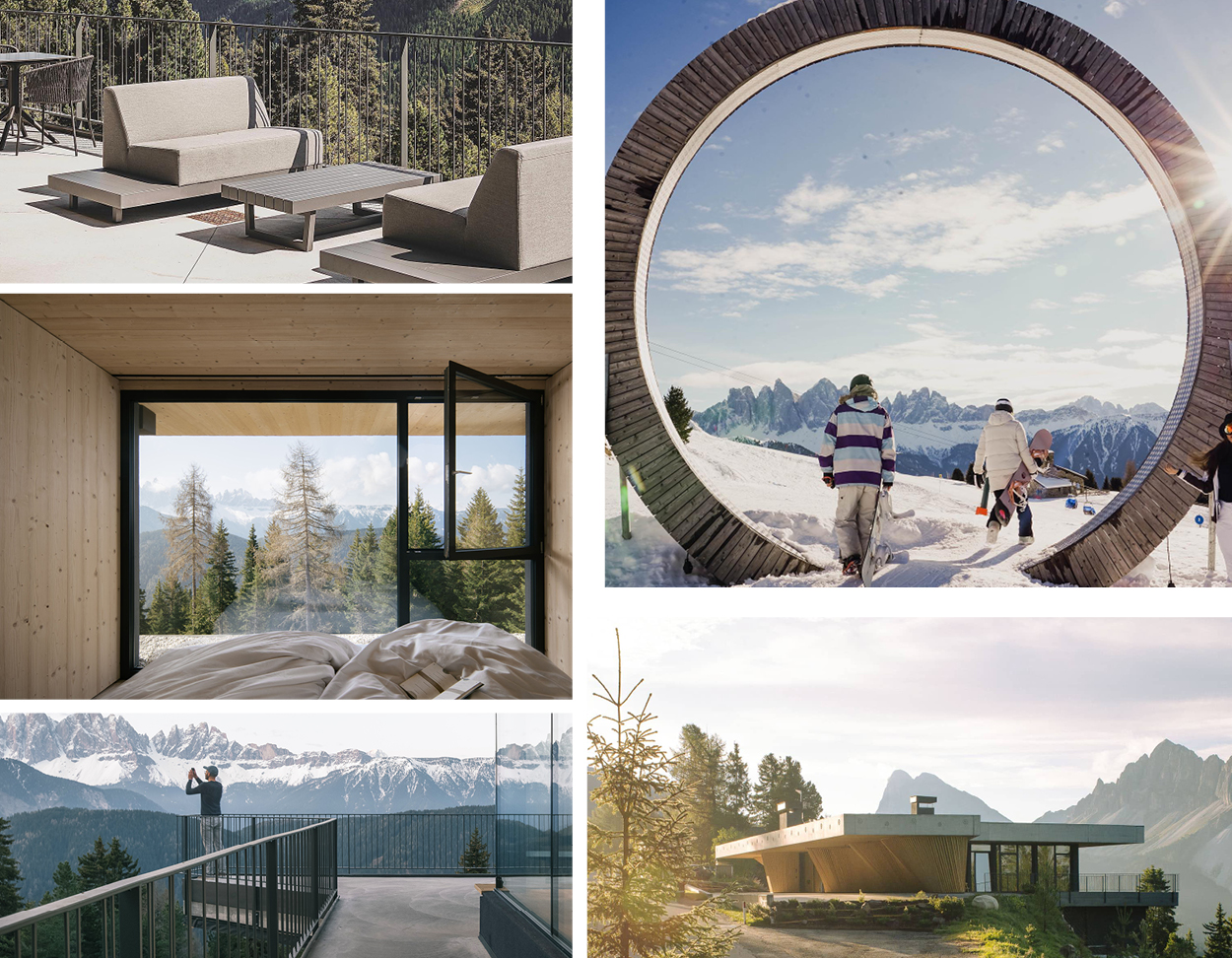 In the heart of the South Tyrol mountains in the Italian Dolomites, Anders Mountain Suites is a remarkable example of architecture and design in perfect harmony with nature. With milestones in mind, this is more than just a place to stay; it's an immersive experience. Adventure-loving guests can enjoy a broad range of activities, from hiking to mountain biking and skiing, to rejuvenating wellness facilities, and sumptuous treatments in their suites. It exemplifies the kind of destination that can, and should, act as a home base. A divine execution of a mountain retreat where, after long days exploring, there is time for rest, relaxation and taking stock in good company.
The retreat's opulent design is a stunning contrast to the traditional hotel architecture of the region, with its solid cement roof and natural brushed spruce wood construction.
And the suites themselves are perfectly pared-back luxury, at the end of an adventure-packed day offering guests cosy and elegant living spaces that offer breathtaking views of the Dolomites through floor-to-ceiling windows. The hotel's guest living room, restaurant and bar offer divine breakfasts and dinners made from locally sourced ingredients, providing an intimate and unique dining experience worthy of a celebration. Blending urban architecture with natural beauty, this destination finds luxury in simplicity.
─
In Good Company
Architect Martin Gruber has masterfully transformed the former Hotel Aurora into a design retreat with seven two-storey suites, offering a unique experience for guests seeking refuge from the hustle and bustle of modern life. Anders Mountain Suites can be booked for intimate and romantic getaways, but for a truly memorable affair, exclusive use of the property is encouraged.
The Lindis — Exclusive Use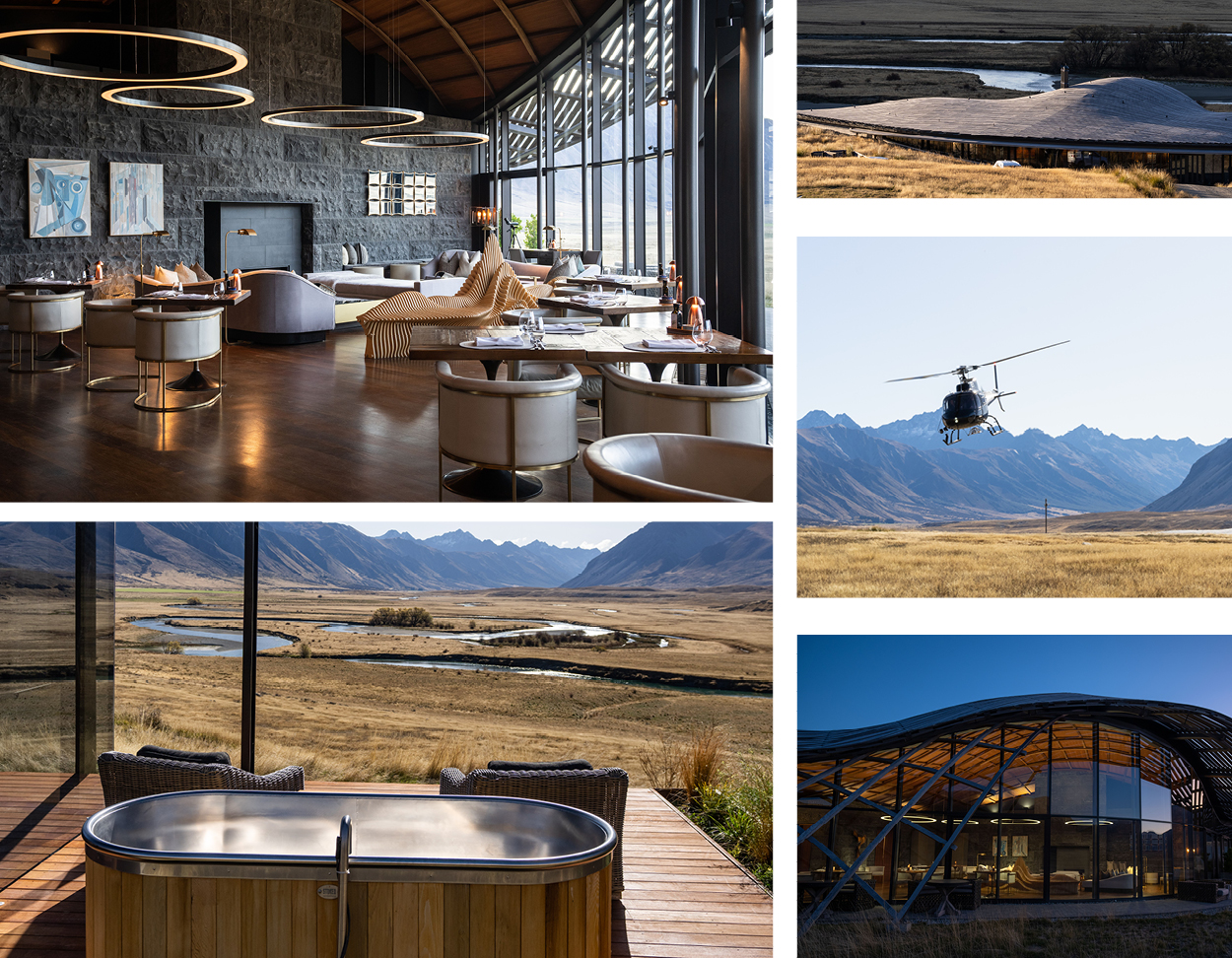 When you just want to get away from it all, and celebrate in the lap of luxury with your closest cohort, the peaceful privacy of an opulent lodge is the perfect solution. Nestled in one of New Zealand's most isolated landscapes — The Ahuriri Valley — The Lindis is a spectacular destination for friends and family, and can be booked out exclusively. Offering your party (of up to 16 adults and five children) an unparalleled experience, this exceptional lodge balances off-the-grid isolation with all the modern, luxury amenities and service one might expect from a place of this calibre. From its state-of-the-art kitchen, helmed by a dedicated chef who cleverly harnesses an array of cuisine fit for any kind of celebration, to the veritable smorgasbord of leisurely pursuits that allow guests to take in the beauty of the region (including bespoke heli-adventures, backcountry and fly fishing, e-biking, horse trekking and buggy tours), The Lindis affords its guests unprecedented access to breathtaking nature and at night, stargazing at some of the clearest night skies you'll ever see. Here, the beauty of The Lindis' setting is matched only by the warm, welcoming nature of its team's hospitality, who make a private stay here the ultimate celebration, right on
our doorstep.
─
a private escape
The Lindis Exclusive Use package includes two generously proportioned Master Suites, three modern and luxurious lodge suites and three unique glass pods. All meals are included and you and your guests will have the private use of the entire lodge during your stay.
Frank Sinatra Estate
In the Palm Springs dessert, surrounded by dusty earth, is Twin Palms, a historic mid-century mansion originally commissioned by the inimitable Frank Sinatra. The destination itself is a living reminder of the iconic Rat Pack days, where parties were grand and raucous and every celebration felt like a milestone. Now, an exclusive adventure awaits, where you can (and should) answer the call to assemble your own Rat Pack — only those capable of delivering an outrageous time need apply. Here, let the celebrations kick off with rousing sing-a-longs gathered around the grand piano, peppered with refreshing dips in the iconic piano-shaped pool, and tantalising libations served from the wet bar to ensure the good times keep rolling long into the night. Built by legendary architect E. Stewart Williams, this sprawling estate exudes old Hollywood charm with luxurious and unparalleled style. From the moment you step through the door, you'll be transported to a bygone era of sophistication and elegance. The floor-to-ceiling windows bathe the interior in natural light, casting a warm glow over the vintage audio systems, St. Charles cabinets and stone floor tiles. The furnishings, hand-picked to respect the original style, are a tribute to the rust-coloured hues and warm woods typical of the era, making it a discerning destination for any design lover, too.
─
Seasons In The Sun
Twin Palms is not just a destination, it is a milestone in and of itself and luckily, is available to book for weddings, private events and dinner parties, retreats and exclusive vacations, so you can live like Frank did.
Airelles Le Grand Contrôle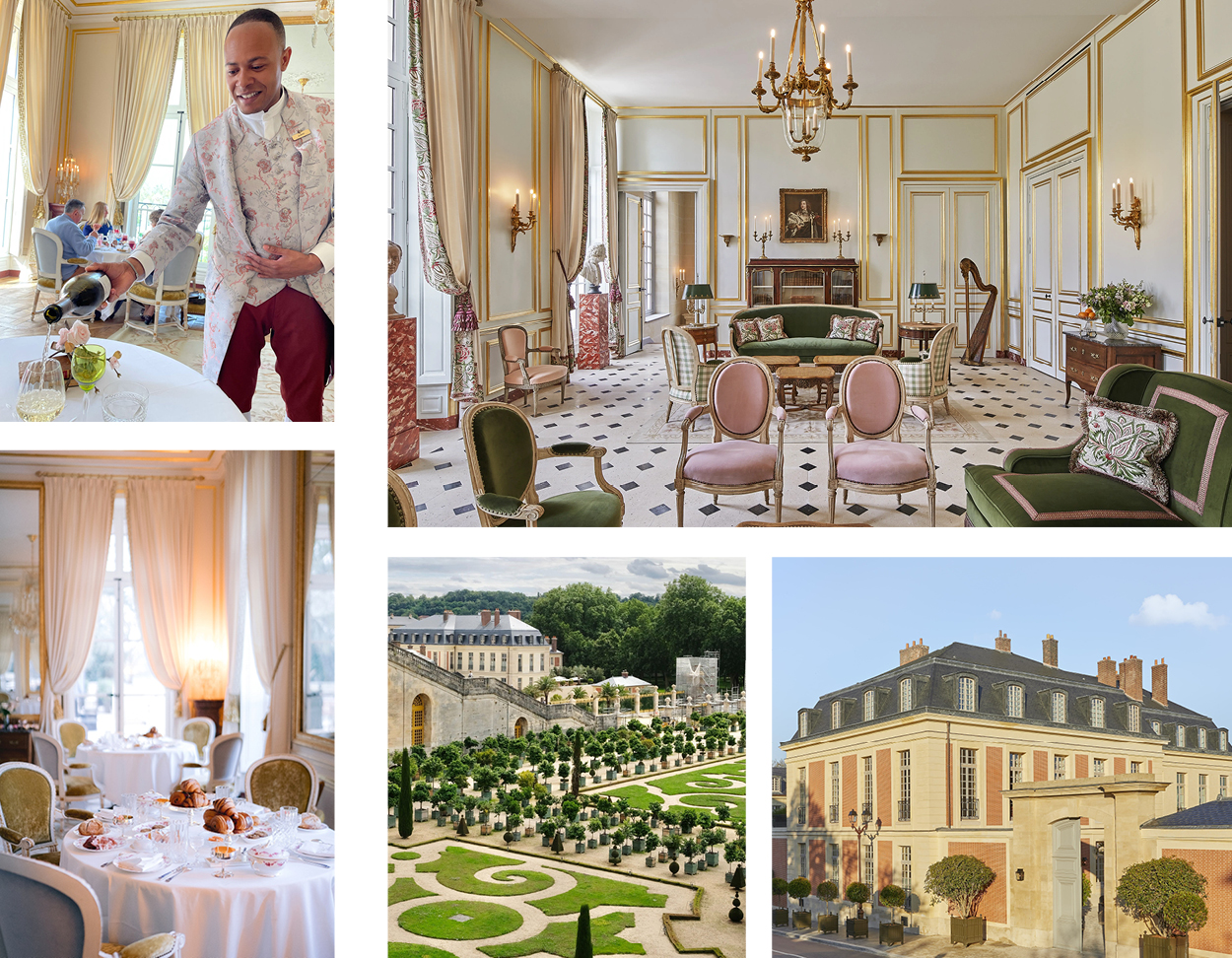 When the right occasion calls, why not take inspiration from the decadence of Marie Antoinette, and head to Airelles Château de Versailles, Le Grand Contrôle? The undisputed queen of French hotels and arguably the most fitting destination for those who deem themselves royal in nature, this is perfect for a once-in-a-lifetime birthday or even, perhaps, a hens party. Set adjacent to the Palace of Versailles, the hotel provides the sort of luxurious experience inspired by Louis XIV's tastes. Exclusive after-hours access to the palace offers a true glimpse into the iconic monarch's lifestyle, while a dinner masterminded by Alain Ducasse and served by liveried footmen adds to the momentous experience. Designed by renowned architect Jules Hardouin-Mansart in 1681, the hotel's Baroque interiors remain faithful to the original aesthetic, with silk-brocade fabrics, four-poster beds and Ladurée macrons in every room. Guests can pamper themselves in Marie Antoinette's signature almond milk with orange blossom or request the Valmont Sun King treatment at the spa.
Anyone staying here might start their day with a feast of traditional fare like eggs and Comte cheese, or a jog around the fountains, or even a horseback ride like French royalty. And as the crowds disperse, your party can stroll through the palace grounds and take in the serene atmosphere, gazing at the Grand Canal under the moonlight. Far more than simply a hotel, this destination should be reserved for those moments in life where only the royal treatment will do.
─
A Fashionable Adventure
Nestled in the palatial saloon lies an exquisite experience. Your party can book a rendezvous with an 18th-Century ensemble straight from the set of Sofia Coppola's cinematic masterpiece, Marie Antoinette. The attire, comprising a rib-crushing corset, petticoat and tricorn hat will transport guests back in time. A professional photographer can also be employed to capture the moment. After all, the picturesque grounds offer the perfect backdrop for a spellbinding photoshoot — the kind that could never be replicated.
Veuve Clicquot's Cellar in the Sea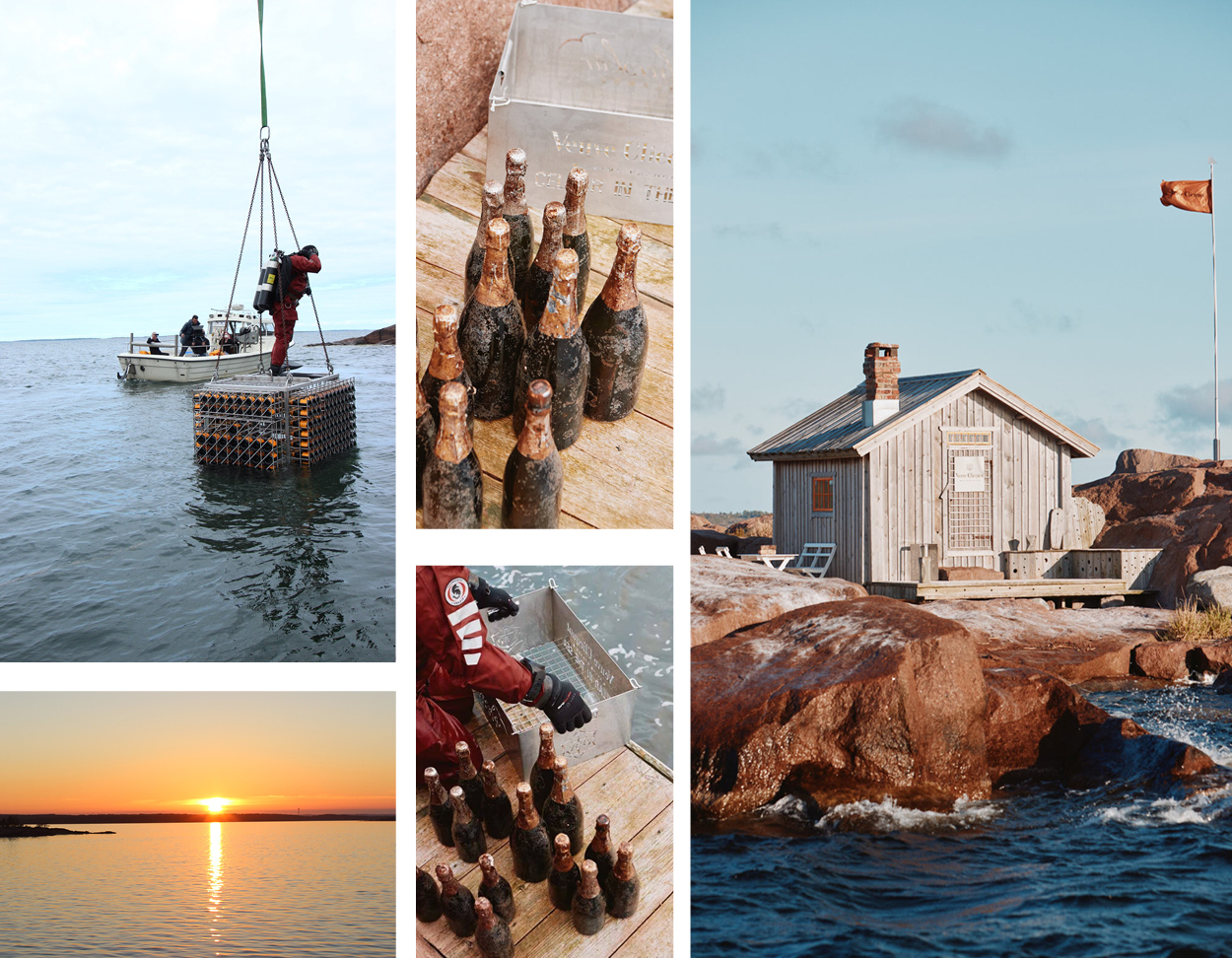 Embark on an unforgettable journey with Maison Veuve Clicquot's Cellar in the Sea, a one-of-a-kind experience that will take your party on a voyage unlike any other. Beginning in the historic French city of Reims — the home of Champagne — this exclusive journey will lead you to the picturesque Åland Islands set in the Baltic Sea, where you'll discover the sunken treasure of a 180-year-old shipwrecked Champagne shipment. The Cellar in the Sea is an ambitious oenological experiment that has captured the imagination of Champagne connoisseurs worldwide. During this bucket-list-worthy trip, you'll get to witness firsthand the incredible craftsmanship of Veuve Clicquot, the revered Champagne house with more than 250 years of history.
Here, your seafaring friends will indulge in the finest gastronomic and oenological delights. They'll also have the opportunity to meet the divers who discovered the precious bottles and explore the Åland Vault, where they remain submerged (experienced divers will have the opportunity to descend to the underwater cellar). As part of this exclusive journey, guests will celebrate the Midsommar Festival on Silverskar Island, where the sun doesn't set during the summer solstice, an indisputable once-in-a-lifetime adventure for sure.
─
Book with Haste
This unique opportunity is available only between the 22nd and 25th of June, 2023, and can be booked directly through Veuve Clicquot's partner travel agency. See Veuve Clicquot's website for details.
The Glass House by Philip Johnson
For the design enthusiast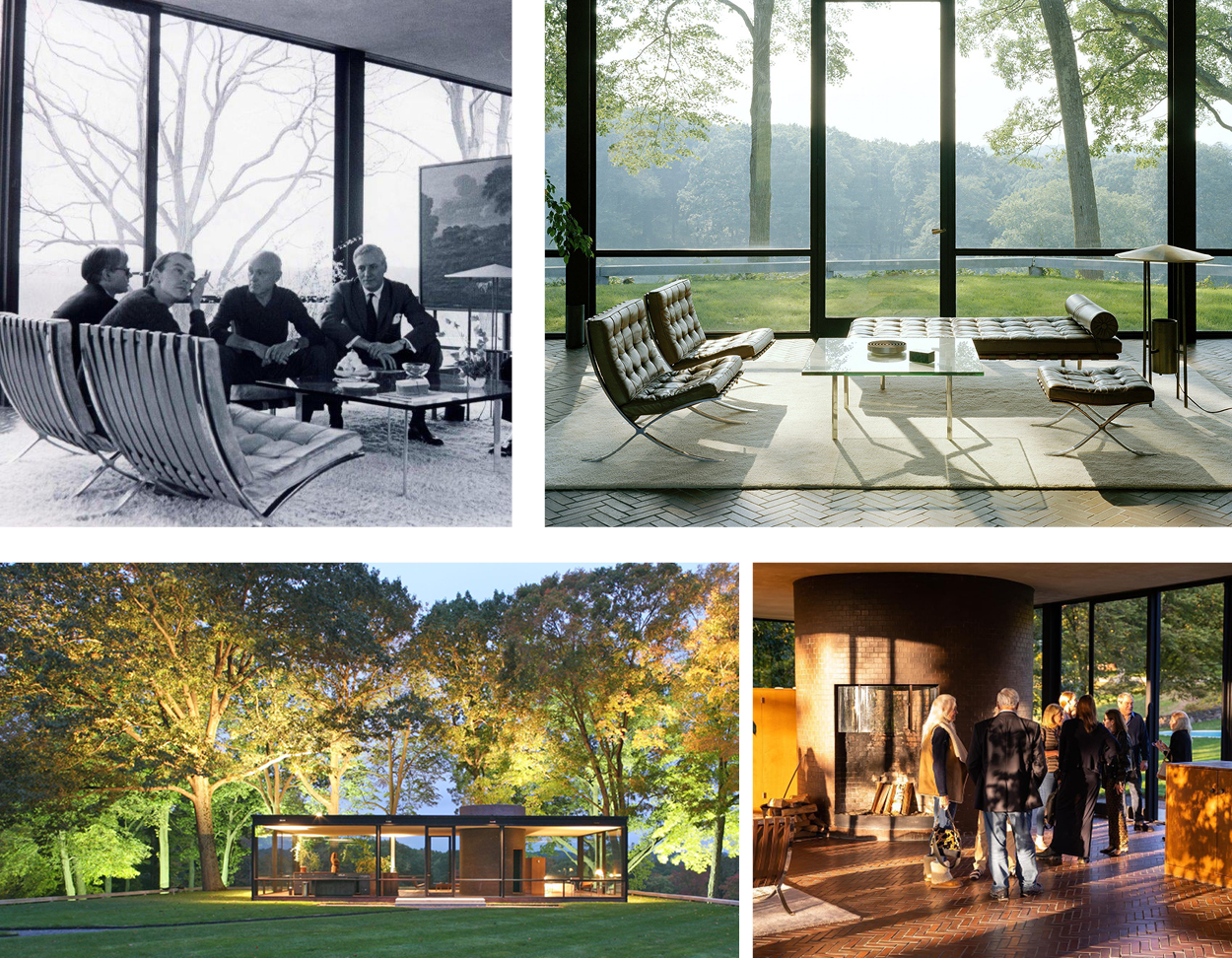 Built into Connecticut's famous wooded setting, The Glass House is an architectural icon. Designed by the renowned architect Philip Johnson in 1949, the design has been credited with ushering in the International Style into residential American architecture, and has long been lauded for its innovative use of materials and seamless integration into its landscape.
While this will be no news to enthusiasts (with the structure having achieved icon status in most circles), the opportunity to host your momentous occasions here makes it all the more endearing. Should you find yourself with something special to celebrate, you can rent out this bastion of modern architecture for a private event, which can be entirely customised to suit your needs and includes a tour of the five Johnson-designed structures on the property, including its library and the impressive collection of art. Or, if you want to truly celebrate in style, you can book The Glass House exclusively for an overnight stay, in which you will have the entire property to yourself — the ultimate immersive experience.
Anchored by a main pavilion, perched on a verdant hill that seems to float above the earth, The Glass House is surrounded by a number of architecturally-striking buildings, alongside a series of sculptures. In fact, the house itself is just the beginning of what design-lovers can discover here. It is the aforementioned icon status that makes this destination so appealing. And as such, we envisage it the kind of coveted address for intimate elopements and other equally important occasions.
─
Take a Tour
Even if a private event or weekend stay isn't on the cards for you, you can still pay The Glass House a visit. With the 2023 season now open, there are a variety of tours available throughout the week, depending on how long you want to spend exploring the architecture and grounds. Tickets can be purchased online.
Amalfi Coast Yacht Charter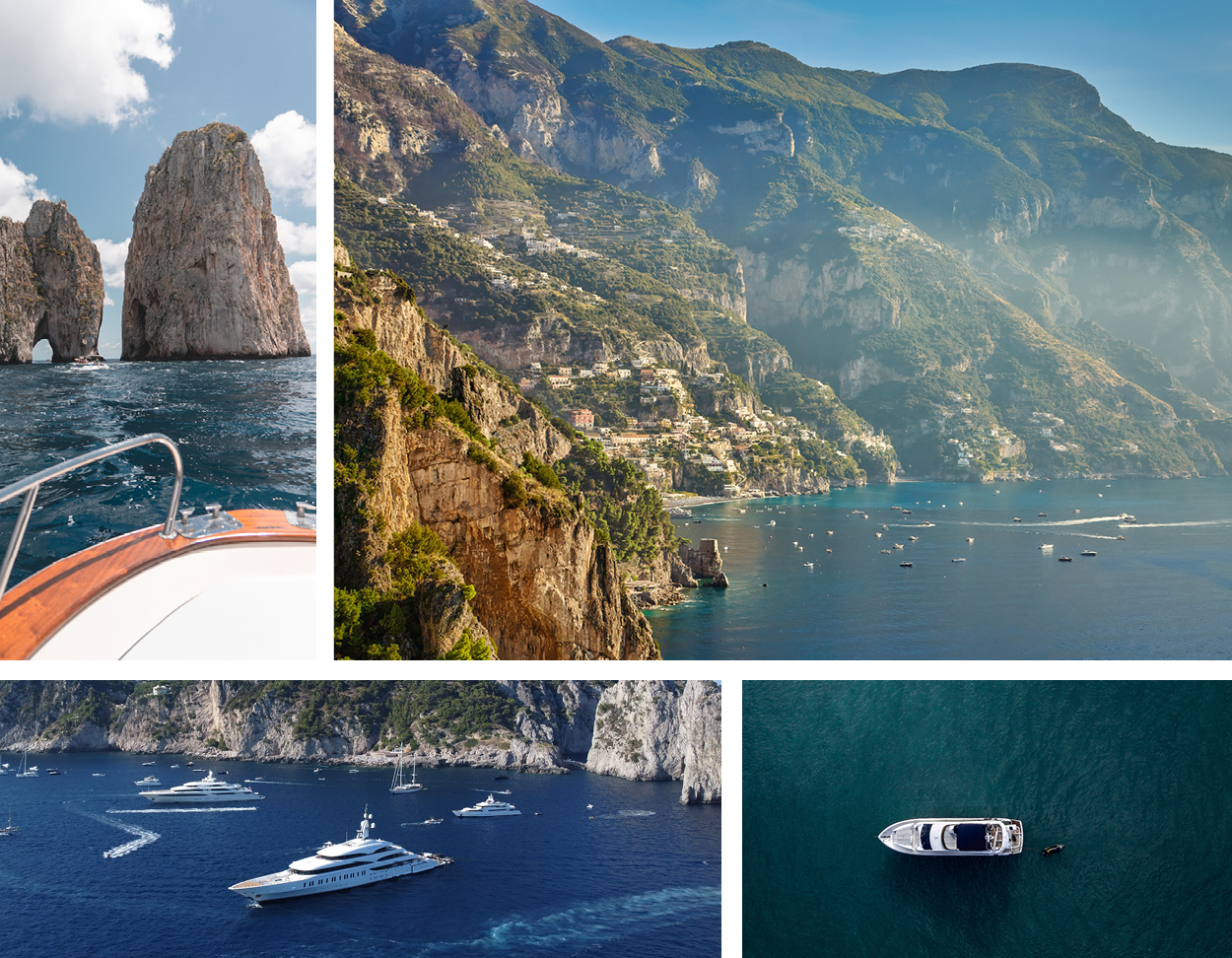 The eternally stunning and always romantic Amalfi Coast makes for an ideal destination for a celebration that will remain etched in your memory forever. And with milestones in mind, the only justifiable way to take in this breathtaking UNESCO World Heritage site is on board a luxurious superyacht.
Indulge in the ultimate getaway with your nearest and dearest and experience bespoke service and gourmet cuisine every moment of your stay onboard. Wake up to mesmerising views of the Tyrrhenian Sea before diving into the warm clear blue waters for a refreshing swim. Visit the charming towns of Positano and Amalfi for a spot of lunch, before heading back on board for a bottle of Champagne on the deck. Or head to the island of Capri for an utterly decadent Italian evening.
This opulent charter experience marries stunning natural surroundings with artistic heritage and exquisite cuisine, culminating in one of the most memorable experiences of a lifetime. Whether you wish to follow in the footsteps of ancient travellers and famous artists or simply bask in this idyllic region's elegant surrounds and eternal sunshine, a voyage along the Amalfi Coast will make any special anniversary or milestone moment one to be cherished.
To facilitate these enduring memories, local charter service 37South are the undeniable experts on the Amalfi region and all it has to offer from a boating perspective, thanks to their access to some of the world's most magnificent charter vessels.
─
Sail Away
Local brokerage 37South works closely with a curated fleet of superyachts to charter from the South Pacific, to more far-flung destinations. Here, you can make the mode of travel as much a part of the holiday as the final destination.