By now, many of us are dab hands at working from home, but that doesn't mean a home office has to become drab. Creating a dedicated working space with thoughtful furniture will make clocking in something to look forward to, as you smooth your hands over a welcoming walnut desk.
The Tanis desk is a classic. First released by acclaimed French furniture designer Pierre Paulin as the 'CM 141' in the 1950s, the desk was re-issued by Ligne Roset in 2008 under its new name. The Tanis desk stays true to the respected design, but the 'self-effacing' finishes of its era have been updated and enriched for a timeless feel. The writing surface is made from soft-touch, scratch-resistant Fenix laminate, in black to match the black lacquered steel base, whilst the two drawers are finished in natural walnut veneer. As such, sitting down at the Tanis is always conducive to good work.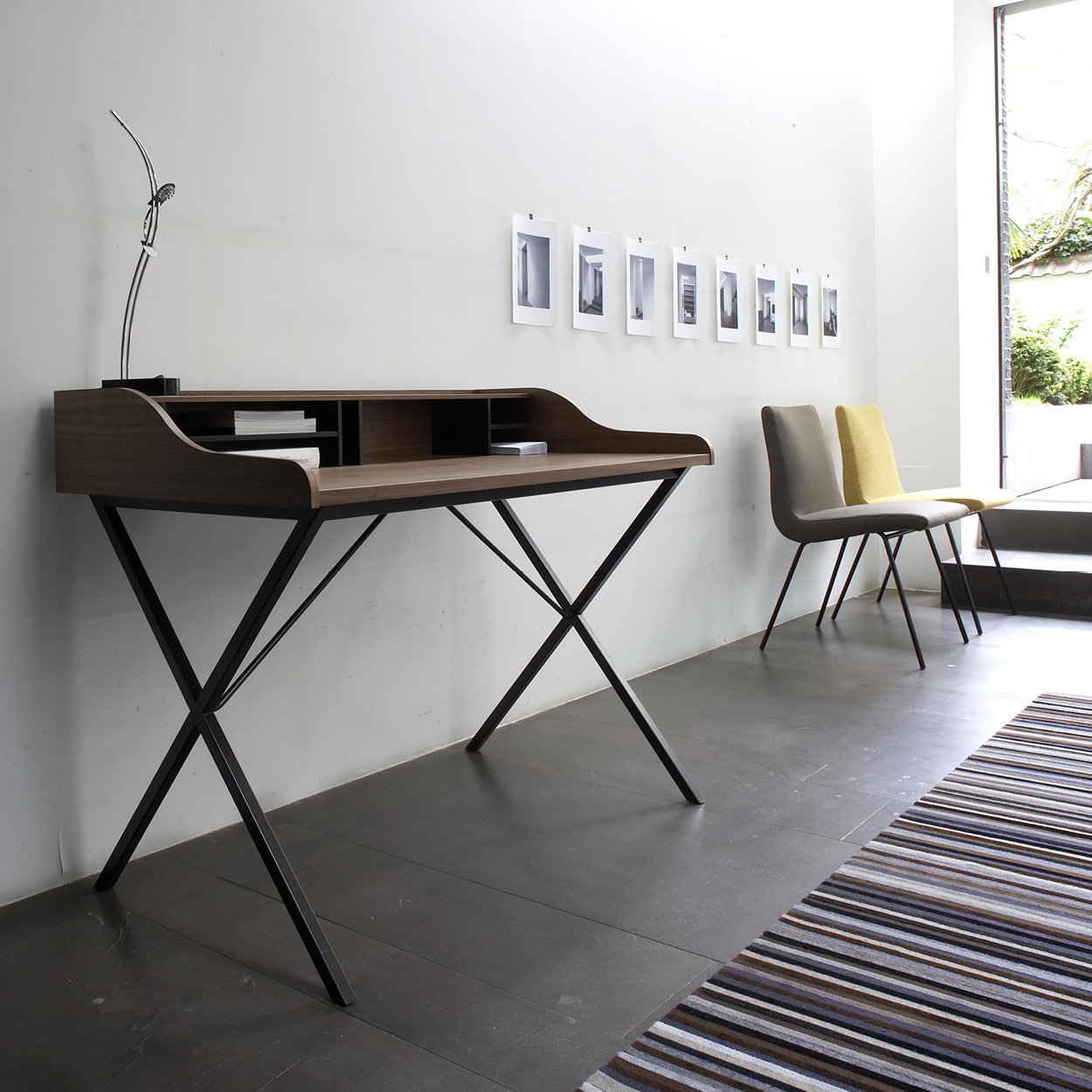 Another Paulin, the Ursuline desk is a feminine and graceful take on the usual wooden workhorse. The cross-shaped base and the soft curves mean this apartment-appropriate desk can carve out its own space when placed in a shared room. The desktop is available in walnut veneer or white lacquer and paired with a satin chocolate or white lacquered steel base respectively, with matching niches for storage.
When your desk looks this good, no run-of-the-mill desk chair will do. While it's technically a dining chair, the Ettoriano by Claudio Dondoli and Marco Poccioffers is a comfortable and contemporary seat. An enveloping piece that is moulded to support and hug the body, this chair is menial yet sumptuous. The cushion seat is optional, made to order, and highly recommended by us.
In terms of accessories, the Temoto desk pad from Ligne Roset will ensure your tasks continue running smoothly with its full-grain leather surface, vegetable-tanned at the Degermann in Alsace. Completed at the French luxury leather craftsmen Le Feuillet in Lyon, with a microfibre suede backing, every exacting detail will ensure you perform at work peak.
Forget WFH, we're all about the HHO: Haute Home Office.