Captivating the world with his timeless creations, Antonio Citterio is an iconic figure in the realm of furniture and interior design. From his work with Terry Dwan between 1987 and 1996 that saw him conceive awe-inspiring buildings in Europe and Japan, to his partnership with Patricia Viel that grew into the now lauded, cross-disciplinary international design studio, APV Architects, to the collaborations he has undertaken over the years with the likes of B&B Italia, Flos, Flexform, Knoll and more, Citterio is a multi hyphenate with a keen eye for detail, an innovative approach and an unparalleled vision. Here, in honour of the designer's lifelong dedication to creating groundbreaking, industry-defining pieces, we have rounded up some of his most renowned designs — pieces that showcase why the name Antonio Citterio will be cemented in the wider design vernacular for years to come.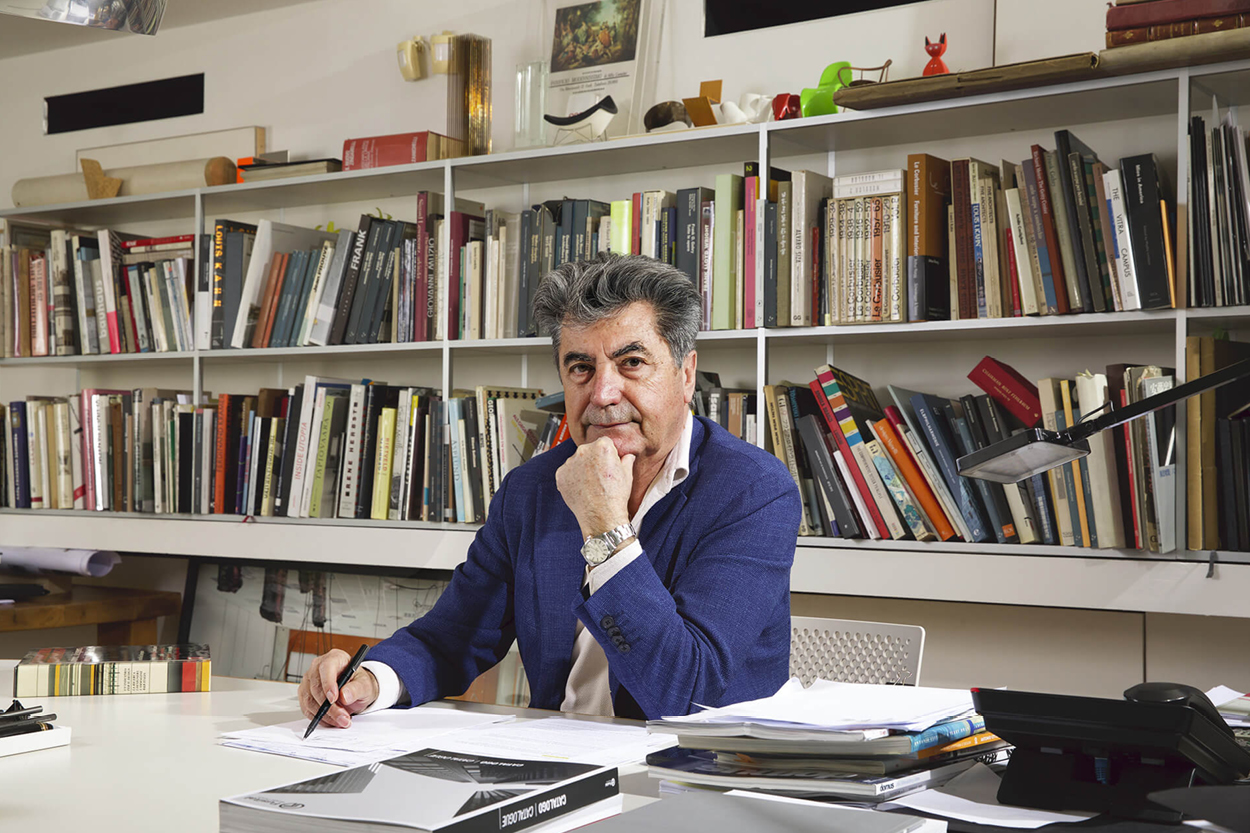 Born in the Italian town of Meda in 1950, Antonio Citterio's journey to success began when he established his own design studio in 1972 while still a student. After graduating from the renowned Politecnico di Milano in 1975, he embarked on a remarkable career that has shaped the way we perceive and interact with furniture to this day and has seen Citterio dubbed the 'Gentleman of Design.'
It is an apt nickname considering the legacy of timeless refinement and elegance that Citterio has cultivated throughout his storied career. Clean lines and a minimalist aesthetic define the designer's approach, where he focuses on tempering functionality with a distinctly human touch. His vast portfolio spans (in addition to furniture and architecture) lighting, kitchens, glassware, home products and bathroom fixtures, and the brands with which he has collaborated are just as far-reaching.
"This Belvedere Spot Single F2 outdoor light exemplifies Citterio's ability to marry high functionality with elegant form."
B&B Italia, for instance, has been working with Citterio since the 70s, when both entities found solidarity in their shared ideals of creativity, experimentation, timeless modern design and unsurpassed quality. In fact, these are qualities that Citterio applies to all of his work, with notable projects including B&B Italia's flagship store in Milan and the luxurious Bulgari Hotels in Bali and Milan (alongside specific pieces like the Mart chair and the Groundpiece sofa, which we speak to on the following pages).
Ultimately, Citterio's meticulous approach and his international body of work have shaped the canon of Italian design like no one else. Here, we invite you to immerse yourself in the sleek world of this lauded designer, and to understand the true importance of his work.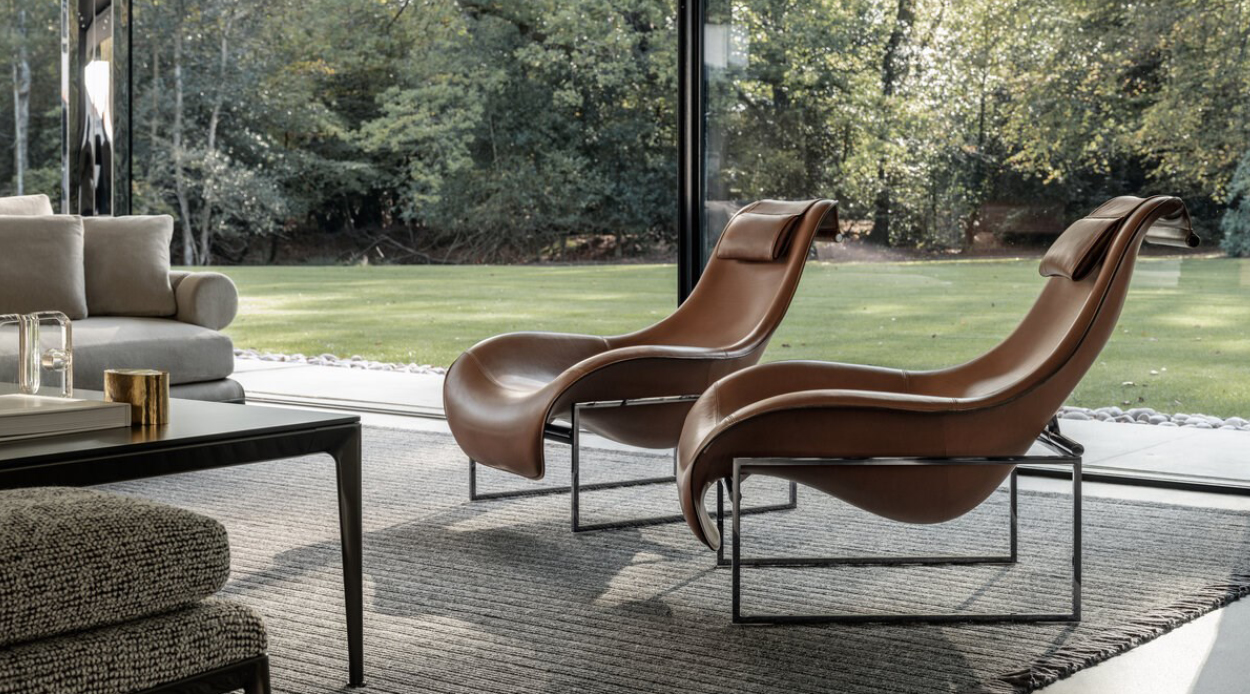 Embodying the perfect balance of form and function, this remarkable chair has captivated design enthusiasts since it was first unveiled in 2003. From its unique shape and exquisite craftsmanship to the fact that it is available in two sizes, the Mart chair will effortlessly adapt to any space, making a bold statement with its sculptural, aesthetic presence. Made via an innovative production process, rooted in meticulous experimentation, this chair has been crafted from thermoformed leather and cold foaming of polyurethane — a combination that creates a harmonious blend of elasticity and comfort, and a luxurious lounging experience. With its exceptional attention to detail and timeless design, this chair stands as a testament to Citterio's mastery of contemporary craftsmanship and is destined to elevate any interior.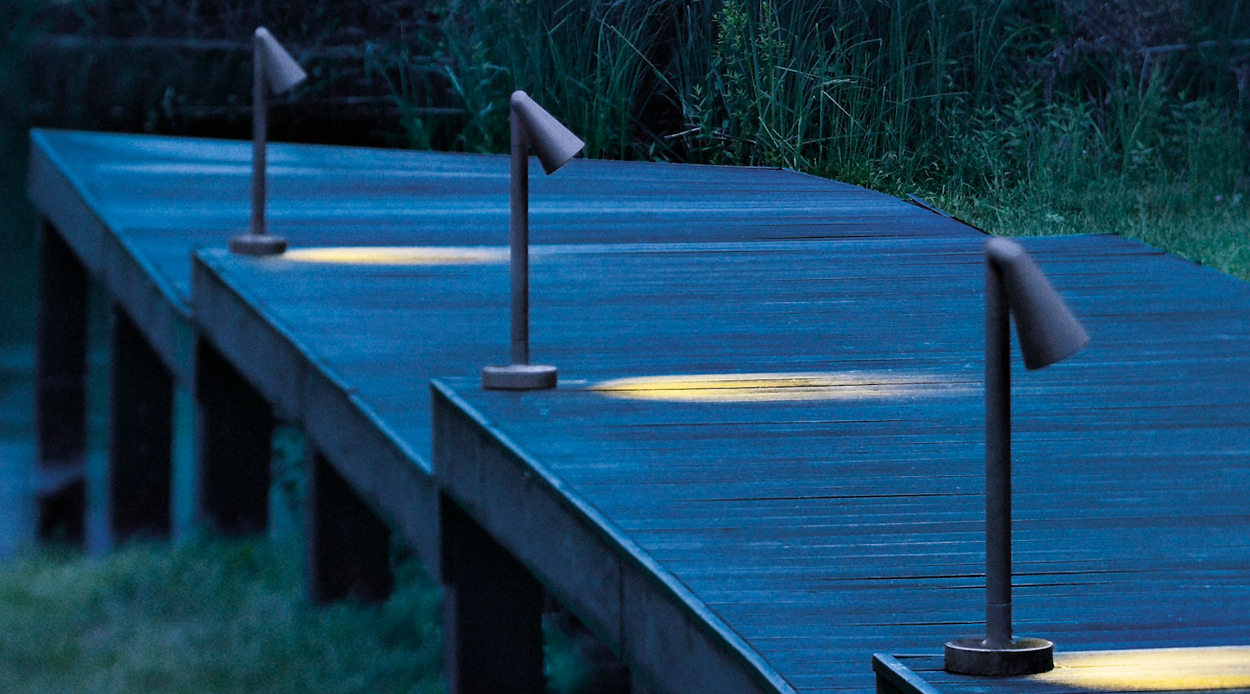 Part of a wider family of exterior lighting devices that Antonio Citterio created to redefine the boundaries of illumination, this Belvedere Spot Single F2 outdoor light exemplifies Citterio's ability to marry high functionality with elegant form. Versatile and sturdy, the design features adjustable projectors with double rotation capabilities along vertical and horizontal axes, and offers unparalleled flexibility. Offering options for various heights and lighting sources and remarkable technical features such as a remote power box and factory-sealed components, this light is as durable and practical as it is beguiling to look at — a testament to the innovative mind of its designer.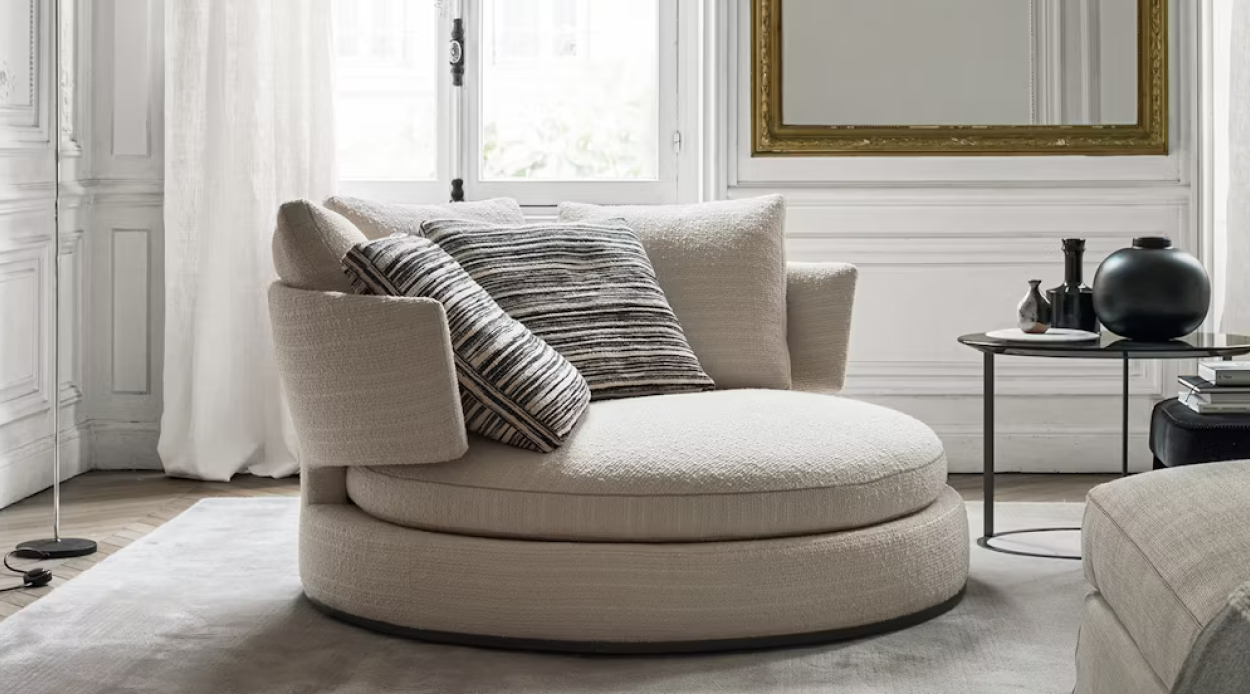 The allure of Antonio Citterio's Amoenus Soft swivel sofa for Maxalto lies in its supreme elegance and comfort. Promising a luxurious lounging experience like no other, the generous, curved profile and deep seat, padded with down, lends itself to moments of rest and relaxation. The curved back adds a refined edge, while the chair's ability to swivel provides a sense of freedom and versatility. Crafted with careful attention to detail, this armchair is a symbol of refined taste and an invitation to unwind in style.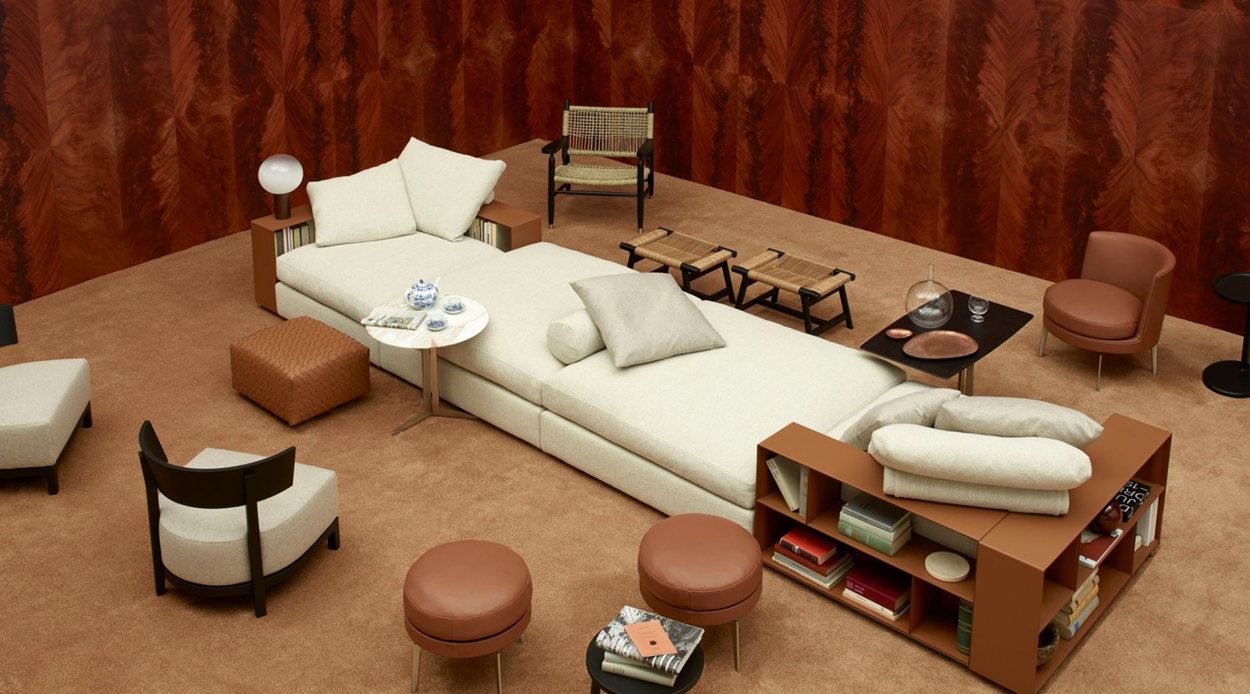 Set to elevate any living space, the iconic Groundpiece sofa by Antonio Citterio for Flexform is a true masterpiece of Italian design and craftsmanship. Renowned for its unparalleled comfort and timeless shape, this modern classic has garnered widespread acclaim (for good reason). The Groundpiece's versatility knows no bounds, thanks to a modular system that allows for personalised configurations. Its most distinctive feature is its removable arms, available in upholstery or as a steel bookcase, and showcases a consideration by Citterio that went beyond function alone. From the sumptuous cushions, filled with a poly-dacron core wrapped in down, to the removable upholstery cover, this sofa is as visually striking as it is utterly practical, where unrivalled comfort meets refined design — Citterio's signature approach.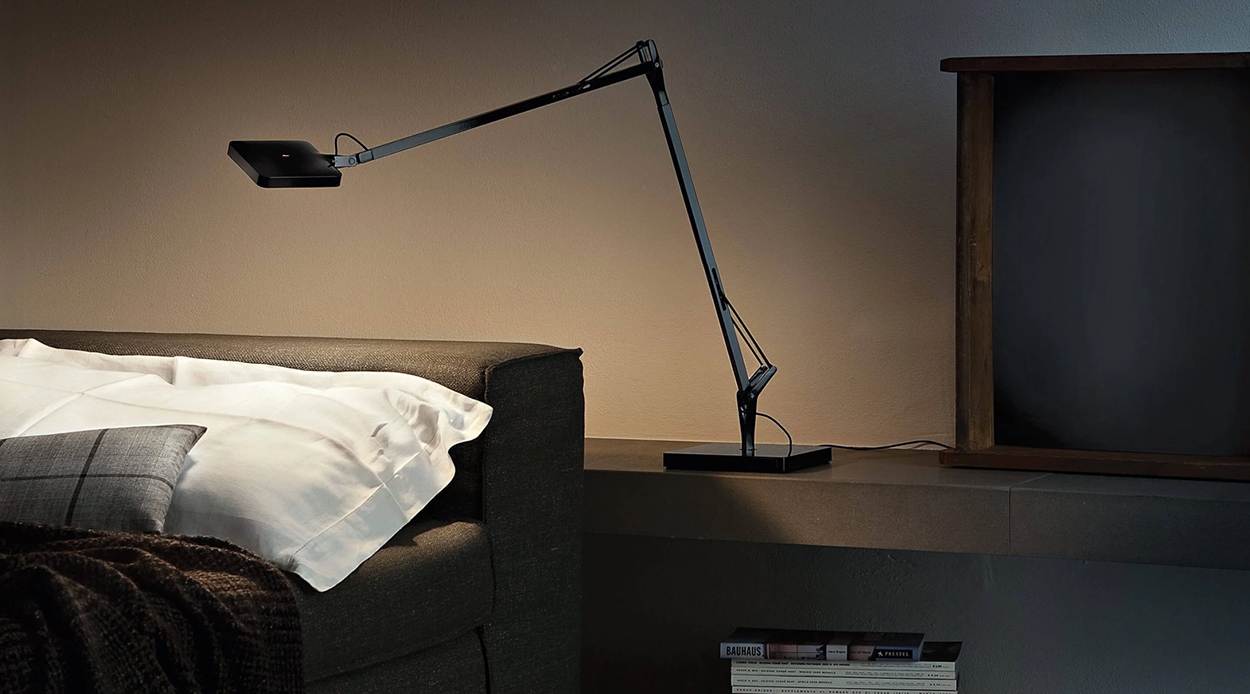 The Kelvin Edge Base table lamp is a striking creation that serves a purely practical purpose but carried with an air of sophistication. Available in sleek aluminium paint or a chrome finish and with a photoengraved diffuser and edge lighting technology that emanates a gentle yet powerful direct light, the Kelvin Edge lamp is the perfect addition to any side table or desk. Featuring an optical switch sensor for easy dimming as well as a colour temperature adjustment, this exquisite piece seamlessly combines aesthetics and innovation.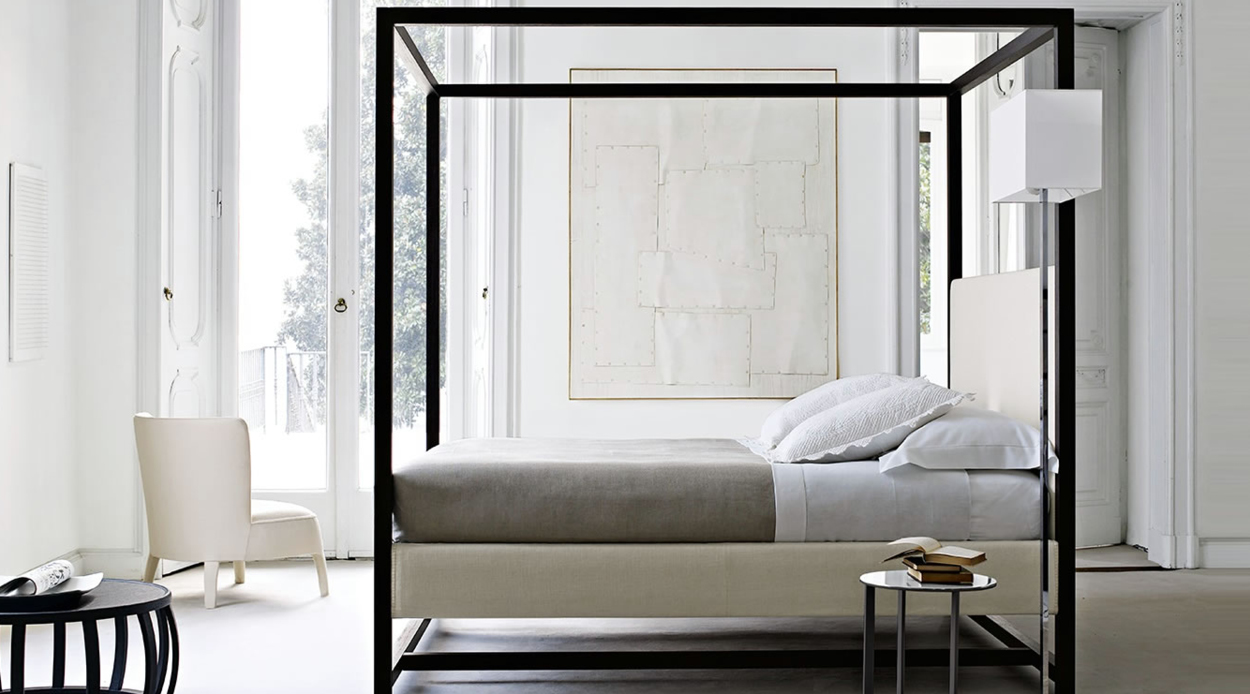 Offering a modern rendition of the classical canopy bed, Antonio Citterio's Alcova bed for Maxalto is a striking design. Exuding opulence and sophistication, with bed sides and headboard available in leather or fabric, this bed creates a focal point that commands attention. The platform on which it rests offers functionality, providing ample space for a service element with an open compartment at the foot of the bed. Promising to transform any bedroom into a sanctuary of refined luxury, this bed encourages us to rethink the aesthetic of even our most functional pieces.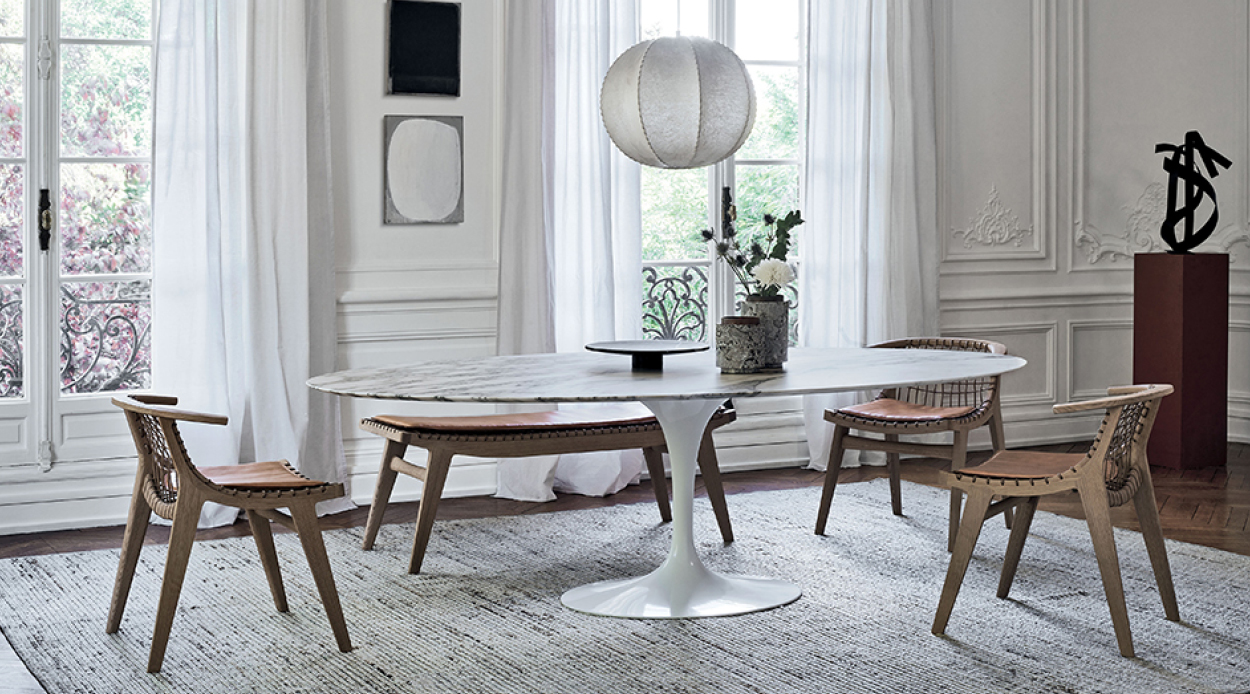 In designing this chair, Antonio Citterio paid homage to Knoll's design heritage. Crafted with a strong emphasis on sustainability, this beautifully-constructed piece showcases the beauty of natural timber. Its majestic, solid wood frame exudes timeless elegance, while its seat, made from an intricate cotton cord weave and its curved back add an artisanal touch. For enhanced comfort, the Klismos chair is available with optional leather cushions in sleek black or natural brown. Embodying the perfect harmony of quality, aesthetics and sustainability, this chair will be an exquisite addition to any living or dining space.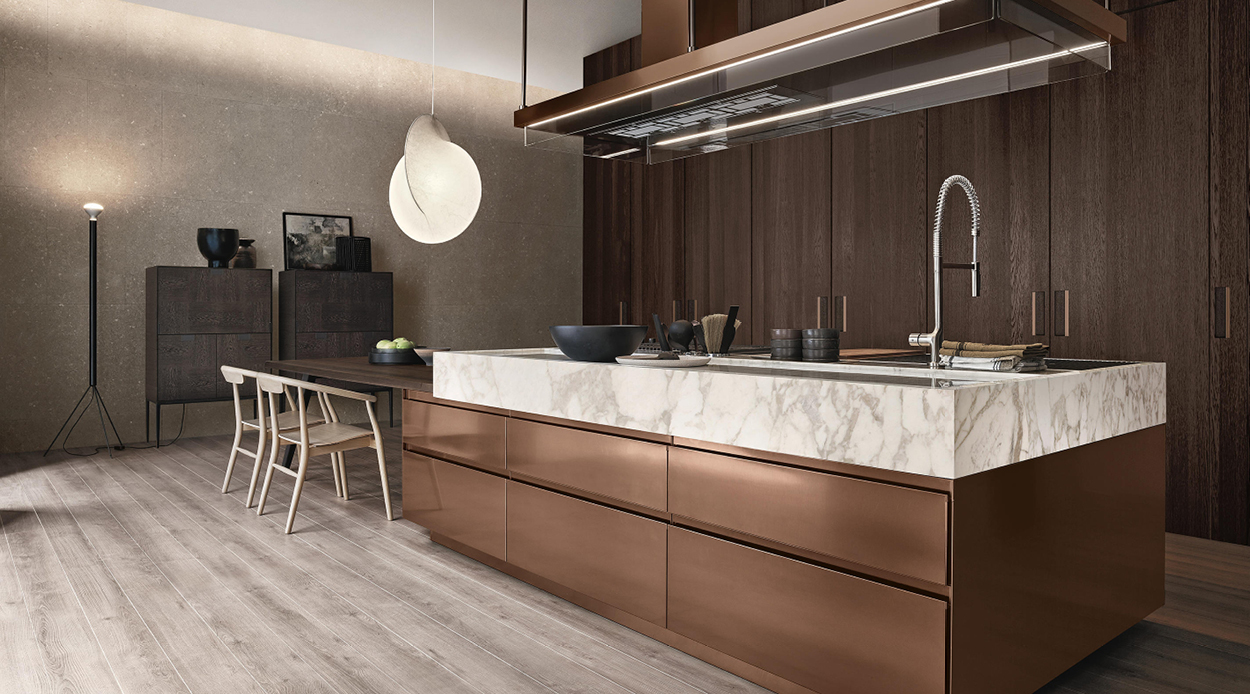 Masterfully designed by Antonio Citterio, the Convivium kitchen for Arclinea transcends the boundaries of tradition. Here, the design is centred around an open, agile space that transforms daily routines into cherished rituals. In fact, the clever way in which Citterio conveived this space promises to take the user on a sensory journey, as well as being a thoroughly practical design. This visionary kitchen unfolds from a large built-in wooden table which is surrounded by canopy shelves that lend warmth and functionality. Designed to seamlessly blend with the living room, Convivium encapsulates the essence of shared moments, evoking the inherent function of the kitchen where cooking is a catalyst for connection and conviviality. Boasting innovative solutions catering to modern needs, including hidden units behind New Pocket System doors, Convivium is a haven of harmonious design perfect for the heart of any home.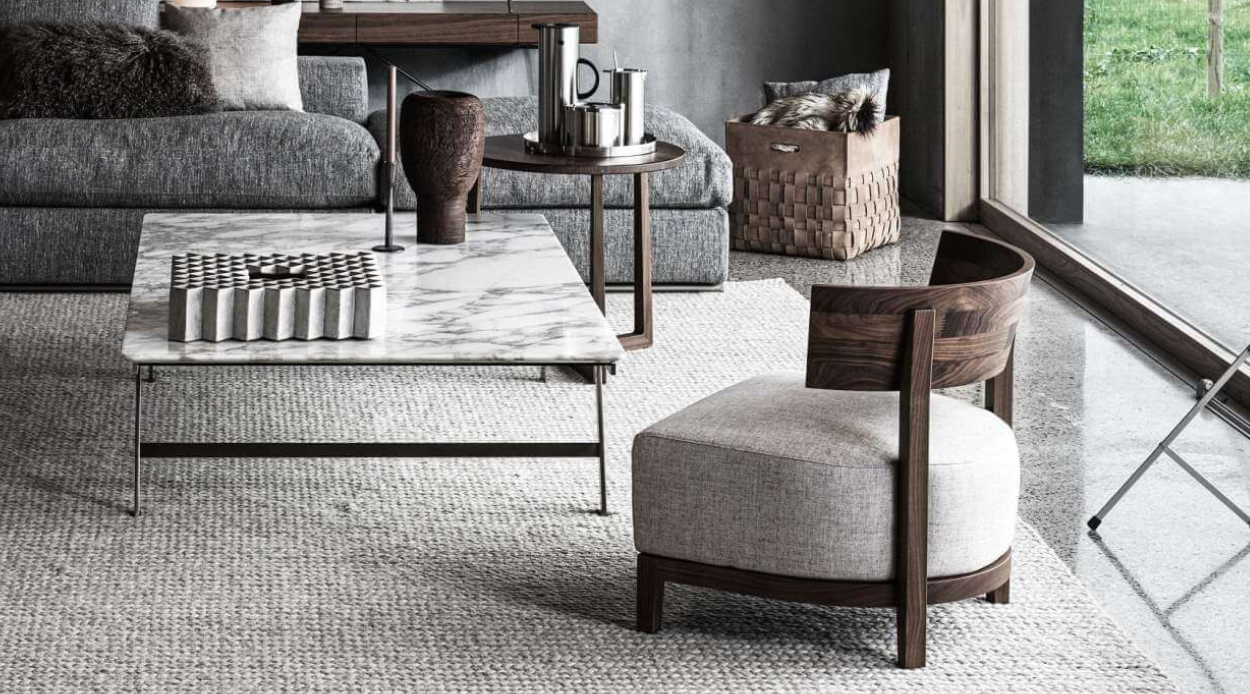 The Thomas armchair has remained an icon of design since its inception in 2000. Its allure lies in its inherent sophistication, drawing the admiration of discerning connoisseurs the world over. Crafted with meticulous attention to detail, the Thomas features a sumptuous padded seat, a refined, curved wooden base and a semi-circular seat back, available in exquisite Canaletto walnut or ash (stained in various shades) or in a glossy lacquer finish. Versatile and showcasing the importance of considered craftsmanship, the Thomas armchair is a testament to Antionio Citterio's commitment to creating luxurious and timeless furnishings.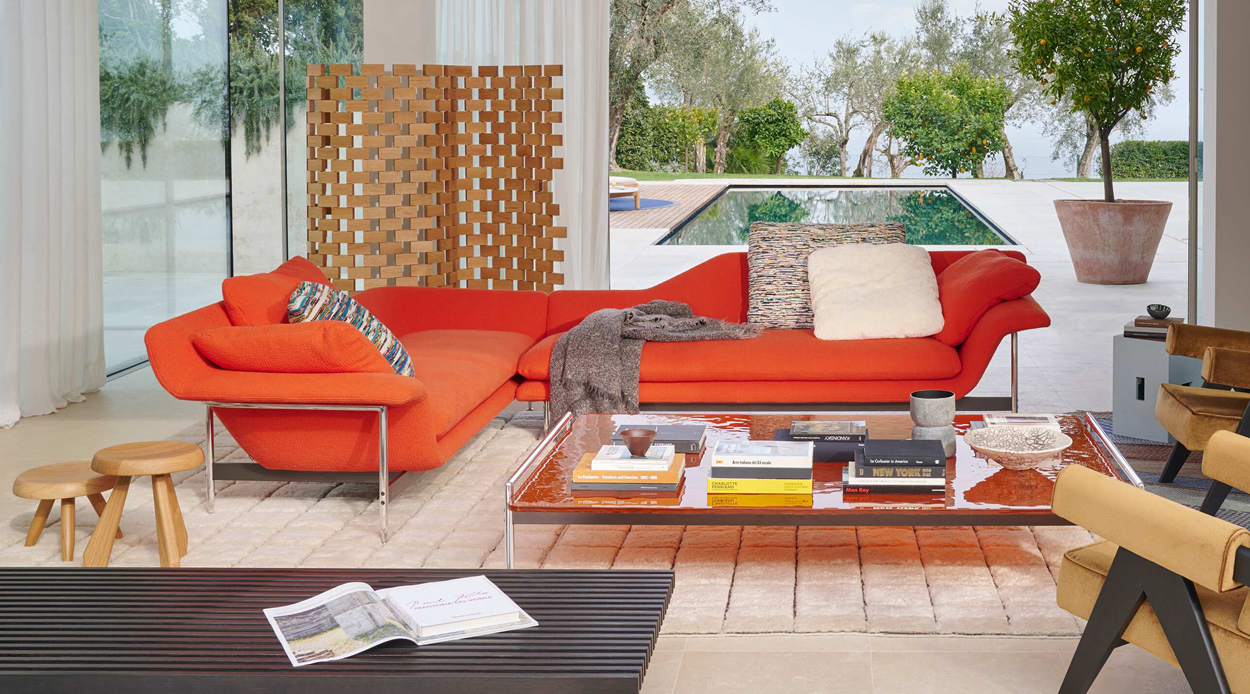 Crafted with an aluminium exoskeleton and an organic-shaped shell, the Ecosoft sofa by Antonio Citterio exudes casual elegance and an aesthetic reminiscent of the 1960s era. Plush cushions rest upon its fluid silhouette, inviting anyone seeking a place to unwind and relax. Part of the wider Ecosoft collection, which offers eight versatile modules that allow for customisable configurations, this sofa has been designed to effortlessly adapt to any living space.
Shop Our Edit Of Citterio's Work
---