Innovative, premium design joins a central and vibrant location to make a newly-launched apartment complex concept one of the most highly desirable in town. Coming to 445 New North Road, Kingsland, The Electric will boast 33 apartments that speak to the diverse range of people who want access to the business, transport and social offerings of inner Auckland.
With a completion date slated for early 2024, the high quality, beautiful living spaces are being designed by the award-winning architectural team at Chow: Hill, led by Director Simon Woodall, and the overall project is being developed by the Cassidy family. The Cassidys have lived and worked in Kingsland since the 1980s, providing them with comprehensive insight into what will be valuable to residents of the area.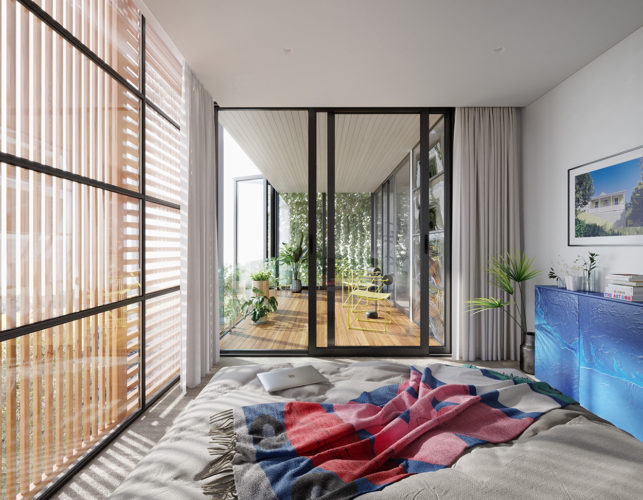 An unabashedly unique project, The Electric comprises multiple floor plan offerings to suit a variety of lifestyles, with an L-shaped building that has been consciously designed to incorporate green space and exquisite views all around. Apartments will range from 50 sqm to 155 sqm (excluding terraces) with layout options that include studios, and one, two and three-bedroom units.
Contemporary interiors and designer kitchens will provide ultimate comfort while speaking to those who love to entertain, as will sun-soaked terraces and sunrooms. Clever features such as floor-to-ceiling glass bifold or sliding doors will be able to be thrown open to the balcony spaces, creating seamless flow between indoor and outdoor.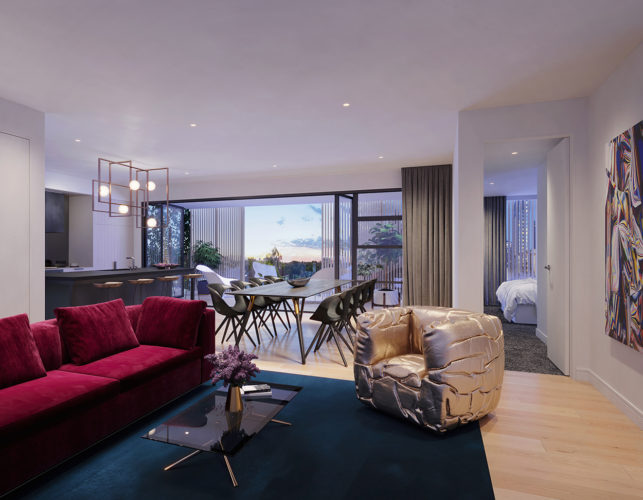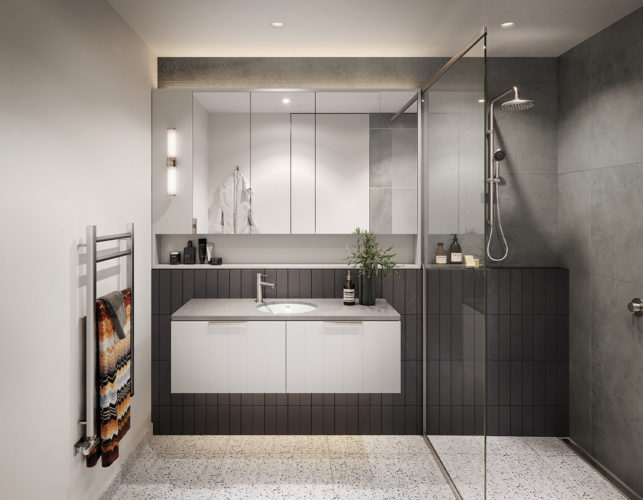 All apartments come with single or tandem car parks and full height storage units large enough for bikes. Motorbike parking bays are also available.
Should you be after a truly luxurious living proposition, the penthouse will boast a 207 sqm interior plus 453 sqm of landscaped terraces to three sides — over 660 sqm total of premium cosmopolitan living space, with stunning views over Auckland.
"Our team including Katie Dickens, Amy Land and myself, wanted to create an apartment complex that set itself apart from the neighbouring developments," says Simon Woodall. "The Electric has been designed to capture the essence of Kingsland, a suburb that embraces both heritage and modernity, a community of forward thinking, design savvy residents."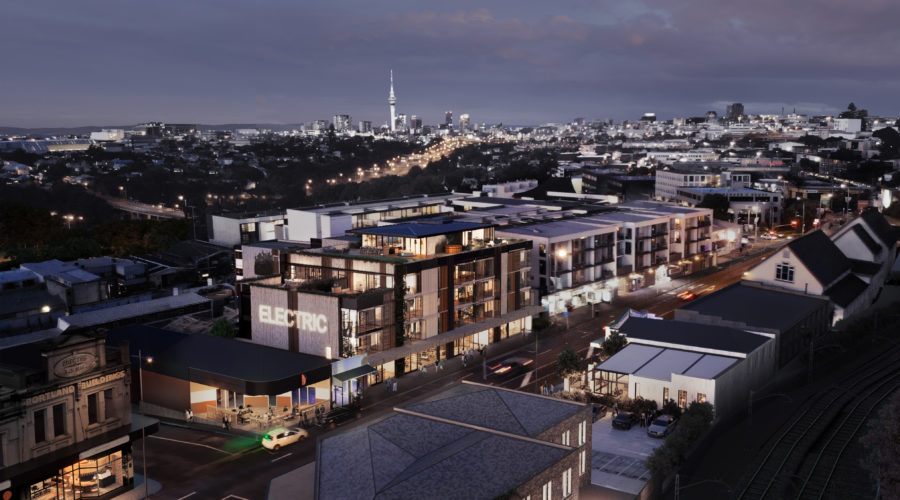 The Electric's architectural language took clues from their observations of bold, high profile multi-residential developments in Australia, he notes, particularly around the Sydney foreshore. "We wanted to produce a piece of design that simultaneously felt at home in Kingsland and yet stood out in the middle of a constantly evolving, energetic neighbourhood."
The Electric's onsite showroom is now open at 445 New North Road and includes a display kitchen and bathroom to assist with visualising the spaces. Prices range from $695,000 to $2.75M+ and the garden penthouse is POA. Register your interest here.
The Electric showroom
445 New North Road
Kingsland
Auckland