Tasked with bringing this majestic heritage house into the present day, the team at Alwill Interiors kept colour and mood at the forefront of their approach. Situated in Sydney's Centennial Park, the home already contained exquisite turn of the century features which, having been lovingly restored, sing when paired with a Bauhaus-tinged modernity.
While natural light was not abundant throughout, Alwill Interiors worked with this inherent quality to create moody spaces that exude a sumptuous romanticism. The main living space is bestowed with impressively large-scaled proportions, and gently curved furniture works to create flow, comfort and softness in contrast to the traditional in-built features. Rounded sofas and chairs invite residents to recline on their organic, cloud-like cushions, while oval rugs, pebble-shaped coffee tables and arched mirrors all hone in on the effect.
Varying shades of paint and wallpaper were utilised to create individual schemes for each room in the house, resulting in a home that offers shifting environments to reflect (and perhaps influence) the dispositions of those within it. In the study, hand-painted silk Wisteria De Gournay wallpaper adorns the walls with inky ambience, melding artful expression in a way that feels characteristically cohesive with the overall aesthetic. The living and dining areas lean into the heritage character with textural grey Porter's Fresco paint, designed to replicate the plaster walls of ancient European buildings, while white walls and ceilings in both the hallway and the informal living room to the rear of the house assist in bouncing light around for a brighter, fresher effect.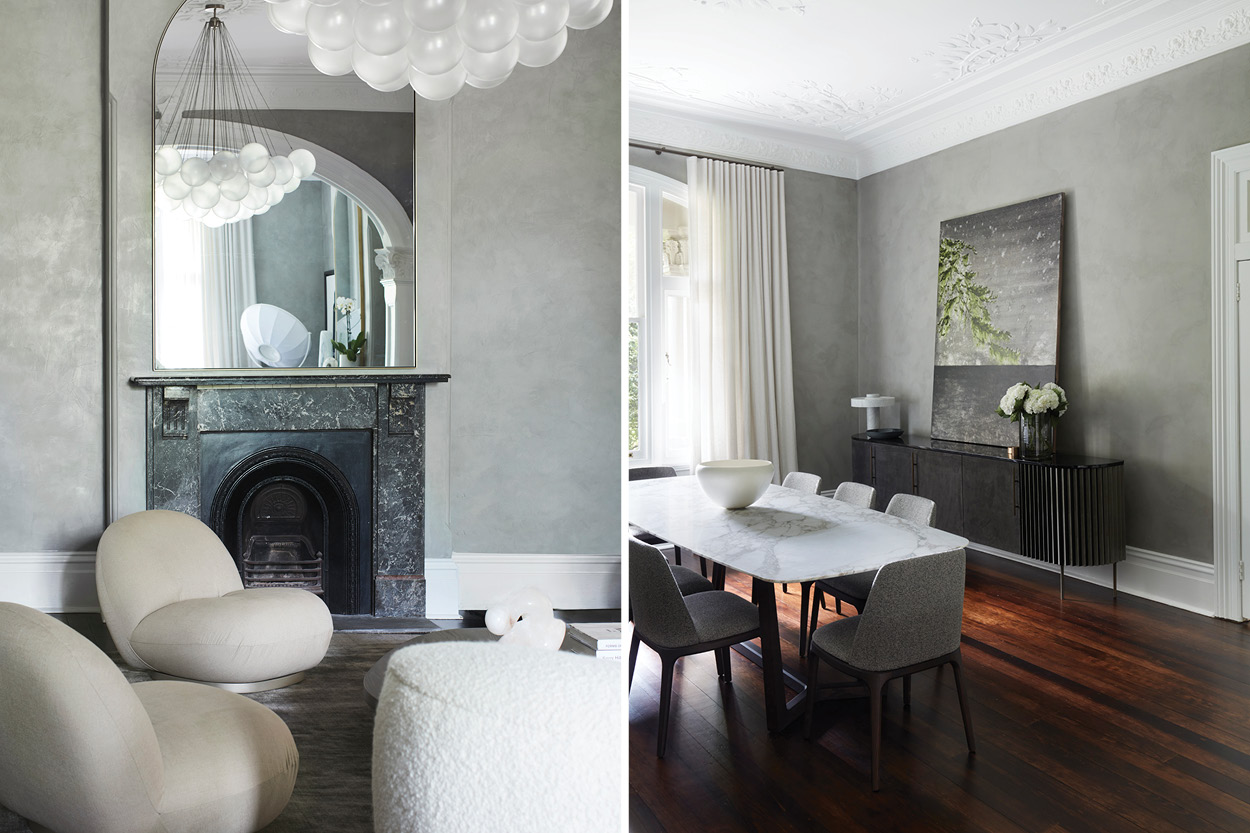 As well as delving deep into the impactful properties of colour, an understanding of scale and proportion was key to the success of this project. Soaring high ceilings and archways, an imposing fireplace and generous windows require furnishings and object d'art that can hold their own with the substantial quality of the aforementioned aspects. The Apparatus Cloud pendant mirrors the living room furniture's curves without being too nebulous, its frosted glass orbs adding a contemporary centrepiece that is still in-keeping with the solidity of the home's structure. Weighty coffee tables peppered throughout provide purposeful sturdiness, and generously-sized seating casts assured forms that avoid being too dinky.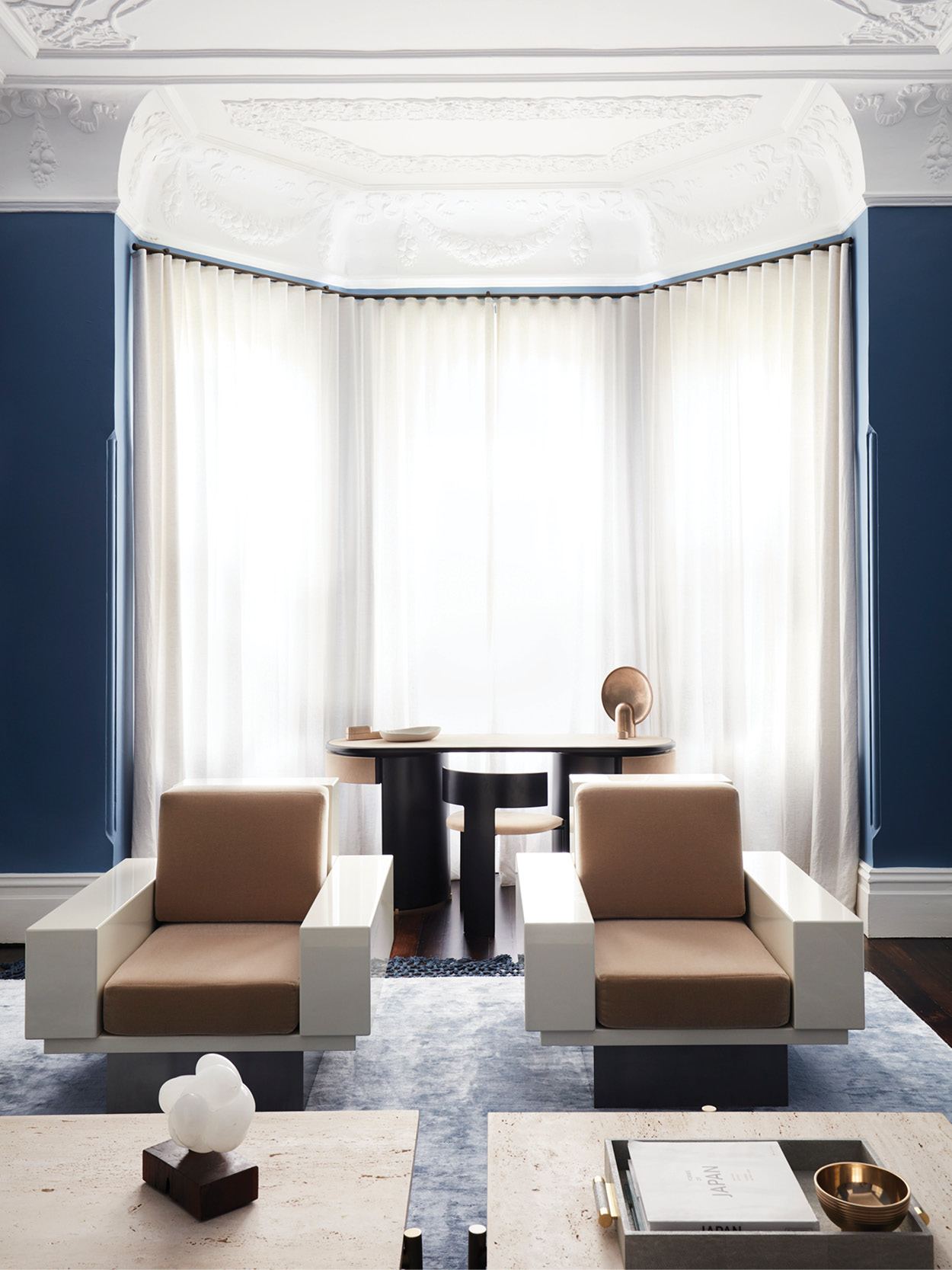 To introduce welcoming warmth into each space so as to remain comfortable for the young family who live here, plush rugs have been utilised with gratifying enthusiasm, each room's iteration both complementing and offsetting the curation of furnishings. A long, sandy-hued rug stretches the full length of the entrance and hallway, and in the study an Italian Baxter rug, artisanally crafted from plant-based silk, adds beautiful texture underfoot.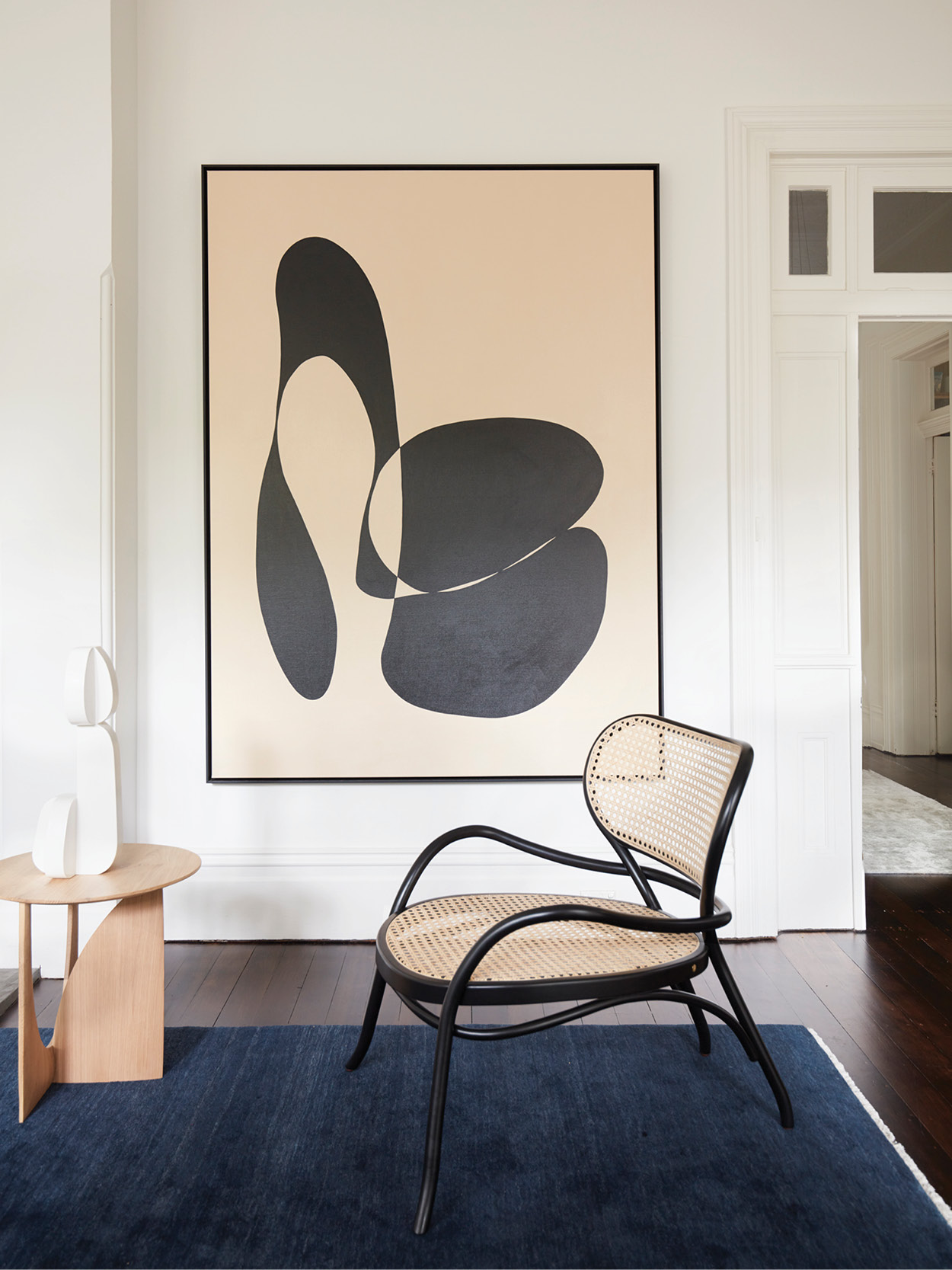 Fundamentally, this home is a supreme showcase of what happens when the existing characteristics are comprehended so attentively, with comfortable and contemporary updates that still manage to celebrate its heritage rather than trying to impress upon it a detached aesthetic.
Such cohesiveness ensures the house will stand the test of time, as it has done so far, with a singular confidence that is never out of style.
Image credit: Prue Ruscoe