Even if you don't know its name or origin story, you'll surely recognise the Camaleonda sofa. Originally designed in 1970 by Mario Bellini for B&B Italia, this distinctive and innovative piece of furniture is one of the most sought-after interior additions by anyone with a nous for statement-making design. It was introduced to the international market with a bang in 1972, after appearing in that year's landmark exhibition at New York's Museum of Modern Art: "Italy: The New Domestic Landscape". Other equally-as-Instagrammed pieces from that very same exhibition include the undulating Ultrafragola Mirror by Ettore Sottsass, also designed in 1970.
Bulbous yet inviting, unique yet versatile, Camaleonda was one of the first modular sofas to go mainstream, preceding what would come to be a widely-adopted design choice. It is endlessly customisable, transforming at the whim of the user from a linear form that might sweep along a wall, to a group of pillowy seats crowded around a table; an angled daybed to a series of separate lounging chairs.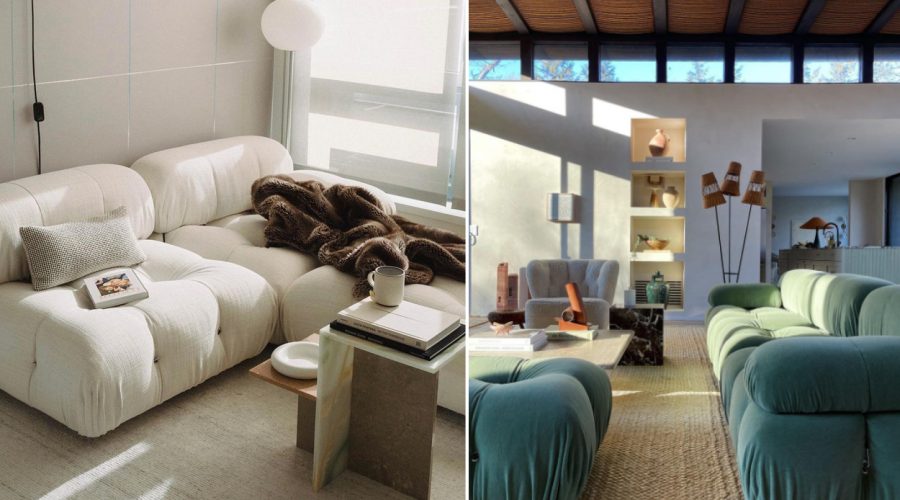 "Of all the objects I have designed, Camaleonda is perhaps the best in terms of its sense of freedom. There are [an] infinite number of possible configurations," said Bellini.
While Camaleonda was only originally in production until 1979 (no doubt contributing to its sought-after rarity), Bellini and B&B Italia worked together to re-issue the exact same design in 2020, updated with more sustainable materials and available locally from Matisse.
Both the seventies design and today's version comprise rounded modules of fabric-covered polyurethane, cleverly connected to one another with a simple system of carabiners, rings and cables to be unhooked and recombined at will. Today's system contains either recycled or recyclable materials that can also be easily separated once the seating reaches the end of its life — from recycled PET to stainless steel, brass and solid beechwood. The outer fabrications can be customised to suit whatever interior they are to be situated in, from rich jewel-toned velvet to earthy leather and neutral tones too.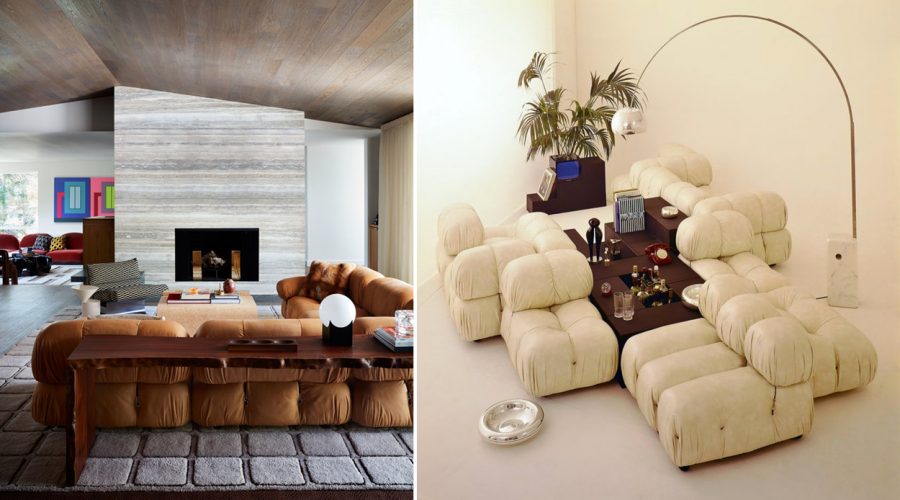 Bellini came up with the name Camaleonda as an amalgamation of two words that aptly describe both the shape and function of the sofa. The first comes from the Italian word "camaleonte", which means "chameleon" (an animal able to adapt to the environment around it), and the second is "onda", meaning "wave".
Still designing at age 85, Mario Bellini's legacy is one of exceptional and renowned pieces that have changed the way we view our living spaces. Camaleonda embodies this perfectly, and its dynamic yet anchoring sensibility is sure to be sought after, still, for years to come.