With the recent arrival of Audi's highly anticipated Gran Turismo e-tron GT quattro and RS e-tron GT, our Editor-in-chief Claire Sullivan-Kraus, an SUV EV devotee, takes the coupé through its paces.
I challenge you to ignore my exterior appearances and any preconceived notions you may have about me. Despite the fact that I did not vote for our current leader, I am in fact an eco-warrior. The majority of you who see me riding high in my current car (a Range Rover Vogue), will make the usual assumptions that I am a zero f***s given kind of SUV Mum. But oh how very wrong you are. Because despite your opinions, you'll be shocked to learn that my Vogue is in fact a hybrid that gets me 50kms per day on a full electric charge.
There are several reasons for my conversion to driving an electric vehicle. I am the first to admit, that aside from its environmental rewards, one of the major benefits is the convenience it offers not having to fill up on gas. When you're a live-life-on-the-edge (or the tank is below 0kms) kind of gal, you'll appreciate this fact alone.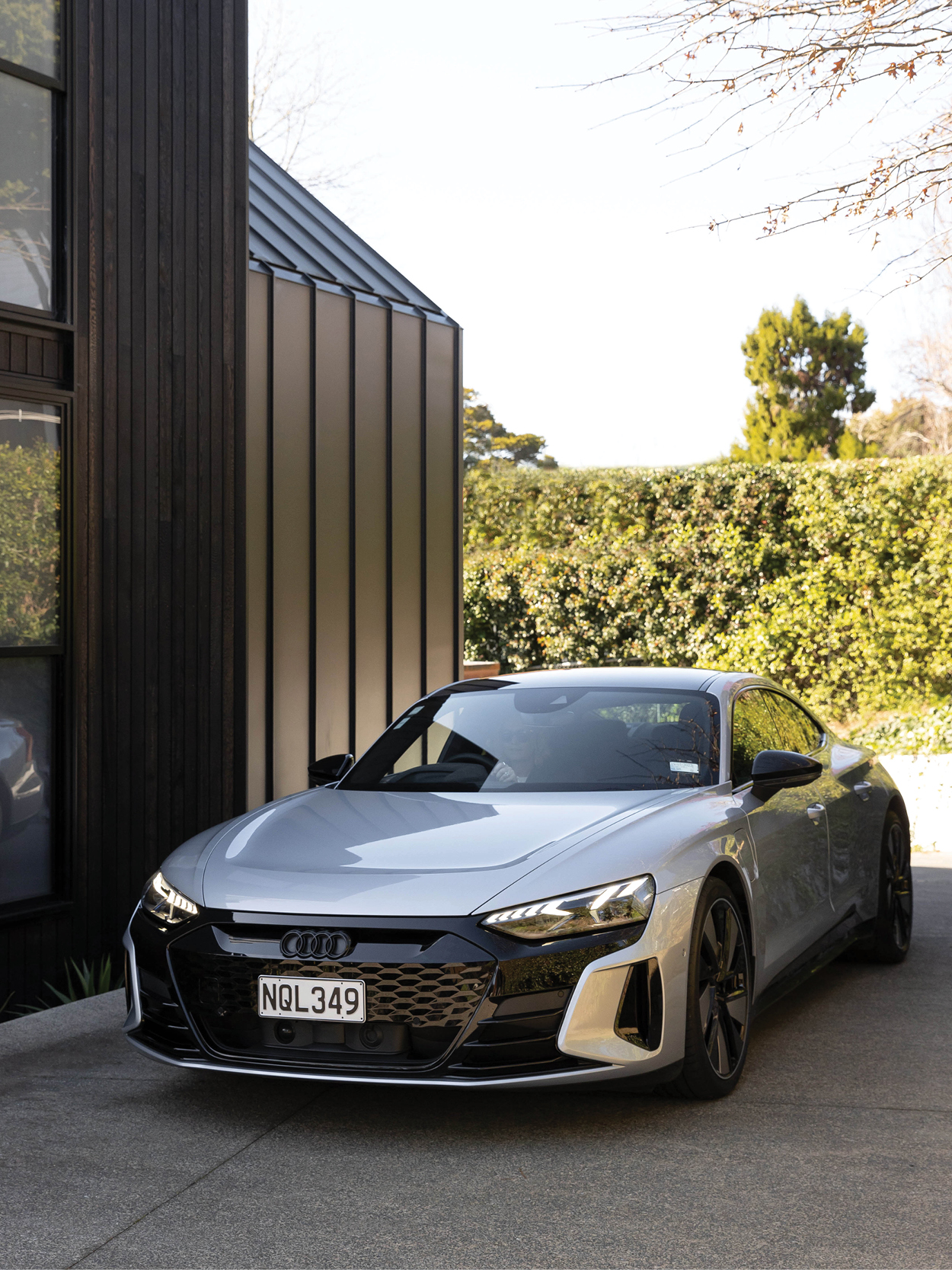 So while my current mode of transport does the job of getting me from home to office to the school pick-up all on one overnight charge in my garage, the recent arrival of a new fleet of luxury full range electric vehicles has this right-leaning eco-princess excited to experience their offerings.
I spent many years as an avid Audi convert, a relationship that started in the early noughties with my penchant for the A4 Cabriolet… I call it my post-New York, living in a clean-air environment phase, where popping the top (of the car that is) brought about the sort of mental freedom one needed after living for eight years in a concrete jungle.
The interesting thing about a car marque, is that much like mobile phones, once they get you hooked on their functionality and design quirks, you find it very hard to change. It's almost like learning a new language. So stepping inside the new Audi RS e-tron GT, I am immediately nostalgic for my past love affair with the brand. There's something about Audi's ability to make the cockpit feel luxurious, with red topstitched detailing, carbon fibre dashboard, and in my opinion the winner of the interior, red seat belts — you know you've arrived in familiar luxurious territory. The new twist however, in keeping with the environmental attributes, is that you have the option of a leather-free interior, superbly crafted from a high percentage of recycled materials.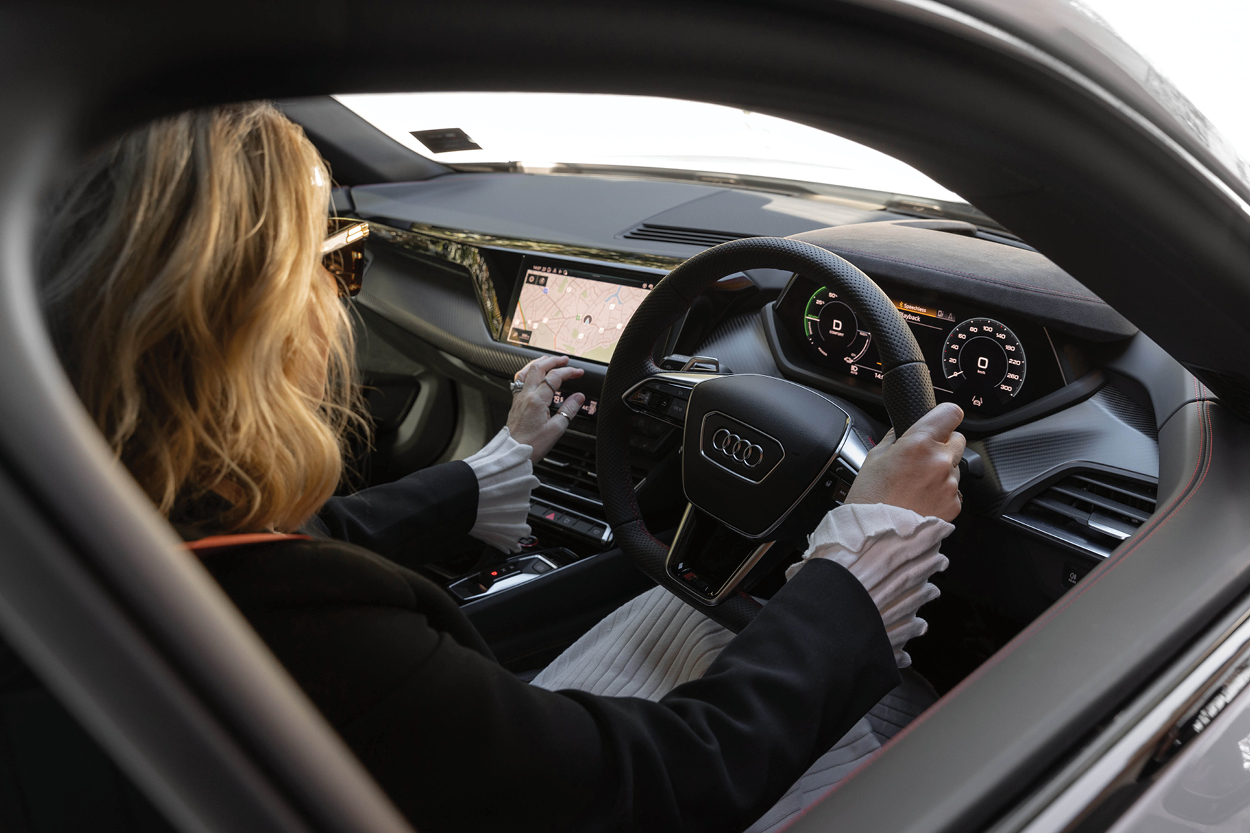 While many other luxury marques launching EVs are following in the footsteps of Elon Musk, creating hyper technological computers on wheels, that require the sort of stealth understanding and navigation of a tablet that can only be comprehended by my eight-year-old son, Audi has instead opted to keep the majority of the e-tron GT's interior functionality in keeping with the rest of Audi's fleet. There are (pleasingly) actual buttons and toggles for climate and sound control, where one might expect to have to swipe through unlimited confusing screens.
Audi is a brand well known for its high performance sports coupés. So the arrival of the e-tron GT quattro and RS e-tron GT (as I drove), will no doubt be wildly popular with fans of the Audi R8 supercar, or just those with a penchant for sophistication and speed, delivered in a convenient four-door package. Audi has successfully reinterpreted the much loved Gran Turismo as a fast and dynamic vehicle, that also happens to deliver zero emissions.

The new RS e-tron GT is seriously spicy from the outside — taking some design cues from the R8 supercar, but also undeniably genetically related to its familial marque's new EV offering the Porsche Taycan. The Audi RS e-tron GT has flared guards, wide rear proportions and dramatic rear lighting that immediately turns heads. Interestingly, the extremely sporty proportions all contribute to the car's overall efficiency. No one wants to look better from behind, but this certainly is the case here. The RS e-tron GT has quite possibly the best looking rear end (albeit inanimate) that I've ever seen.
To the EV naysayers — of which there are still many — the most important factors are not how an EV looks — which is ridiculous when you consider the Mickey Mouse visage of some marques — but how long its range is. The new Audi RS e-tron GT has an impressive 472km range, which for someone who travels to the Bay of Islands on the regular, means I could make it there and back without having to charge it at all. But if I did need to charge it, the onboard fast-charging system offers incredibly short charging times of just five minutes for a distance of roughly 100kms.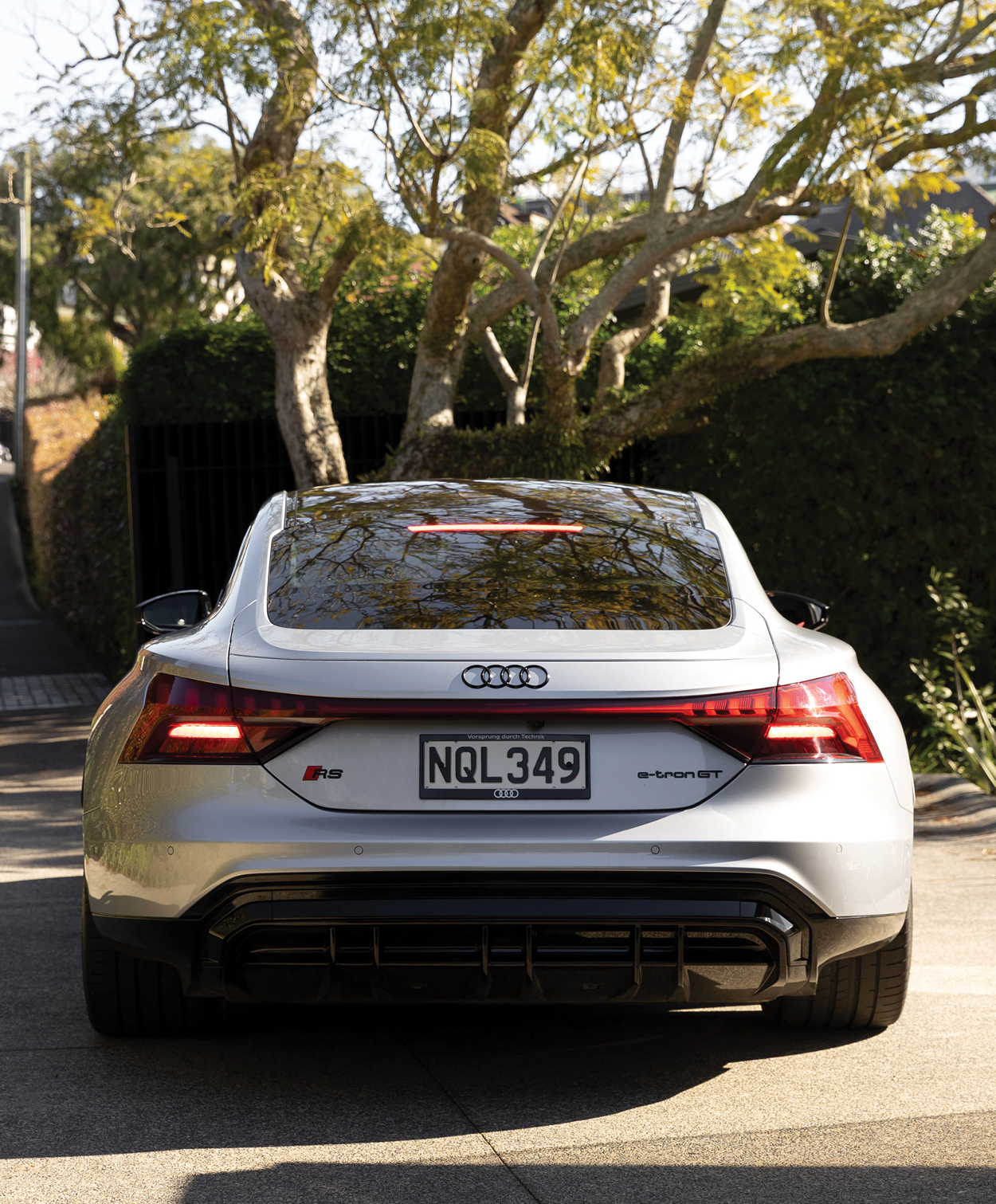 And for those times when you just have to 'get the hell out of dodge' which, let's be honest, can happen to us all, the RS e-tron GT will have you hitting the speed limit (100kms) in just 3.3 seconds. All conveniently achieved in the stealth quiet whisper that EVs are renowned for. Though the optional e-tron sport sound that's available for both exterior and interior noise most certainly has its place when you're needing to make a point with your swift departure.
So after several days of going about my business in this new dynamic four-door electric vehicle, I'm left with an undeniable urge to ditch the SUV in favour of the GT.