With its sunny beachside location, generous scattering of eateries and sweeping views across sparkling waters to Rangitoto Island, it's hardly surprising that St Heliers is often regarded as one of Auckland's most coveted neighbourhoods. But what this laidback coastal suburb might offer in grand family homes with sprawling grounds, it lacks in elegantly-appointed apartment complexes. As the children grow and then fly the nest, the options for families to downsize, while still remaining in the neighbourhood, have been scarce. This apparent need is the driving force behind a new collection of luxury private apartments called Sonata, which will deliver an enviable living proposition.
Located on the gentle slope of Devore Street in the heart of the village, this boutique development epitomises refined and upscale living. The architecture, by the award-winning team at Buchan, is unparalleled. The undulating curves and smooth contours of the building's structure seem to echo the languid waters of the bay which its design is clearly intended to complement.
Each of the five apartments, spread over their own individual floor, is fitted with floor-to-ceiling windows which delights in uninterrupted views of the eastern bays — looking out over Rangitoto, the harbour, and Auckland's cityscape in the distance. The generous windows also allow an abundance of radiant natural light to dance through the spaces and create an inviting and uplifting ambience.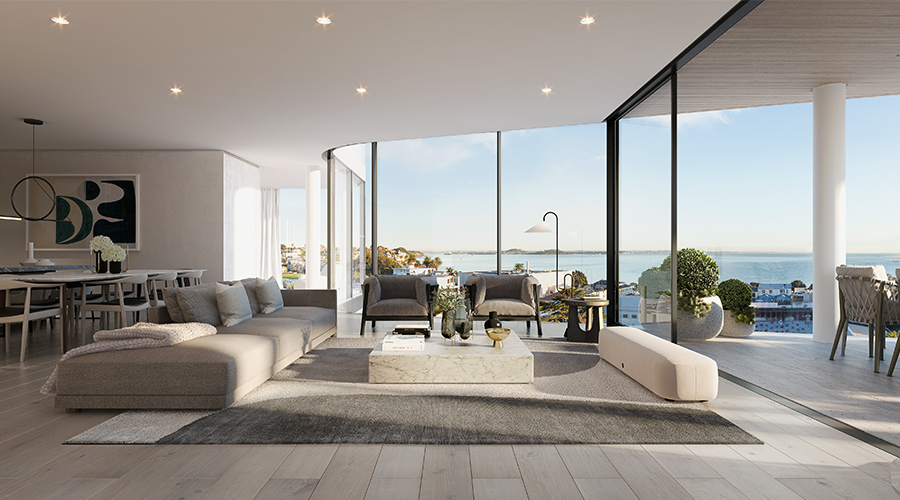 Sonata's resplendent apartments offer an undeniably warm and welcoming space to which to come home. Part of this is thanks to their being appointed with seamlessly integrated appliances — like the Gaggenau apparatus gracing the kitchen, alongside furnishings from renowned Italian design firm Polifom — as well as amenities like the built-in wardrobes and free-standing baths, while also being finished in materials which range from plush wool carpets to timber ceilings.
Furthermore, Reside — the visionaries behind the apartments — have made sure that, while the spaces exemplify their sense of a welcoming home, residents are also encouraged to put their own aesthetic stamp on the design. Floor plans, for example, can be customised to enable apartment owners to add additional rooms where needed, whether an extra bedroom, or office space, or home gym. It does however pay to bear in mind, that the opportunity to customise apartments is closing soon — as construction is beginning in June.
The apartments' outdoor area also offers myriad options, with carefully considered landscaping supporting a flowing arrangement of terraces, courtyards and sunrooms to amplify the building's sophistication. And with the village and beach a mere stone's throw away, residents can stroll to restaurants, cafes, and boutiques with ease.
For many, the notion of downsizing equates to trading down. But Sonata is the antithesis of that. Delivering what can only be described as a new level of luxury, heightened by the exceptional location, Sonata is setting a new standard in the art of scaling back. Downsizing has never looked so appealing.
For more information contact Jason Gaddes of Sothebys International Realty on 021 994 921