You'd be forgiven for thinking, upon first glance at this Armadale home, that its Simone Haag-designed interiors reflected a kind of minimalist sensibility. After all, the pared-back, light timber floors, neutral walls and steel-framed entranceways seem to indicate a pervasive aesthetic of simplicity. But peek into the dining or living areas and you'll see why this isn't the case.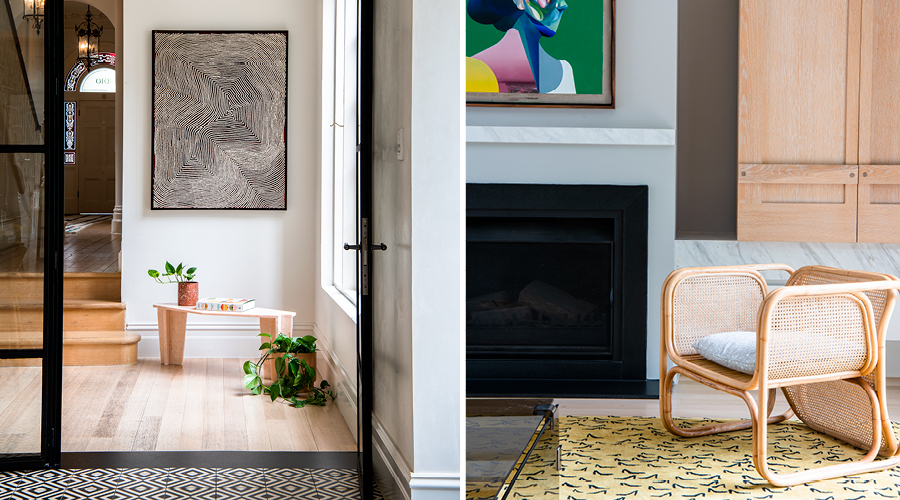 The former, despite its undeniably simple bones, has been imbued with character via geometric, quirky pendant lights, mid-century-style rattan chairs and an imposing artwork by Jake Wood-Evans. The latter offers a masterclass in subtle showmanship, where the clashing patterns of the large, yellow rug and the speckled stools create an air of eclecticism without ever feeling over the top.
This is largely due to the way in which Simone Haag employed easy, luxurious furnishings — a combination of classic, custom and vintage pieces — in a light grey palette, to avoid any kind of battle for attention in the space. Pink-toned wooden cabinets flank the linear fireplace and lend the living room an inherent warmth, their rosiness reflected in an arching lampshade and sculptural, rattan armchair. While on one wall, a touch of personality is seen in the various, sculptural vases and objects that line the deep green shelving unit.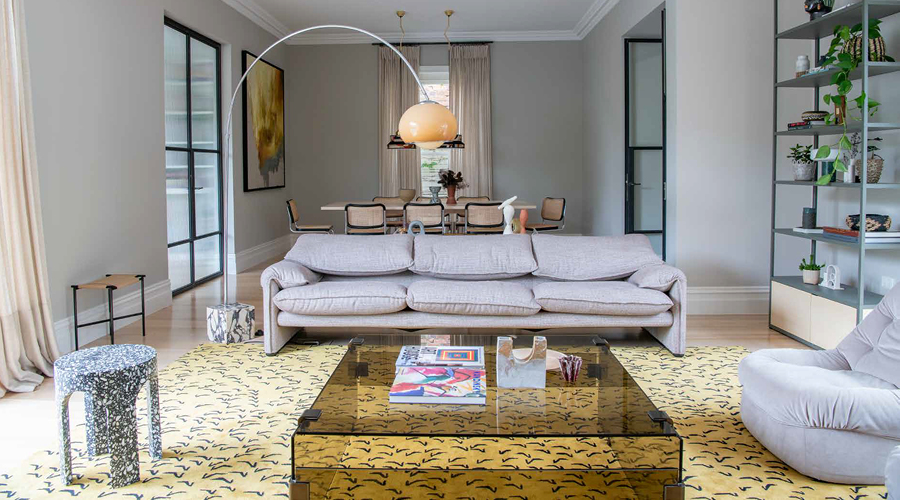 With her shrewd use of materials and the courage to pursue creative flair, Simone Haag has created spaces in this Armadale home that, in some ways, hark back to the sensibilities of the 70s — without the unnecessary frills.