Milan's design extravaganza, Salone Del Mobile, is taking place at the moment, and aside from the exceptional designers showcasing their newest creations, there are also a number of iconic fashion houses that have turned their hands to design (some for the first time, although many are old hands here). From Louis Vuitton to Fendi and even a collaboration between the late Virgil Abloh and Cassina, here are our highlights.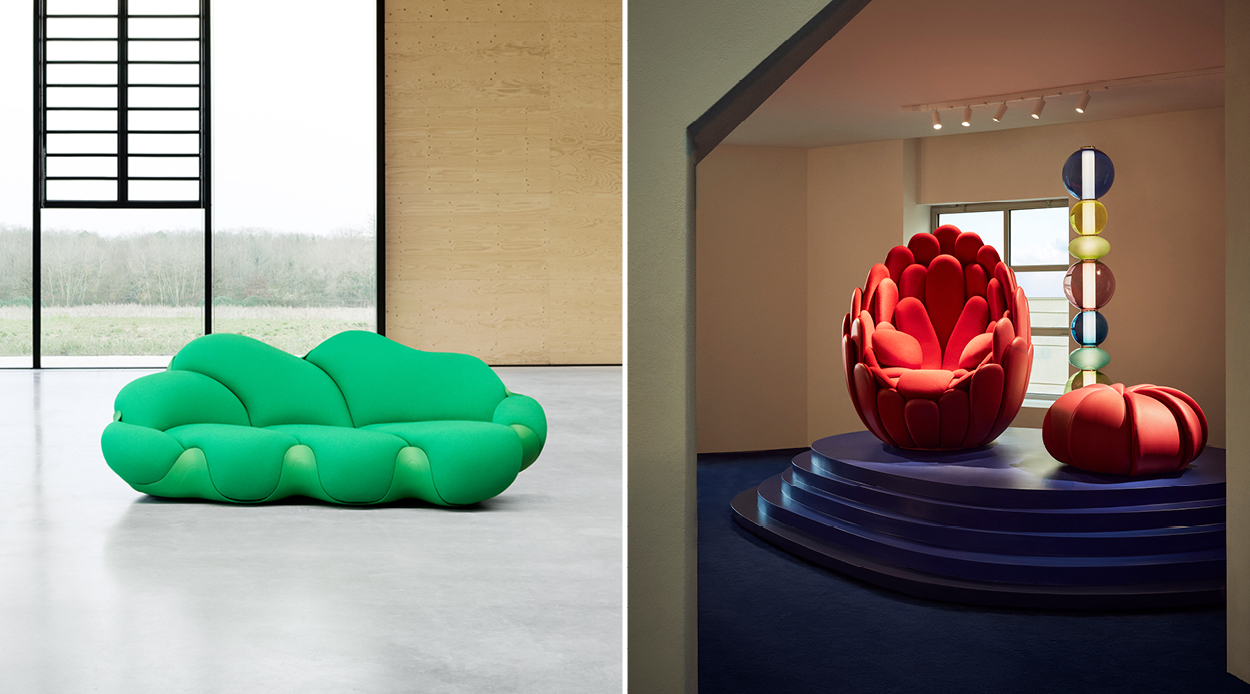 Louis Vuitton
This year marks the 10th anniversary of Louis Vuitton's lauded Objets Nomades collection—a decade of the iconic French fashion house's foray into intriguiging design. Handily coinciding with this year's Milan Design week, Louis Vuitton is celebrating the milestone with a takeover of the recently-reimagined former parking lot, Garage Traversi, to unveil a number of new items (designed via collaborations with Atelier Oï, the Campana Brothers and London-based Raw Edge) alongside some re-invigorated classic designs, (including the Bomboca Sofa in new colours by the Campana Brothers, and fresh iterations of Marcel Wanders' Petal Chair and the Signature Armchair and Sofa by Frank Chou). In a continuation of the brand's history of teaming up with the world's most revered designers, this year's Objets Nomades is an impressive showcase of the Louis Vuitton's signature savoir-faire and unique design edge.
Fendi Casa
To celebrate the opening of its first Milan flagship store earlier this year, Fendi is putting its best foot forward at this year's Salone Del Mobile and showcasing a range of exquisite new pieces by designers like Cristina Celestino, Piero Lissoni and Atelier Oï, as well as new lighting collections. One particular highlight is the Cloe Chair by Marcel Wanders, which reflects Fendi's pequin stripe motif in dark brown leather loops over a smoked-oak frame and boasts a plush velvet seat.
Fendi is also erecting a pop-up bar in the courtyard of its Milan boutique, finished in the brand's signature O'Lock logo and bright pops of yellow and promising to serve perfectly-brewed coffee in porcelain that offers an exclusive preview of Fendi's Art de la Table collection.
Dior
Revered designer Philippe Starck has transformed Christian Dior's iconic Medallion Chair, treating its recogniseable sillhouette to a sleek, minimalist reimagining reflective of the designer's pasison for the pared-back. In persuit of perfection, Starck reinterpreted the chair with impossibly thin legs and arms and fashioned it from a singular material, so that the form's uninterupted lines feel fluid and feminine. It has been aptly named the Miss Dior chair.
Hermès
Taking over the sport centre, La Pelota, in Milan's Brera area, Hermès returns to Salone Del Mobile with a showcase of its new six-piece offering. Already renowned for its elevated, luxury homewares, Hermès has put the focus on textiles this year's, specifically cashmere, expressed under the umbrella of 'Looking for Lightness.' Staged in four imposing but delicately-built structures (covered in transluscent coloured paper), the brand's new pieces, including blankets in patchwork patterns and bright, unique tones, moulded leather centrepieces, bamboo chairs and porcelain plates, are exquisitely presented under the ever-changing light that filters through the towers' exteriors.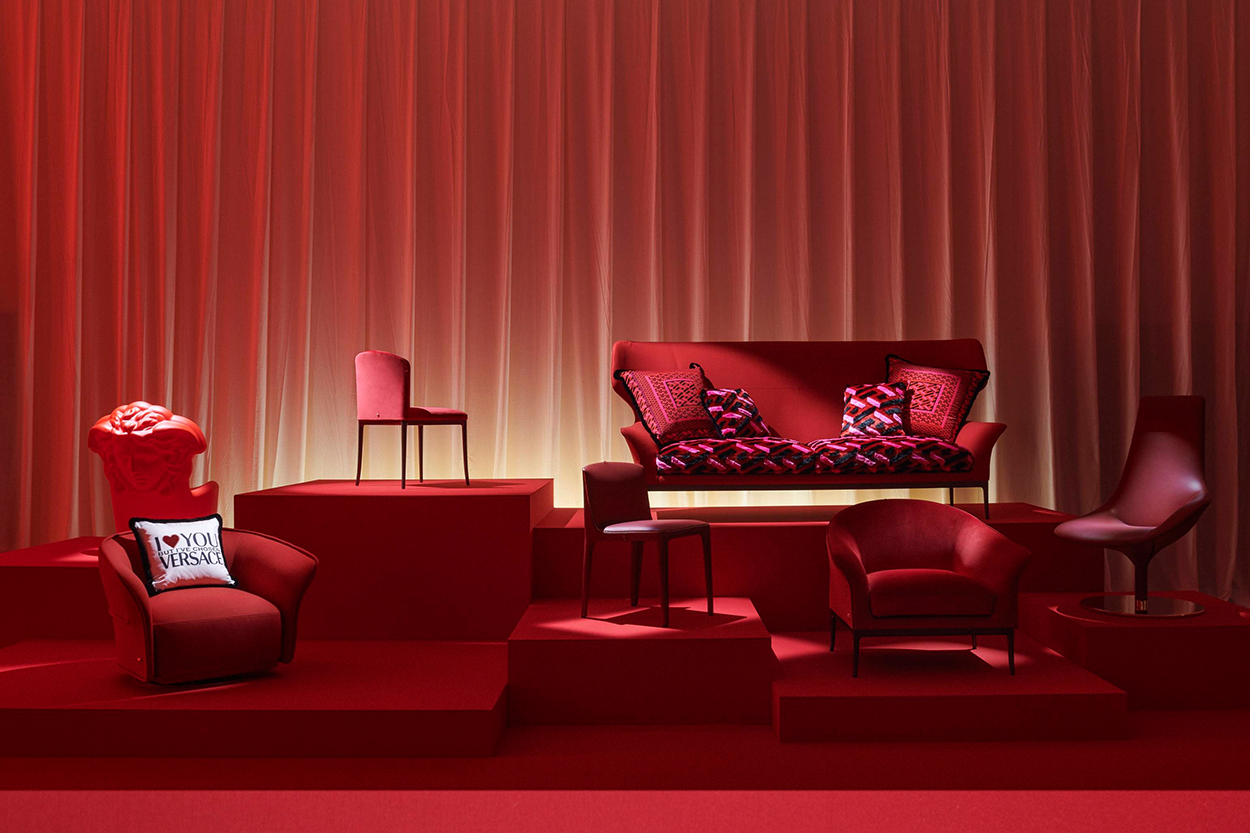 Versace Home
Working with Roberto Palomba and Ludovica Serafin to create an immersive, multi-faceted space for Versace Home at this year's Salone Del Mobile, Donatella Versace is reimagining the brand's home experience. Combining design, fashion and art, the space in Milan's Palazzo della Permanente captures all the sensual luxury and opulance of the brand while speaking to its evolution, where the undisputed hero is a reimagined La Medusa collection in an all-new vinyl covering.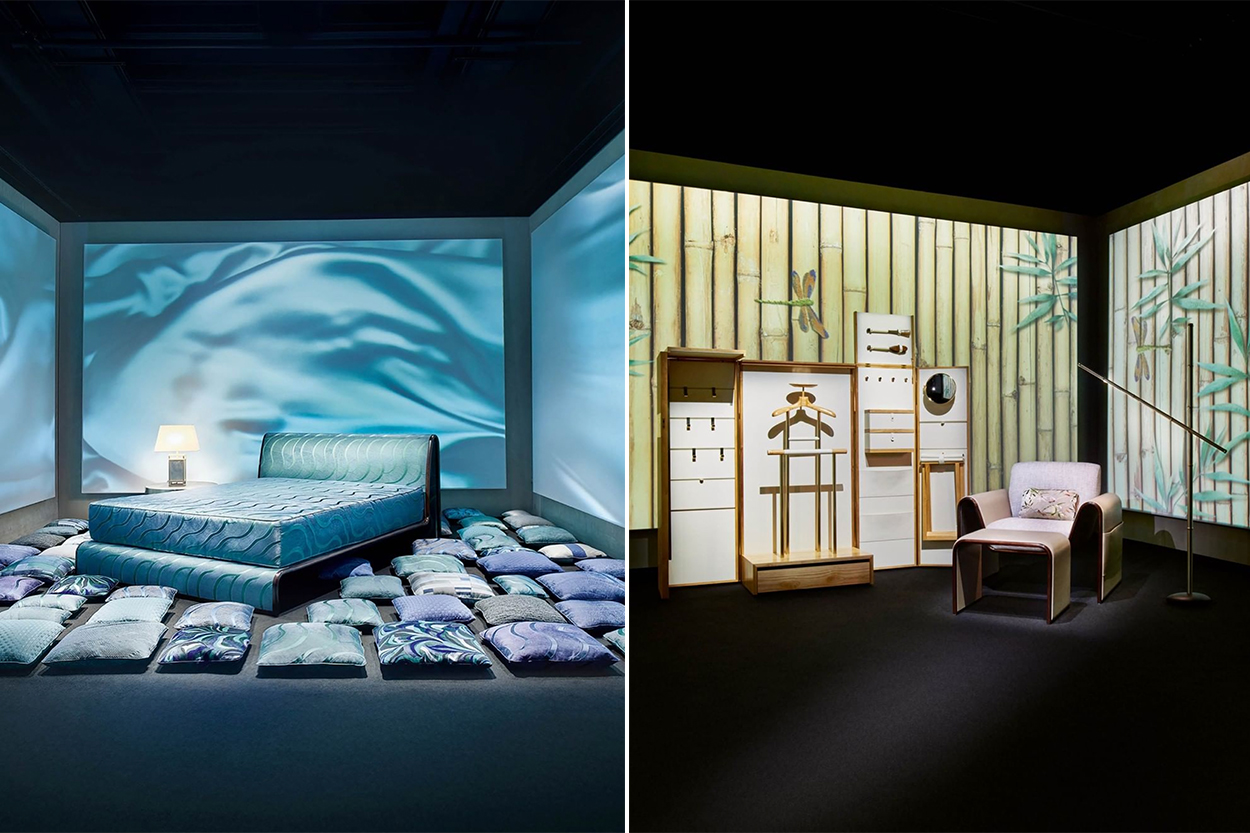 Armani/Casa
Giorgio Armani is presenting the new range of Armani/Casa products at Armani/Silos, an exhibition space split into nine environments, eight of which speak to the iconic designer's main sources of inspiration, and one which offers a behind-the-scenes look at the creative process behind Armani/Casa. Inside the space, a range of furniture and accessories will be brought to life — including new pieces and classics re-contextualised — offering a 360-degree look at the aesthetic world of Armani interiors, iconic from 2000 to today.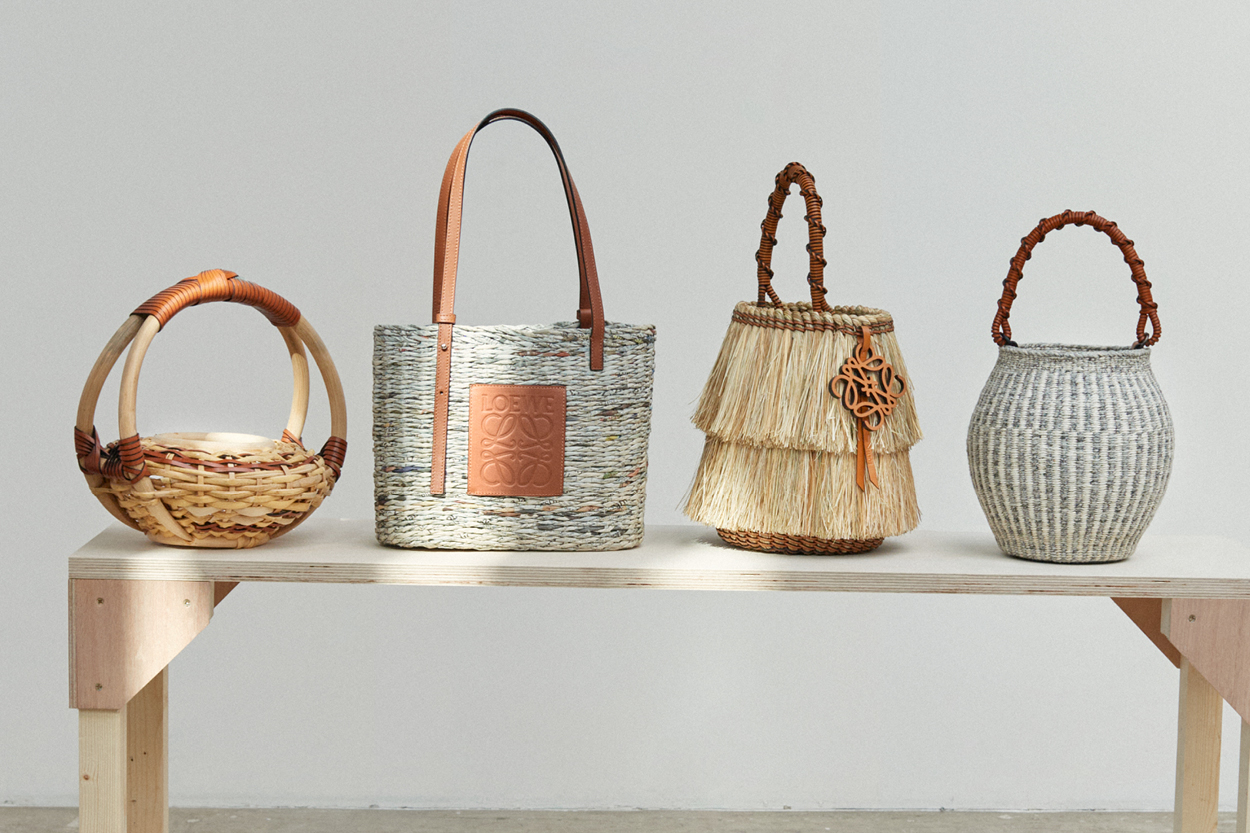 Loewe
Unveiling a raft of intriguing design concepts for its sixth year at Salone Del Mobile, Loewe is celebrating the art of weaving with 'WEAVE, RESTORE, RENEW,' an exhibition that explores leather weaving, a Galician straw weaving tradition called Coroza and a Korean paper weaving technique called Jiseung. Here, the house resurrects materials that may otherwise be discarded by weaving them into baskets, handbags, vases and storage, and highlights ideas of how manual labour can deliver meaning to an object and the beauty of bringing traditional techniques into a modern context.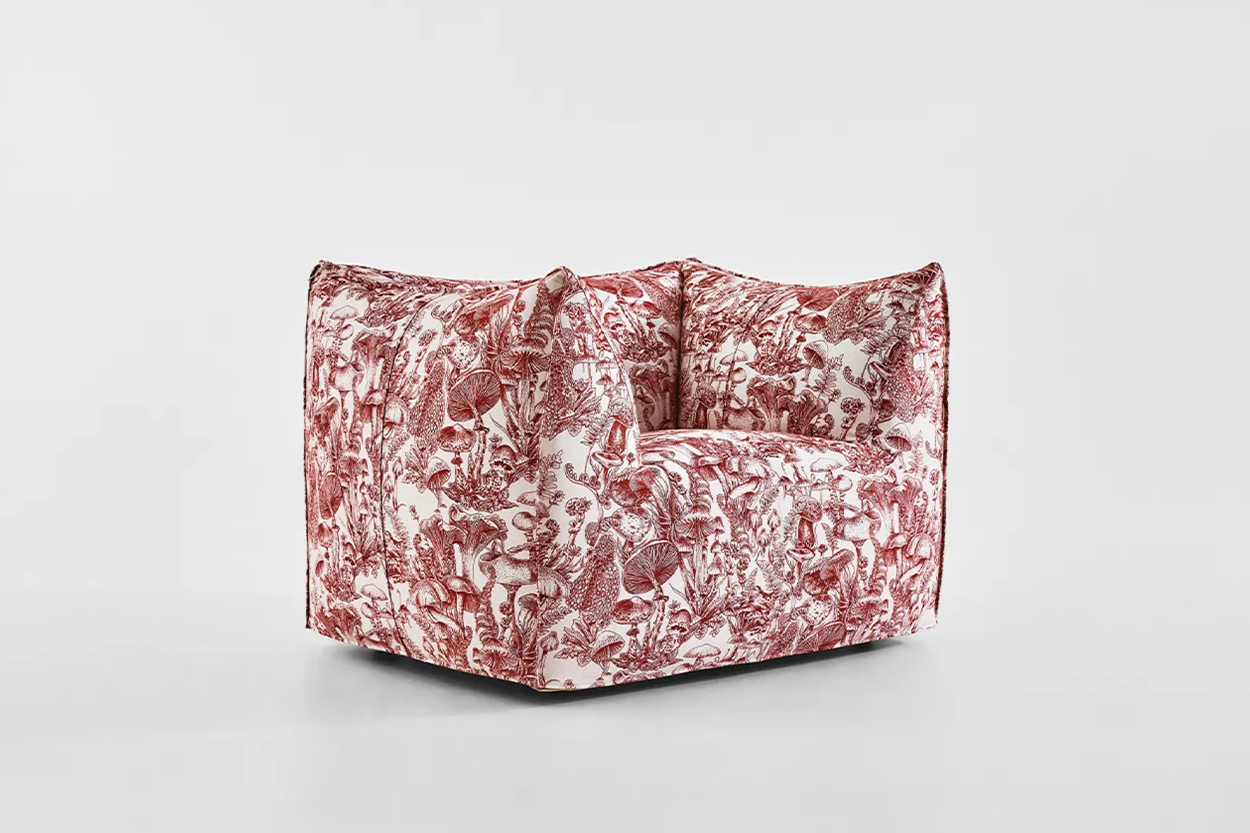 Stella McCartney
Marking her first foray into interiors, lauded British fashion designer Stella McCartney has teamed up with historic Italian design house B&B Italia to reimagine the latter's iconic Le Bambole chair (originally designed by Mario Bellini in 1972). Upholstered in Stella McCartney's hand-drawn Fungi Forest Burgundy print (from Spring/Summer '22), the chair is given a bold, unapologetic presence, befitting of its status as icon of design. The collaboration also marks the 50th anniversary of the Le Bambole — a fitting tribute, we think.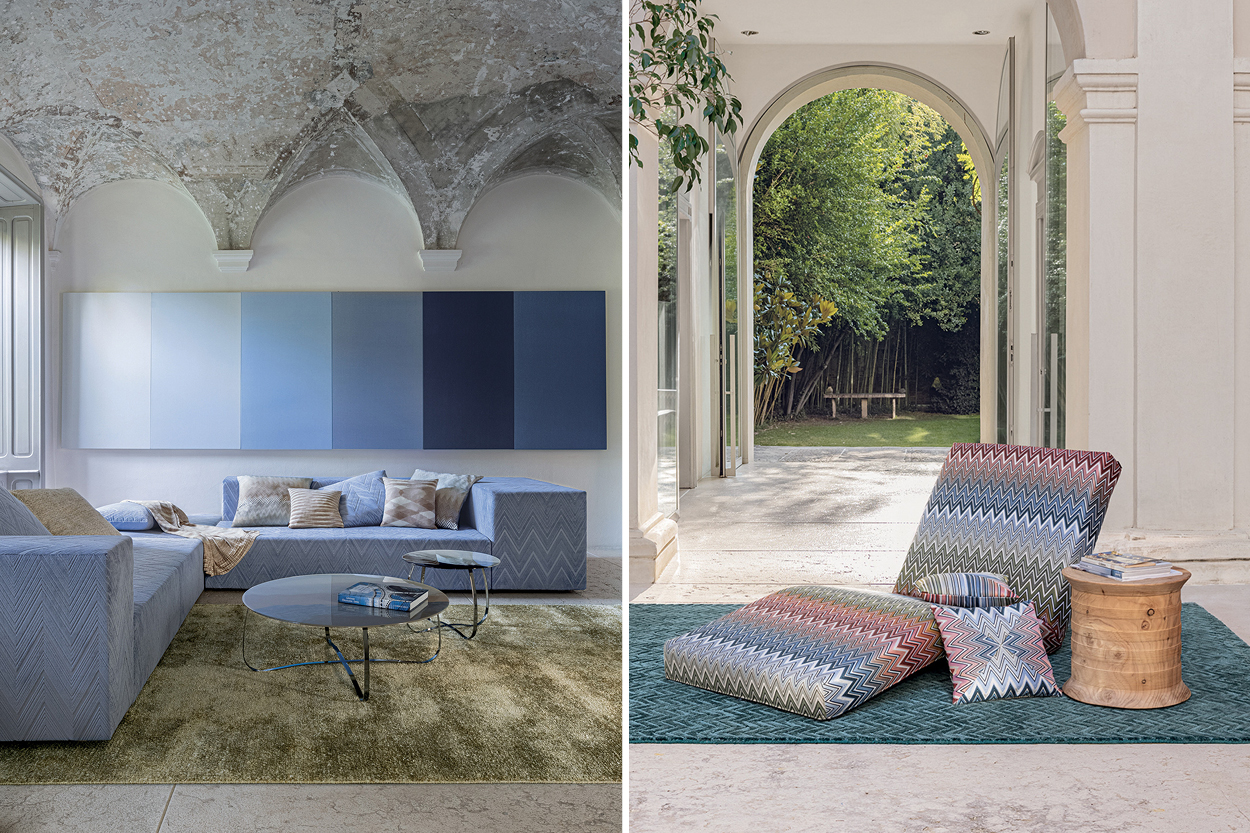 Missoni Home
Setting up two installations to showcase two collections, in conjunction with Fuorisalone, Missoni has installed a dreamy exhibition on the ground floor of its Milan showroom that promises to take visitors on a whimsical, colourful journey through fantastical, nostalgic design. While on the first floor, its Gifting Capsule comprises small but very significant and highly collectible items. Milan University will also play host to a Missoni moment, in which the brand will tell the story of its evolution in design via evocative installations in the University grounds. At Salone Del Mobile, Missoni is presenting its latest tableware collection that melds the brand's signature colourful flair with artistic touches and allegorical forms.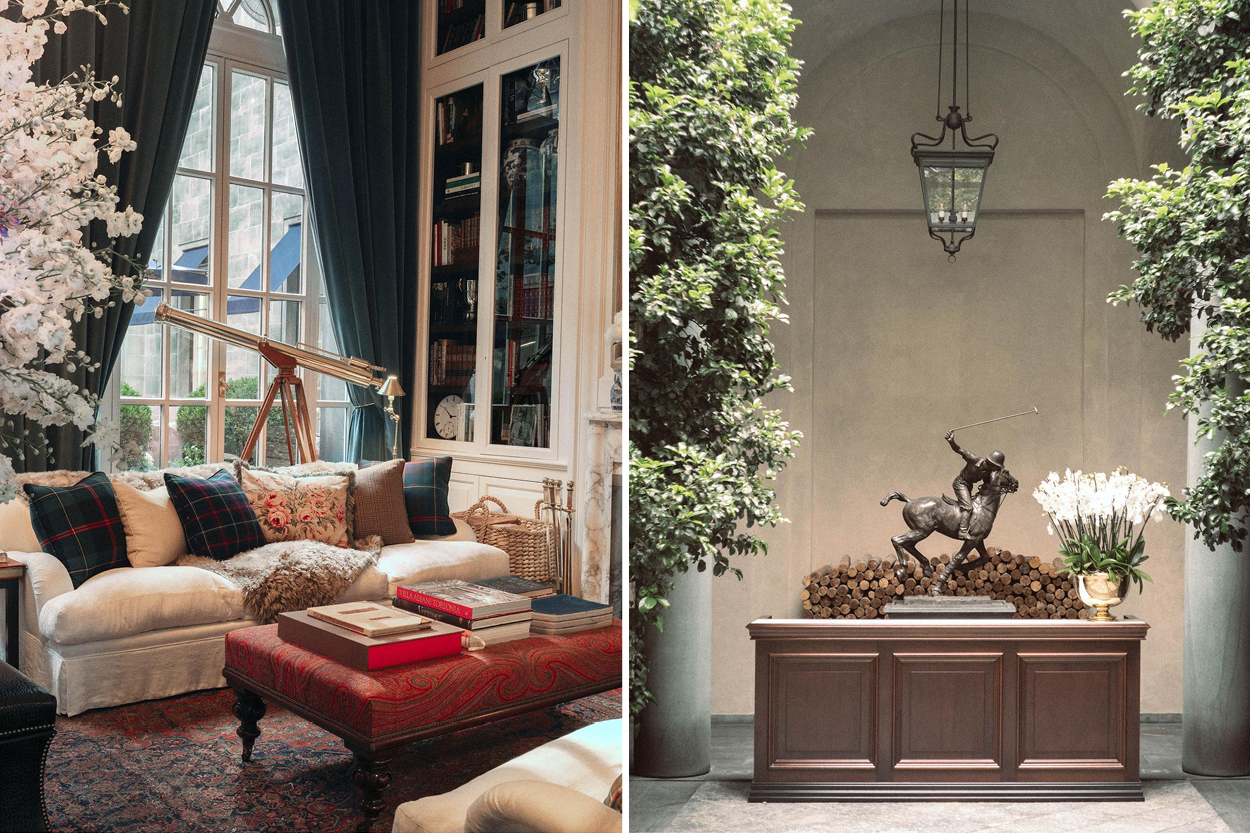 Ralph Lauren Home
For this year's Salone Del Mobile, Ralph Lauren opens up his unique world in a showcase that epitomises the kind of lifestyle his eponymous label has long been associated with. Located in the heart of Milan, Palazzo Ralph Lauren offers a moment of opulent respite in the middle of the bustling urban centre, where richly-layered, ornate interiors are used to showcase the brand's Fall 2022 homewares. Here, deep mahogany meets antiqued brass and burnished leather, while tartans and paisleys and animal prints somehow happily coexist. The Palazzo even offers the perfect courtyard for alfresco dining, decorated with pieces from the brand's new collection and available to be booked for lunch, afternoon tea or aperitivo.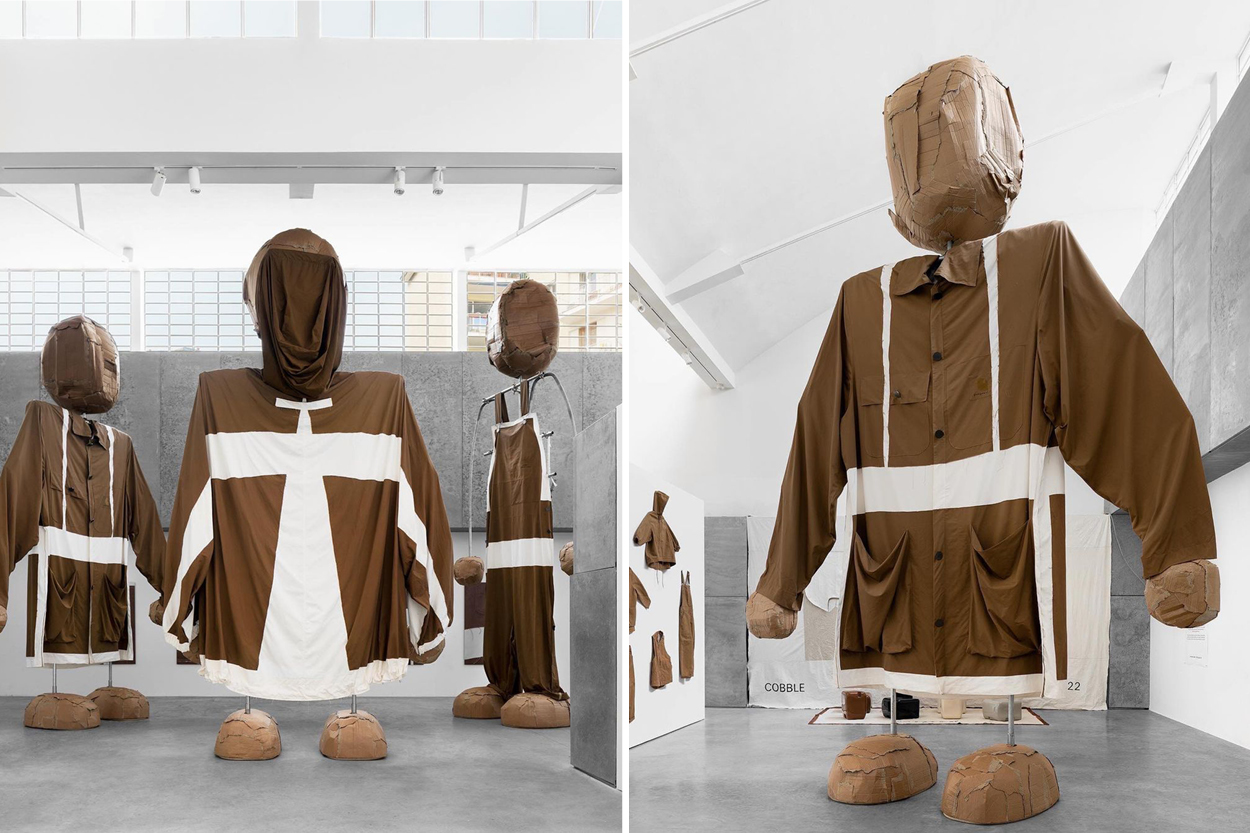 Toogood X Carhartt
Carharrt WIP teamed up with contemporary British brand Toogood to showcase their new, collaborative unisex capsule collection of everyday uniform wear at this year's Salone Del Mobile. Highlighting the architectural shapes and voluminous silhouettes at play in the range of styles created by Toogood using contrasting, patchwork fabrics, three giant puppets wearing oversized garments from the collection anchor the exhibition.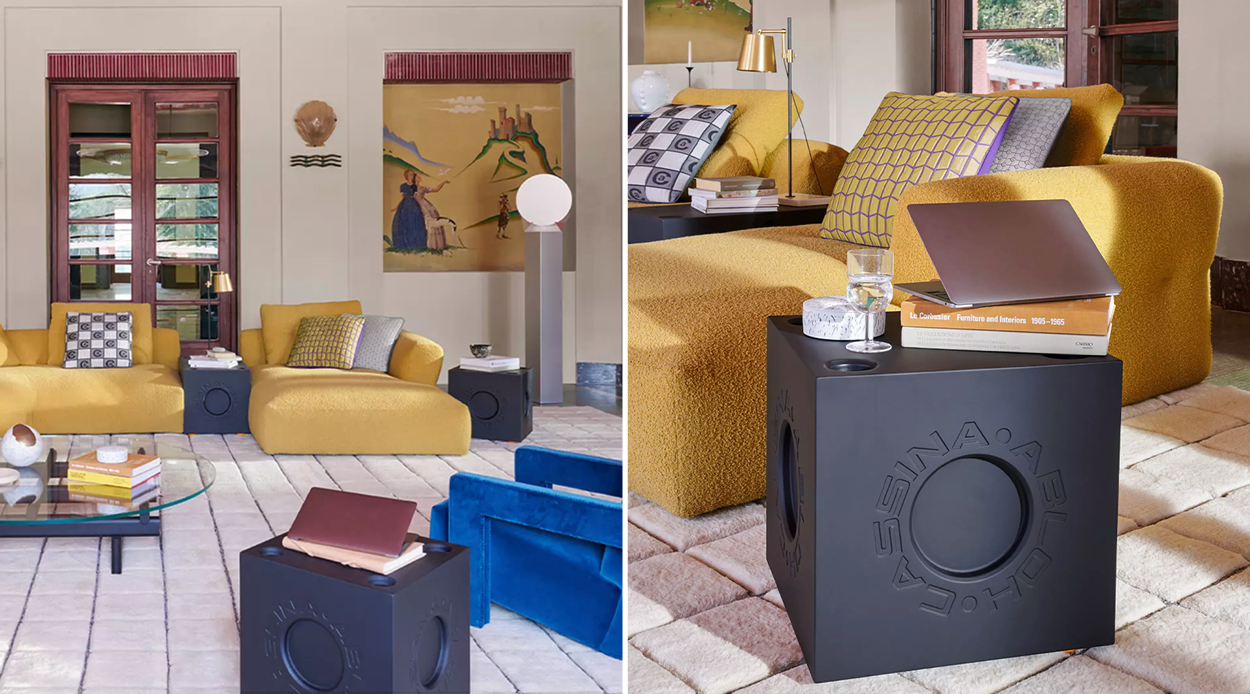 Virgil Abloh x Cassina
The late visionary and culture-defining fashion designer Virgil Abloh might have tragically passed away earlier this year, but his particular design perspective was second to none, as proved (yet again) but the unveiling of pieces he had been working on with Italian design labels Cassina and Alessi, prior to his death. Now, the former is showing 'Modular Imagination by Virgil' which comprises two matte-black blocks in different sizes that play with ideas of creativity and adaptability and can be used to form a range of things from a side-table to a bench to a stool.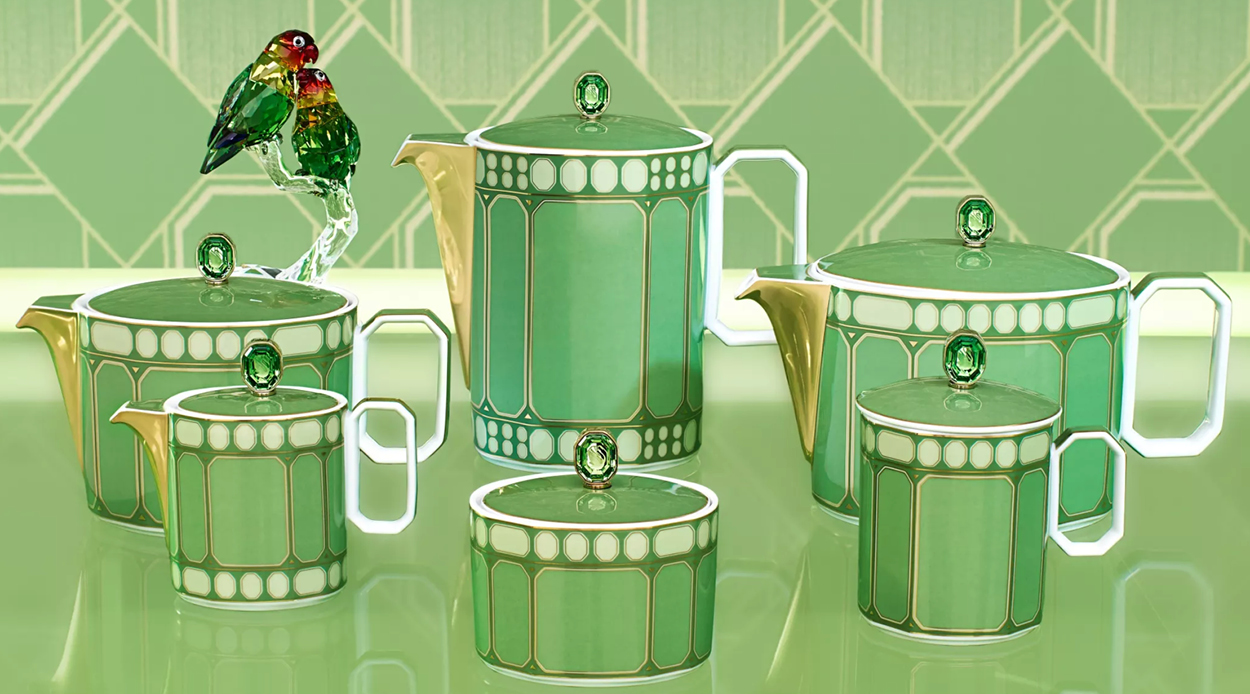 Swarovski x Rosenthal
The Signum Collection is the result of an exquisite partnership between iconic crystal jewellery label Swarovski and historic porcelain artisans, Rosenthal, and sees pieces that fuse porcelain and crystal and are rendered in whimsical candy-toned colours. To mark this new chapter for the Swarovski brand, it held a joyful afternoon tea party at Casa degli Atellani in Milan for its official launch.