For a long time, the New Zealand dream centred around owning a piece of land and carrying on the tradition of a classic, nuclear family home. But times and circumstances are changing, and for some Kiwis, a new dream is calling for a shift in perspective.
Luxury apartment developments have been steadily gaining a foothold in Auckland, heralding the rise of a lifestyle one might expect to find overseas. Leading this charge is Seascape. The downtown Auckland residential development promising to not only offer an unprecedented standard of living, but also, to instigate growth and encourage development in Auckland's cityscape. 
Located on Customs Street East, Seascape will (when completed) stand at 187-metres, making it Auckland's tallest residential building. Its impressive Peddle Thorp-designed structure is set to be unlike anything this city has ever seen. While its grand lattice megaframe and asymmetric apex will redefine the Auckland skyline just as much as the spaces behind it will reimagine what the future of living in Auckland will look like.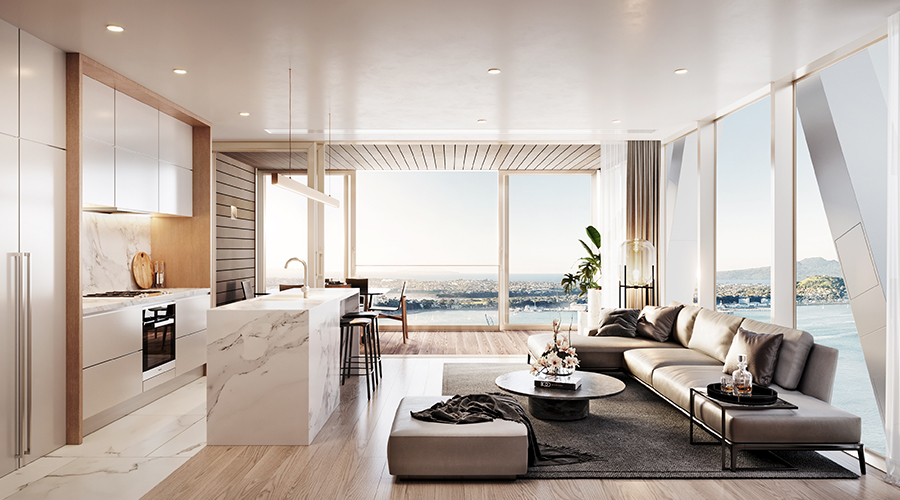 Wanting to delve a little deeper into what this growth in apartment living actually means, I sat down with Tashunka Bolton of Shundi (the developers behind Seascape). "The future is up," he tells me, "and because one-third of New Zealand's land is protected, securing land is becoming a constraint, especially when Auckland's population is expected to grow to around 2 million people by 2033." This idea of population growth is the cornerstone of why a development like Seascape is so important right now. According to Statistics New Zealand, it is estimated that by 2043 more than 40 percent of New Zealand's population will be living in Auckland. And as such, we seem to be reaching the cultural impasse through which every nascent world city must go. Grappling with our new identity as a burgeoning modern metropolis there are a number of entities, including Seascape, trying to find and deliver solutions that are both practical and appealing.
But beyond population, Seascape is, as Bolton explains, redefining traditional expectations of living in an apartment. "When people think of apartments, most people think shoebox," Bolton tells me, taking me over to the 3D model of Seascape, "but we thought about what Kiwis actually wanted in their homes." Pointing out the wide balconies on the model, and speaking to the impressive indoor-outdoor flow created by the sliding glass doors that separated them from the living spaces, Bolton tells me, "Kiwis like open space, integration of floorplan, natural light and high ceilings, so we made sure that all our standard apartments had a stud height of 2.7 metres, and that all of our apartments were north-facing."
These two key features, combined with the versatile configurations offered by Seascape — including studios, one bedrooms, duplexes and three bedrooms — promise a lifestyle that guarantees its residents the best of both worlds. On the one hand, Seascape's location opposite Britomart means being only a few strides away from some of Auckland's most luxurious retail stores, a raft of delicious restaurants and bars and of course, many of the city's largest office buildings. But on the other, Seascape's sophisticated design and careful attention to detail means that it can still afford its residents a level of flexibility and space not associated with the apartment of old.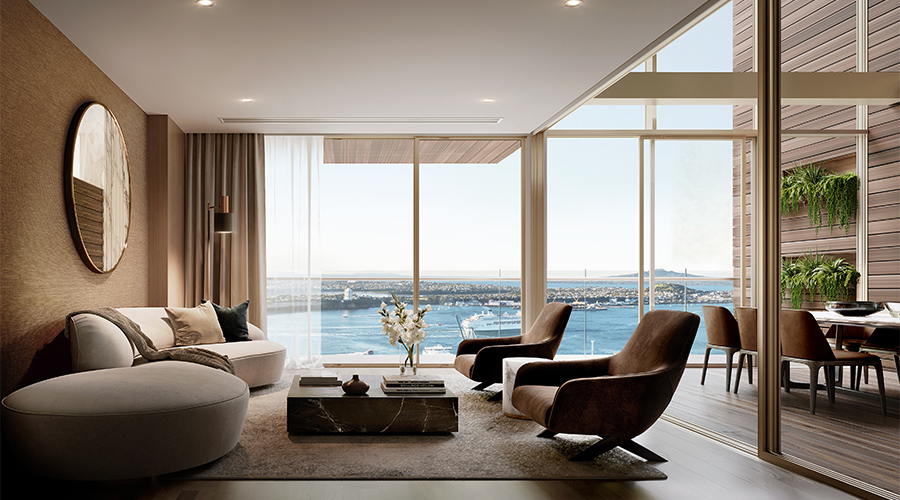 And while the idea of convenience has historically driven older generations to downsize — something Bolton tells me he still sees a lot of with Seascape — there is now an emerging group of Millennials who value convenience and prestige, and for whom a house with a white picket fence is no longer a priority. "They're more travel-oriented and work-focused," Bolton says, explaining the younger people who have shown interest in Seascape. "They're also more socially driven," he continues, "and when social lives play a more important role, the convenience of an apartment in the CBD means that not only are they closer to their work places and not having to waste time on commuting, but that they can leave their front door and walk to meet friends for a drink at some of the best bars and restaurants in Auckland."
This new breed of apartment-dweller exemplifies how Auckland is changing. "People are more focused on enjoying life," Bolton articulates, "and when they don't have to worry about maintaining their property or keeping grounds in check, it makes sense that a development like Seascape has been so well-received."
More than its luxurious interiors and world-class amenities (promising a number of on-site restaurants, bars, fitness facilities and retail stores), Seascape is set to elevate the benchmark for what residential developments in Auckland look like. As Bolton explains, "if you think about the skylines of cities around the world and compare them to ours, at the moment, we don't really stack up." For Bolton and Shundi Developers then, Seascape is as much about giving Auckland City a facelift as it is about offering a new kind of lifestyle to its residents. "We want to lead Auckland into a new era," Bolton says, "where other developers that come into this city will want their buildings to stand up next to Seascape as the gold standard."

Seascape display suite
81 Customs Street East
Auckland CBD
0800 81 83 85