Sun-drenched barbecues, pool-side shenanigans, long lunches al fresco and laid-back lawn parties — the rising mercury only means one thing, and that's a diary chocca with outdoor festivities. There are numerous things to bear in mind when on the quest to becoming the hostess with the most-ess this season, but it's crafting an alluring space in which to host that is arguably the most important, read: conversation starting furniture that sets your garden/courtyard/balcony apart from the rest. Hitting the nail on the outdoor furnishings head is Roda, the Italian design brand delivering an array of pieces that will have your outdoor area looking modern, sophisticated and à la mode — and not just for this summer, but for many to come.
Since its humble beginnings back in 1990, the coveted design brand has won the world over with its revolutionary aesthetic, known for crafting outdoor pieces with as much care and attention to detail that their interior counterparts usually receive. Roda blurs the lines, bringing the art of true interior design to the outdoors; you won't find any standard patio chairs or cliché timber dining tables here. Instead, expect pieces that are as unique as they are seamless, ones which create a homely vibe like no other; sprawling sofas topped with fluffed cushions, for example, or intricately woven rugs.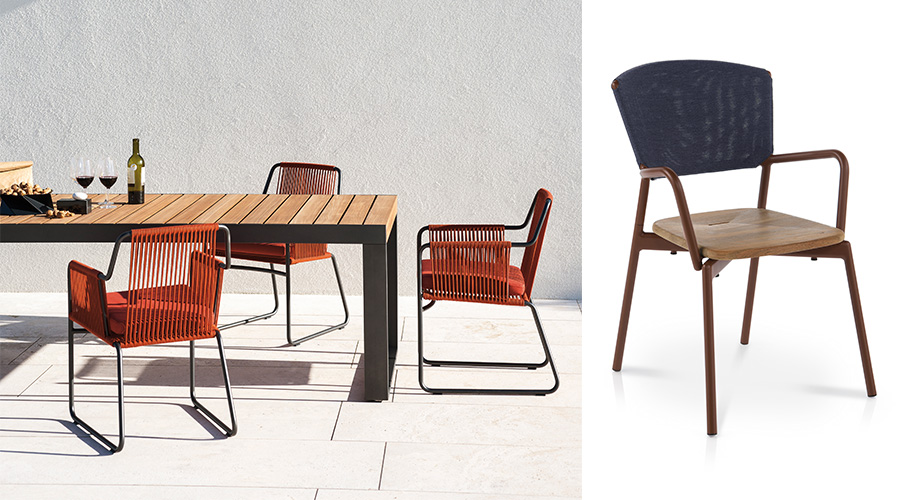 Alongside the quality craftsmanship and striking use of materials, its the unparalleled design that really brings Roda's collections to life. Such is The Harp lounge chair, a furnishing which takes the traditional string chair and elevates it to lofty new heights via stainless steel structuring adorned with twisted woven threads. Its eye-catching status is only further cemented by the liberal splashes of colour slicked over the final product, a running motif throughout the brand. Similarly, pieces such as the Network sofa, the Lawrence lounge chair or the Double Pouf, can come in either bold cobalt, burnt orange or forest green — each taking a bold step away from the stereotypical mahoganies and muted upholstery abundant in conventional outdoor furniture.
With a combination of pleasing aesthetics, considered style and the utmost in quality at its helm, it's clear that Roda is the design brand that just keeps on giving — serving up a continuous stream of noteworthy outdoor furnishings that will look just as incredible this summer as they will the next. To get your hands on a piece of the Roda action just in time for the silly season, be sure to visit David Shaw in-store or online.
David Shaw
17 Earle St
Parnell
Auckland