The transcendence of a household object into an ingenious melding of form and function is a noble — and beautiful — pursuit. One would be hard-pressed to find a more harmonious example of this union than the lights offered within the Powersurge Lito Series; epitomising understated complexity, these luxurious statement pendants enhance any space.
Having recently been announced a finalist in this year's Best Design Awards, the Lito Series lights are handcrafted to order by Powersurge's team of artisans from solid brass, finished with a clear satin lacquer. Designed to work across both residential and commercial interiors, the lights harness the innate luminosity of the brass; when partnered with glowing LED beams, it creates a welcoming warmth. The combination of the soft light within the golden lineal lengths means the pendants feel more like illuminated sculptures than standard lighting – and without comprising their intended function.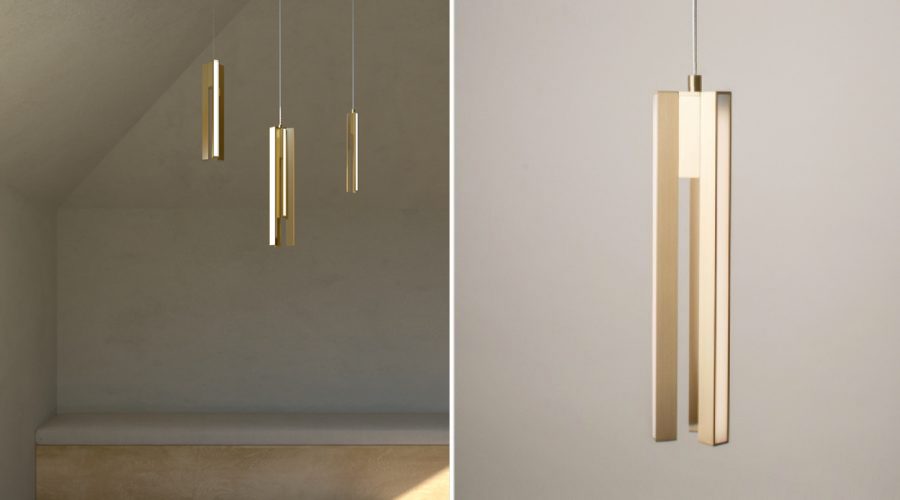 Powersurge directors Andrea Harradine and Todd Stevenson say they have always been drawn to art deco architecture and objects, and in designing the Lito series found themselves referencing some of the movement's lines, reimagining them in a contemporary context.
When one thinks of a lightbulb, or even a lamp, chances are the first form to spring to mind is one of roundness, but the Lito lights turn this interpretation on its head while cleverly nodding to a curved form.
"What's so interesting about the Lito Series," says Stevenson, "is that despite being made from vertically suspended rectangular lengths, the final profile is actually rounded and projects light cylindrically — so, although not necessarily obvious, those spherical forms are present within."
Despite their refined silhouette, the Lito Series lights are complex and intricate to assemble with each component made and finished by hand. "Although the process of construction is laborious, the craftsmanship on each piece is reflected in the meticulous end result," explains Stevenson.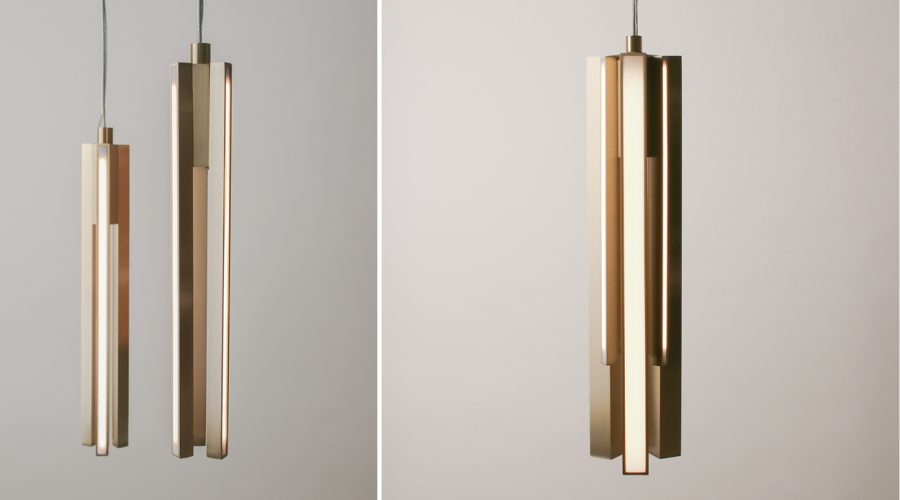 The series can be suspended individually as captivating statement pieces or en masse in clusters, creating luxurious and immersive illuminated sculpture. The Lito Dual Trio works beautifully in a hallway or stairwell, while the Lito Trio and Petite Trio are popular in the intimate nooks of lounges and bedrooms.
Lighting's effect on the overall home environment and ambiance should never be underestimated, emphasises Stevenson. A well designed interior has clever architecture that harnesses natural light when it's available, and otherwise is strategic and selective in its light fittings.
"When lighting is treated with the same significance as all the other elements of a build, it feels integrated and permanent just like the walls and floors," says the Powersurge director. "This is what we had in mind when designing the Lito Series; we wanted to create lighting people would have for a lifetime, that would remain contemporary and timeless amidst the ebb and flow of interiors."