When renowned French architects and designers Emil Humbert and Christophe Poyet were asked to reimagine a duplex in Paris' Le Marais neighbourhood, they started by honouring its history. After all, the building itself dated back to the 17th Century, and its classic details made for rich foundations on which the dynamic duo could build contemporary spaces with their signature flair.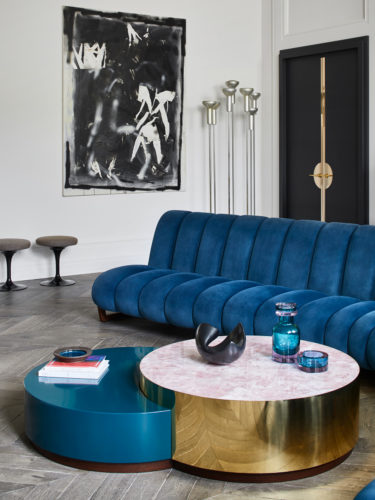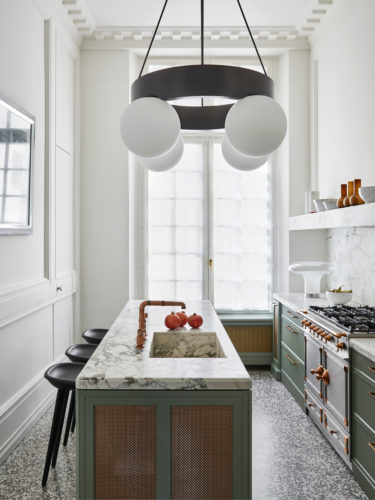 The first order of business was to reimagine the 250-square-metre floor plan to make it fit for the needs of a young family, which Humbert and Poyet did by adhering to a more traditional layout — positioning the living, kitchen and library spaces on the first floor, while the master suite, child's bedroom and bathrooms were on the floor above. This allowed the designers to immediately add depth and dimension to the home, where one can just as easily imagine the rousing dinner parties that would enliven the apartment's formal dining room as they can visualise the moments of quiet family connection that might take place in the kitchen every morning.
Nods to the building's origins can be seen throughout the apartment in discrete mouldings, an imposing fireplace, newly-laid parquet floors, impressive high ceilings and double doors in timber with brass accents. From the entrance foyer, punctured by a vintage, mid-century pendant light, to a staircase rendered in black and white speckled terrazzo, the apartment invites those within it to lose themselves in its carefully-layered, textural design, where Humbert and Poyet have left no stone unturned, no detail unconsidered.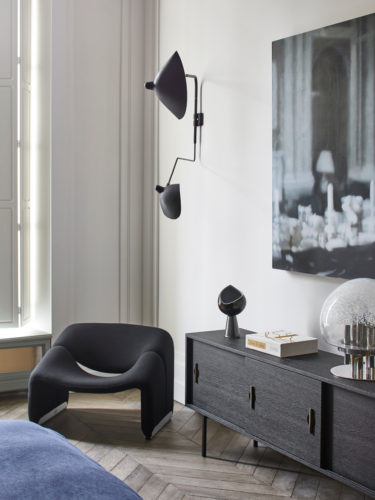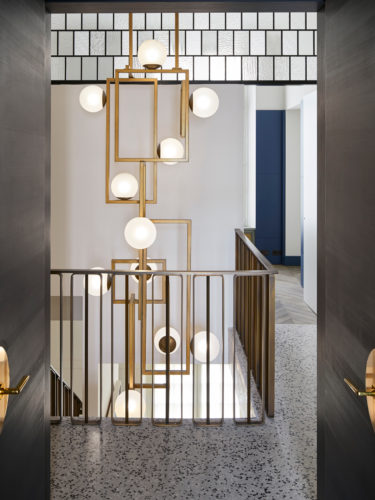 This attention to detail extends to such a degree in fact, that most of the furniture and fittings in the apartment have been designed by the duo themselves, including the superbly unique brass dining table, pendant lights throughout the home, a sculptural floor lamp, a pair of white, wool and linen bouclé armchairs and a show-stopping 'Grand Theodore' sofa, rendered in sumptuous blue velvet and fashioned to curve around the cosy living room.
Drawing inspiration from the Modernist, Art Deco and Mephis design movements, Humbert and Poyet played with scale and proportion confidently, using geometric shapes, unusual finishes and unapologetic colours to inject a sense of character into every space and give the apartment a distinct aesthetic language.
Elsewhere, chairs by Le Corbusier, ceramics by Georges Jouve and Olivier Gagnère and artwork by the likes of Keith Haring, Bertrand Lavier and Robert Mapplethorp turn each room into a memorable tableau, while the mix of materials used throughout works to keep everything connected — marble (to bring richness), timber (to add warmth), terrazzo (as a modern twist) and brass (for the way it enhances the materials around it).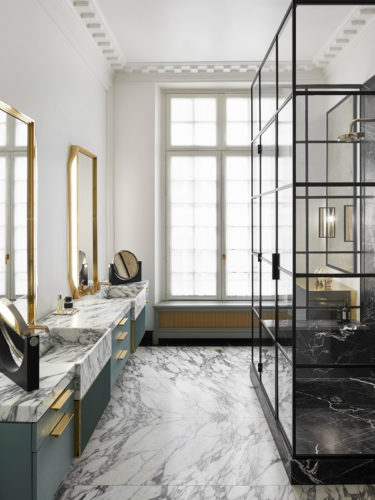 Cleverly utilising a neutral base palette of black, white and grey allowed the designers to start with a blank canvas, where spaces like the kitchen were made to feel as bright and fresh as they were warm and inviting, thanks to the careful deployment of colour, natural stone and pops of brass. Similarly, the master suite with a Flexform bed flanked by two Humbert and Poyet-designed side tables and backed by an Aaron Young triptych, has been designed to feel calm and tranquil, despite also being richly layered and detailed.
There is much to be said about this apartment, mainly because each room is conversation-starting in its own right, but at its core, Humbert and Poyet have created a residence that balances coolness with character and that weaves exquisite design into functional, user-friendly spaces. An ode to the power of confident design, this Parisian apartment is making us reconsider our own assumptions about what can work in a space, and is inspiring us to make bolder choices.
Interior Design — Humbert & Poyet
Photography — Francis Amiand