There is something about the 80s that feels particularly appealing right now. Perhaps it's in looking back at the era's hedonistic, over-the-top culture, that we're reminded how reserved we are in comparison. As a result, the 80s is experiencing a resurgence in design and architecture — more reimagined than replicated — but still bringing the experimental proportions and fun finishes of the era into a contemporary context.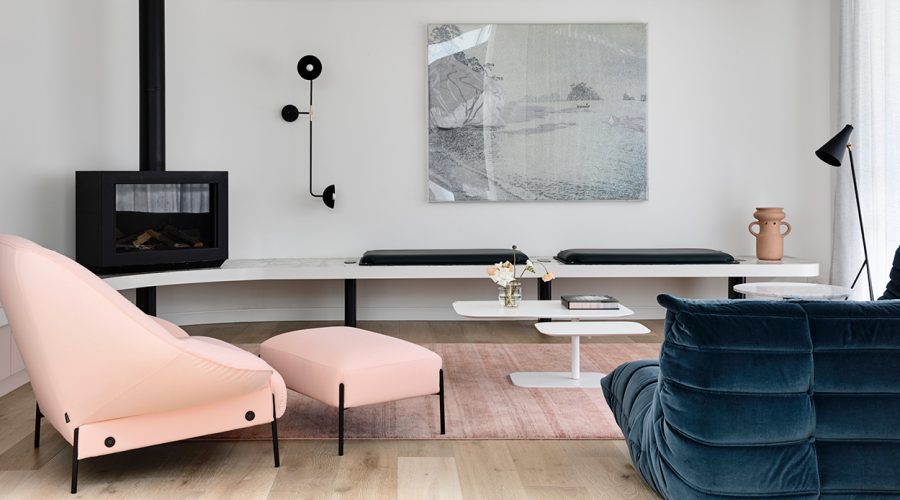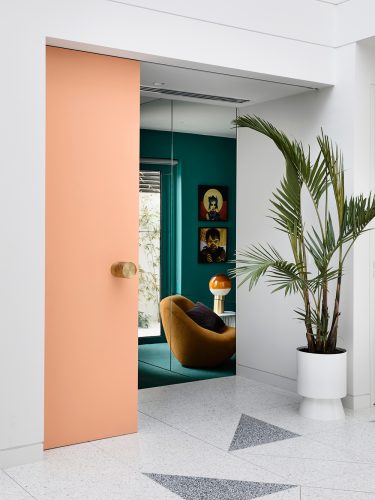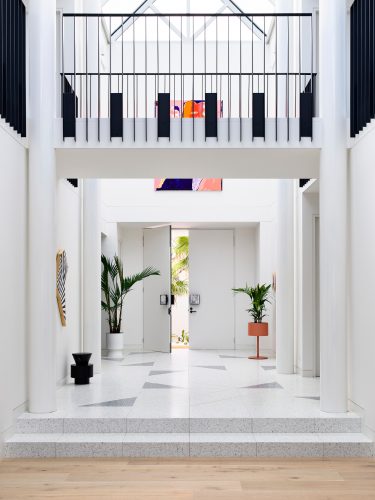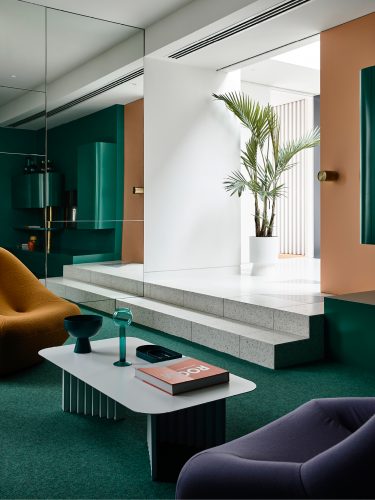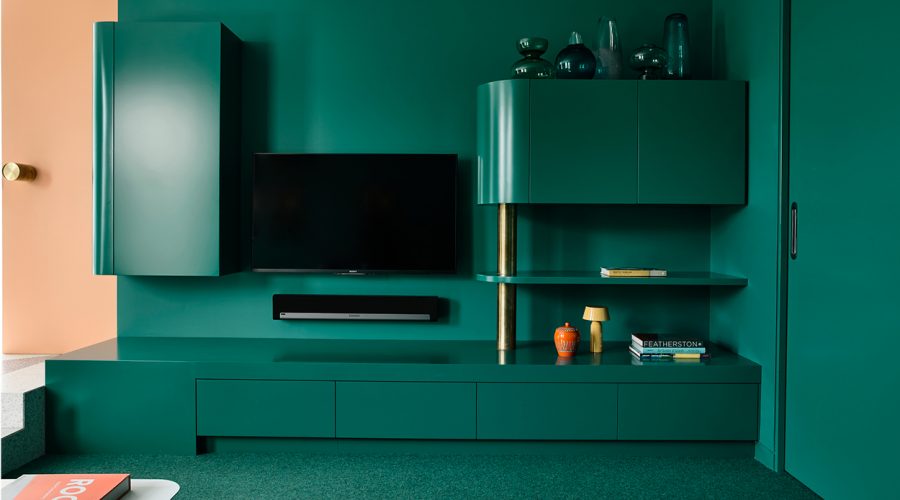 In this large Melbourne home, Director of Doherty Design Studio, Mardi Doherty, embraced notes of the 80s to create glamorous, fun spaces, highlighting the building's more unusual features and re-configuring the layout to make it suited to a family with three children. Working alongside building designers Ari Alexander Design Group and Ben Scott Garden Design, Mardi ensured that the charming bones of the home didn't get lost in its new identity — choosing to nod to 80s sensibilities by using bold colours, and employing striking, geometric architectural details.
An expansive entranceway with custom terrazzo floors frames the residence's piece de resistance, a pitched glass atrium that runs the length of the home and sets the artistic tone to follow. Sculptural, colourful artworks feature in every room, and introduce an element of intrigue so that anyone thinking they have this home's number, is surprised at every turn. Colour is employed with confidence. Like in the small sitting room, for example, an arresting, dark green space with an opulent, verdant shell and one wall tiled in mirrors (a direct ode to the 80s).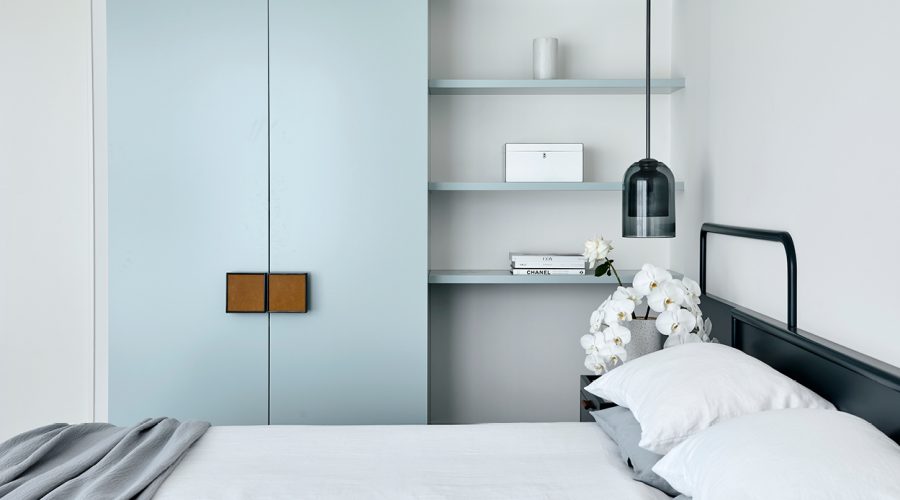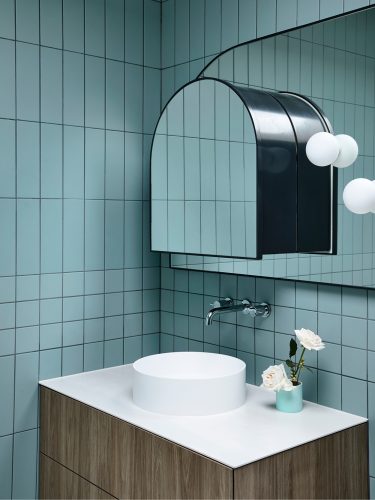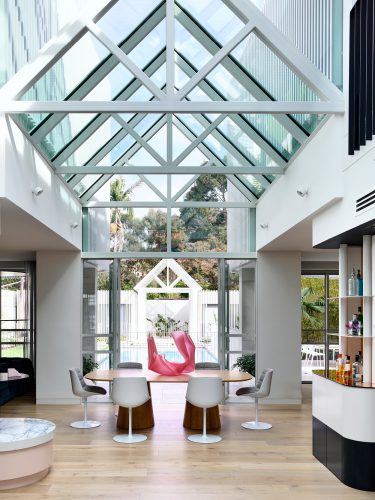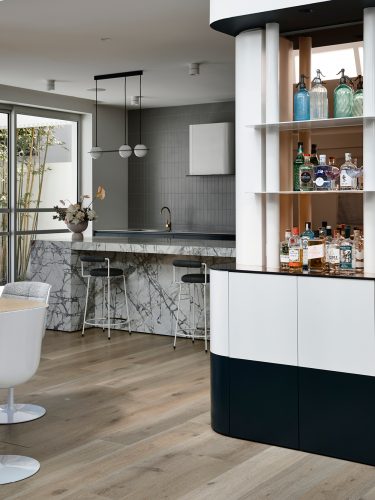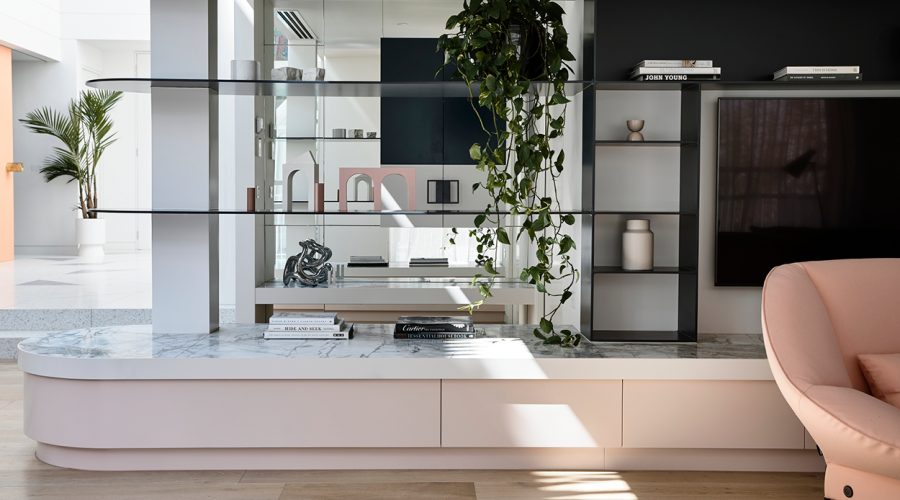 Out the back, a new extension comprising two new bedrooms stands in curved contrast to the home's more triangular features. Clad in powder-coated aluminium battens, the addition is as sculptural as it is practical, exemplifying a balance that has been mastered throughout the rest of the residence.
From the kitchen, bathed in all-day sunlight and featuring a three-and-a-half metre Cote d'Azur marble bench and navy-blue cabinetry, to the cocktail bar, cleverly designed to conceal a column that was too expensive to remove and conveniently located between all the downstairs living spaces, to the outdoor fire pit and swimming pool, this home is filled with opportunities to entertain. While upstairs, the bedrooms and master suite are designed for each individual family member — creating an environment that can be busy and bustling or quiet and calm, the two modes never mutually exclusive.