They say change is as good as a holiday, and for this young family, a newly minted house was a chance to create a feeling of escape, even though they knew they would be required to spend a lot more time at home.
In the heart of Balmain, a once-bohemian Sydney suburb on the water's edge, the home was completed by Nina Maya Interiors to have a fresh and modern beach house feel. "The clients, a young couple with two sons, lead very busy lives so they wanted their home to feel like their own retreat and an escape from the hustle and bustle," says Maya.
Building during a pandemic, when the owners weren't able to visit their favourite holiday destinations, only enhanced this desire for resort-style living from the safety of their own home. The entire site was deeply excavated to make way for a new lower ground level dedicated to leisure and health pursuits — with a state of the art gym, steam room, cinema, billiard room and bar. The remainder of the generously proportioned three-level build includes four bedrooms and bathrooms, which overlook a beautifully appointed pool and cabana area.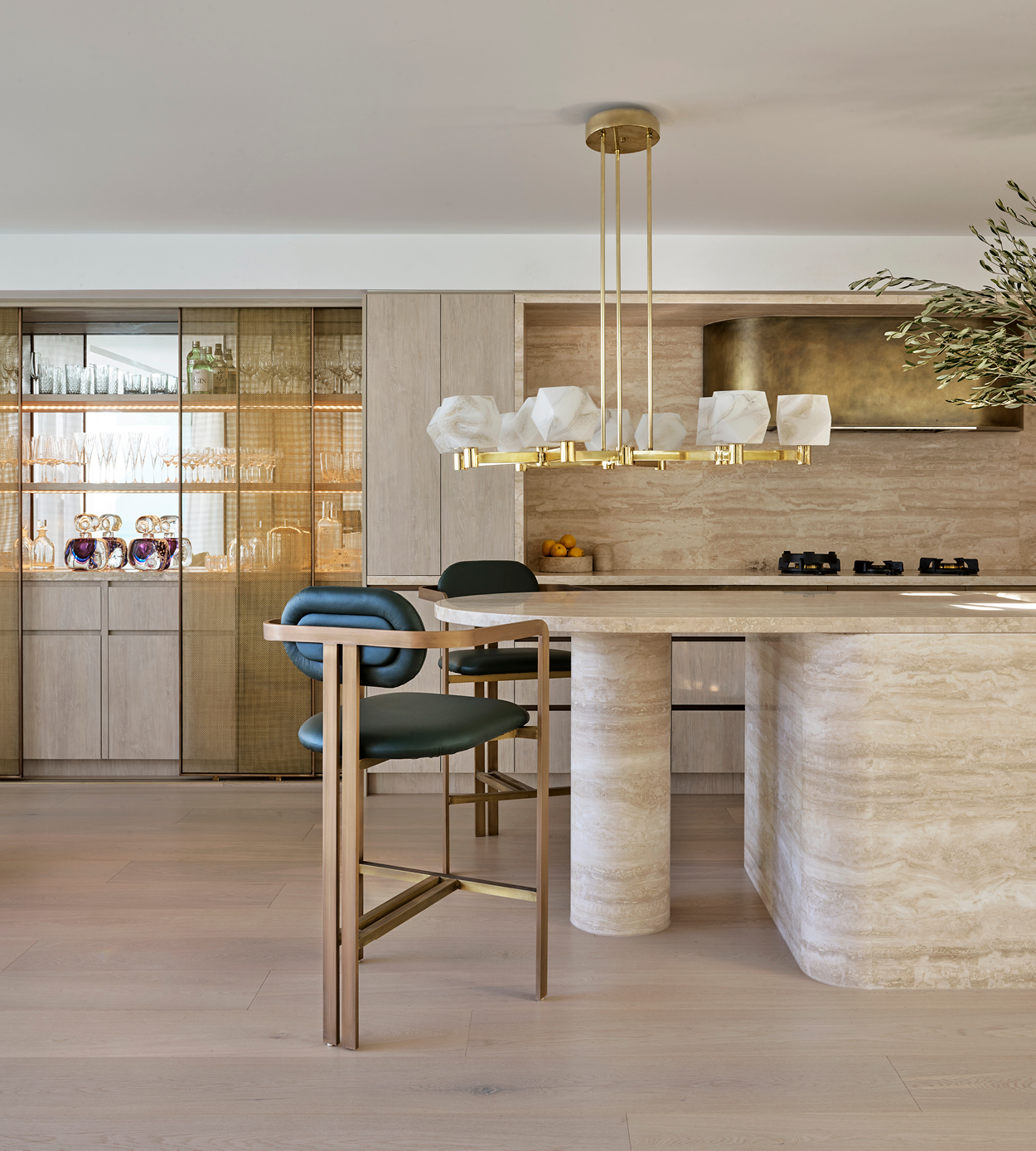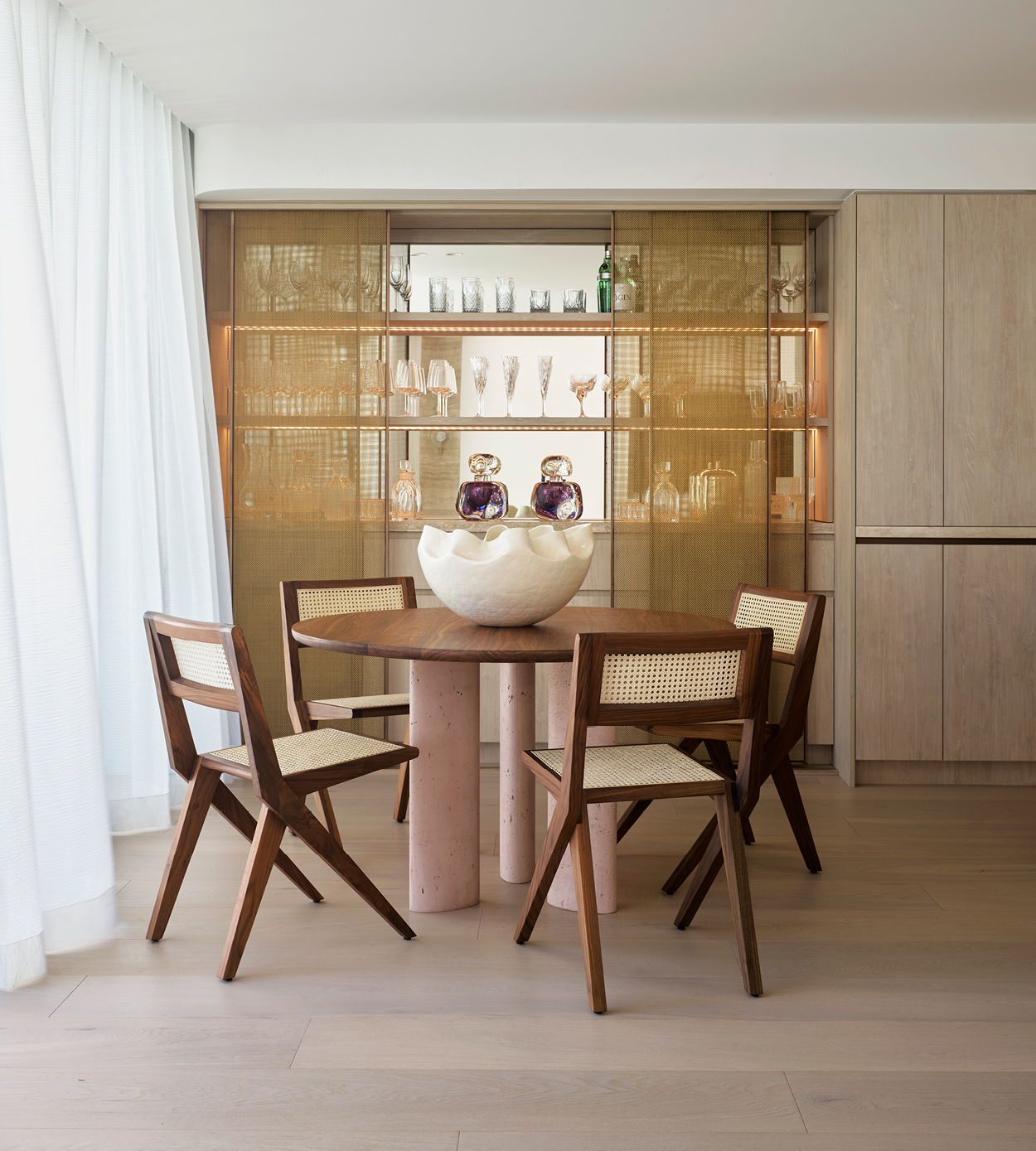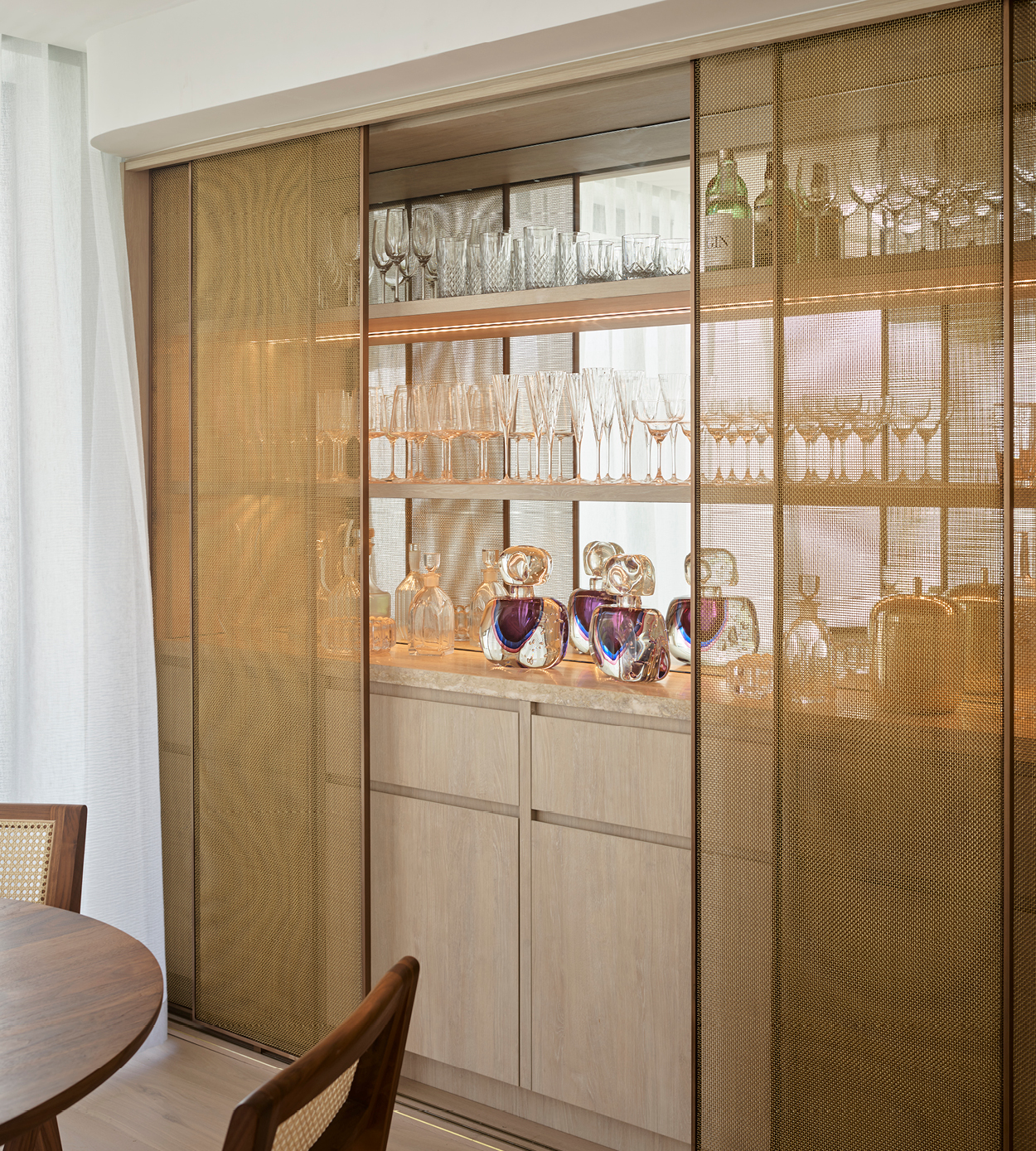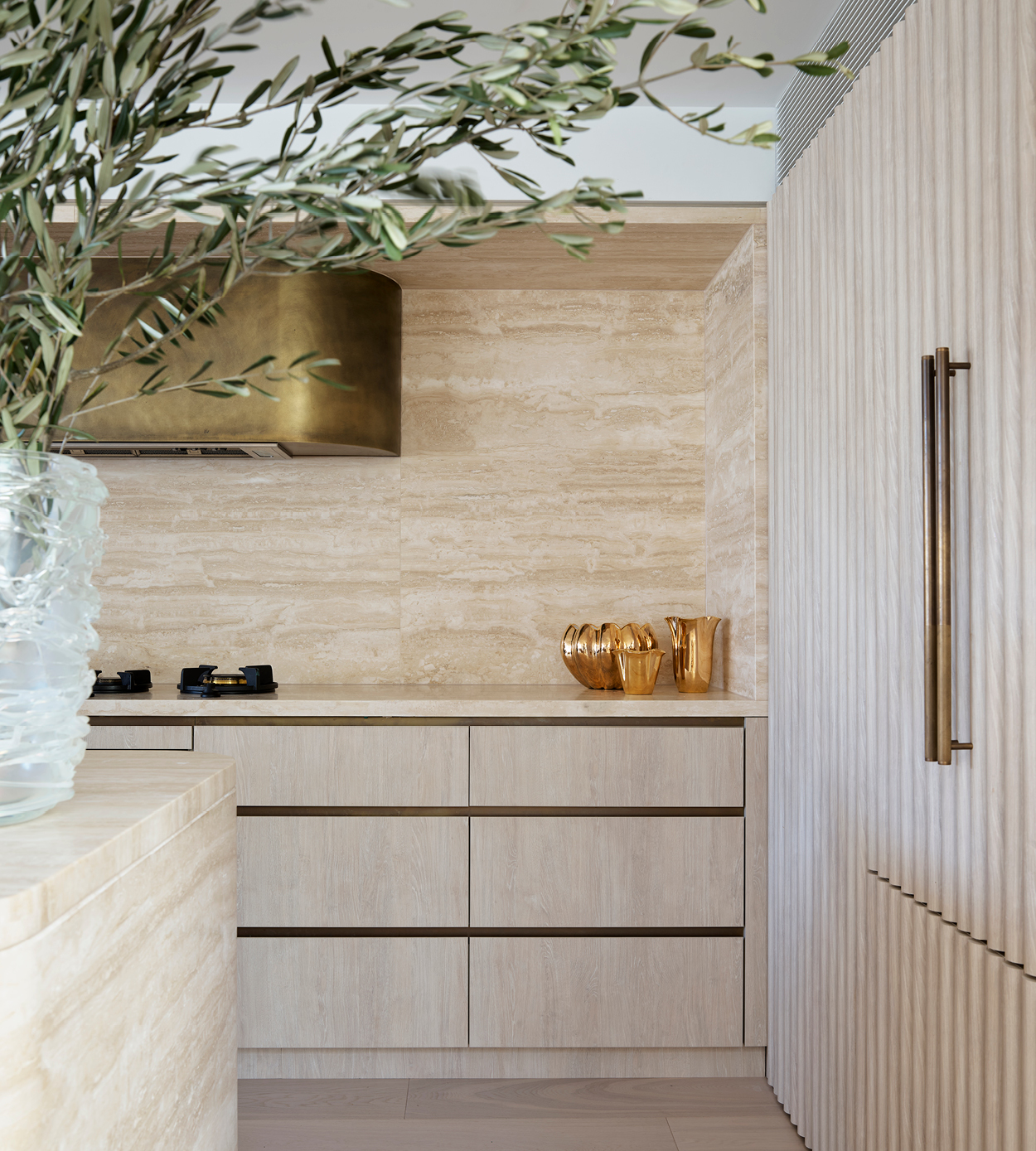 Achieving a sense of minimalist luxury is a laidback yet refined tonal material selection, including French oak floors, marmorino plaster walls and Italian travertine accents.
As a foundation, it allows for craftsmanship and architectural elements to shine through. Each space is layered with meticulously styled furniture from leading local designers and unique vintage finds from around the world.
"We loved exploring the impact of a tonal scheme, which carried through the house creating a relaxed yet sophisticated interior space," says Maya. "Points of colour and texture are introduced through soft furnishings and art."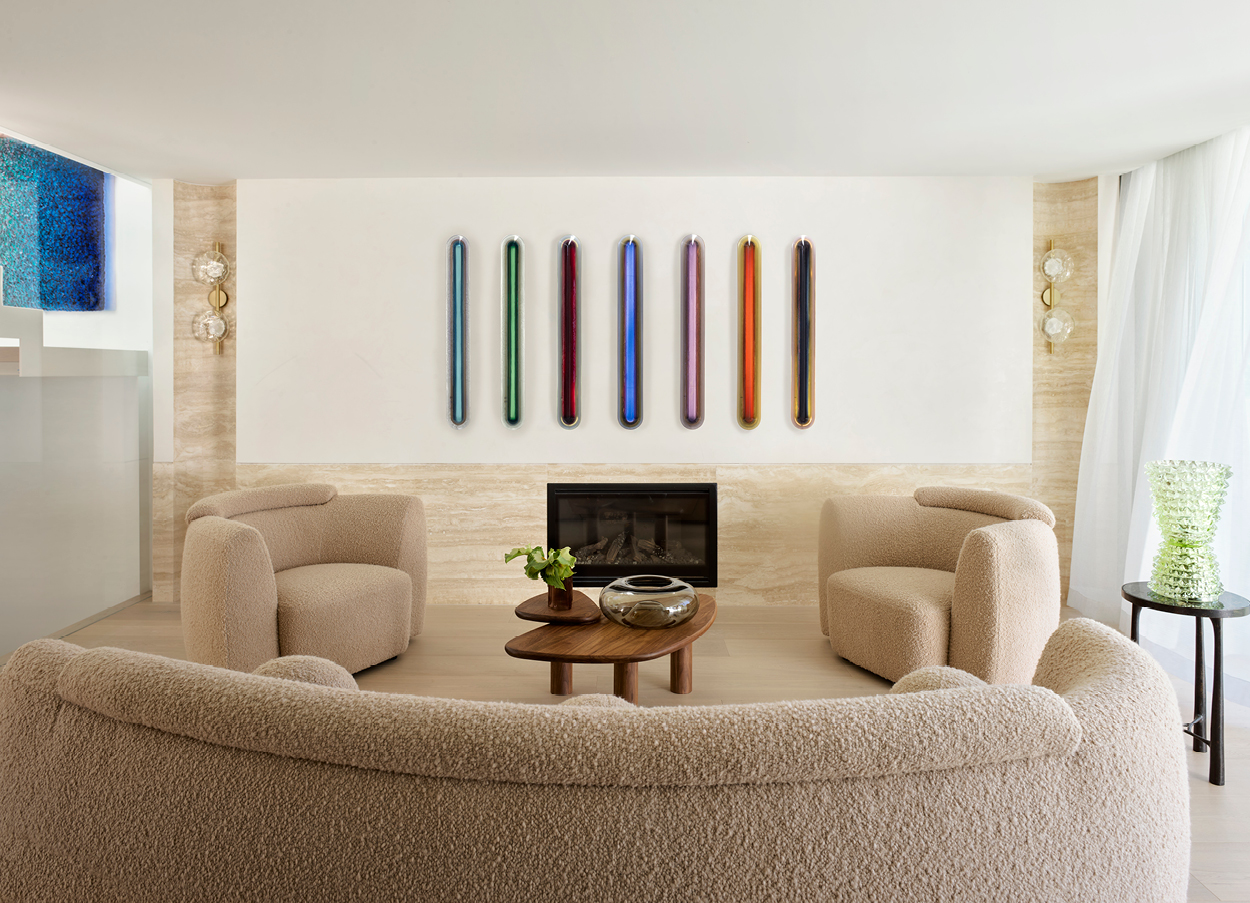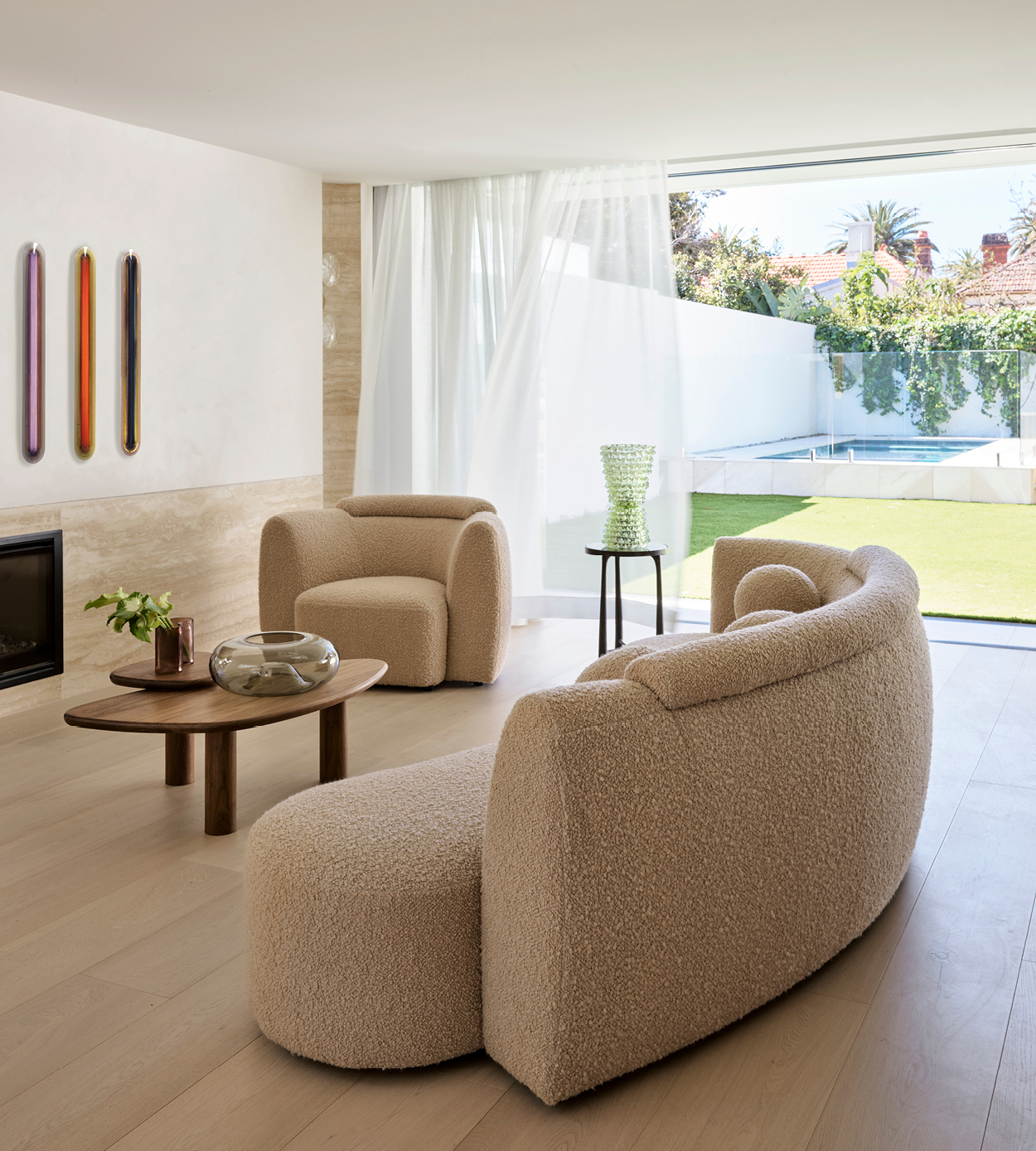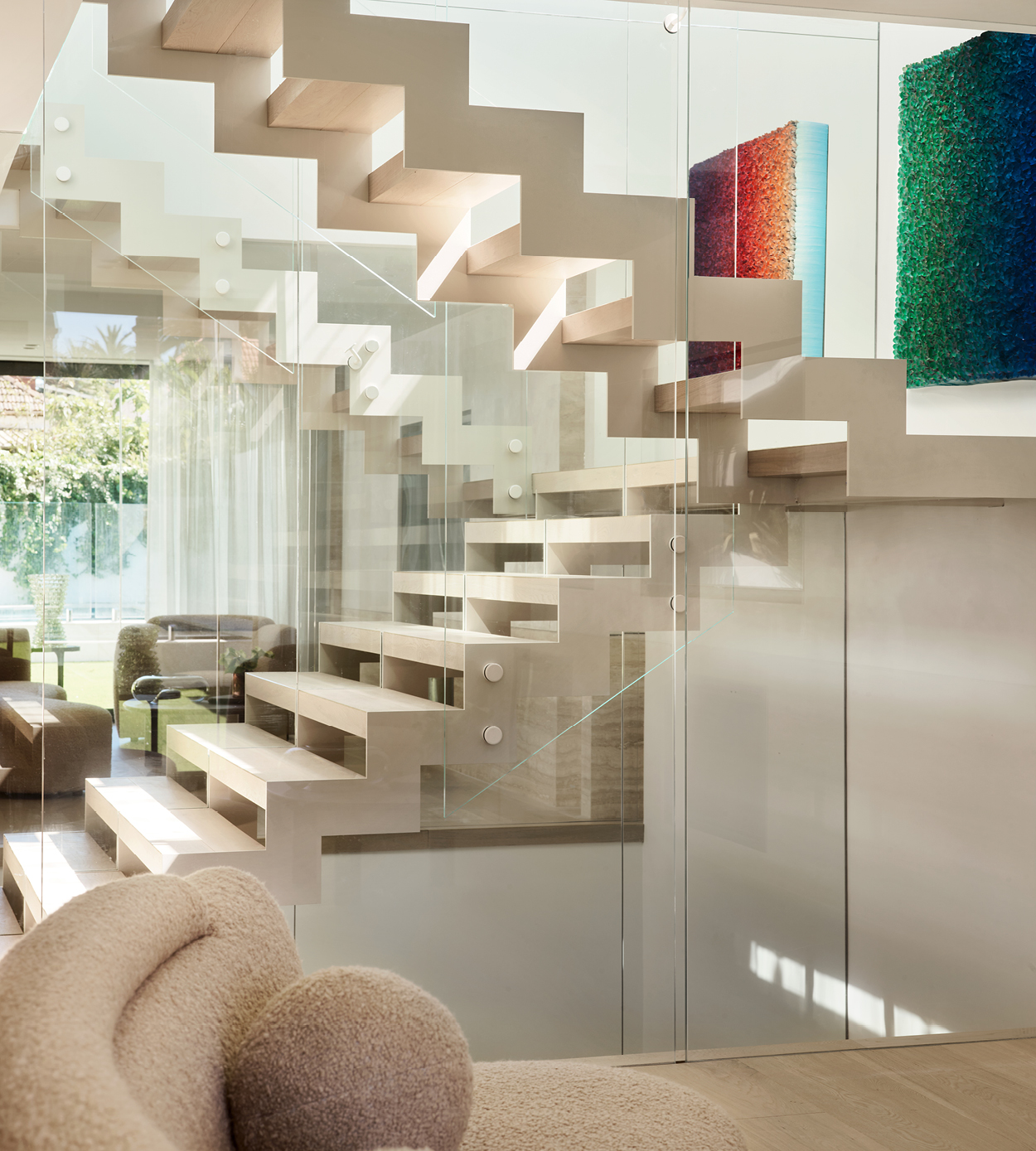 Take the lounge, for example. The fireplace surround seems elementally simple, but the discernment is in the details. In fact, it was entirely made by hand by a master stonemason in curved travertine — the individual pieces took three days to install. Styled with this is an expressive sofa by Australian architect and furniture designer Daniel Boddam.
"We love his organic forms and references to nature, which complemented the natural material selections," says Maya. "His Wave sofa was inspired by rolling waves that lift you up and swirl around you and has been designed as an organic, comfortable shape that evokes a sense of lyricism and play to an interior, whilst still being minimalistic and elegant."
The art was also key to unlocking a renewed sense of delight, as if the owners have stepped into a luxury hotel suite that was made just for them. In the stairwell hangs artwork by Zhuang Hong Yi, a contemporary Chinese painter known for his lush 'flowerbeds'. In conversation with this are handcrafted light works by Como-based Draga & Aurel above the aforementioned fireplace. Seen through the staircase's glass partitioning, they quietly lift the heat of the fire to the landing.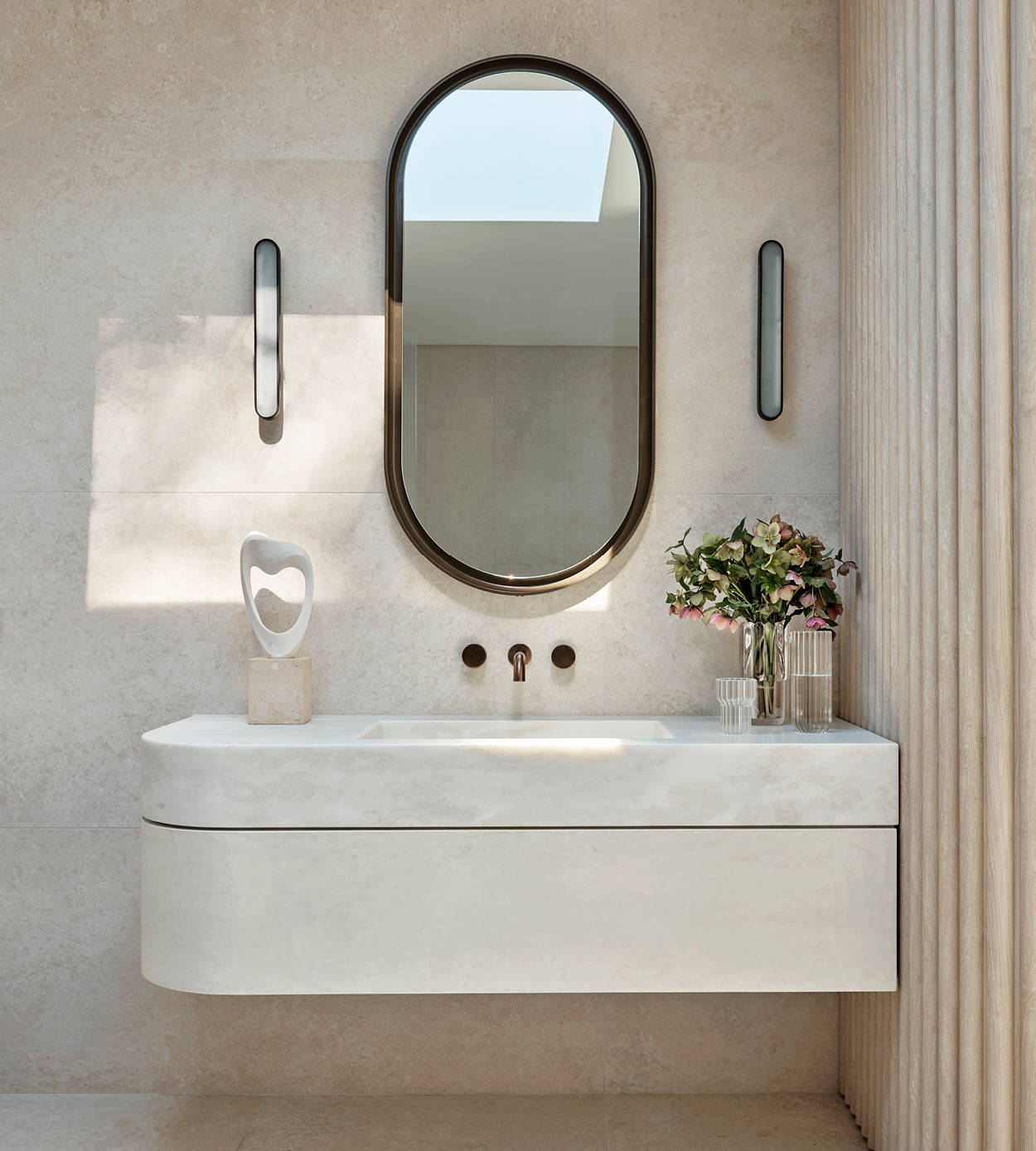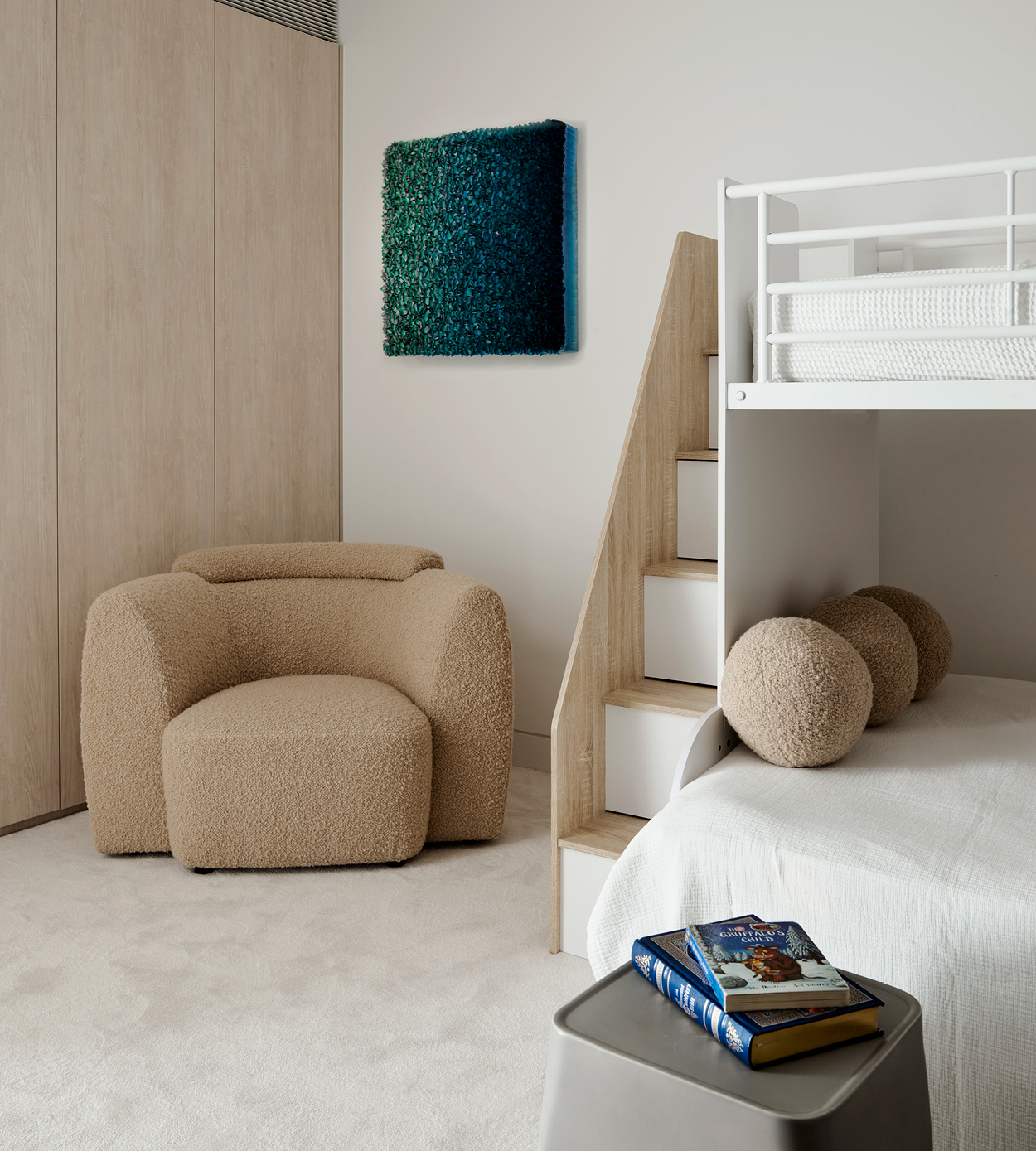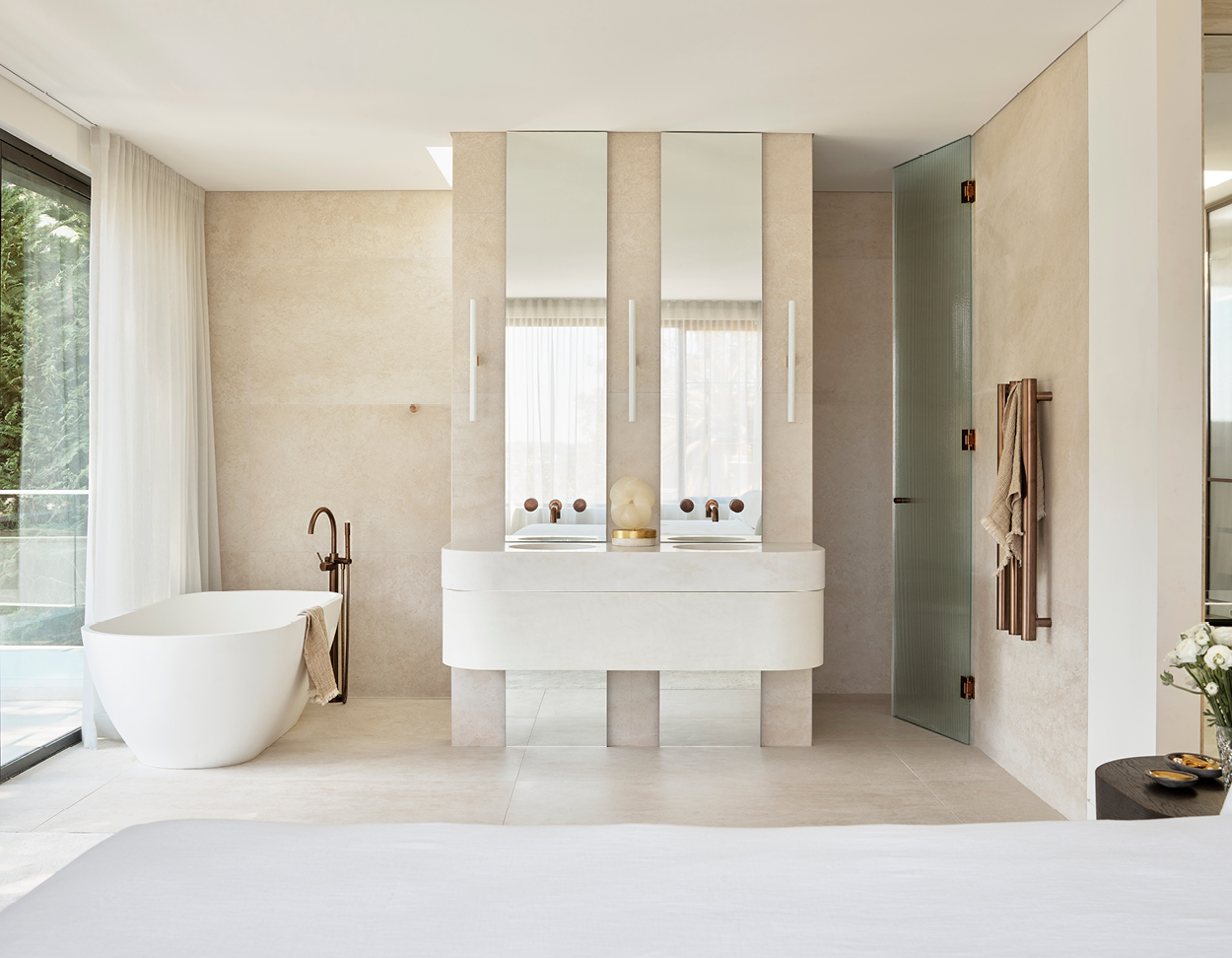 While the house is undoubtedly cool, touches of warmth are also carried through with custom brass accents. In the kitchen, this includes brushed brass and wood stools at the tideline of the travertine island, and a vintage Italian brass pendant with marble shades that look like moonlight on the beach.
It's best to be barefoot in this home, including the bedrooms with silk carpet in the colour of pearls. The main bedroom is the most self-possessed, with a sea froth blue velvet headboard on a bedrock of the sandy-toned travertine.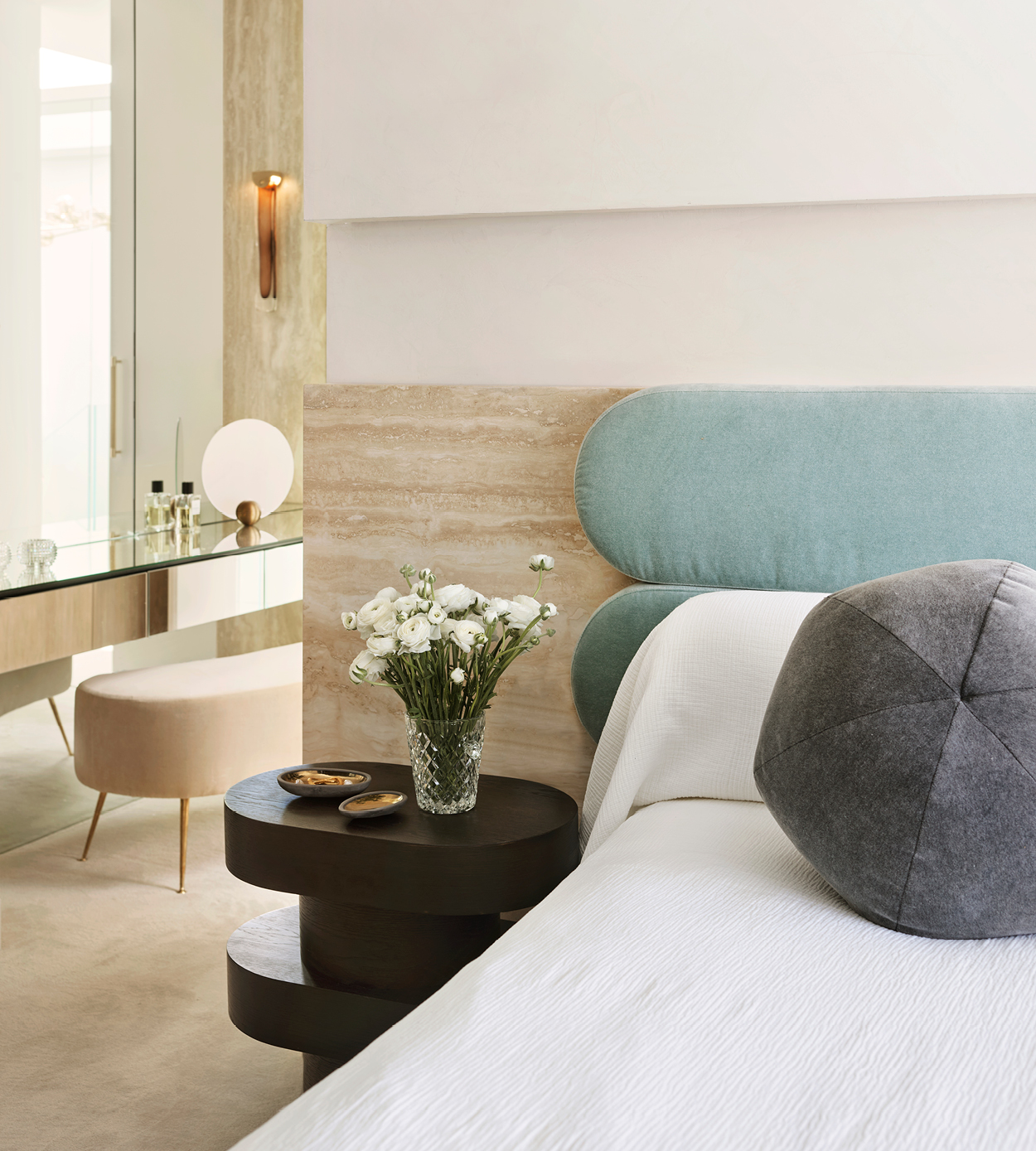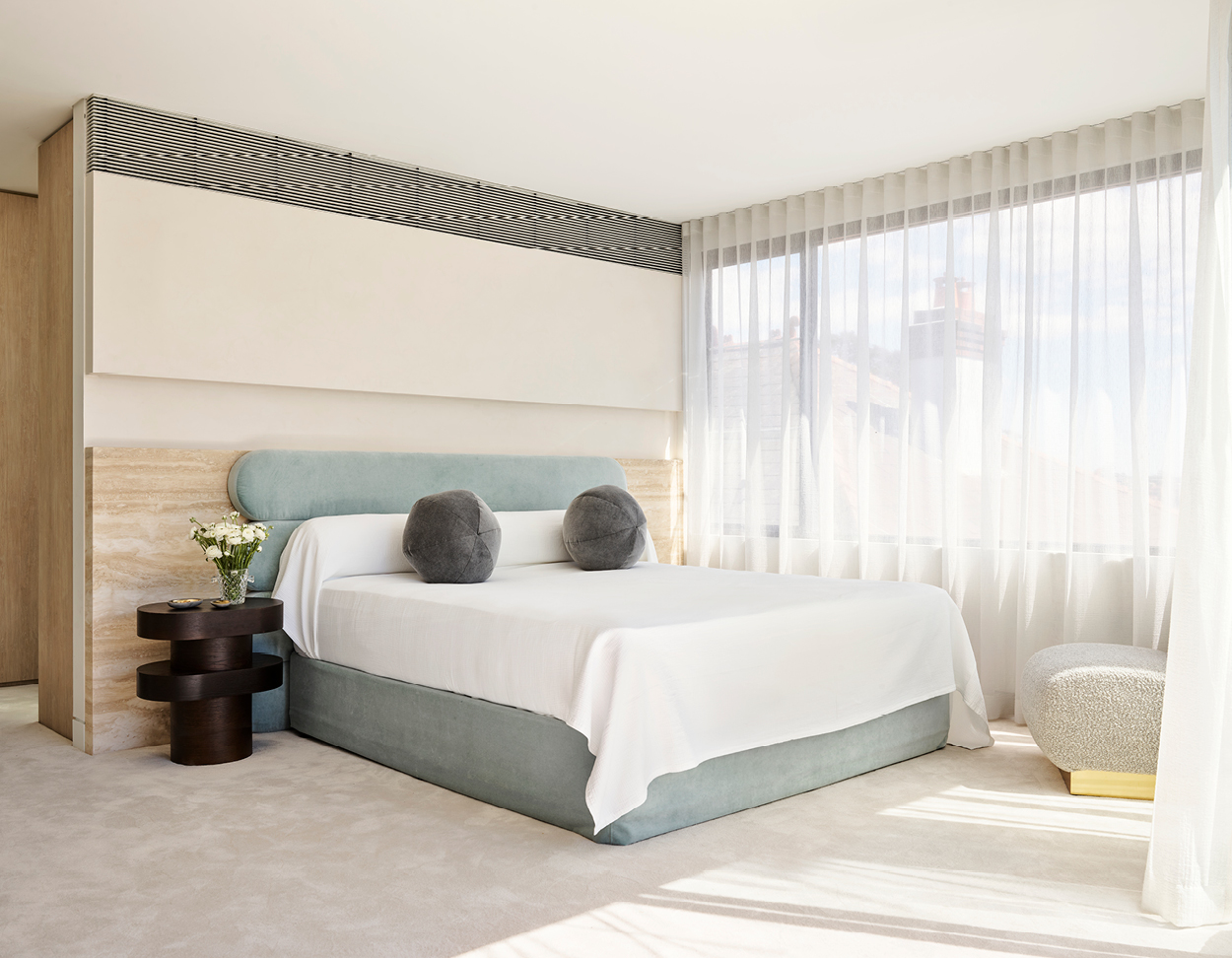 The shored up spa-like ensuite shows a preference for a purified palette. Especially soft, it belies the complexity of its construction — with curved vanities clad in micro-cement and integrated with basins entirely handmade of white Elba marble.
The vanity, alongside the bedroom's walk-in-wardrobe, achieves the right amount of glamour and comfort. Mirrors are used both for the cabinetry and the floor-to-ceiling wall, reflecting glass wall sconces from the artisans at Articolo Lighting — as well as the beholder — in multitudes.
Like the expanse of the elevated seaside home, it's a private space where opportunities seem endless. Sometimes, all you do need is a new perspective.