We might be called the City of Sails, but for too long, Auckland has allowed parts of its downtown waterfront to languish in obscurity, woefully underused either because of poorly-planned industrial developments or well-intentioned hospitality precincts that just haven't quite hit the mark. In fact, we would go so far as to say that there is a dire need for something that capitalises on Auckland's unique proximity to the water, something that harnesses its expansive, natural beauty and allows this city's residents to truly make the most of the waterfront that has become so intrinsically linked to Auckland's identity.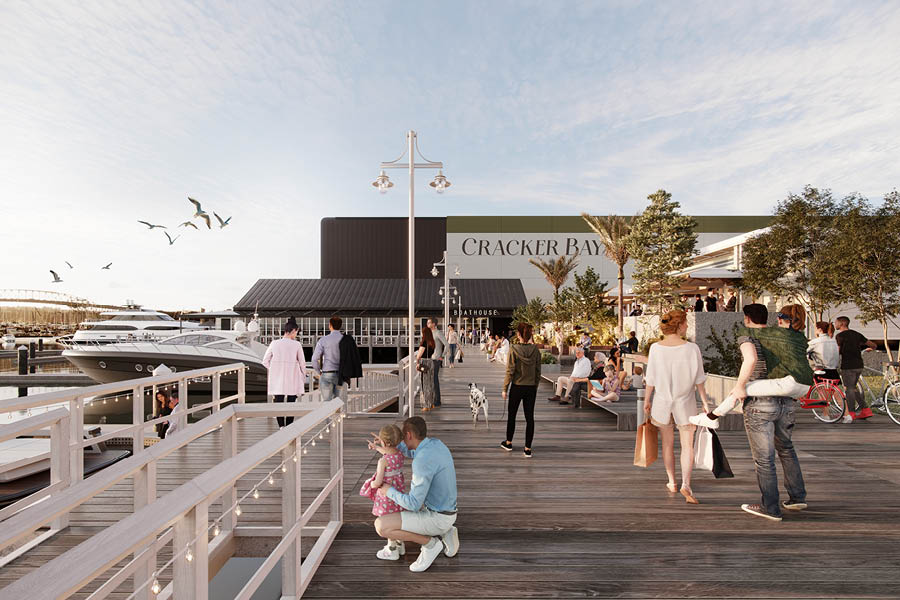 So, we were thrilled when we learned that Winton, the developers responsible for Northbrook (a jaw dropping, luxury later living offering that is revolutionising life after retirement and is landing in Wynyard Quarter soon) were also developing the adjacent site to create a 1.7-hectare waterfront haven.
Called Cracker Bay, this expansive offering is set on a spectacular piece of land between Beaumont Street, Westhaven Drive and a long stretch of waterfront, and will combine the vibrancy of a multifaceted hospitality precinct (complete with new restaurants, bars and casual eateries, open to the public) with the exclusivity of a private yacht club (of which all Northbrook residents will automatically be members) as well as a much-needed event space set up for a variety of functions and weddings. Importantly, Cracker Bay will also see the extension of our beloved promenade walkway that, at the moment, abruptly veers off the water by Westhaven Drive. When Cracker Bay is complete, Auckland's cohort of walking enthusiasts will be able to stroll the whole way around, soaking in the beauty of our harbour and taking in all the action that is bound to fill Cracker Bay's many venues.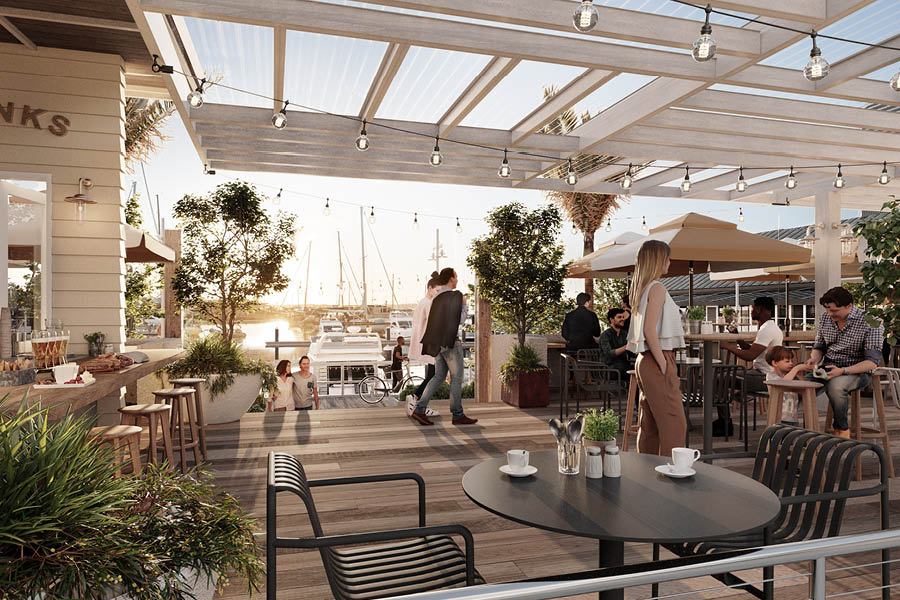 The bustling hub of Cracker Bay will be its food and beverage destination, The Beaumont Street Bodega. Publicly accessible via walkways from Beaumont Street or up from the promenade, this area will comprise a sprawling dining room with elevated, covered outdoor tables on which people can enjoy the delicious offerings from vendors like a bakehouse and cafe, a casual pub and a garden bar kiosk. From its relaxed, local feel to its light-filled, connected spaces, to the way it promises to reimagine classic, waterfront venues with a more chic, elevated design, The Beaumont Street Bodega is destined to become a hive of hospitality and the perfect place to enjoy laid-back drinks or an easy meal with friends.
That said, for something slightly more sophisticated, Cracker Bay's The Boathouse will be set just a short walk away from The Bodega area, and is promising a beautiful, on-water restaurant that we're predicting will be hugely popular when it opens. Serving fresh seafood like oysters and sashimi in a striking dining room finished in reclaimed timber and crisp alabaster tones, The Boathouse will be a spectacular setting for sundowners, maximising the waterfront views and offering a uncomplicated, coastal charm that will make you feel as though you have left the city altogether.
Cracker Bay will also encompass a significant event venue, designed and purpose-built for weddings, private parties, fashion events, pop-up art exhibitions and more. Oozing simple but elegant sophistication with white-washed brickwork and maritime steel and timber, Cracker Bay's event space will allow its striking setting to shine, where daytime affairs will be bathed in natural light and evening ones enhanced by views of the sunset over the sparkling Auckland harbour.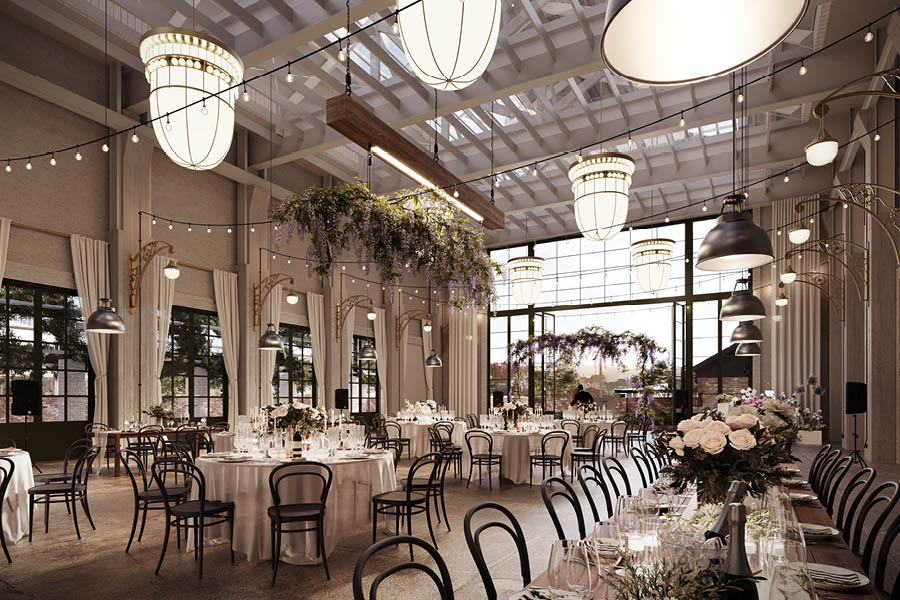 The pièce-de-résistance of Cracker Bay, however, is The Club, a private yacht club that will provide its members with an exclusive enclave in which to relax and unwind, right in the heart of this exciting new precinct. For residents of Northbrook, membership to The Club is automatic, which means that alongside the extensive facilities that are provided within Northbrook itself, The Club will become the perfect change of scenery, a space in which residents can truly soak in the beauty of their waterfront home.
Not only will members of The Club at Cracker Bay have access to a private garden, bar, swimming pool and sundeck right on the water (although slightly elevated to remain hidden from public view), they can also enjoy their own restaurant with outdoor dining, as well as a gym, spa, sauna, steam room and personal concierge service. It will be like a boutique resort, nestled in the midst of one of Auckland's most stunning, sought-after and social settings.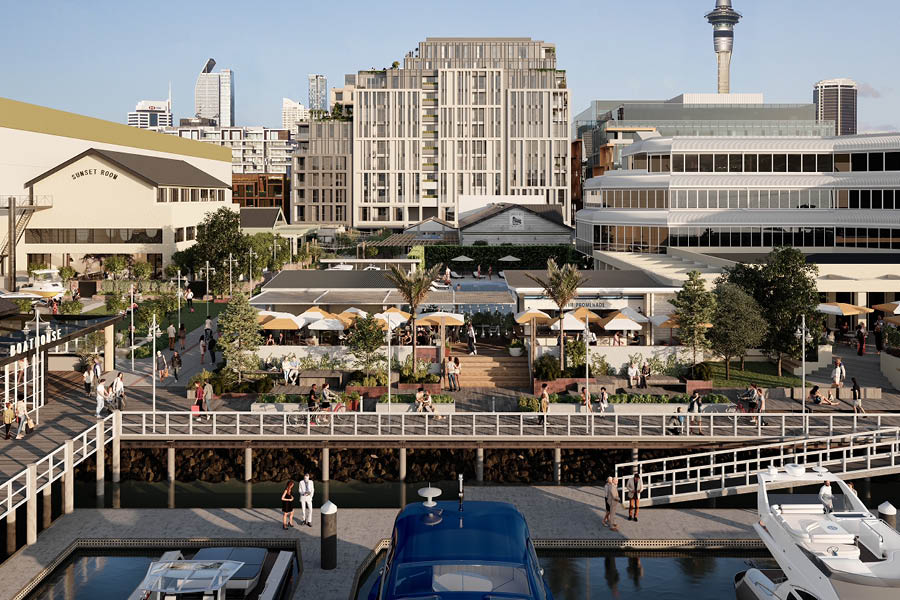 A development that promises to unlock the value of our waterfront in a way that has never been done before, Cracker Bay is the perfect evolution of Winton's groundbreaking and multifaceted vision. With Northbrook, for instance, Winton asked why life after retirement shouldn't be grounded in luxurious, refined design, positioning retirement not as the end, but merely the beginning of something even more exciting and fulfilling than before. Cracker Bay is a huge part of this, and will be deeply connected to the later living offering to provide extra amenities and hospitality venues for residents, as well as a brand new marina to berth their yachts.
But beyond that, Cracker Bay will become a precinct that finally allows Aucklanders to make the most of the city we call home. A place where excellent hospitality meets a breathtaking, sun-soaked setting, Cracker Bay is exactly what the City of Sails has been missing and when it opens, will be the place to visit for delicious food, exquisite views and the kind of convivial, vibrant atmosphere that will elevate Auckland's standing as a true world city.