If you've ever wished you could see inside a renowned designer's abode — where everything has its place in a form of minimalist mindfulness — look no further than Lee Broom's New York pied-à-terre, affectionately called The Penthouse. It's the British designer's much frequented and finessed second home with his partner Charles Rudgard, who is also the co-founder and CEO of his eponymous brand. Located in Tribeca — that Manhatten neighbourhood known for its celebrity residencies and lofts alike — the apartment also acts as a by-appointment showroom for Lee Broom collections, and the owners' private art collection.
Occupying the fifth and sixth floors, and accessed by a private elevator, the light-filled, high-ceilinged space boasts two terraces, two kitchens, two bedrooms, a living room, dining room and a study. But what really attracted Broom to the apartment in a converted cast-iron office building was that it was part of the first sustainable historic refurbishments in New York. Eighty percent of the materials in the renovation have been reclaimed, and the remaining 20 percent was sourced locally.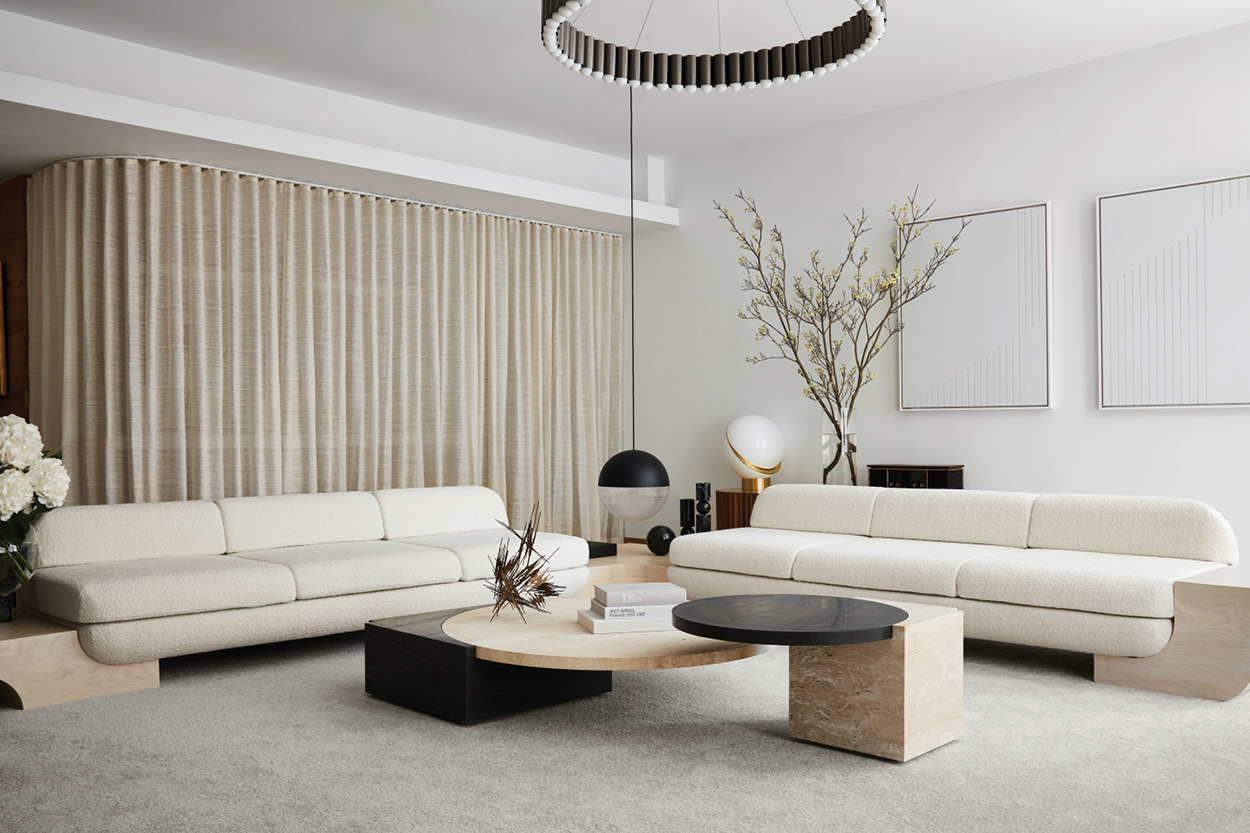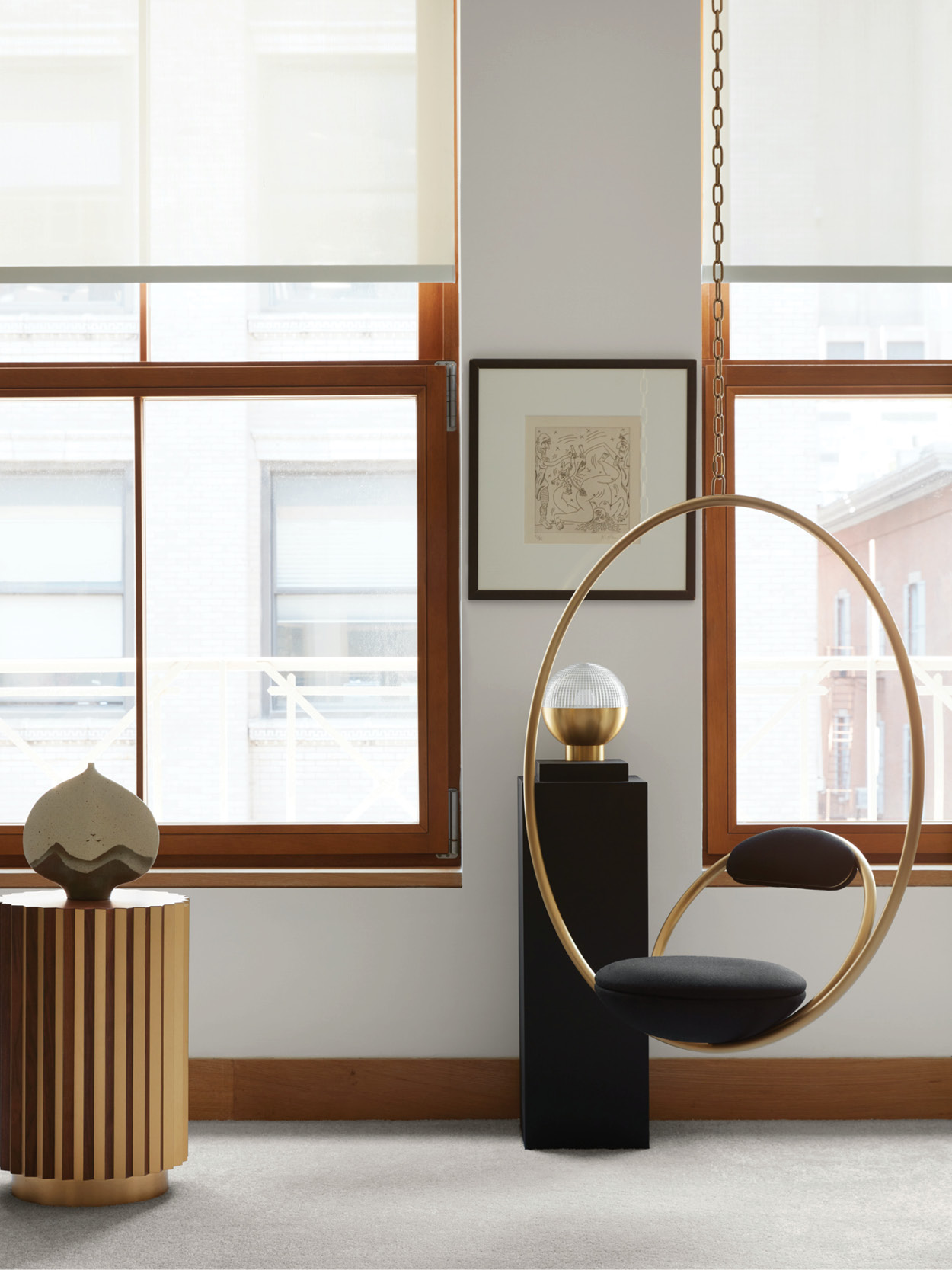 Like the patina on the hand-reclaimed panelling, the apartment tells its own story within the soaring architecture. Broom is best known for his modern lighting, and here he spotlights a new collection of furniture and accessories, each room a stage to play out his personal designs.
The living room is prefaced with a monochromatic colour palette with glints of brushed brass, gunmetal and matte black. The view of the iconic New York cityscape imbues the personality of the room. One of Broom's favourite skyscrapers, the brutalist Long Lines, inspired a bespoke fireplace carved from Travertine in Italy. In front of it, the bouclé White Street sofa appears to float over the skyline with its soft, curved backrest. While it appears an apparition, it was designed specifically for this space as a modular piece connected by sculpted armrests and side tables.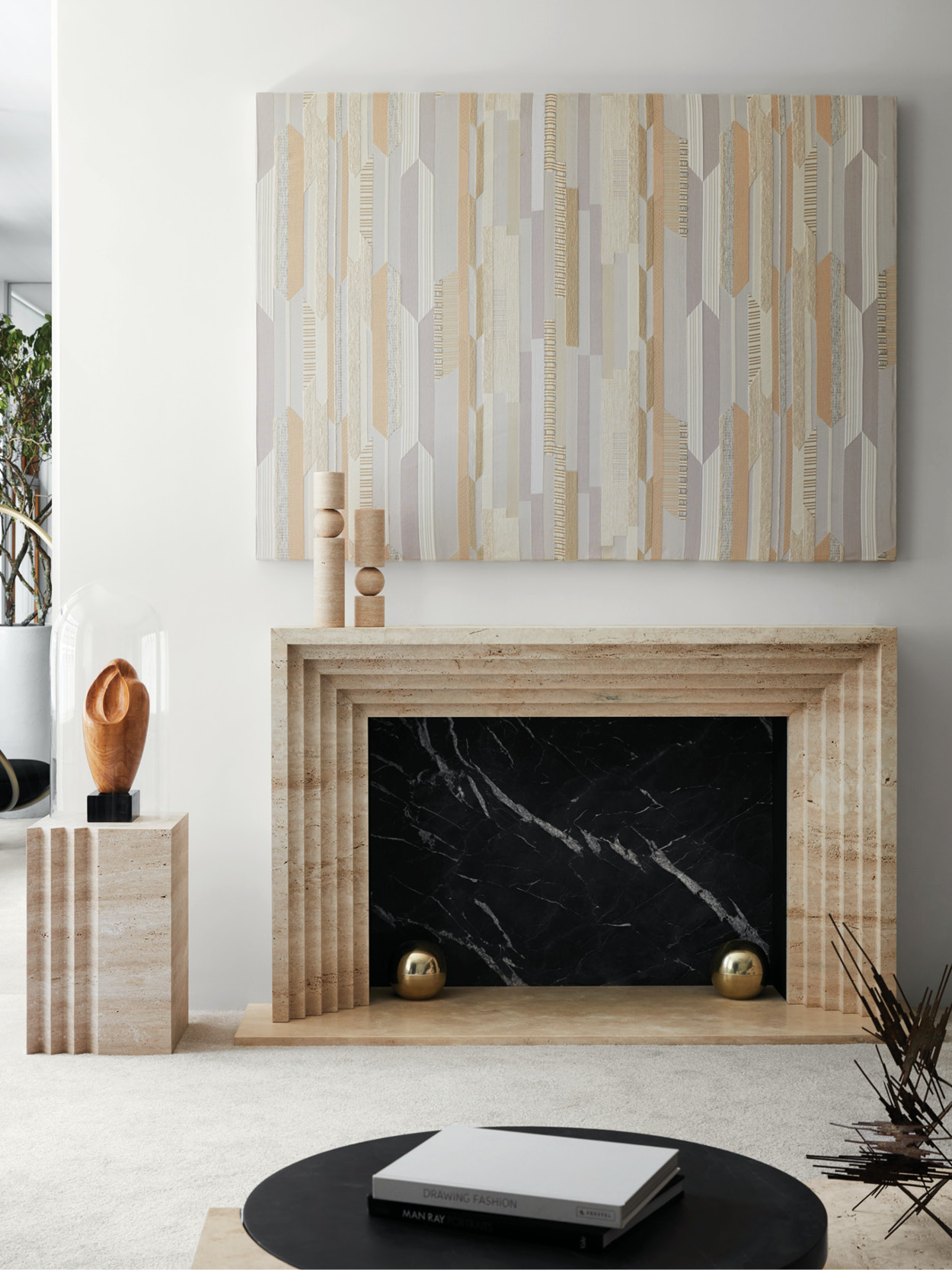 The Tribeca coffee tables unite design ideas, appearing to defy gravity with its black silk marble and travertine tabletops cantilevering over monolithic squares. Then, a sense of play swings in with the Hanging Hoop Chair. The refined round shape might look familiar — another Tribeca regular, Beyoncé, featured one in her Black is King visual album, and bought it for her own home.
The room is dressed for any occasion, and offers an insight into Broom's earlier career. After graduating with a fashion design degree from Central Saint Martins, he learnt under legendary designer Vivienne Westwood and worked on store design and window displays for brands such as Fendi and Bergdorf Goodman.
As a dedicated collector, Broom's private study showcases art and artefacts. An original leather jacket owned and painted by Keith Haring is on display, as well as a wall of mid-century art with a specially commissioned painting by artist and fashion stylist Shirley Amartey at the centre.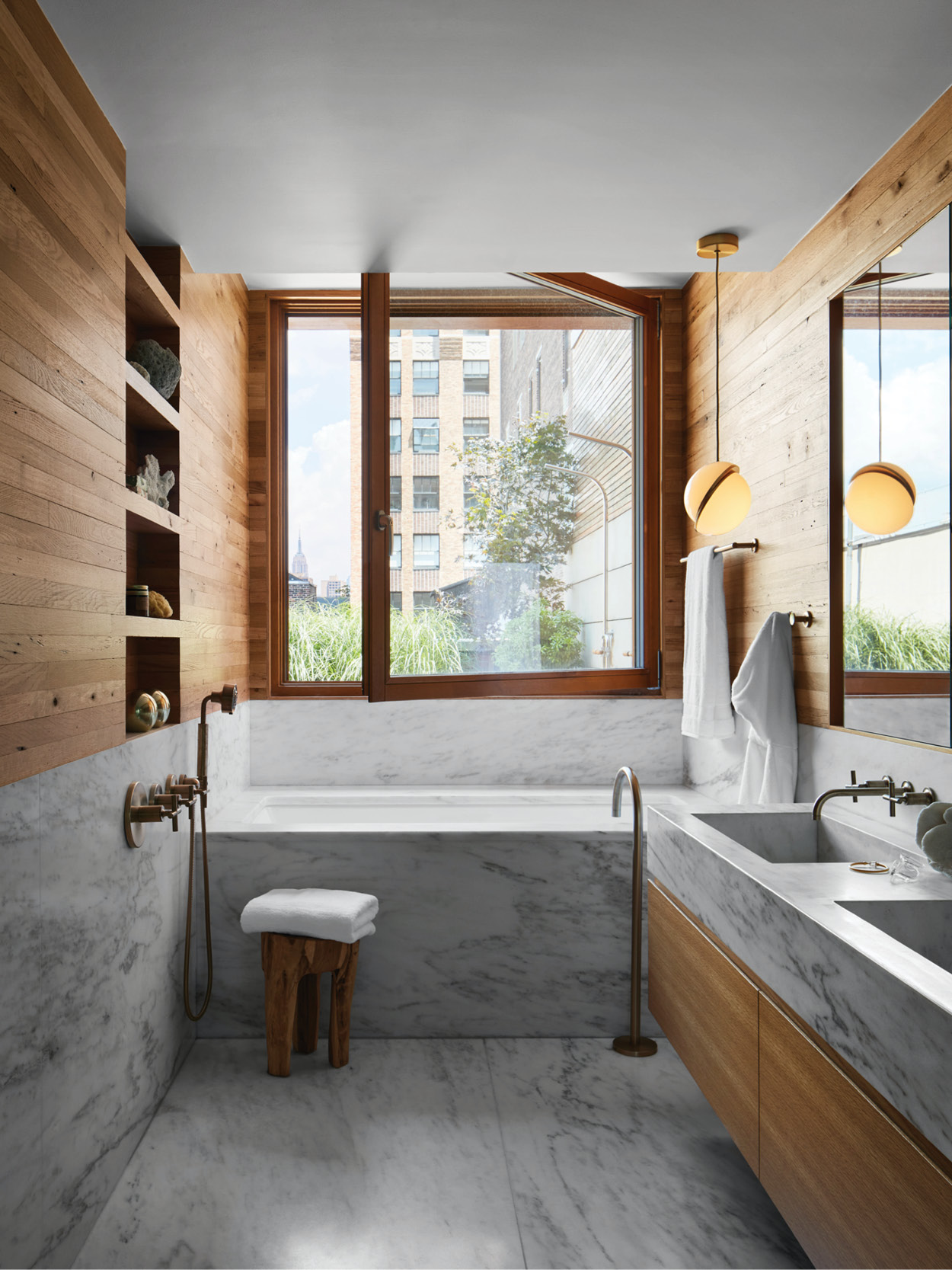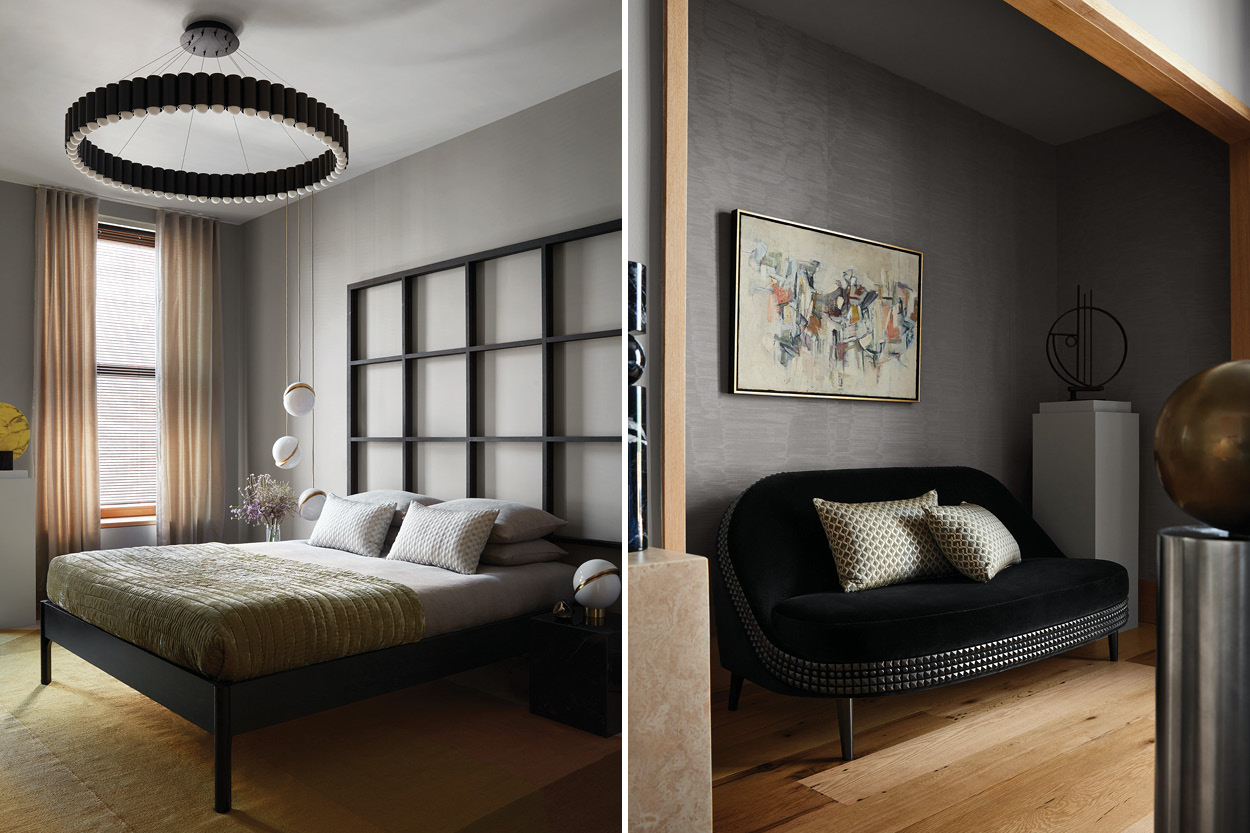 In the main bedroom, a fluted metal piece matches the glimpses of the Empire State Building. A heavy and heady mix of brass and steel, it was once part of a New York skyscraper, its Art Deco style belying its 70s design. It correlates to a 1960s stainless steel and brass bed frame, which has inspired much of Broom's spherical lighting. It was too bulky for Broom's London home, so he was relieved to find a space for it here.
The furniture designer re-uses as much as he can from shows, and the oversized headboard in the guest bedroom was stylishly salvaged from an exhibition at the London Design Festival in 2017, titled On Reflection.
For entertaining, the kitchen is encased in reclaimed oak, which is over 300 years old. It's seen in a new light thanks to Lee Broom's twin Tube Lights, created from conscious Carrara marble and brushed brass. The marble on the bench-top below is from a sustainably-minded underground quarry in Vermont, which is carried through to the bathrooms.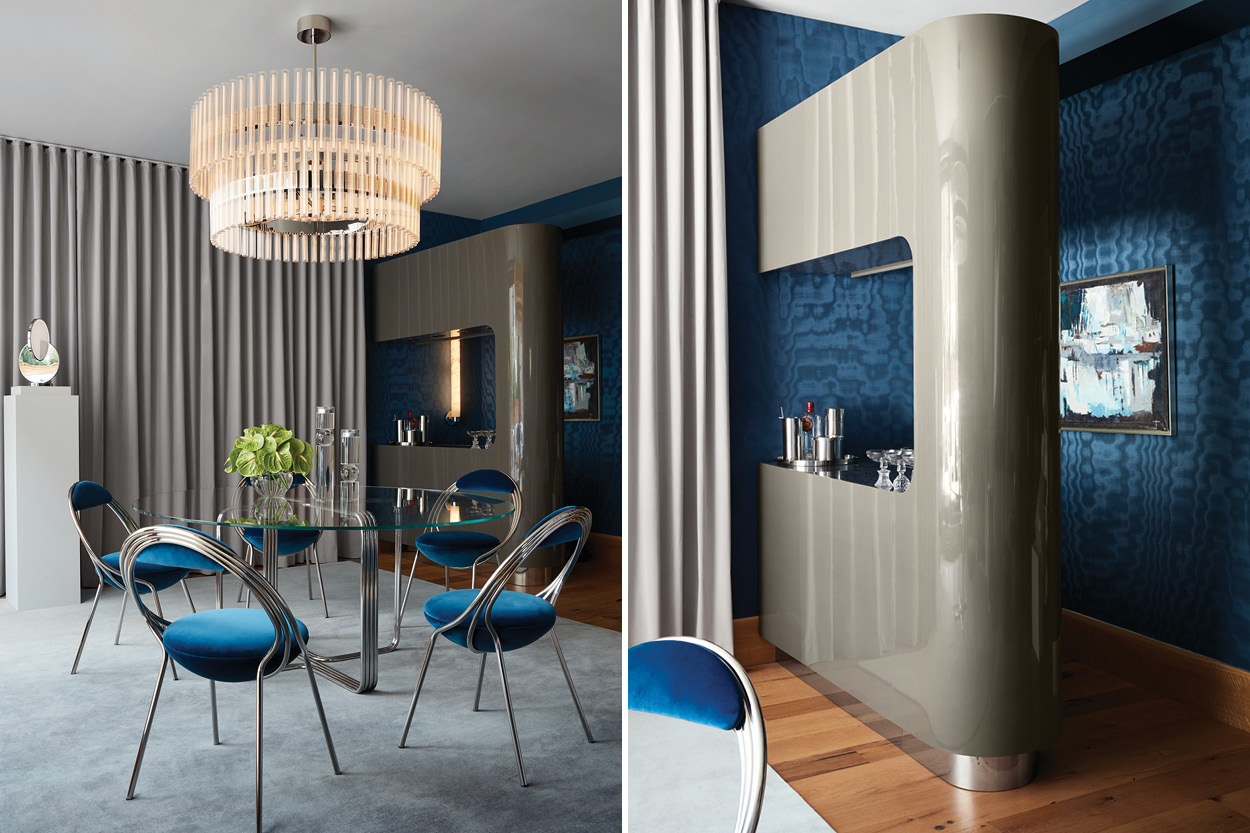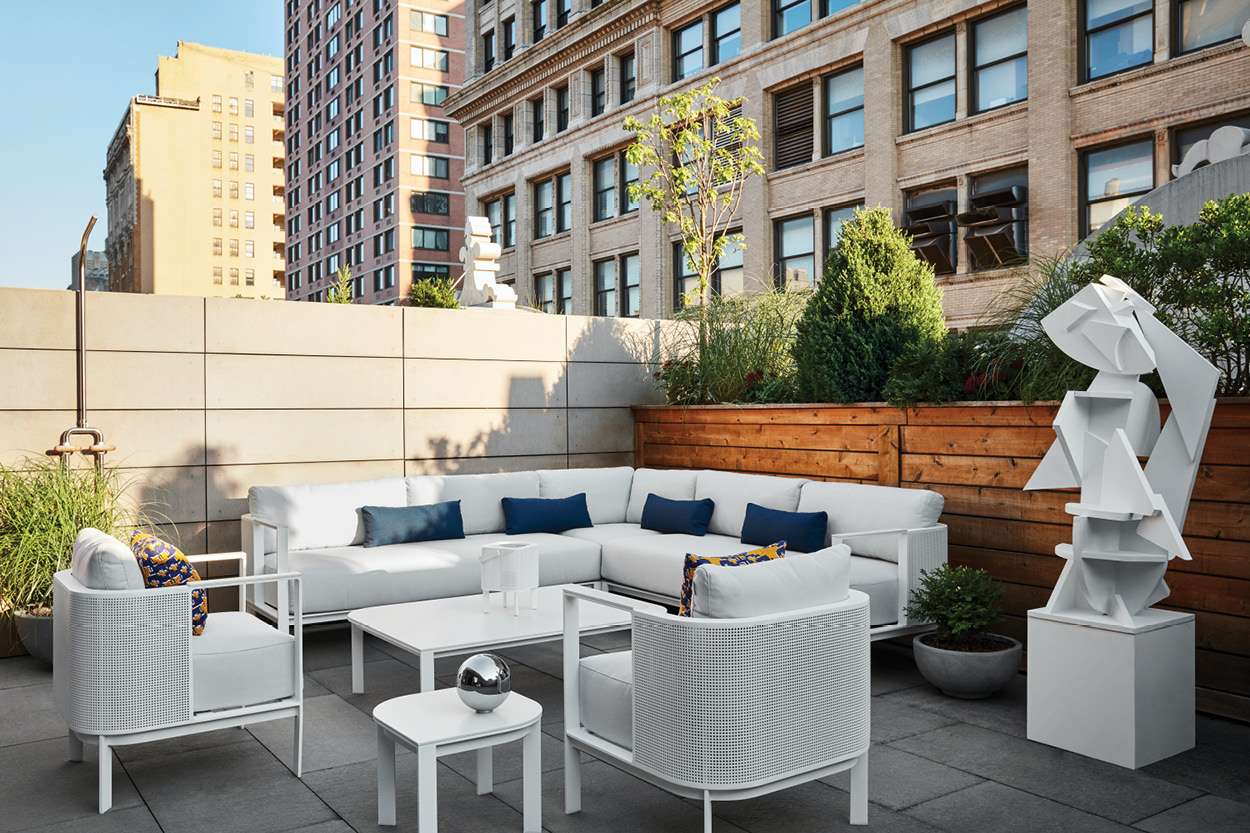 The dining room is a plot twist, with dramatic blue moiré walls and pleated grey velvet drapes. Alongside the new Lee Broom Musico dining table and blue velvet chairs is an original 80s bar, designed by the inimitable Steve Chase. It leads out to the rooftop terrace for an audience with another striking city backdrop.
If all this apartment is a stage, this sophisticated double-act is one to watch.
Lee Broom lighting is available from ECC in New Zealand.