I never really thought of myself as an SUV driver. But after spending the last three years with an extremely small car (a relic of the 90s), the thought of investing in something bigger was, I have to say, appealing.
In the spirit of trying new things (and after seeking recommendations from a few people I trusted) I decided to dip my toe into the SUV pond by taking Jaguar's new 2021 F-PACE for a spin — only to discover that I had, in fact, been an SUV driver all along. All I needed was the right car.
I have to preface my experience with a caveat. The new Jaguar F-PACE is a luxury SUV, which puts it firmly at the higher end of the market. Basically, this car combines the size, comfort and versatility of an SUV with the sleek elegance of a sports car, which gives it massive appeal from the outset.
To set the scene, the exact model of F-PACE I was testing was the P400 R-Dynamic HSE in Yulong White with slick, black wheels. It was high-spec and super powerful, and I was drawn in from the second I was handed the keys.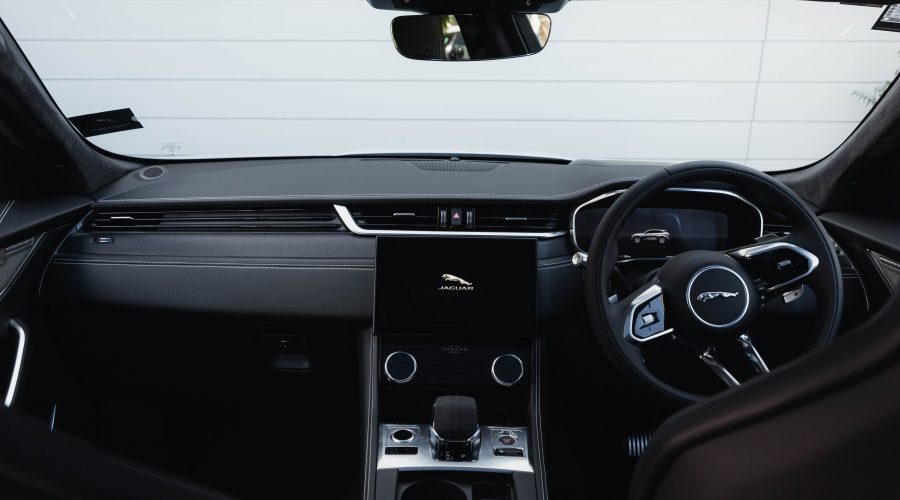 Boasting a recently enhanced exterior, my 2021 F-PACE carried some serious presence on the road. With its wide front grill, aerodynamically-enhanced front and rear bumpers and super-slim LED head and tail lights, this car was simultaneously streamlined and solid with sophisticated good looks that offered an early indication of what I could expect on the inside.
Sure enough, the F-PACE's interior lived up to the hype and then some. Sitting in the driver's seat, I couldn't remember having ever been in a car that felt safe, luxurious and sporty, all at the same time. And while I was conscious of people's heads turning as I passed them on the road, I was also distinctly aware of how cocooned and private I felt in the F-PACE's cabin.
Inside, it seemed like Jaguar had spared no expense in ensuring the 2021's fit-out left nothing to chance. Sumptuous, simple materials that felt well-made and long-lasting, were rendered in an elegant, monochromatic palette which kept me comfortable but ensured that my primary focus remained on what was important — the drive. And what a drive it was.
Thanks to the F-PACE's new Drive Selector, I was able to quickly switch the car between zippy modes like 'dynamic' and smooth modes like 'comfort', all the while enjoying the peace and quiet that came with the car's Active Noise Cancellation — an innovative system that worked to reduce noise pollution from outside the cabin. That said, I quickly learned not to be fooled by the F-PACE's comfortable, quiet facade. Once I decided to give this car a little bit of pace, it sprung into action swiftly, drawing on its sporty heritage to morph into something that felt delightfully fun and quick off the mark — certainly not what I expected to find in an SUV.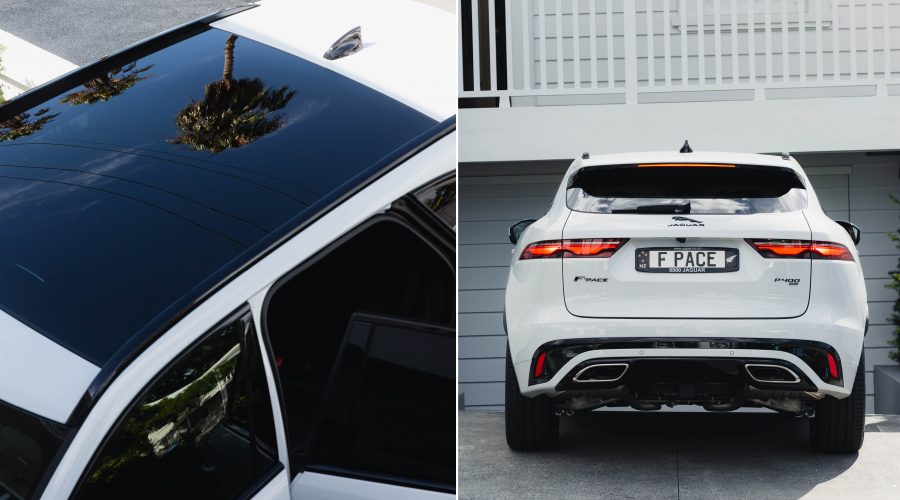 All of that aside, what really clinched it for me was the F-PACE's practicality and efficiency. For someone who uses her car to drive to work, run errands that often involve packing clothing bags and boxes into the boot and soon, to transport a baby from A to Z, the F-PACE seemed to tick all the boxes. With its suite of new technology, including Jaguar's latest PIVI Pro infotainment on an 11.4-inch HD touch screen, voice-activated control, a wireless charging port for my phone and a remote app that allowed me to check up on the car's temperature and fuel levels, the F-PACE's systems were easy to decipher and to communicate with. Everything felt integrated in a very simple, uncomplicated way, which, when you've got other things on your mind, is a godsend. Other features I loved included the F-PACE's keyless entry (very handy with frequently-full hands), and its mammoth boot with a 650-litre capacity. My favourite feature, however, had to be the F-PACE's super-clear 360-degree, 3D surround camera, which made manoeuvring into my narrow driveway a breeze and parallel parking virtually curb-proof. Add to the mix the fact that the F-PACE boasts a Five Star Euro NCAP safety rating (making it one of the safest cars in the market) and I was honestly left wondering if it had any faults at all.
Just like that, I was a convert, inducted into the easy, luxurious lifestyle that came with driving an SUV like this. And while I might have only had a few days with the new Jaguar F-PACE, there was something that stayed with me, even after the car was gone — the realisation that I would probably struggle to find anything else that lived up to my first experience.