When the first Maserati Ghibli was revealed in 1966 by prodigy Giorgetto Giugiaro, it became an instant automotive design icon — its fastback format, pop-up headlights and shark-nosed profile as audacious as they were alluring. Named after the legendary south-easterly in the Libyan desert, the Ghibli promised to ride like the wind.
Continuous development underscores Maserati's success over its 107-year history and the Ghibli is no exception. Even years after the debut of the sports sedan with its coupé silhouette, automotive connoisseurs are impressed with comprehensive technical and stylistic enhancements.
What made 2021 so special for Maserati was the electrification of the brand, which is breaking into a new era of hybrid technology without altering the brand's core philosophy and values.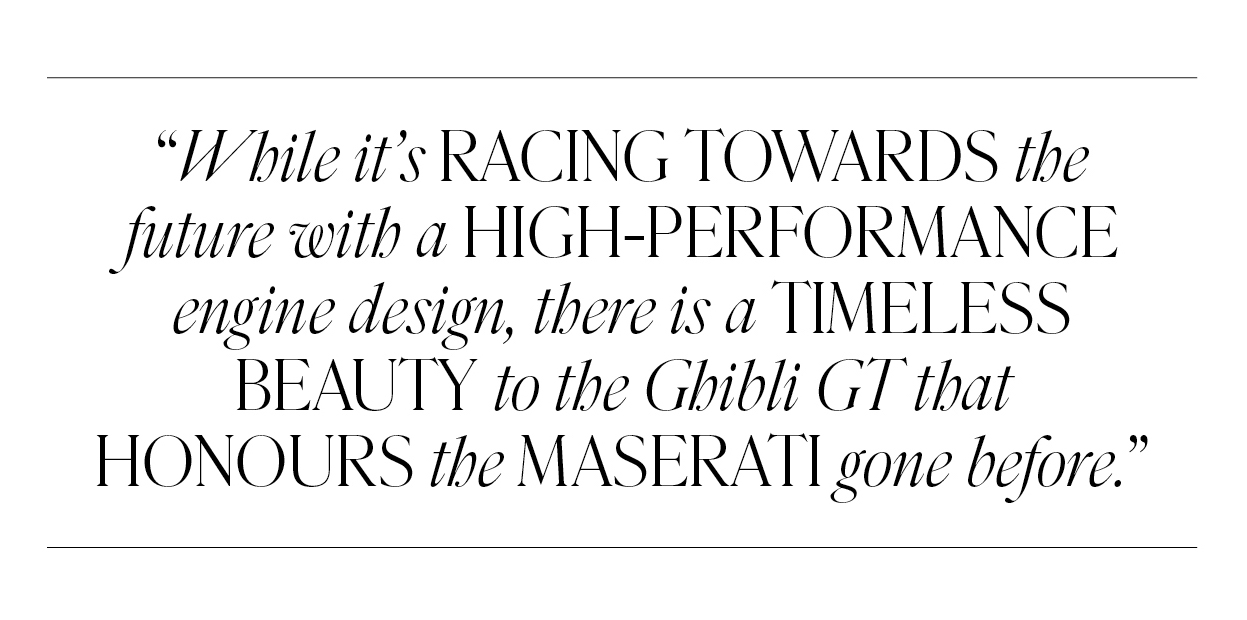 In perfect harmony with its DNA, Maserati has chosen a hybrid solution focused primarily on improving performance, while also reducing fuel consumption and cutting emissions.
Capturing the zeitgeist once again, the 2022 Ghibli GT delivers a dynamic yet refined drive at high speeds, like a designer race car. The difference is in the innovative L4 engine that is faster than diesel and greener than gasoline for efficiently delivered exhilaration. The forward-thinking spirit of this iteration is firing on all 4-cylinders of the engine, with a 48V motor that ensures superior performance, and that same unmistakeable sound that has distinguished every Maserati.
This new hybrid technology exploits kinetic energy the car accumulates when in motion, recovering it and transforming it into electricity during deceleration and braking, and storing it in a battery. In combination with a perfectly positioned eBooster this provides the driver a calm transition for a faster and more comfortable experience. With a top speed of 255 km/h and acceleration from 0 to 100 km/h in 5.7 seconds that comfort comes with considerable power.
While it's racing towards the future with a high-performance engine design, there is a timeless beauty to the Ghibli GT that honours the Maserati gone before. In the tradition of 'grand touring' — fitting a sophisticated engine into an even more stylish coupé — the trim is characteristic of elegant Italian style, sculpted curves and all.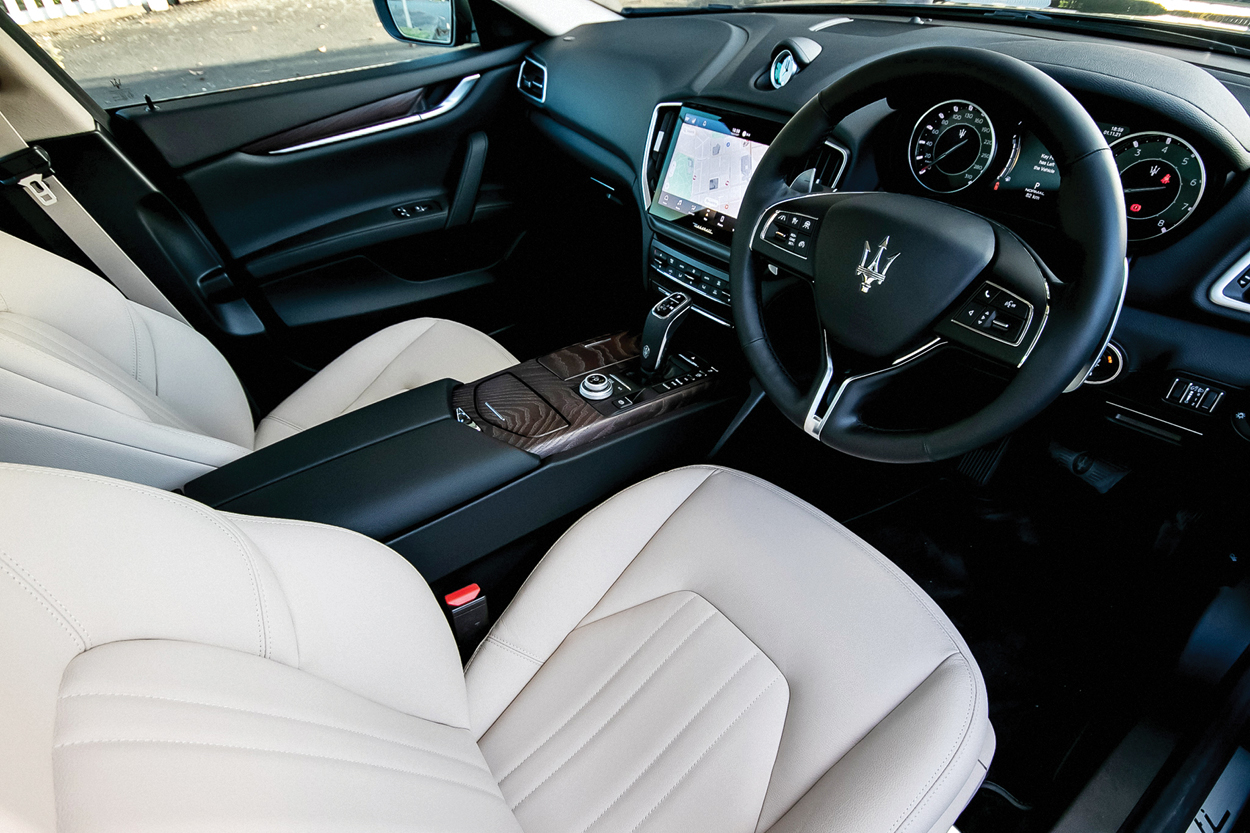 The interiors are a testament to Italian craftsmanship with natural silk upholstery by Ermenegildo Zegna and soft, full-grain natural leather sourced exclusively by Pieno Fiore. A Maserati is like a work of art, known for its construction with the care and attention that only the human hand can provide. As such, the Ghibli GT can be customised to a driver's every aesthetically-charged need.
The most immersive design detail is the instrument cluster. A reconfigured MIA (Maserati Intelligent Assistant) multimedia system ensures comfort and safety with its personalised support. Presented in a frameless 10"1 HD touch screen, it has a new graphic interface behind an elegant curved glass edge — a first of its kind in automotive design. As well as an intuitive app, there are other little luxuries to discover, like wireless phone charging and a wi-fi hotspot for preoccupied passengers.
As was the case with the original Ghibli design 55 years ago, this clean spark of design creativity is a catalyst for change for the coupés that come next. The attention to detail, style and quality in all aspects of the Ghibli GT embodies the very essence of Maserati.