New York might be a city of apartment-dwellers, but for a contingent of its population, home is found in the late 19th- and 20th-Century mansions that are peppered through chichi neighbourhoods like the Upper East Side — offering sprawling, opulent floor plans over multiple levels. This is one such property.
Set on a site that was originally two separate homes before being unceremoniously turned into a small apartment building, this Upper East Side townhouse began with a demolition that allowed its new owners to start from scratch. Taking the 32-foot-wide double lot and constructing a 14,000 square-foot, seven-storey home (with seven bedrooms and eight bathrooms), the owners commissioned interior design studio Meyer Davis to finesse the details, a task its longtime director Elizabeth Curry took on readily and executed, alongside associate Josh Suckle, with aplomb.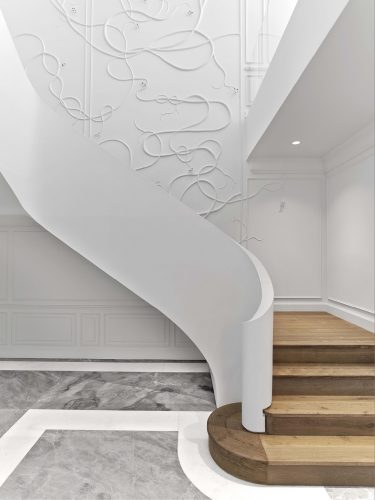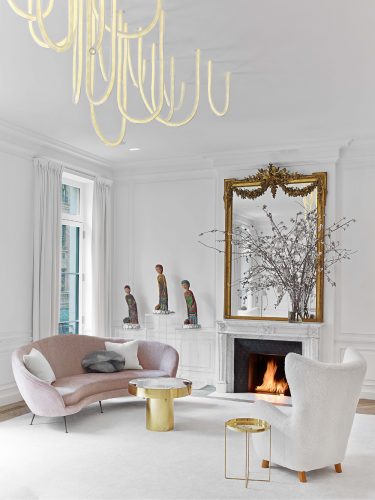 Architecturally, the house is classical with a dignified, imposing presence that invokes the same kind of stately manner its 20th Century original would have presented.
But for the team at Meyer Davis, it seems, reimagining the old world details through a minimalist lens, and throwing a soupçon of whimsy into the mix for good measure, was how this home would be made to feel contemporary while remaining true to its history.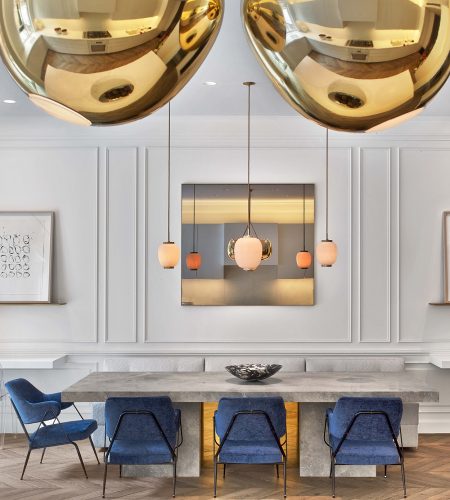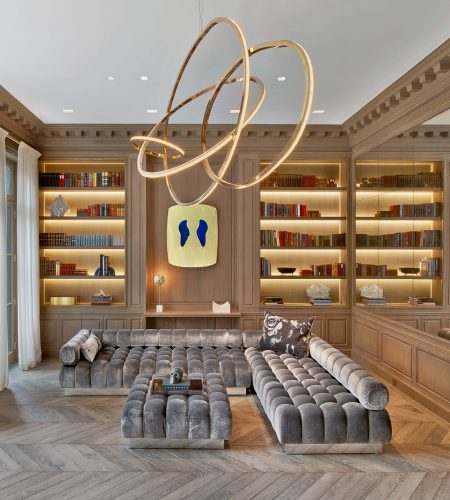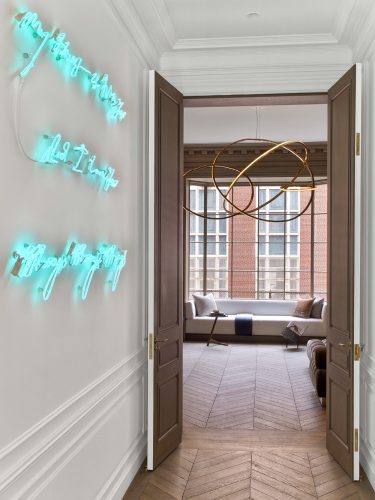 Between the parquet floors, the simple palette and the panelled walls, the designers introduced ultra-modern touches. A circular, sculptural chandelier by Niamh Berry for example, presides over the walnut-panelled library, while elsewhere, neon artworks by Tracey Emin and a tubular glass light feature by Mathieu Lehanneur offer intriguing, contemporary counterpoints.
Here, the designers have made everything about balance — on the one hand, ensuring classical features are honoured, on the other, subverting expectations. The white porcelain Lily of The Valley tendrils that weave along the panelled plaster wall connecting the first and second floors, exemplify the two ideas coming together in harmony.
Embracing the idea of surprise and delight, the team at Meyer Davis has managed to bridge the significant gap between the old world and the avant-garde, creating an ethereal home that is magnificent in scale and courageous in execution.