Appointing a home that balances the demands of a modern family with refined design sensibilities is no mean feat. After all, the chaotic reality of life with young children can often leave little time for anything more than simply getting through the day. But in this sophisticated Sydney residence, the creative minds at Luigi Rosselli Architects and Alwill Interiors managed to achieve a sense of elevated elegance without making the spaces feel sacrosanct or untouchable. While luxury certainly remains central to the identity of this home, it still retains a sense of warm comfort and is rendered inviting and liveable thanks to a shrewd use of natural light, a generous allocation of negative space that gives way to art and a base palette that is calm, considered and undeniably cool.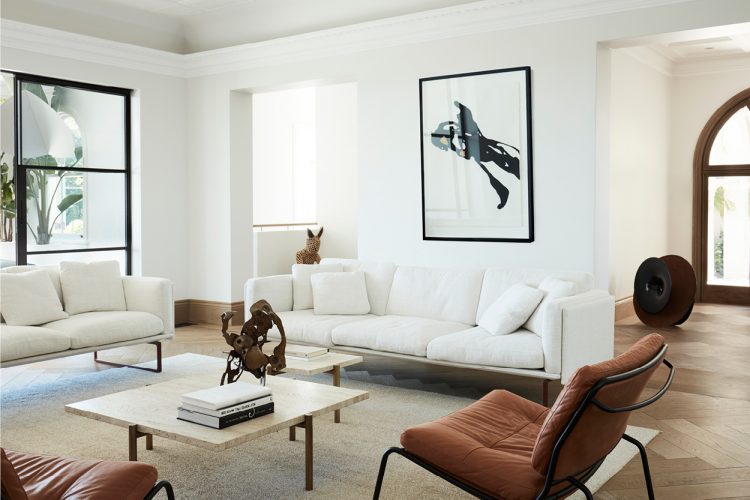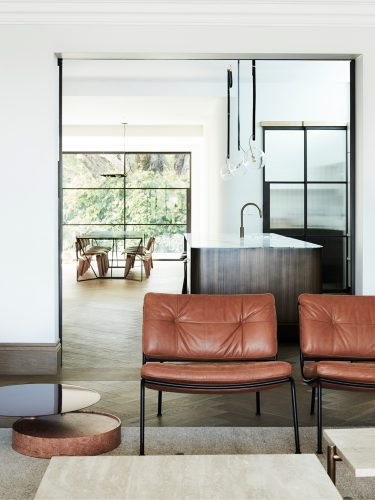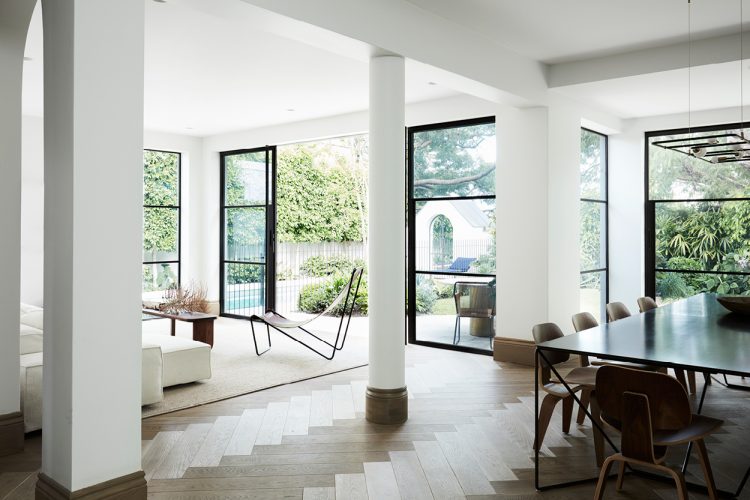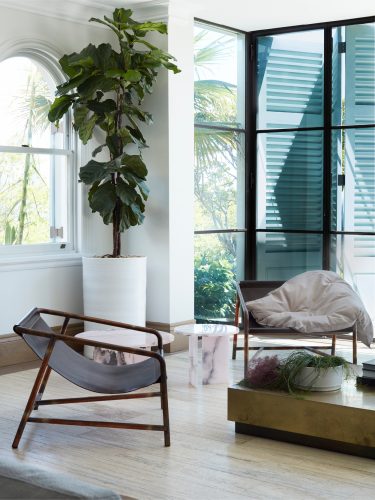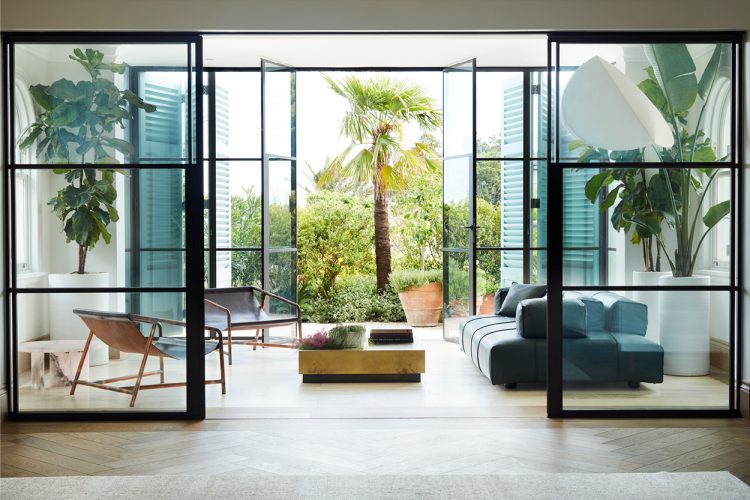 Working alongside the homeowner, Camilla Freeman-Topper (of fashion label Camilla & Marc), architects Jane McNeill and Luigi Rosselli approached the project by first acknowledging the heritage of the original Peppertree villa. Perched on the crest of Sydney's Bellevue Hill, the grande dame evoked 1920s classicism with its entry loggia, impressive fireplaces and generously proportioned rooms — all elements deemed important to retain while pursuing the central aim of improving the flow from room to room and opening the home up to its garden. A practical, basement garage was added, as was an attic space, which gave rise to a magnificent new stairwell, conceived as a way to keep the additional levels connected to the rest of the house.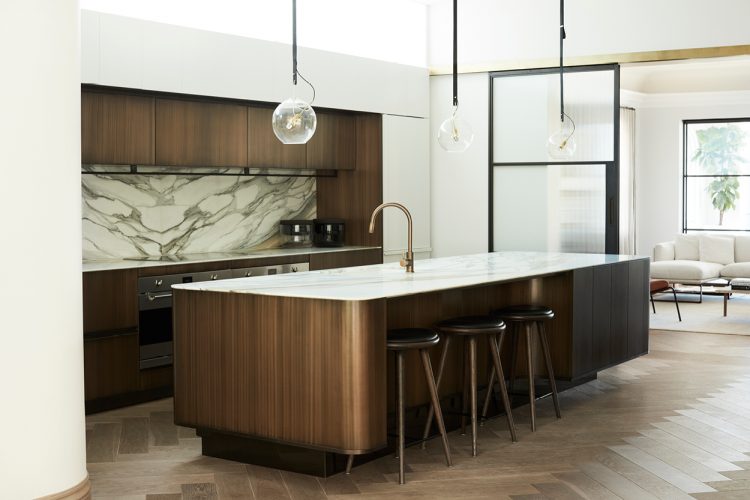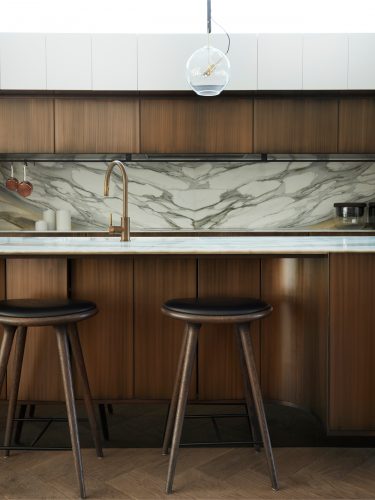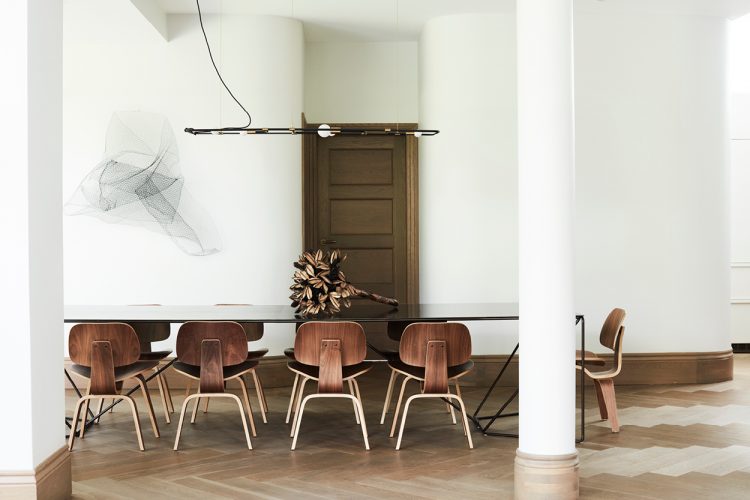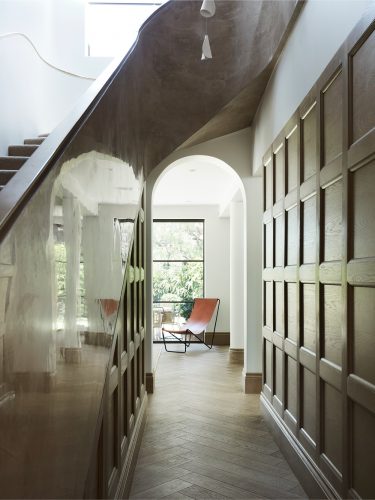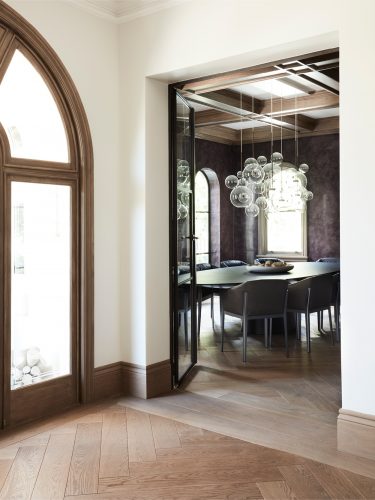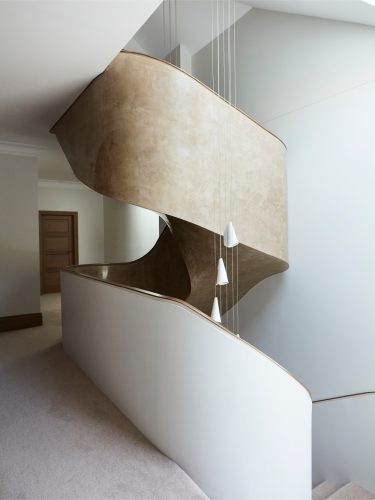 The stairwell, solid and sculptural with a structure reminiscent of a ribbon suspended in space, acts as a beguiling central focus. Looking up at its repetitive curves, one is offered a break from the motif of linearity present in the other elements of the home, like the parquet timber floors, minimalist straight-line light fixtures and steel-framed windows.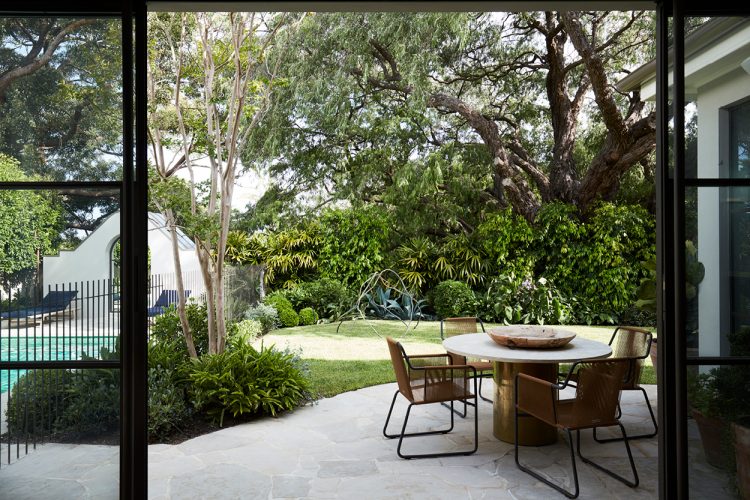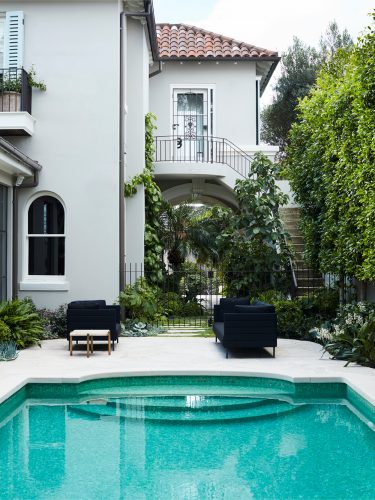 Enlarging the ground floor windows and framing them in black steel was crucial to the plan of connecting the residence to its garden. Designed by Myles Baldwin, the outdoor space that surrounds the villa (which includes a new swimming pool) is lush, verdant and realised with an organic, wild quality that shuns the over-manicured landscaping of old. It's a balanced approach and one that is carried from the garden to the home's interior.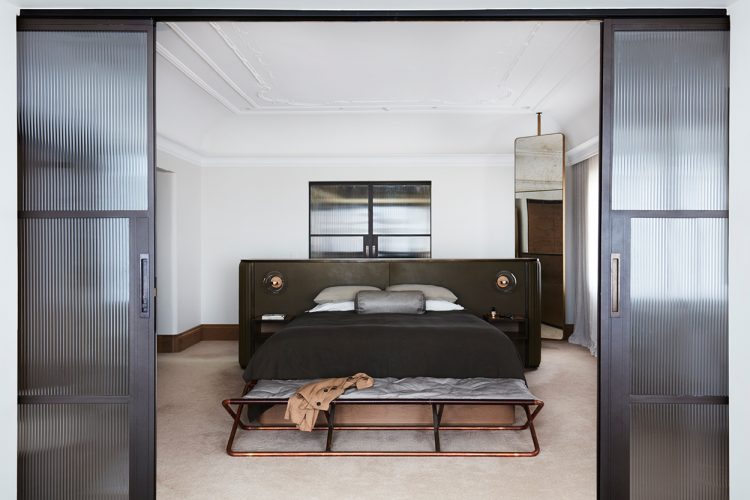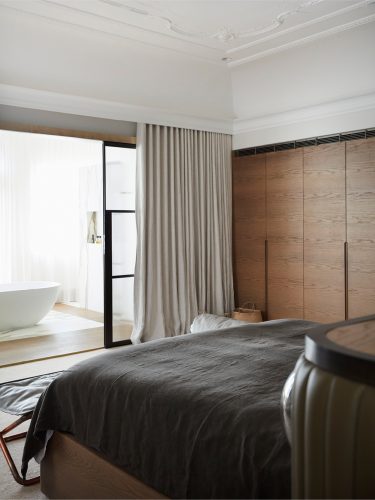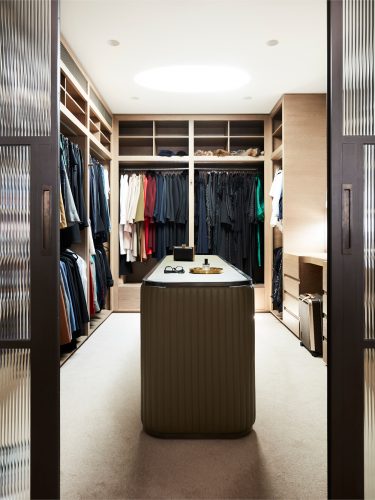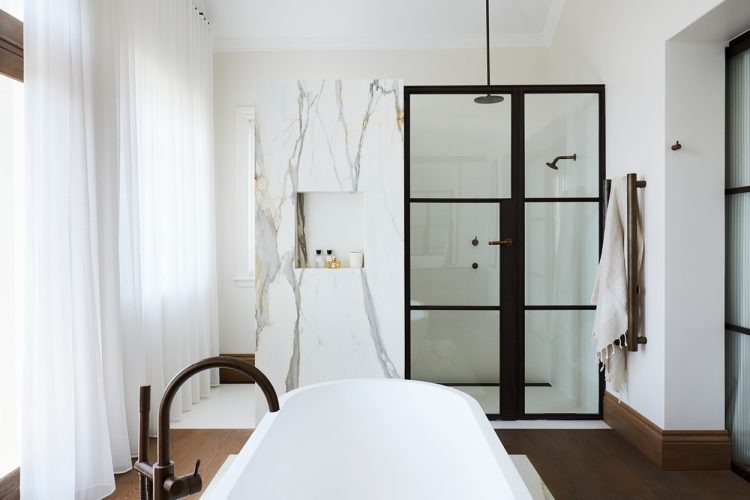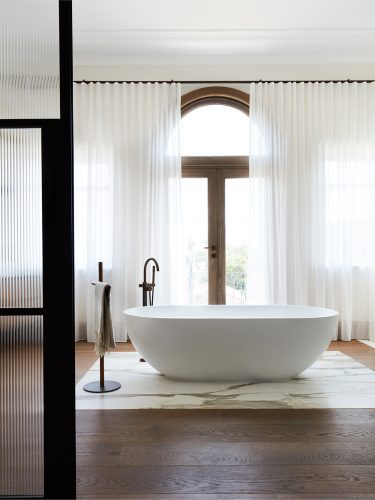 Inside, exquisite detailing and tactile materials like marble accents, Stucco Lucido, brass metalwork, Onyx inlaid flooring and resin-based wall claddings are employed purposefully, to offer, amidst the modern touches and architectural accessories, the kind of breathing space a creative mind might need.
There seems to be more impact in what is not there, where Interior Designer Romaine Alwill has deftly employed a framework of furnishings (mixing classic and custom-made pieces) and art in a purposely sparse way — leaving it up to the owner to fill the spaces in between with the bustling of daily life.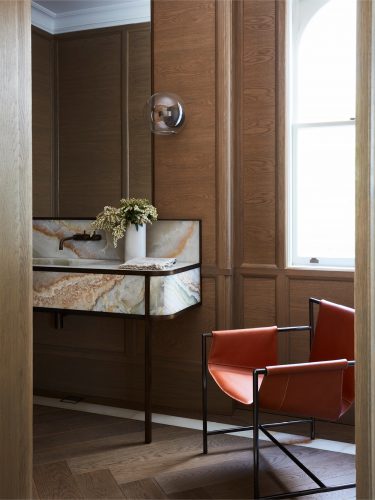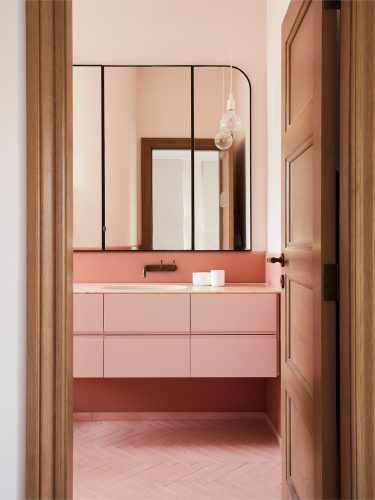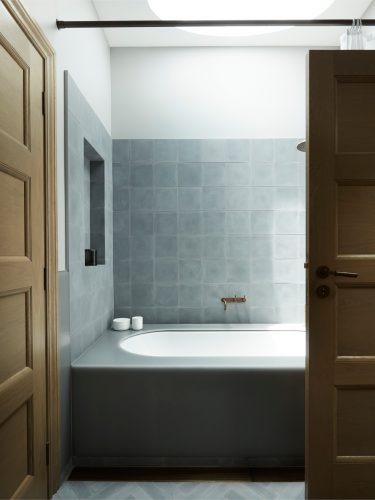 In the garden, a pepper tree still stands, a reminder of the villa's historic origins that, despite being given a more contemporary look, are still very much present in its character. While sculpting it to suit its modern context, the creatives behind this villa (including the client herself) constructed spaces that exemplify how rich materials and structural furnishings can, when combined cleverly with minimalist principles, result in a home that addresses the needs of the modern family with undeniable finesse.